With over 70 written novels, all split between 5 series – some standalone and non-fiction books, Clive Cussler has managed to immortalize – in a sense, his works. Sometime in the 90s, he was awarded a Doctor of Letters degree. However, beyond the literary world, Clive is also notable as the founder and chairman of the National Underwater and Marine Agency (NUMA), which has discovered more than 60 shipwreck sites and many other underwater wrecks. More so, he belonged to both the Explorers Club of New York and the Royal Geographic Society in London and has been honored with the Lowell Thomas Award for outstanding underwater exploration.
Top 10 Clive Cussler Book
As of now, Cussler's books have been published in not less than 40 languages in more than 100 countries, with many of them being best sellers. For a neophyte reader of Clive's books, deciding which of the many works, to begin with, might just be a herculean task, hence we have decided to give a list of the top 10 Clive Cussler's books, to begin with, and a few pointers to whet your appetite.
1. Pacific Vortex!
Publication Date: 1983
Publisher: Bantam Books (US), Sphere Books (UK)
Language: English
Print Length: 288 pages
Goodreads: 3.79/5
Barnes & Noble: 4.1/5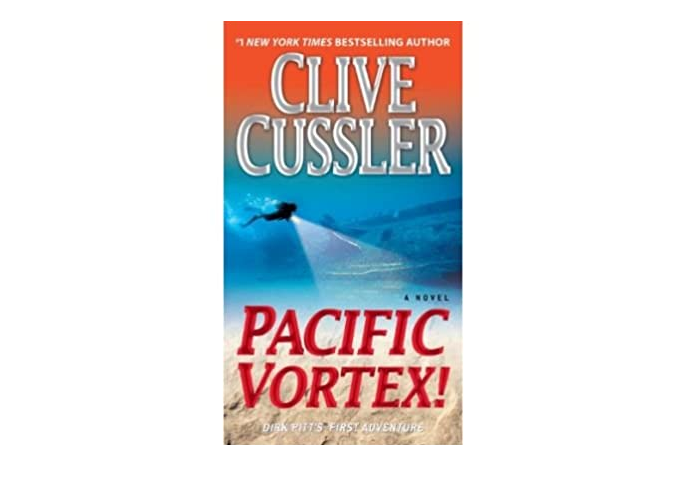 Shop Now at Amazon
This novel owes its name to the Pacific Ocean and it begins with the main character, Dirk Pitt, enjoying his time on the Oahu Beach, only to notice something floating on the waves. It turned out to be a communication capsule when he had retrieved it and it belonged to the U.S Navy's nuclear submarine, Starbucks – a top-secret submarine that went missing for half a year.
Dirk Pitt who was an adventure seeker and a deep-sea expert took on the mission of finding Starbucks, which also happened to be a nuclear arsenal. He is to find and salvage it before the international forces do or before it explodes. As if the quest was not deadly enough, Pitt's journey led him into the arms of Summer Moran, an exotic and stunning woman, no doubt, but also a very dangerous one. Would he recover Starbucks before his competitors or would he let loose and fall into the arms of defeat? With the obviously imminent danger lurking, Pitt's only choice is to descend through a shark-dominated territory, to an ancient sunken island, where he may never get to see the light of day.
2. Iceberg
Publication Date: 1975
Publisher: Dodd, Mead & Company
Language: English
Print Length: 314 Pages
Goodreads: 3.85/5
Barnes & Noble: 4.1/5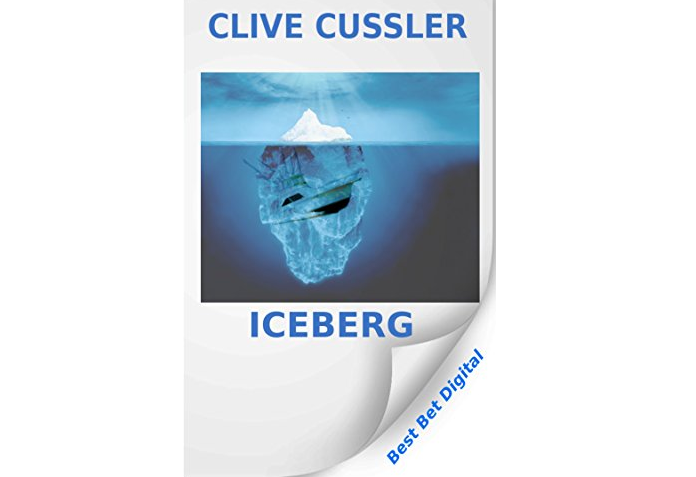 Shop Now at Amazon
In this book, the main character – Dirk Pitt is on vacation at a beautiful beach in California. When the coast guard plane discovers the remains of a missing luxurious yacht frozen in an iceberg. This yacht was expected at the White House, for it was on its way to a top-secret meeting there. Now, it had become a floating tomb, with all its crew members dead, incinerated at their posts. Dirk Pitt is once again faced with the task to solve yet another mystery. With only two clues to work with, 9 engraved rings and the burnt bodies of the crew. He sets on his journey to find out who was behind the event that was threatening the balance of world power and by extension, the world economy.
When Dirk Pitt and another member of the National Underwater and Marine Agency, Dr. Bill Hunnewell were eventually sent to survey the ship and bring news of the event, they noticed that someone went through a great deal to sabotage their expenditure, even as far as faking another iceberg 90 miles to the east of the original. This was also the first link in a chain of events that would lead him too close to his death and to the discovery of the most sinister and bizarre conspiracy of the century.
3. Raise the Titanic 
Publication Date: 1976
Publisher: Viking Press (US), Michael Joseph (UK)
Language: English
Print Length: 314 Pages
Goodreads: 3.99/5
Barnes & Noble: 4.1/5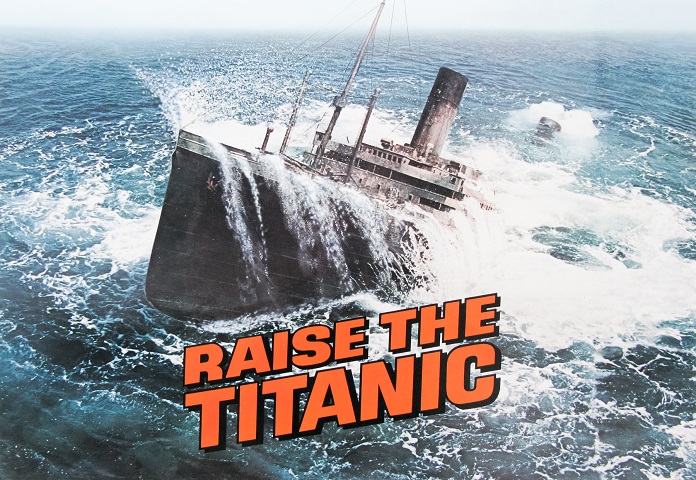 Shop Now at Amazon
This book was adapted into a 1980 feature film directed by Jerry Jameson. In this story, a top-secret Pentagon program called the Silicon project and led by Dr. Gene Seagram, is intended at advancing technology some years ahead but requires immense power to function. This power could be found in a rare mineral called Byzantium, which was found to be on an island off the Northern coast of the Soviet Union. On orders from the Pentagon, Dirk Pitt is to retrieve the rare mineral.
As easy as that may seem, a chunk worth of some billions of dollars of Byzantium was mined earlier by a group and was making its way out by the hands of another aboard the great White Star Line ship RMS Titanic. The titanic ship, like the one we know of later, sunk on its maiden journey. On realizing that all hopes of getting the required mineral lie several feet beneath the eyes, covered in a large body of water and if possible, ice, Dr. Seagram wants Pitt to do the impossible. He gives the National Underwater and Marine Agency the near-impossible task of raising the Titanic. When the Russians got news of the project and they felt threatened, that it would tilt the balance of world power more to the Americans, they sort to steal the Byzantium for themselves. This classic fictional story brings back the American and Russian race for a prize.
4. Night Probe! 
Publication Date: 1981
Publisher: Viking Books (US); Hodder & Stoughton (UK)
Language: English
Print Length: 344 Pages
Goodreads: 3.91/5
Barnes & Noble: 4.1/5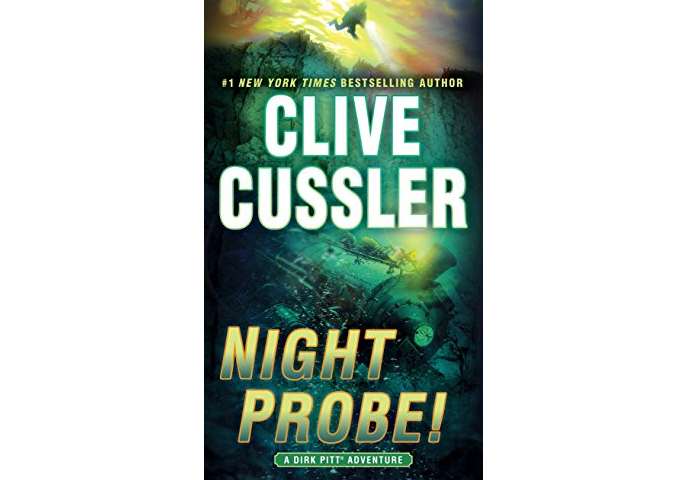 Shop Now at Amazon
Night Probe as portrayed by the writer is an old diving term that is used for exploring the darkness of underwater caves and this job is for none other than the NUMA explorer and adventurer, Dark Pitt. In the story, we see that the United States is experiencing a serious financial crisis in 1989, so much that it is almost at national bankruptcy. This was caused by the scarcity of oil and the amassed debts of the chief executive that succeeded Franklin Roosevelt, down till 1989.
With all these going on in America, the oil boom season just happens to be around that time and the reserves of the United States are seriously depleted. During these trying times, Canada happens to be the major supplier of electricity to about 15 American states. To make matters more interesting, a huge trap containing millions of barrels of oil has been found by NUMA and it was found in Canada. With the country on the verge of losing everything, a U.S Navy lieutenant Commander working on her Ph.D. thesis found some documents that said Canada was a property of the U.S, it was sold to the then president, but the proof of the treaty was lost in transit.
All hopes of saving America lie in recovering that over 70 years old document from the depths of the ocean, and Dirk Pitt, is charged with this duty. This might seem like an easy task, but Britain would not want to see one of their economic powerhouse taken away right under their noses, so they seek to destroy that which the U.S seeks to retrieve. It's a game of wits and skills.
5. Deep Six 
Publication Date: 1984
Publisher: Simon & Schuster (US); Hamish Hamilton (UK)
Language: English
Print Length: 432 Pages
Goodreads: 3.9/5
Barnes & Noble: 4.1/5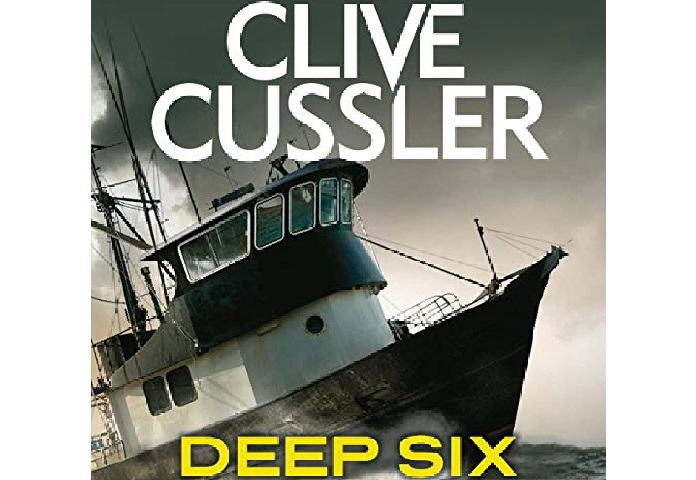 Shop Now at Amazon
In this story, the president goes missing while a deadly poison is ravaging the waters of Alaska, wiping out life. This poison was supposed to be destroyed, but somehow a large part of it went missing only to resurface as a weapon, killing people. When Dirk Pitt and the NUMA went to abate the whole issue, one of his team got exposed to the poison and died. It is no longer a casual mission for him, it is now a vengeful one, as he promises to find the perpetrator(s) and bring them to justice or bring justice to them, whichever be the case.
The plot is a sweet turn of events as the president is said to be mind-controlled by the Soviet Union and the deadly poison's trail leads to an Asian company led by a mother and her son. Do these two events relate, or is it just a cluster of bad events?
6. Treasure 
Publication Date: 1988
Publisher: Simon & Schuster
Language: English
Print Length: 539 pages
Goodreads: 3.94/5
Barnes & Noble: 4.5/5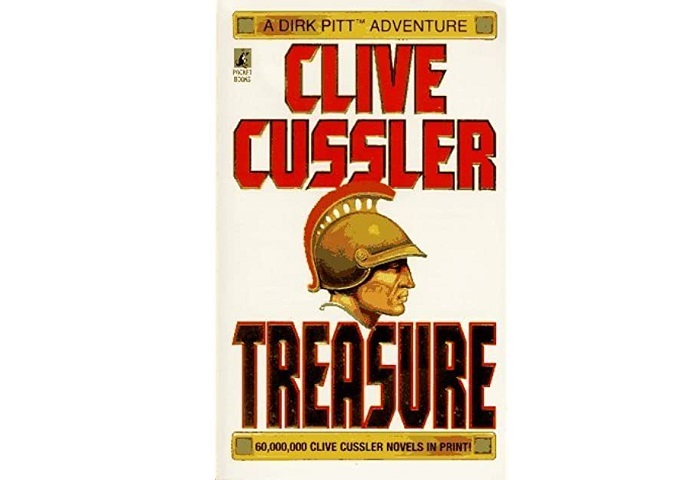 Shop Now at Amazon
A hidden trail of Lost treasures from the Library of Alexandria was discovered by Dirk. While that is happening, a dictator named Topiltzin kills the envoy of the US president and sends his skin and heart back to the president. More so, the new UN Secretary-General is on the run for dear life, as Middle Eastern terrorists, seek to get her despite failed attempts. This is because she is trying to stop Akhmad Yazid from taking over Egypt, he has the traits of a dictator and both he and Topiltzin are from a notorious crime family.
The glory of the booty that Dirk would find takes over his mind, as he is distracted. Suddenly, from East to West, anarchists reach their deadly tentacles into the heart of the United States. The quest for world dominance is followed by a quest for lost treasures – are the two intertwined, only time would tell.
7. Dragon 
Publication Date: 1990
Publisher: Simon & Schuster
Language: English
Print Length: 542 pages
Goodreads: 3.93/5
Barnes & Noble: 4.4/5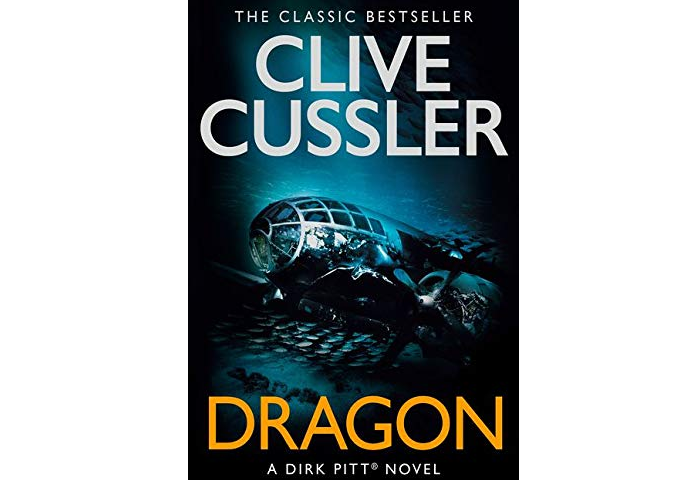 Shop Now at Amazon
This story is hinged on nuclear blackmail. In 1945, two US bombers took off with atomic bombs, one was shot down at Japan sea. In 1993, a Japanese cargo ship heading for the US is destroyed, alongside a Norwegian vessel. This incident served as a means for the Japanese to carry out their long-overdue revenge on the western powers and have them destroyed.
Several webs of conspiracies spun together to effect what would be a total wipe-out if something is not done about it. So the country turns to the man for the job – Dirk Pitt, to rise to the occasion and salvage the situation. Meanwhile, the whole event is being masterminded by an industrialist from a secret island control center.
8. Sahara
Publication Date: 1992
Publisher: Simon & Schuster
Language: English
Print Length: 541 pages
Goodreads: 3.97/5
Barnes & Noble: 4.5/5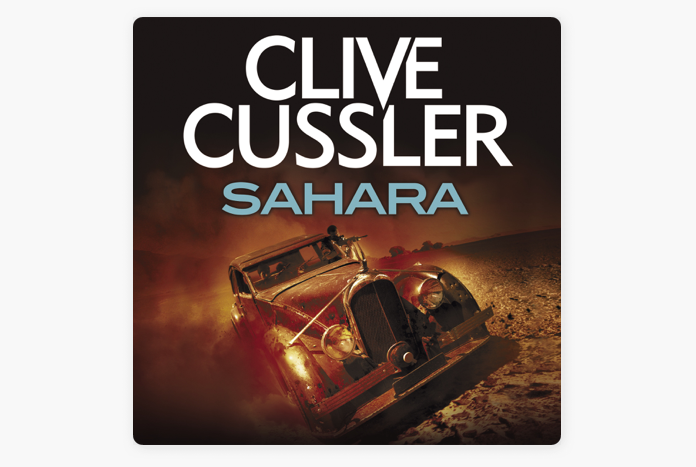 Shop Now at Amazon
This book was adapted into a movie in the year 2005. Several events intertwined in this story, making it worthy of your time. In 1931, a lady flying over the Sahara meets with a sand storm that disturbs her journey. She landed on the ground alive but was never found after that. In 1996, a convoy of tourists crossing the Sahara on a fleet of Land Rovers took a stop at a surprisingly deserted village in Mali. As they rested from the journey, they were attacked by savages – flesh-eating savages. They made meat out of the convoy, only the tour guide was able to escape with his life.
Meanwhile, Dirk Pitt is somewhere in Egypt on a treasure hunt on the Nile, and by chance is able to rescue a scientist from assassination. Dr. Eva, who works for the U.N, is the scientist Dirk Pitt rescued and is now sent to Mali to investigate a mysterious disease that has been claimed villages. This disease is driving thousands of North Africans into madness, cannibalism, and death. If not done away with, could cause the end of the human race.
Dark Pitt's journey somehow led him to the coast of Nigeria, where he faced some enemies of his own and was able to uncover the truths behind the assassination of Abraham Lincoln and Amelia Earhart's disappearance (the lady who went missing earlier on). These events all unravel a beautiful interplay of adventure, crime, and mystery, where Dark Pitt must take a stand and fight for the world he has come to love, or risk extinction (death).
9. Inca Gold 
Publication Date: 1994
Publisher: Simon & Schuster
Language: English
Print Length: 539 pages
Goodreads: 3.99/5
Barnes & Noble: 4.2/5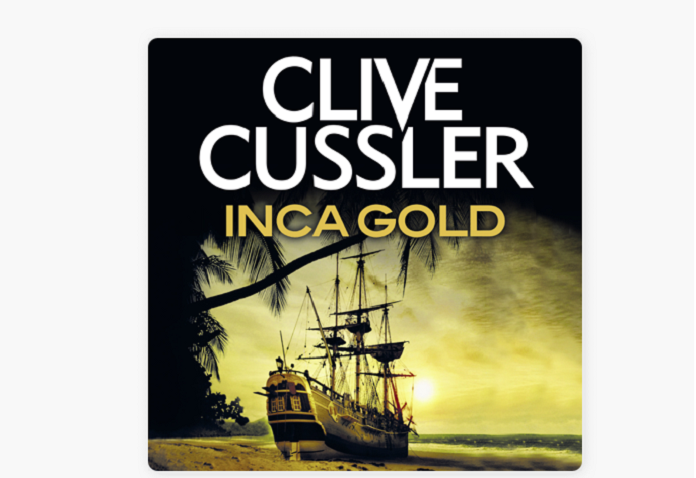 Shop Now at Amazon
In 1532, a fleet of ships landed mysteriously on an island located in the middle of the sea. There, they hid a treasure that's worth more than one man could own. They then vanished into history, leaving only a great stone demon to guard their golden hoard. In 1998, in the Andes Mountains of Peru, a group of archaeologists nearly drowned while diving into an ancient sacrificial pool. They are saved on time by Dirk Pitt, who is on a marine expedition. Both he and his newly found company would later find out that their lives are now in jeopardy, as they have been marked for dead by smugglers seeking golden treasures.
Dirk Pitt winds up in a fix of forgery, burning greed, betrayal, danger, corruption, ruthless and blood-thirsty syndicate, art forgery, a race for the prize, and a whole lot of other woes. In the midst of all this chaos, he must see to it that they meet their end, or maybe he would meet his.
10. Valhalla Rising 
Publication Date: 2001
Publisher: G. P. Putnam's Sons
Language: English
Print Length: 531 Pages
Goodreads: 3.95/5
Barnes & Noble: 4.0/5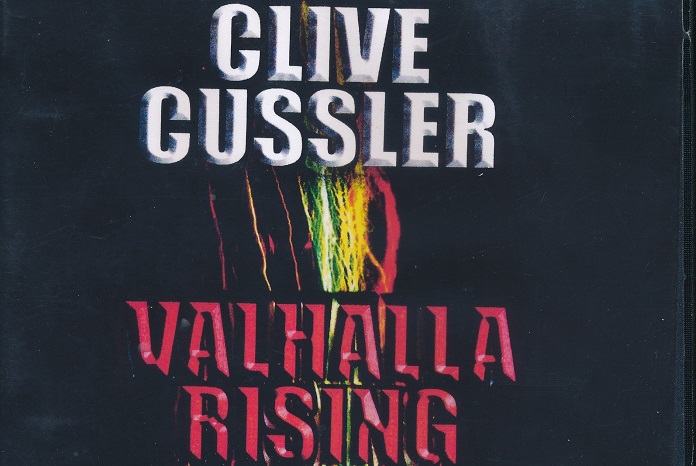 Shop Now at Amazon
Emerald Dolphin, a luxury cruise ship using revolutionary cutting edge technology suddenly catches fire and sinks on its maiden voyage. Its alarm did not go off, its sprinkler system did not respond either, and the only sign of distress was the smoke it exuded as it caught fire. This smoke got the attention of NUMA, Dirk Pitt, and his team, and they went in for the rescue. The ship's engineer died but his daughter was rescued by Dirk Pitt.
When they decided to investigate the cause of the event, they were not ready for the detail that went into its making, the mechanics, and the mystery of the technology. This machine was nothing short of a technological work of art that could only be fit for legends. (a magnetohydrodynamic engine).
In this novel, Clive makes a cameo appearance and he rescues Dirk Pitt, who went on to take on a power-thirsty millionaire. A ravishing mix of technology, adventure, and entertainment.
What Was Considered In This Reading Order?
The above reading list consists of individual books that appeared most in many results posted online about the adventures of one of Clive Cussler's most notable characters, Dark Pitt. Credible sources like Goodreads, Barnes & Noble, some digital libraries, and the opinion of Clive Cussler fans who love adventure, and mystery were also considered.