Christmas is that time of the year when people take time out to reflect and unwind from stress from a whole year. The season brings together friends and family in the spirit of love and celebrations. More so, one of the best ways to enjoy the holiday season is enjoying your favorite Christmas movies in the company of your loved ones. And you can never run out Christmas movies on Netflix.
Netflix is undoubtedly a reliable source for such holiday entertainment because no matter how you like your Christmas drama, there is something suited for you on Netflix. There is also no limit to the Christmas movies of your choice on the platform, as it is the best place to get the latest movies of your choice this holiday season.
Best Christmas Movies on Netflix Right Now
The selected movies listed below are based on IMDb ratings from the plethora of interesting Netflix Christmas movies available to make sure that your Christmas is well spent. The movies are arranged from the lowest to the highest IMDb rating.
1. A Christmas Prince: The Royal Wedding
Release Date: 2018
Starring: Rose McIver, Ben Lamb, Alice Krige
IMDb Ratings: 5.3/10
Rotten Tomatoes Score: 50%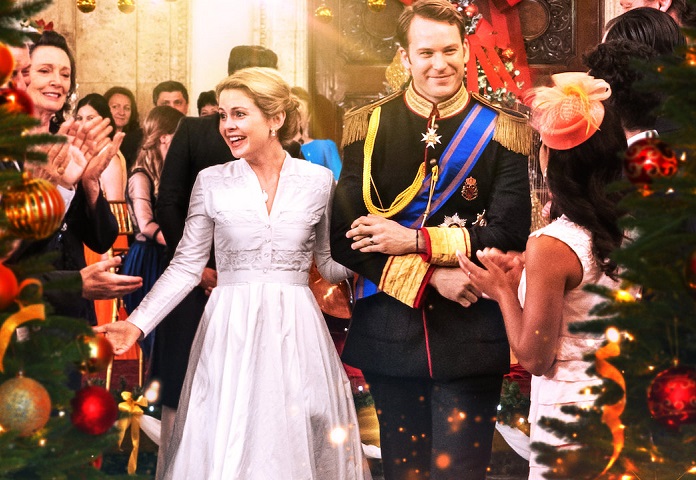 This is a sequel to A Christmas Prince, and in this sequel, the reporter falls in love with the crown prince and helps him secure the throne. She returns a year later to prepare for the royal wedding set for Christmas, but all does not seem to go as she had imagined – she is way too simple to fit into royal plans.
2. A Cinderella Story: Christmas Wish
Release Date: 2019
Starring: Laura Marano, Gregg Sulkin, Isabella Gomez
IMDb Ratings: 5.3/10
Rotten Tomatoes Score: NA
This movie is set in the same line but with a Christmas twist to it. A young woman with dreams of becoming a singer finds her Christmas miracle while working as an elf at a Christmas tree lot. The rest of the plot will warm your heart, especially if you love stories with happy endings.
3. A Christmas Prince: The Royal Baby
Release Date: 2019
Starring: Rose McIver, Ben Lamb, Alice Krige
IMDb Ratings: 5.4/10
Rotten Tomatoes Score: 36%
The third in the series, A Christmas Prince and continues the story of The Royal Wedding. It is the third Christmas in a row, and a perfect gift for Aldovia is here – a royal baby! However, the happy occasion may be ruined if Queen Amber fails to unravel a royal mystery and save her family and the kingdom.
4. The Knight Before Christmas
Release Date: 2019
Starring: Vanessa Hudgens, Josh Whitehouse, Emmanuelle Chriqui
IMDb Ratings: 5.6/10
Rotten Tomatoes Score: 70%
A 14th-century knight is transported into modern times by a sorceress using medieval magic. Now in modern-day Ohio, he falls in love with a disillusioned high school science teacher. If you love magic, then this movie is what you need during the Christmas season to unwind.
5. A Christmas Prince
Release Date: 2017
Starring: Rose McIver, Ben Lamb, Alice Krige
IMDb Ratings: 5.8/10
Rotten Tomatoes Score: 73%
This romantic Christmas movie tells the story of a journalist that goes undercover as a tutor to follow the life of a playboy prince who is an heir apparent to the throne. She gets entangled in the affairs at the palace and eventually catches the prince's fancy. This poses the question: for how long can she remain undercover?
6. Let It Snow
Release Date: 2019
Starring: Isabela Merced, Shameik Moore, Kiernan Shipka
IMDb Ratings: 5.8/10
Rotten Tomatoes Score: 81%
This is a story about something good coming out of an ugly situation. A snowstorm has hit a small town on Christmas eve, and the holiday plans of a group of high school seniors are affected. However, the story is different for Julie Reyes, a new student at Columbia University who runs into a pop star while returning his phone. The snowstorm forces them to have dinner together at Waffle Town, which coincidentally is a party spot. They end up falling in love and looking forward to meeting up in New York the following year to continue their relationship.
7. Holidate
Release Date: 2020
Starring: Emma Roberts, Luke Bracey, Kristin Chenoweth
IMDb Ratings: 6.1/10
Rotten Tomatoes Score: 44%
Never say never is the situation that two singles found themselves in. After concluding that love was not for them and tired of being alone each holiday season, these two decided to keep each other company but with no love strings attached, just a mutual friendship for the season. The idea is to attend the holiday events at their respective families as a couple to keep family members from worrying about their relationship status. However, what began as an arranged relationship deal gradually becomes a blossoming romantic relationship for Sloane and Jackson as they develop deep feelings for each other.
8. The Princess Switch
Release Date: 2018
Starring: Vanessa Hudgens, Sam Palladio, Nick Sagar
IMDb Ratings: 6.1/10
Rotten Tomatoes Score: 71%
In an unusual twist, a humble Chicago baker, Stacy, runs into a young woman who shares a striking resemblance with her at a baking competition in Belgravia. People easily mistake them for fraternal twins. The second woman, Lady Margaret Delacourt, is engaged to be married to Prince Edward, which means she is set to become a princess after her proposed marriage to the prince. The fun-loving duo decided to switch places for two days as Lady Margaret seriously wants some time out of the limelight as a prince's bride to be.
As expected, confusion ensues following the switch, but Stacy and her childhood friend still win the competition. More so, as the drama continues, both women begin to fall in love with the men they had traded places with. This engaging movie has two other releases in the series available – The Princess Switch 2 and The Princess Switch 3.
9. Holiday in the Wild
Release Date: 2019
Starring: Rob Lowe, Kristin Davis, Fezile Mpela
IMDb Ratings: 6.2/10
Rotten Tomatoes Score: 38%
The plot of this Christmas movie revolves around heartbreak and finding love again. Kate's marriage crashes shortly before she is set to embark on a holiday with her husband. She is devastated by her husband's sudden decision to leave her but does not allow that to hold her down forever. She makes a solo safari journey to Africa, where she meets an elephant conservationist and is lovestruck again. Everything that eventually played out revealed that life has a way of bringing things we lose back to us in unexpected ways if we live with a positive outlook.
10. Alien Xmas
Release Date: 2020
Starring: Keythe Farley, Dee Bradley Baker, Kaliayh Rhambo
IMDb Ratings: 6.2/10
Rotten Tomatoes Score: 100%
Alien Xmas is an interesting movie that sheds light on the innocence of childhood. A young boy mistakes an alien for a Christmas gift and keeps it as a toy. However, the alien is on a mission to steal earth's gravity and do away with all the Christmas gifts around.
11. Jingle Jangle: A Christmas Journey
Release Date: 2020
Starring: Forest Whitaker, Keegan-Michael Key, Hugh Bonneville
IMDb Ratings: 6.5/10
Rotten Tomatoes Score: 89%
This Christmas movie opens up a whole world of wishes and wonder that takes you into the world of magic and make-believe. It is a tale of a toymaker named Jangle who had lost faith and hope and now leads a lonely and sad life after a dubious apprentice betrayed him. However, his life would take a U-turn as laughter returns to his life after his adventurous stepdaughter, Journey, returned to him thirty years later. Together, they try to rebuild what is left of his life, especially Buddy, a toy he had designed with his daughter Jessica. Jangle and Journey set out on a quest to recover Buddy as it was stolen by his apprentice.
12. The Christmas Chronicles
Release Date: 2018
Starring: Kurt Russell, Darby Camp, Judah Lewis
IMDb Ratings: 7.0/10
Rotten Tomatoes Score: 68%
The Christmas Chronicles is one movie that is sure to keep you glued to the couch. Set in Lowell, Massachusetts, the plot revolves around the Pierce family. Claire Pierce, who has just become a widow, is doing everything within her power to keep her family safe and happy, including going the extra length to ensure that their usual family Christmas celebration is kept alive despite the demise of her husband.
Another series of events show as Kate and Teddy accidentally trap Santa causing his sleigh to overturn. Santa loses all the Christmas gifts with him in this accident. However, they assist him in recovering the lost gifts and help Santa deliver them in time for Christmas. This movie has a sequel titled The Christmas Chronicles Part 2.
13. Angela's Christmas
Release Date: 2018
Starring: Lucy O'Connell, Ruth Negga, Brendan Mullins
IMDb Ratings: 7.1/10
Rotten Tomatoes Score: 69% (Audience)
Angela's Christmas is based on a fascinating story by Frank McCourt. The movie's lead character, Angela, follows her family to church on Christmas eve and gets an incredible idea. The plot highlights the importance of family and a child's innocent desire to ensure her family's safety and see to it that they experience all the love in the world on Christmas day. It is set in Limerick, Ireland, in 1910 and has a sequel titled Angela's Christmas 2.
14. Dolly Parton's Christmas on the Square
Release Date: 2020
Starring: Dolly Parton, Christine Baranski, Treat Williams
IMDb Ratings: 7.9/10
Rotten Tomatoes Score: 63%
This incredible movie tells the story of Regina Fuller and is set in a town called Fullerville. Regina is has been impacted by the death of her father. She is emotionally unstable and has become stone-hearted from grieving for her late father. She serves the residents of her hometown's land with an eviction notice and plans to sell the land, but Angel arrives to stop her from making this grave mistake. It is an interesting watch for music lovers and has an actual music superstar in it!
15. Klaus
Release Date: 2019
Starring: Jason Schwartzman, J.K. Simmons, Rashida Jones
IMDb Ratings: 8.2/10
Rotten Tomatoes Score: 94%
Christmas is a season for sharing, and the plot of Klaus shows just how much healing an act of kindness can bring. The story is set in a frozen community caught in an age-long feud that has left it in the dark. This Oscar-nominated animated movie tries to unravel the mystery around the origin of Santa in a very engaging way that is quite a deviation from the usual narratives. A ray of light shines on the frozen community of Smeerensburg when a new postman, Jesper, arrives. While Jesper may not be the nicest guy around, he forms an unusual friendship with the town's toymaker, Klaus, and this act of kindness leads to another and eventually breaks the ice on the feuding parties bringing back the happy Christmas traditions of joyful giving.
Other Christmas Movies to Look Out For on Netflix
If you do not find what you are looking for in the list above, then you may have to check out these equally fabulous Christmas-themed movies available on Netflix.
A California Christmas
Year of Release: 2020
Starring: Lauren Swickard, Josh Swickard, Ali Afshar
Christmas With A View
Year of Release: 2018
Starring: Scott Cavalheiro, Kaitlyn Leeb, Vivica A. Fox
Father Christmas Is Back
Year of Release: 2021
Starring: Elizabeth Hurley, John Cleese, Kelsey Grammer
The Claus Family
Year of Release: 2020
Starring: Jan Decleir, Mo Bakker, Bracha van Doesburgh
Holiday Rush
Year of Release: 2019
Starring: Romany Malco, Sonequa Martin-Green, Darlene Love
Christmas Inheritance
Year of Release: 2017
Starring: Eliza Taylor, Jake Lacy, Andie MacDowell
Operation Drop Christmas
Year of Release: 2020
Starring: Kat Graham, Alexander Ludwig, Virginia Madsen
The Holiday Calendar
Year of Release: 2018
Starring: Kat Graham, Quincy Brown, Ethan Peck
Free Rein: The Twelve Neighs of Christmas
Year of Release: 2018
Starring: Jaylen Barron, Billy Angel, Manpreet Bambra
A Family Reunion Christmas
Year of Release: 2019
Starring: Loretta Devine, Tia Mowry, Anthony Alabi
48 Christmas Wishes
Year of Release: 2017
Starring: Khiyla Aynne, Noah Dyer, Maya Franzoi
Spirit Riding Free: Spirit of Christmas
Year of Release: 2019
Starring: Amber Frank, Bailey Gambertoglio, Sydney Park
DreamWorks Shrek the Halls
Year of Release: 2008
Starring: Mike Myers, Eddie Murphy, Cameron Diaz
A Christmas Special: Miraculous: Tales of Ladybug & Cat Noir
Year of Release: 2016
Starring: Cristina Vee, Bryce Papenbrook, Keith Silverstein
Christmas Wedding Planner
Year of Release: 2017
Starring: Jocelyn Hudon, Stephen Huszar, Kelly Rutherford