Technology is constantly in the business of making all aspects of daily human activities easy and flexible. Almost every activity in the world has been positively affected by th advancement of technology. Concerning reading, which is a vital part of knowledge enhancement and personal development, technology has helped with ebooks and the availability of free online books that people can access without cost. This makes it very easy for lovers of books to gain access to millions of written materials from all over the globe at just the click of a button.
Free online books have limited the problem of going to book shops to search for books to read. It also globalized written materials, making it possible for one to read books written by authors from both far and near. Online books are accessible everywhere and very easy to make changes or updates. Print sizes are no longer barriers as users can zoom in to make characters bold.
Best Places To Find And Read Free Books Online
1. Project Gutenberg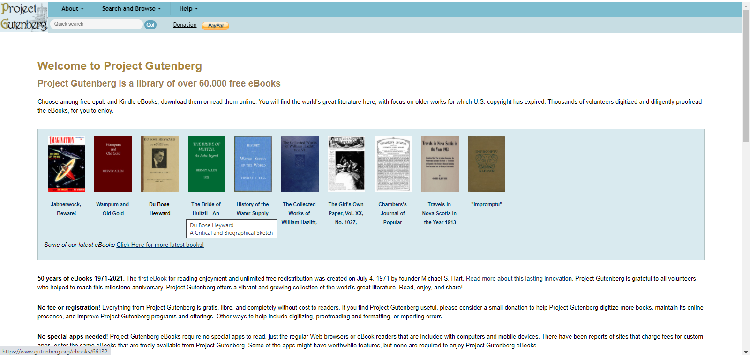 From 1971 till date, this website has been offering quality free online book reading services to the public. They control more than 60,000 free eBooks which you can either select from EPUB, MOBI Kindle, HTML, and other simple text formats. Old books which can not be found in the book shops are the main target to bring back the forgotten memories. The website offers its services at no cost to readers but urges readers to willingly donate for them to be able to bring in more books. This is best for classical novels and books here are easy to browse as they are categorized into bookshelves. Project Gutenberg demands no app to use its services, just visit their website here and you are good to go.
2. Open Culture
Open culture is a website that joins together highly-rated cultural and educational materials for global consumption. They offer a totally free reading platform of more than 800 free ebooks for iPad, Kindle, and others. Open culture also offers 1,700 free online courses, 200 online certificate programs, more than 100 degree and mini-degree programs, 200 free textbooks, 300 free language tutorials, 150 free business courses, etc.
3. Goodreads Free Shelves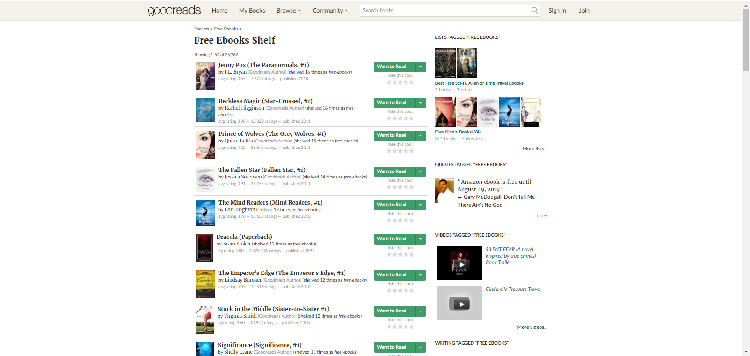 Goodreads Free Shelves has been adding value to readers across the globe by sharing and helping them find books they admire so much. With Goodreads, you can see the books your friend is reading, which also helps you keep an eye on the book you are reading, even the ones you read and also others you wish to read. Goodreads also has a recommendation engine that helps readers get suggestions based on the kind of book they want. From their community review, Goodreads will help you figure out if a book is a good match for you or not.
4. Open Library
Open Library is a free online book website that makes all written work available for the public to read. They have over 1.7 million books online for public consumption which can be downloaded using various formats like EPUB, MOBI, PDF, DJVU. It is their vision to develop a universal online library that will possess all forms of content.
Open Library is a result of the creative mind of the Internet Archive which is a totally not-for-profit agency. From the internet archive collections, you can borrow books, create reading lists, notes on books, public profiles, and compile statistics about your reading. The open library also has the ability to import and export data.
5. OverDrive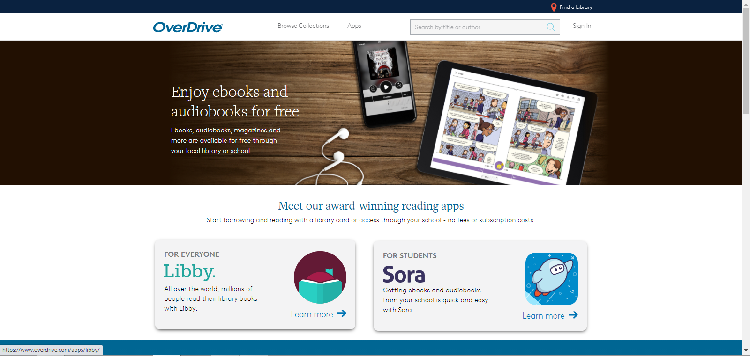 OverDrive launched its free digital ebook and has been extensively rendering services on its platform since 2000. They ventured into spreading digital online books to universities so that they can be easily accessed in school libraries by students. The app has been installed in over 65,000 libraries and 84 countries. OverDrive offers free books in the public domain and can be used anywhere after download.
6. Read Print
Read print is an online reading platform that has thousands of free online books in its archive. Users can document and monitor books previously read and the ones they are yet to read. Read print also gives room for new books and can also be recommended for likely books. There is the availability of online book clubs and groups to join to discuss experiences and share knowledge.
The reading platform has the following type of online books: essay, fiction, non-fiction, plays, poetry, short stories.
7. Manybooks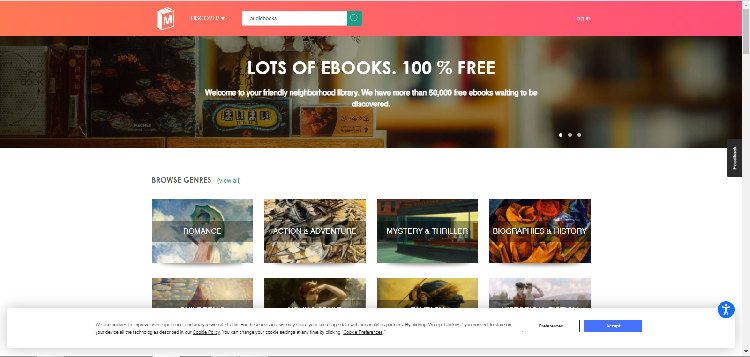 Manybooks have been in the crusade of spreading free books online since 2004. Most of their books are from Project Gutenberg's archive which ensures quality books in their collections. The site has a wide range collection of book formats for online readers like the TXT, MOBI, PDF, EPUB, etc. Books here are categorized into texts in different genres which makes it less daunting for readers to find books.
Self-publishers are allowed to bring in new books as long as it fits into the quality standard of Manybooks. Readers are also allowed to give feedback or even ask any questions to their editors.
8. The Literature Network
The Literature Network is a reading platform that has about 9,000 free online books that are based on classic literature, poems, plays, and short stories. The literature Network is very helpful to students and teachers for academic purposes. This network has a platform where users can ask questions relating to literature and get possible answers.
9. Loyal Books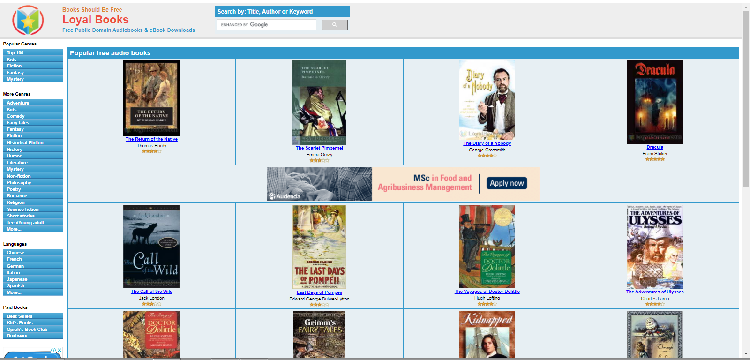 Loyal books previously known as "Books should be free" is a free online reading platform that offers more than seven thousand free online books. The site mostly features books about kids, fantasy, fiction, history, literature and enriches their public domain from other libraries. Any material in their public domain is totally free and no one holds the copyright on the ebooks. They accept free ebooks from the public as well as recommendations from users through the link. To visit Loyal books' official website, click here.
10. Feedbooks
This is a free online book reading platform with about four thousand ebooks on different fields and subjects in their public domain. It is compatible with devices such as mobile phones, tablets, dedicated devices, and personal computers. Books can be downloaded without signing up in formats such as EPUB, Custom PDF, kindle. Helpful information such as synopsis, reading hours, publishing dates, and word counts is displayed on the download page of each book.
Free online books on Feedbooks can be accessed on Free Original Books and Free Public Domain Books. Their help desk is available to help users with any question concerning their services. With Feedbooks, you can publish your own book online if it gets to meet their standards. To gain access to the Feedbooks official website, visit here.
11. Classical Reader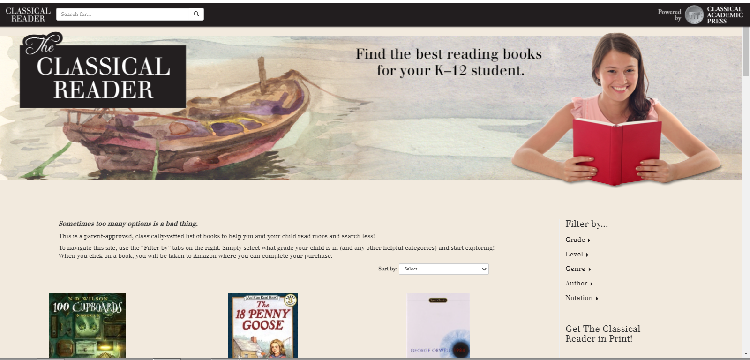 The Classical Reader is an online book reading website that has more than one thousand online books and other readable materials. The website allows parents to choose parent-approved and classically edited books appropriate for children at any academic level. You can select or filter by grade, level, genre, author, notation, and explore books that are appropriate for that selection.
12. Online Library of Liberty
The Online Library of Liberty is the creative work of the Liberty Fund and an individual educational foundation. This website offers carefully selected professional materials for lovers of ebooks on economics, law, political theories, and other varieties of texts to scout on. The OLL aims at promoting peace, and individual liberty, free-market, etc. Online library of liberty online books is totally free for users with over one thousand free online books for readers.
13. Standard Ebooks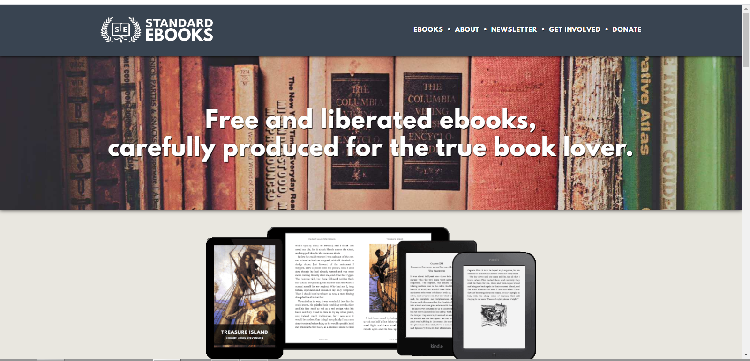 The Standard Ebooks website is a project driven by a community of volunteers who are ready to write and publish good books online for readers to access without cost. The books in their public domains are carefully edited to encourage quality. The website also obtains books from Project Gutenberg to gain more quality books in its catalog. They have millions of free online books for readers across the globe in their public domain which is totally free.
eBooks on the website are highly modified to high-resolution and have good vector graphics, Popup footnotes, hyphenation support. All their eBooks are regularly updated to maintain the best quality. The cover of ebooks in Standard eBooks is always gotten from so many public domains' fine art to develop attractive, outstanding, and consistent cover.
14. Authorama
Authorama is a free online book website that targets gathering public domain books published on sites like Project Gutenberg into a standard readable hypertext makeup language version. Even though that most of the files in Project Gutenberg are in plain-text format, it converts them into extensible hypertext makeup language. The website is completely free for users. Authorama gives room to reading books online, offline, and also feedbacks from users.
15. Bookboon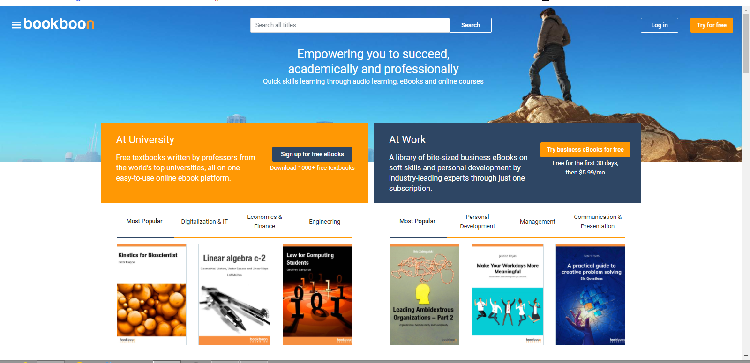 Bookboon is a free online books website that offers books in various categories ranging from business books, educational books, and many more. It has thousands of free books that can be downloaded for reading. The free online books website offers texts in multiple languages such as English, Czech, Spanis, German, Danish, Swedish, Dutch, French, Finnish, Norwegian. All books in Bookboon are made available in PDF format.
16. Planet Publish
Planet Publish reading website is a subsection of Debenu. Planet Publish books are taken from the planet PDF website. The site uses its PDF platform as a standard to evaluate documents to be posted in the public domain. All online books in the public domain are totally free for users and don't require registration for users to gain access to the website.
17. O'Reilly Open Books Project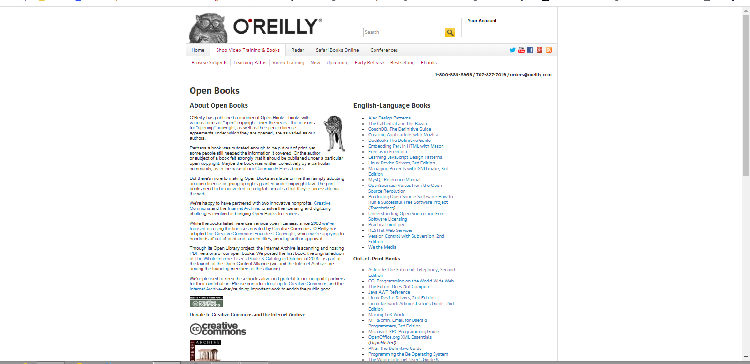 The website has so far produced more than one thousand online materials for public readers. O`Reilly in partnership with creative commons and the internet archive has achieved a lot in open books availability to readers. The creative commons founders copyright is what O`Reilly uses as open book licenses. It uses the Internet Archive to scan and host PDF versions of the open books. The O`Reilly open books project is totally free of any cost to the readers and can be accessed here.
18. Smashwords 
Smashwords is a free online book directory with books created by publishers and independent authors across the world. It includes a wide range of collections on fantasy, philosophy, religion, history, business, classics, adventure, and more. To read free books on Smashwords, always click on the free tab.
Quick filter buttons such as ratings and word counts can be used by users in searching for books that suit them. In downloading free books online, formats like TXT, MOBI, EPUB, and PBD can be used.
19. Hathi Trust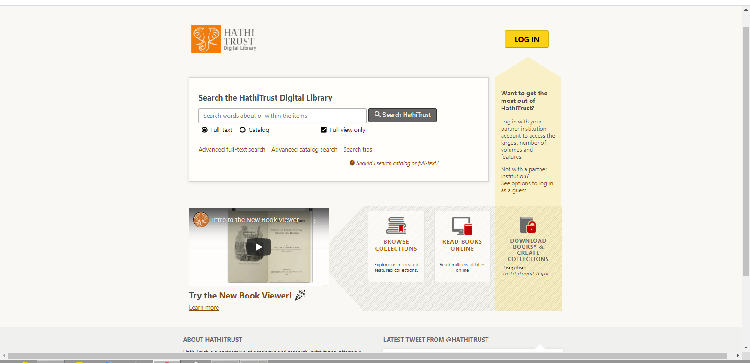 Hathi Trust is an online library specially designed for students communities. It was created by the collaboration of many research institutes and libraries to ensure the preservation of various cultural methods in digital format for referential purposes in the future. This was achieved by many academic research groups in the United States and libraries across the globe.
The free online platform has a collection of content on various fields like the old psychology, manuscript, and ancestry texts. The platform is flexible in such a way that it can be accessed by users without registration but is restricted to downloads as they have to sign up to be able to carry out downloads.
20. Google Books Search
Google Book Search is the biggest of them all with millions of online books. It totally covers so many subjects like biography, business, history, computing, and technology, children, fiction, politics, religion, etc.
Though all the books in Google books search are not free, there are still numerous free books for public use. To read from google books, click the link and use the search engine to look for any book of your choice and you are good to go. It also gives room for recommendations on likely search based on the category of books you are searching for. Google rating helps users to know if a book is worth reading or not. There is also an open platform to write reviews on a particular book.
Recap Of All The Places You Can Get Free Books Online
Gutenberg.org
Openculture.com
Goodreads.com
Openlibrary.org
Overdrive.com
Readprint.com
Manybooks.net
Online-literature.com
Loyalbooks.com
Feedbooks.com
Classicalreader.com
Oll.libertyfund.org
Standardebooks.org
Authorama.com
Bookboon.com
Planetpublish.com
Oreilly.com
Smashwords.com
Hathitrust.org
Books.google.com