The best Christmas gifts for dads shouldn't have to cost you an arm and a leg; they only have to be thoughtful presents the recipients would find meaningful and useful. While you don't have to wait for special occasions to get a gift for your dad, holidays like Christmas are a great time to recognize and appreciate your father for all he does. Dads are quite easy to please when it comes to gift-giving as they always seem to appreciate whatever they get.
Because of that, it has become easy for people to not invest so much thought on what gifts their dads would genuinely value. Instead of going for another I-Love-You dad mug, you should consider getting any of the following Christmas gifts for dads listed below for a change.
Meaningful Christmas Gifts for Dads and Father Figures
1. Shiatsu Back Shoulder and Neck Massager
Mental stress and physical strain get common as we age and a good massage experience is a good way to deal with that. Now, your dad might be too busy to visit a massage parlor or is simply not cut out for such luxury. Whatever the case, he would appreciate easing muscle tension around his back, neck, and shoulder. The Shiatsu Massager makes it possible for him to get a massage on his terms.
Shop Now at Amazon
2. T J. Moree Exquisite Bartending Kit and Cocktail Set
People celebrate Christmas and look forward to the holiday season as it is their favorite time of year. The reasons for this are not far-fetched, apart from its religious significance to Christians, it is a time to reconnect with family and friends. In such gatherings, memories are relived and made over cocktails and a bartending skill is often appreciated. With this T J. Moree exquisite bartending kit and cocktail set, your dad doesn't have to be experienced in bartending to whip up some fine cocktails for the friends and family he might host all through the season.
Shop Now at Amazon
3. Teslyar Multifunctional Charging Station & Organizer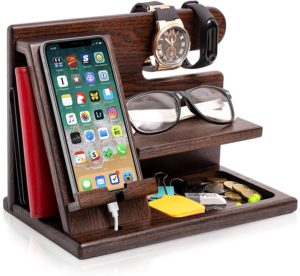 It is not hard to see how this is a very thoughtful Christmas gift for dads. If your father is always looking for his wallet or keys, you should get him this Teslyar Multifunctional Charging Station & Organizer as a Christmas present. With it, he gets to keep his items together and at hand. He can count the charging station the gift provides as a bonus.
Shop Now at Amazon
4.

12 in 1

Survival Gear and Equipment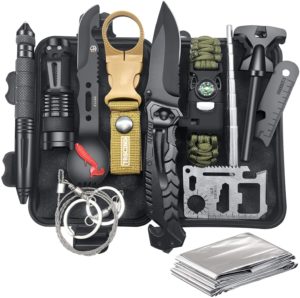 This can only be a thoughtful Christmas gift for dads who enjoy outdoor activities like camping, hunting, fishing, hiking, and what have you. It contains multiple survival gear and equipment – from a tactical flashlight, knife, and pen to multi-use spork, bottle clip, pocket bellow, survival bracelet, fishing tools, fire starter, and other things of that sort. It is a perfect gift that keeps one prepared for any emergency that might arise from any of the aforementioned outdoor activities. Its content might be useful outside of such activities but we would only recommend this gift if your father is an outdoor enthusiast.
Shop Now at Amazon
5.

Engraved Leather Men Wallet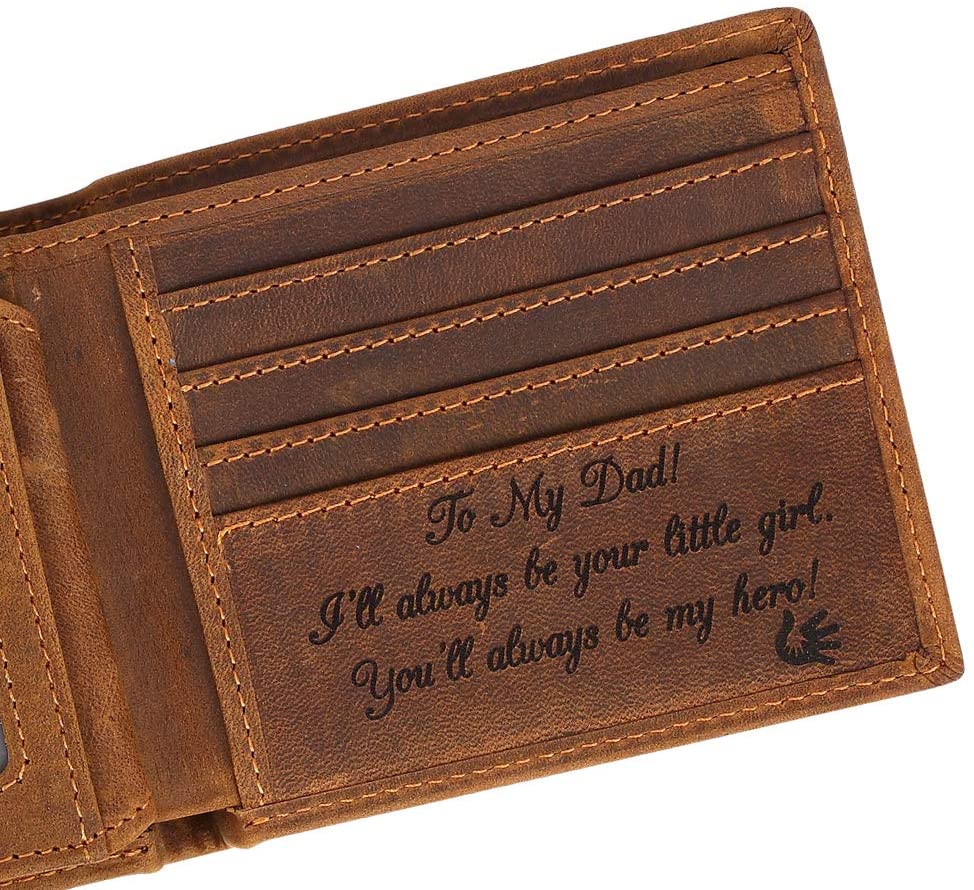 Although they are "just wallets", their importance is profound. Many realize this only when they reach for their pockets and can't find theirs. But wallets have always been very valuable and useful in terms of keeping personal belongings safe from theft and protected from damage. Your dad probably needs to change his wallet; it is likely one of those things he has been planning to purchase for a while but is yet to get it done because he keeps forgetting. Don't just get him any wallet, go for customized ones with a sweet message like the one here. It's a good Christmas gift for dads, especially for people who can't afford to get pricey gifts.
Shop Now at Amazon
6. Cincom Foot and Calf Massager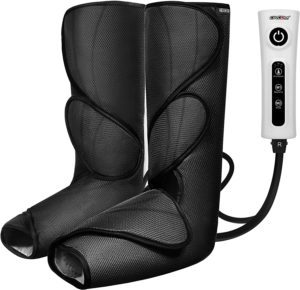 Aging and muscle stiffness are two sides of the same coin. As we age, joint movement becomes stiffer and quite laborious, especially for people who aren't in the habit of working out. While it is natural and inevitable, products like the Cincom Foot and Calf Massager have been found effective for managing it. With this, your dad can massage and gain some flexibility around his calves and feet.
Shop Now at Amazon
7. Whiskey Decanter Globe Set With Etched Globe Glasses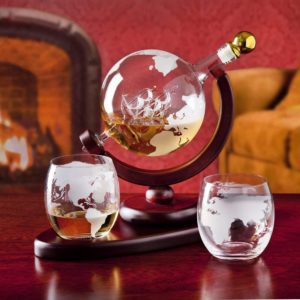 Beyond being one of the finest Christmas gifts for dads, the Whiskey Decanter Globe Set With Etched Globe Glasses is a gift that any whiskey-loving dad or father figure would appreciate on any day. The elegant whiskey decanter dispenser comes with two matching glasses fitted in a fine tray that makes the whole package not only a first-rate liquor decanter but a beautiful piece of home decor. Also, the decanter isn't only for whiskey, it can also be used to serve anything from water to iced tea and what have you.
Shop Now at Amazon
8.

Watch Box Organizer For Men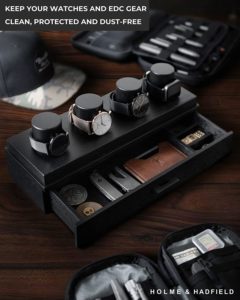 Getting a Christmas gift for a dad who seems to have everything can be one of the most frustrating quests. But then, nobody has everything; no matter how whole and comfortable your dad may seem, there is something out there that would add or offer some value to him. It could be something as simple as this watch box organizer. With it, he can organize his watches and as well utilize the valet tray to store his other accessories. A remarkable, extra feature of this gift is the fact that it can serve as a decorative centerpiece on dressers and side tables.
Shop Now at Amazon
9. Tilvini Leather Wine Bag With Stainless Tumblers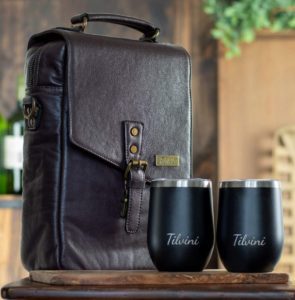 This is a good Christmas gift for dads, especially for the ones that appreciate or collect wine. Leather wine bags help to keep the bottles safe as you transport them. They are a safer option compared to paper and plastic bags that can easily break and ruin fine wine. While that is their primary essence, leather wine bags like this are also stylish as much as they are easy to carry around. If your dad is a wine aficionado, then he's probably looking forward to visiting some friends and relatives during Christmas with some bottles of wine and would come to appreciate this gift.
Shop Now at Amazon
10.

Thrive Natural Men's Skin Care Set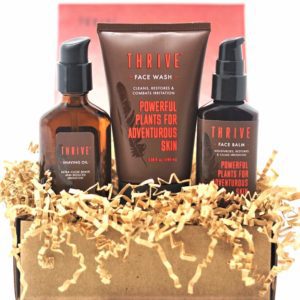 We can all benefit from having a fine skincare routine, including your dad. With dedicated daily self-care, we get to keep our sink glowing, fresher, and younger-looking. While it's as though skincare is a thing for only women, men need to take care of their skin as the right moisturizers and cleansers can go a long way in keeping wrinkles at bay. So, if it has been bothering you of late that your father looks older than he is, you should consider getting him a good men's skincare set like this Thrive product as a Christmas present.
Shop Now at Amazon
11. Double-Layer Decorative Cigar Box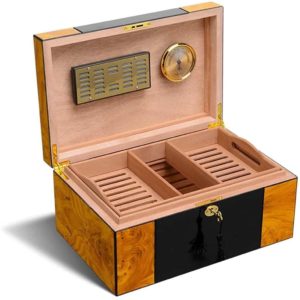 For a classy dad who doesn't seem to need anything, this double-layer cigar box can be a perfect Christmas. Made of cedarwood with a shell that sustains humidity to prevent moisture, this decorative cigar box would enable him to store different flavors of cigars in a go without worrying about compromising taste. It is also very convenient to carry along when traveling.  Without a doubt, any father figure fond of collecting the highly sought-after Cuban cigars would greatly appreciate this as a Christmas present.
12.

Black Bull Beard Grooming Kit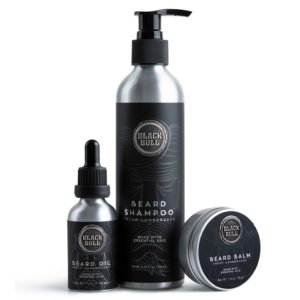 There are various reasons why men with beards grow them. Some think it is attractive, others are tired of the ingrown hairs and razor bumps that come with shaving, and a few or many are probably keeping it just because they can. Whatever the reason is, it doesn't matter if you like men with beards or not. If your dad is keeping his facial hair, there is nothing you can do about it and it'd be quite toxic if you go all out to have him embrace shaving. Nonetheless, you can buy him a beard grooming kit like this Black Bull product to help him keep his beards clean and tidy.
Shop Now at Amazon
13. Multifunctional

Electric Foil Shavers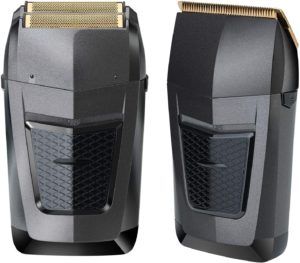 While some dads are all for beards, others can't stand it and would painstakingly get rid of all facial hair to sport clean-shaven faces. Again, it doesn't matter if you would prefer your dad to groom his beard. It's completely his choice and you don't just have to accept him for who he is; take it further by getting him this Multifunctional Electric Foil Shaver. He can use it to shave his chin as much as it can be used for hair cutting. It is a good gift on any occasion for any dad or father figure who prefers to be clean-shaven.
Shop Now at Amazon
14. Kinbata Leak-proof Tumbler and Multitool Hammer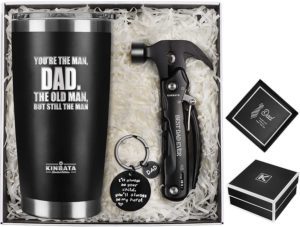 This Christmas gift for dads is more thoughtful compared to the regular I-Love-You Dad mugs. More than the customized tumbler which practically every dad would find useful in multiple ways, the gift comes with a multi-tool hammer that one would find useful for carpentry and home improvement projects. The tools range from a bottle opener to a nail puller, screwdriver, pliers, file, wire cutters, saw, hiking knife, and whatnot. That's not all; he will also find a personalized keychain in the package.
Shop Now at Amazon
15.

Bartesian Premium Cocktail and Margarita Machine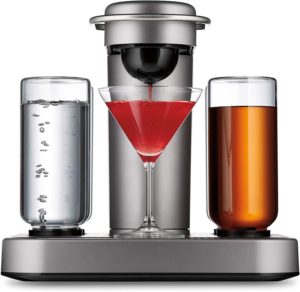 In picking a gift, it is wise to consider what the recipient might need. But that should not always be the case, especially when it is someone who seems to have all they need. In such cases, it is always rewarding to settle for a gift any person would find useful, like this Bartesian Premium Cocktail and Margarita Machine. It is one of such things people would think they don't need but get immediately attached to it the moment they start using it. It is hard to imagine your dad wouldn't appreciate this as a Christmas present.
Shop Now at Amazon
16. Personalised Custom Blanket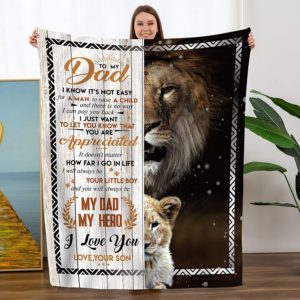 Personalized and customized gifts always stand out; they make a lasting impression and are often the last resort for someone who doesn't have much to spend on a gift. No matter how small the budget is, one would find something worthwhile like this Personalised Custom Blanket that comes with a heartwarming message. Your dad would find the fluffy lightweight blanket comfy and can use it both indoor and otherwise. It is a good Christmas gift for dads and indeed any special person in your life.
Shop Now at Amazon
17.

Upgraded Bluetooth Beanie Hat with Headphones
Christmas gifts for dads must not be something they would find useful only during the holiday season; so if your dad loves music, you should make him feel young again with this Upgraded Bluetooth Beanie Hat as a Christmas present. Compared to other similar products, it has a decent battery life that lasts for as much as 20 hours and yields a stable connection. Also, if Christmas is always cold where he lives, the Beanie hat would keep his head warm for outdoor activities. You shouldn't think twice about getting this product if your dad is a music freak.
Shop Now at Amazon
18. Leather Strap Chronograph Wrist Watch and Fashion Bracelet Set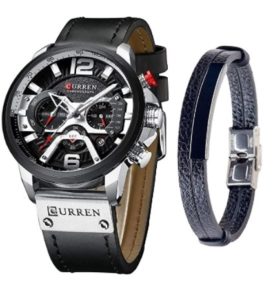 Wristwatches have always been a meaningful gift to get for anyone and this Leather Strap Chronograph Wrist Watch that comes with a fashion bracelet is a great gift to get this Christmas for your father. It is an everyday trendy accessory he can wear on serious occasions and practically every other day. It is a gift of time that would help him make a fashion statement, keep track of time, and as well serve as a symbol of the great time both of you have had together.
Shop Now at Amazon
19.

Samplife Bath Pillow and Spa Bathtub Cushion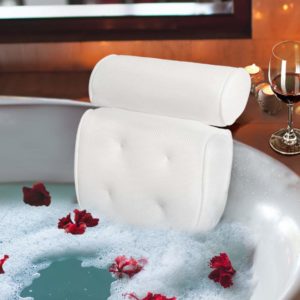 If your dad has been overworking himself, it is only right for him to get premium rest whenever he chooses to unwind. Sitting around in a tub or jacuzzi is a great way to relax but this Samplife Bath Pillow and Spa Bathtub cushion make it perfect. It supports his back and shoulders as much as it comforts his head and neck, ensuring he doesn't end up with any nasty body pain in what was supposed to be a soothing undertaking.
Shop Now at Amazon
20.

Timberland Double Layer Scarf, Cuffed Beanie & Magic Glove Gift Set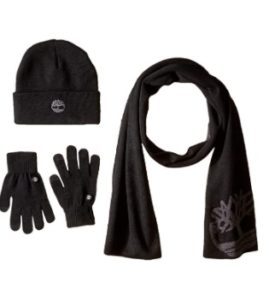 Dads can be inherently stubborn that no matter how cold it gets, it wouldn't stop them from keeping up with their outdoor schedules. So they might find this gift set very useful if it is cold and icy during the holiday season. It is definitely one of the meaningful Christmas gifts for dads.
Shop Now at Amazon