Getting the right gift for those special people in our life usually gives us a lot of joy. More so, we will definitely be very happy when we give them the right gifts that suit their personality – but that can be a tough task especially if we are not certain about what they like. However, we will definitely be lucky if those special people are DnD players as there are tons of DnD gift items you can give them.
You don't really need to know anything about the game to get a Dungeon and Dragon (DnD) enthusiast a gift related to the game as they will be thrilled with anything you get them – they are collectors! You can also get them that right gift no matter the budget you are working with as DnD gifts come in various price ranges which can suit anyone.
Here Are 25 Unique Gift Items To Get A DnD Fan
Irrespective of whether they have reached the organizational role of Dungeon Master or are still at the budding stage as DnD players, there are different gifts that will be suitable for their level. It could be a new dice set, dice tower, DnD journal to creatively engraved DnD accessories – you can never run out of gift items for Dungeons and Dragons players.
We have come up with the following list which includes 25 unique gift items you can get for a DnD fan – beginner or advanced player and you won't have to break a bank to do so!
1. Dungeons & Dragons Core Rulebooks Gift Set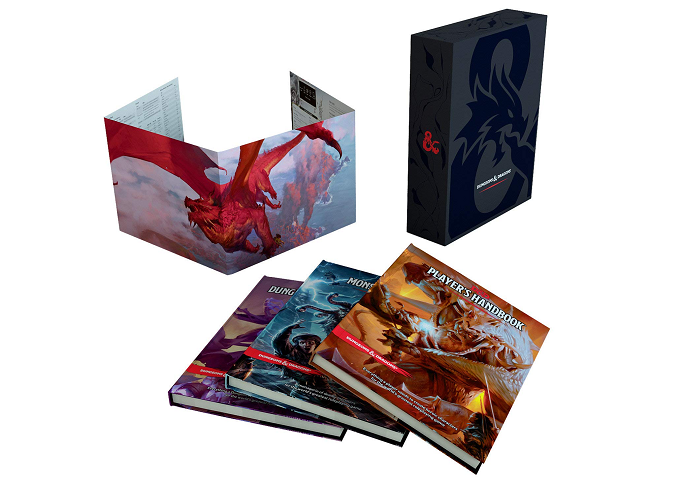 Wondering what to get a Dungeon and Dragon enthusiast who is not very grounded in the game, the D&D Core Rulebook Gift Set is a perfect choice. This is because it comes with the D&D Player's Handbook, Dungeon Master's Guide, and Monster Manual as well as a Dungeon Master's screen, which is all packaged in a fancy pack. This gift pack will give beginners all the guides they need to play the game and veterans can also get the recent updates on the rules as the gift set provides that too.
2.  Dungeons and Dragons Baseball Cap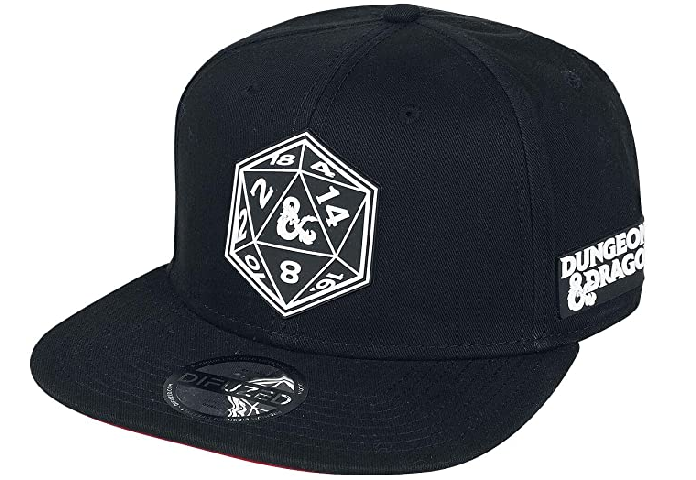 This Dungeon and Dragon baseball cap is definitely a great gift to give to a DnD fan. It is made from quality fiber which guarantees its durability and it will blend with any outfit the person wears as well as show off the person's love for the game as the cap comes with inscriptions popular among DnD players.
3. Modular Dungeon System: Tabletop & RPG Terrain Game Set for Dungeons & Dragons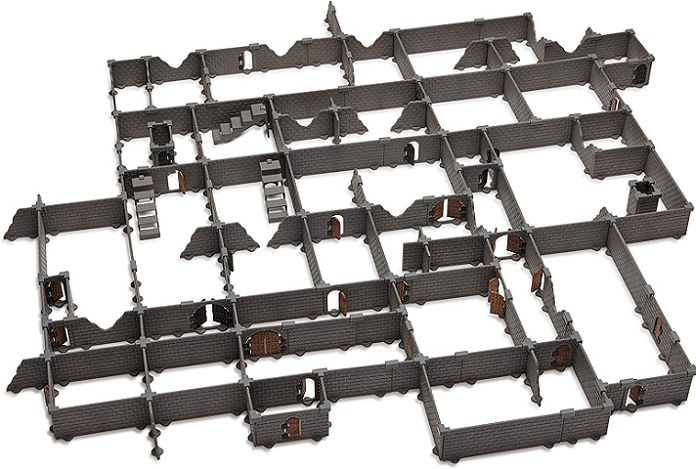 This Dungeon set is a fun gift item you can get for any DnD fan. This set comes with 200 pieces of different lengths of walls, stairs, doorways, and doors. There are also more than 260 top clips as well as door clips in this set in order to make the dungeon layout very flexible. This piece when completed will cover up to 7 square feet and the walls are paintable! Any DnD fan will be thrilled to assemble this dungeon and it will be a great way to engage beginners to get to learn about the game in a fun way.
4. Dungeons & Dragons Ampersand Pastel Logo Zip Hoodie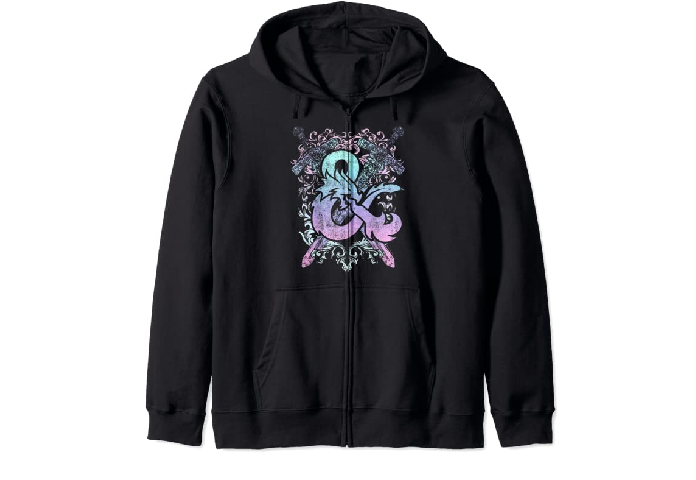 Everybody loves comfortable and warm clothes especially when it's a zip hoodie. You would definitely not go wrong getting this for a DnD fan because nothing beats the feeling of being wrapped in one of the things you adore for hours.
5. Wiz Dice Bag of Holding: Collection of 140 Polyhedral Dice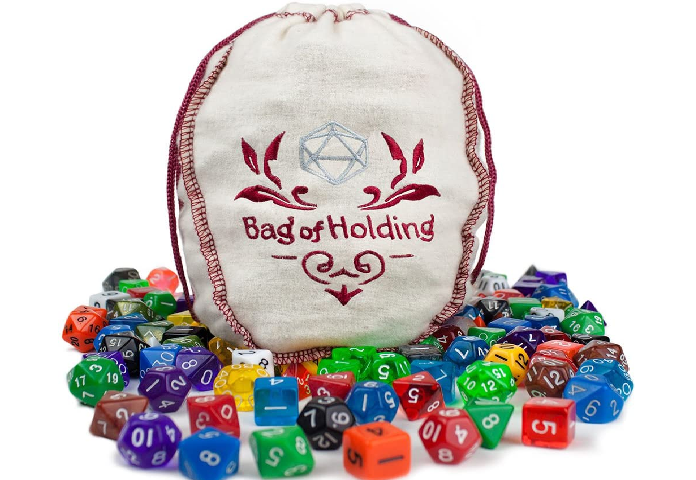 The bag of holding comes with a minimum number of 140 incredible polyhedral dice – a set that is a must-have for any DnD fan. More so, this set will definitely be a wonderful addition to their DnD collection and with it, they will never lack polyhedral nor misplace the ones they have as the bag has the capacity to hold up to 200 dice.
6. DnD Stats Mug – Sarcasm 11oz White Ceramic Coffee Mug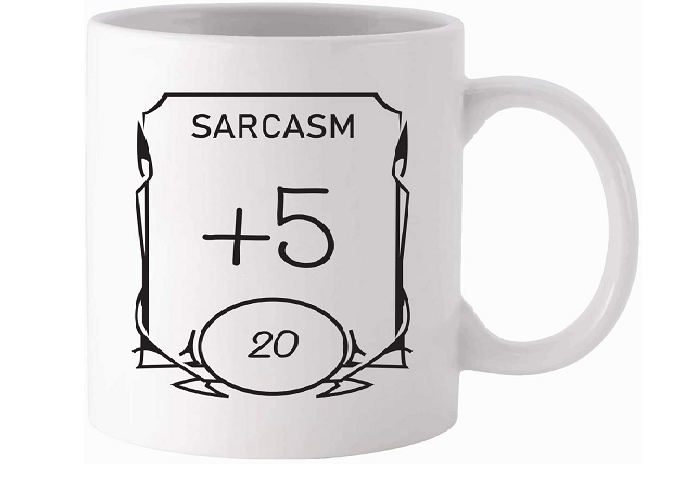 All DnD fans can attest to the fact that they have spent late nights playing their favorite game. The DnD 11oz mug cup is an ideal gift to give them to help them enjoy their late nights of gaming, sipping hot coffee as they embark on their adventure.
7. Adventurer's Bag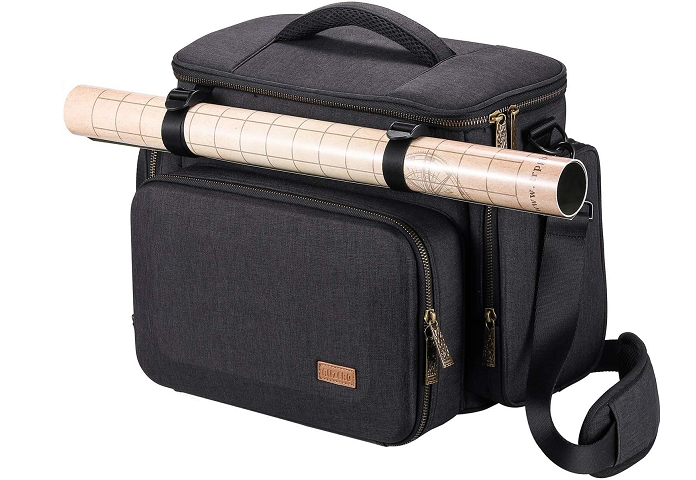 Serious DnD players will definitely accumulate diverse accessories that have to do with their game and there is no better place to keep them than in the adventurer's bag. This tote comes with a lot of pockets that can be used to store items like books, pens, dice, maps as well as a foam compartment for mini-figures
8. WeaponDice Hollow Metal DnD Dice Set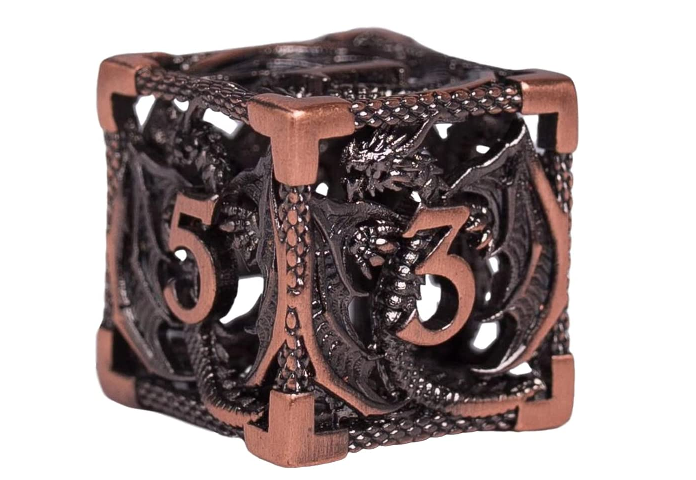 Another perfect gift to get a DnD enthusiast is a hollow dice set as this piece is perfect to use at group gaming parties or even for teaching purposes. The metal that makes up this piece is very light and durable which makes it quite easy to handle. More so, the hollow dice set makes a jingling sound when it is being rolled which will definitely amuse a DnD fan and draw attention to their gaming table.
9. Dungeons and Dragons D20 Color Changing Light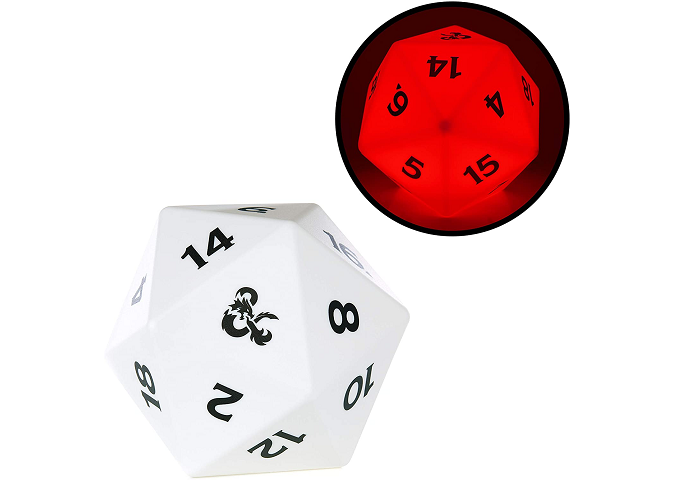 Light up the heart and room of a DnD fan with this D20 color-changing light. It can be given to any DnD fan because it is eco-friendly which makes it suitable for both outdoor and in-house decor. More so, it is easy to move around as it is not heavy – it is made up of plastic.
1O. DnD- Mind Flayer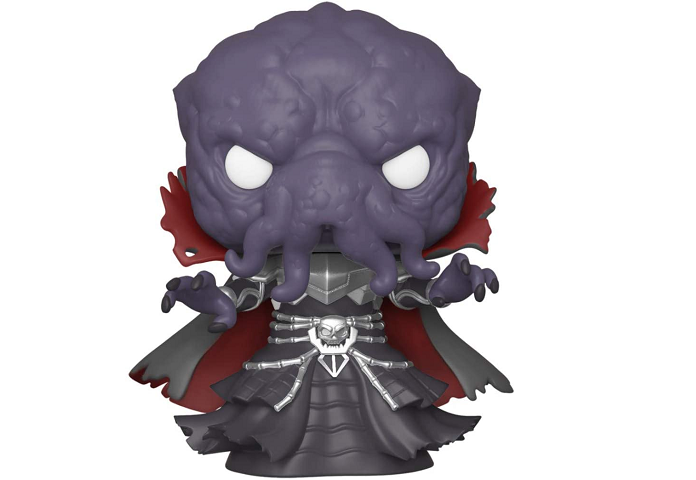 Thinking of getting something scary but cute for a DnD fan, then the Mind Flayer is the right gift choice you might want to pick. This suit which stands at almost 4 inches tall would not feed on brains in real life but would still give that eerie feeling when seen. Any dedicated DnD fan would be thankful to add this piece to their collection.
11. Metal DnD Dice Set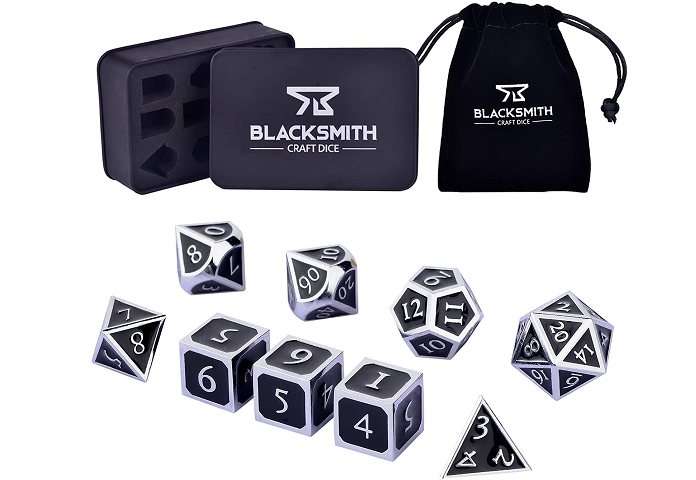 A classic gift to give a DnD player is the Metal DnD set of 9 dice which is packaged in a sleek, velvet bag. The dice are made of durable alloy and the sound of their rolling exudes power which will definitely scare off enemies on any gaming table.
12. Origin Miniatures Battle Pack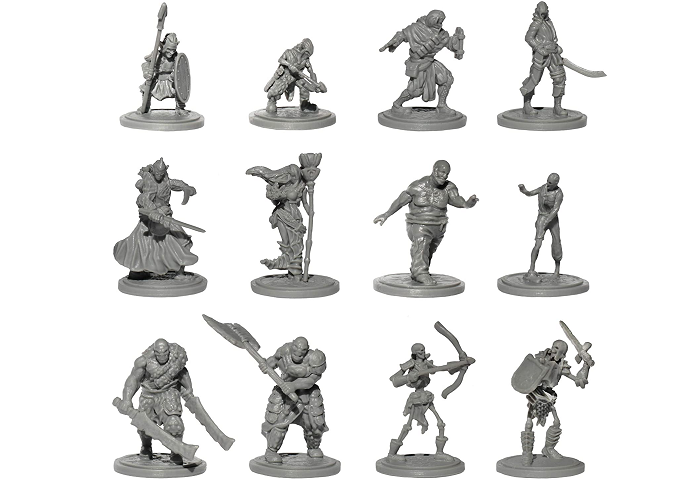 DnD Tabletop players can use these unpainted characters to showcase their own creativity by painting them with colors of their choice. It usually comes as a set of 36 pieces which include zombies, elves, bandits, and other unique characters. This gift will be another wonderful set to add to an advanced DnD players collection or yet still a beginner can begin their own very own DnD collection pack with this set!
13. DOUBLE DRAGON Blank Page BOOK Handcrafted Leather Writing Unlined JOURNAL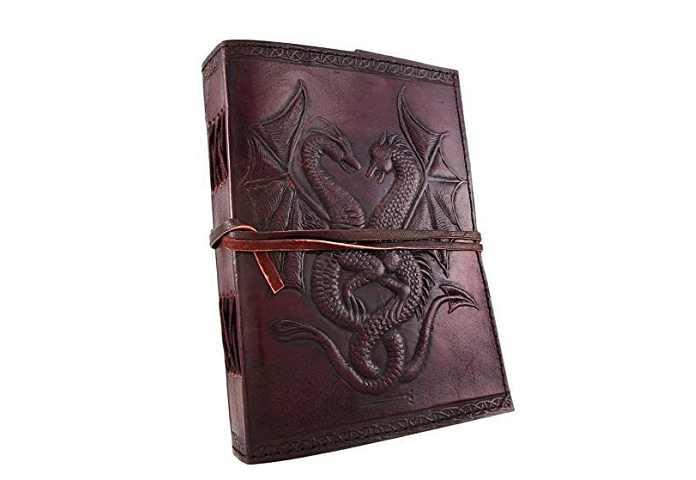 There is a lot involved in playing the Dungeons and Dragons game and one way a player can remember everything in the game is by keeping a journal. This dragon-style journal is a perfect place to jot down what a player wants to remember and it will be a great gift to give both a beginner or an advanced DnD player.
14. SMONEX Dungeons and Dragons Wood Coasters Set of 5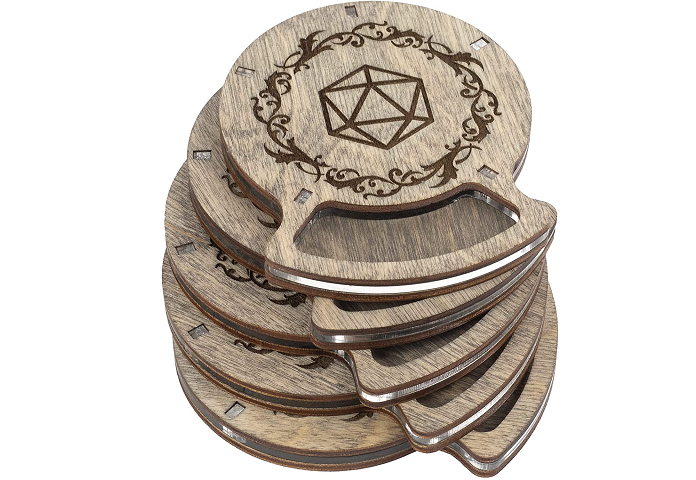 This bar coaster for drinks is a suitable gift for DnD master players and interestingly it can be used not just for drinks but to hold a couple of DnD dice including a D20. This set can be used at any event, be it a birthday party, Christmas party, or better still, it can be used as an accessory in the home. The coaster set is also durable and it is waterproof so there won't be any worries if drinks get to spill on it as you play.
15. Dragon Glassware Diamond Whiskey Decanter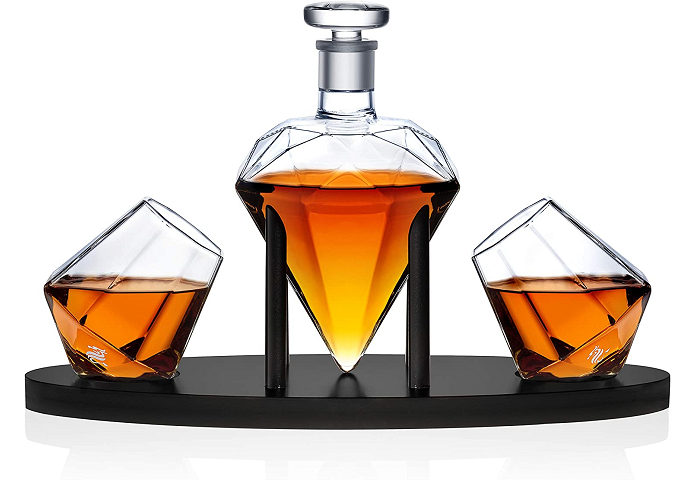 If you are looking for something classy to give a DnD player, the dragon glassware is the perfect gift choice. This piece which comes in a unique shape will be a great addition to the player's glassware and sipping chilled drinks from these diamond-styled cups during a DnD game would be both relaxing and enjoyable.
16. Dungeons & Dragons Collectible Monopoly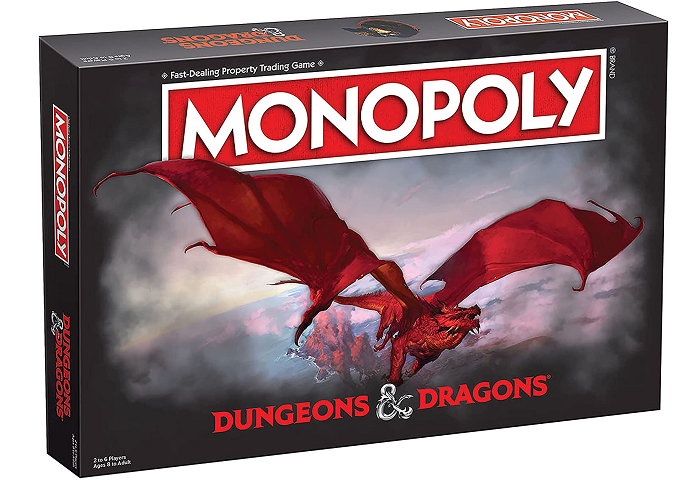 With this Monopoly pack, you will definitely thrill any DnD fan as it will set them on an adventure where they can have fun buying, selling, and trading deadly and iconic monsters which include the Storm Giant, the infamous Demogorgon, and the Beholder as they play. The Monopoly pack will enable a player to make remarkable experiences as well as achieve their dream of becoming the wealthiest adventures as they pile up customized DnD currency throughout the game.
17. DnD Transparent Resin Polyhedral 7-Die Dice Set for Role Playing Game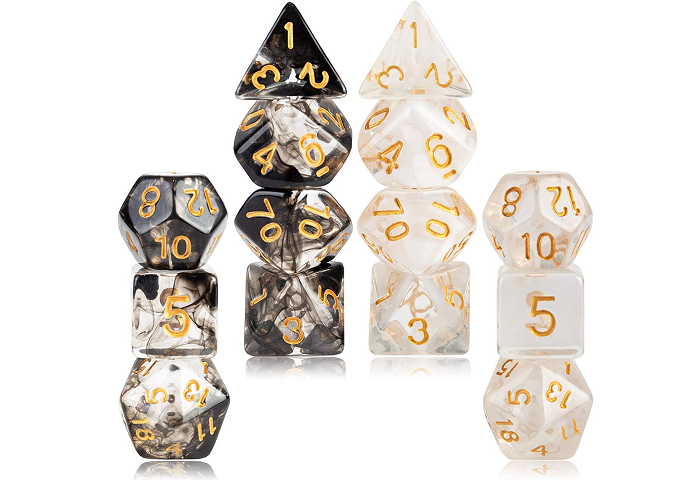 You can never go wrong with getting a dice set for a DnD player and the transparent resin polyhedral DND game dice set would make a great gift. The dice in this set are standard-sized with a good balance which makes them roll easily. These dice are also loved because of their clearly written golden numbers which can be found on each side and the numbers 6 and 9 are differentiated by using an underscore sign.
18. Dungeon and Dragon Miniatures Condition Marker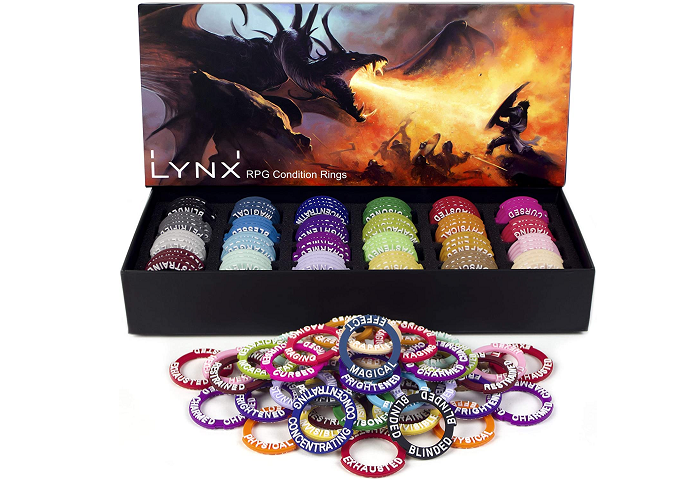 This uniquely designed condition marker set is a must-have for DnD players as it makes it easy to spot things easily and clearly around the gaming table. So, getting this set for a player would be thoughtful and well appreciated as you will be eliminating any form of confusion on their gaming table – no more tracking of things with pen and paper again
19. Dungeons and Dragons Pillow Case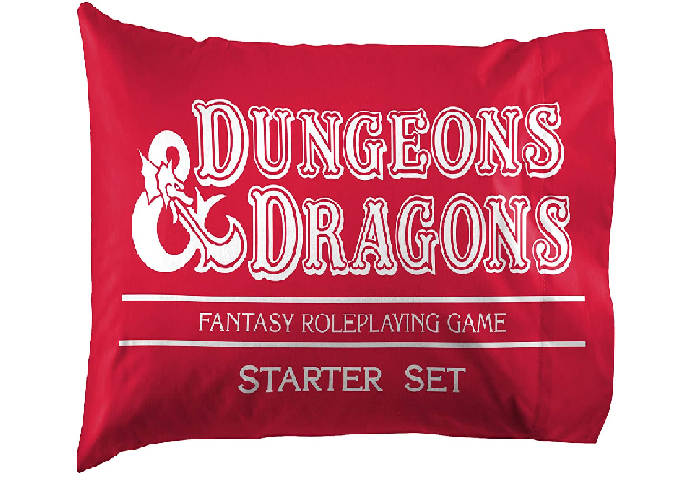 The Dungeon and Dragon pillowcase is a fun gift to give a DnD fan. It is made up of very soft fibers which are durable and do not fade when washed. This bedding accessory will definitely make a player look forward to nap time after every game!
20. Dungeons & Dragons Molded D20 Plastic Water Bottle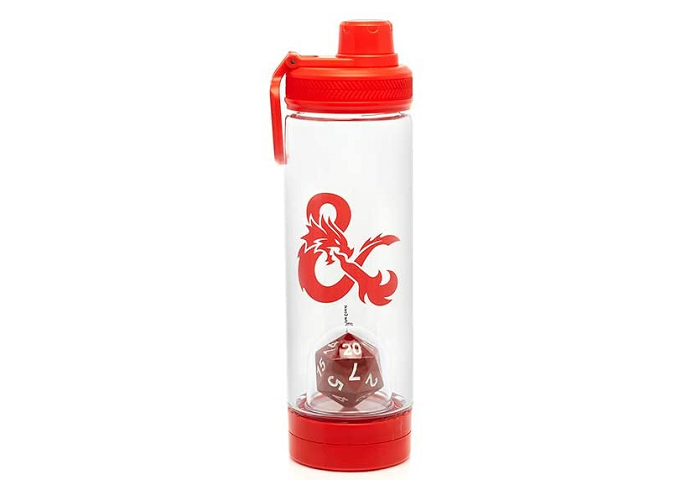 The D20 water bottle with dragon designs is a great gift to give a DnD player especially if you want them to stay hydrated throughout their adventure. This bottle is portable and will come in handy during road trips as it can be easily packaged in an adventurer's bag. With it, one can enjoy cold drinks on the go.
21. Cusdie Bamboo Dice Tower with Foldable Wooden Die Roller and Castle Rolling Case for Dungeons and Dragons Games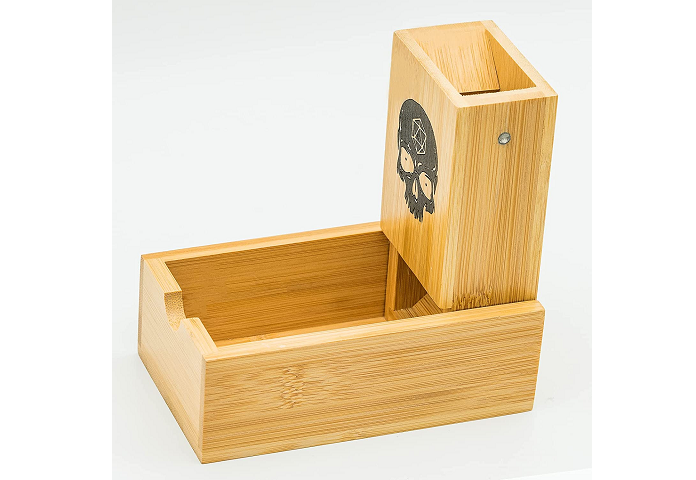 DnD players can attest to the fact that a dice tower is needed in nearly all DnD games because most of the games involve dice that can be collected in a dice tower except for oversized dice. A dice tower is hereby a perfect gift for any DnD player whether beginners or advanced players and this wooden foldable dice tower will make a great gift.
22. DnD Essential Set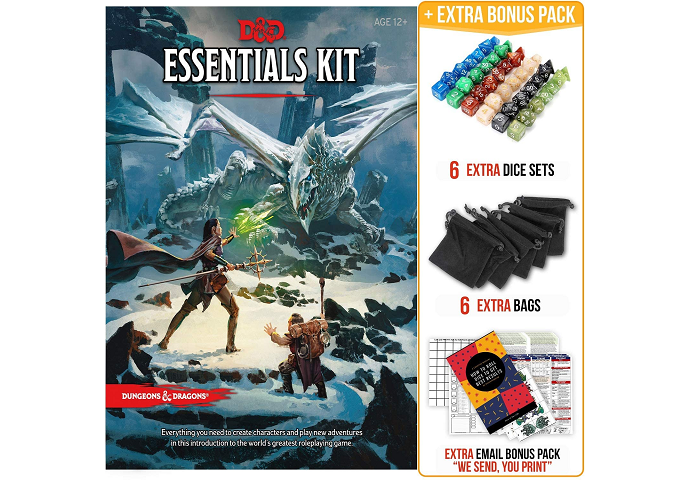 The DnD Essentials Kit is a perfect gift you can give someone who is just starting out to play Dungeons and Dragons. This kit comes with almost everything the player will need as well as a bonus pack. In there are 42 dice which come in various sets and shapes. There is also a flannel drawstring pouch that can be used to store dice.
23. Dungeon and Dragon Waterproof Stickers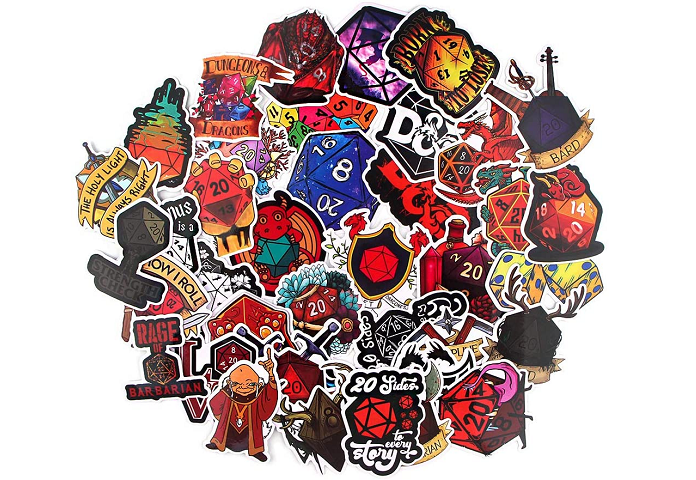 With these amazing assorted stickers, you can get a DnD fan to decorate everywhere and everything they own with pictures from their favorite game. These colorful stickers are printed with 3D print technology and this ensures that they are durable and are of high quality. They are even non-peeling, scratch-proof, and the images on the stickers do not fade. This is definitely one of the best gift items for young DnD players who love to be creative and busy with their hands!
24. Dungeons and Dragons Theme Birthday Party Decorations Set for Kids
Birthdays are memorable events and if you want to make it a very special event for your kid who is a DnD fan, the best option is to throw them a DnD themed birthday party! The Dragons and Dungeons decoration party set will definitely give you the kind of look you want to pull off and this will not only impress your kid but guests will be thrilled as well with all the decoration.
25. Hand Crafted Dice Chest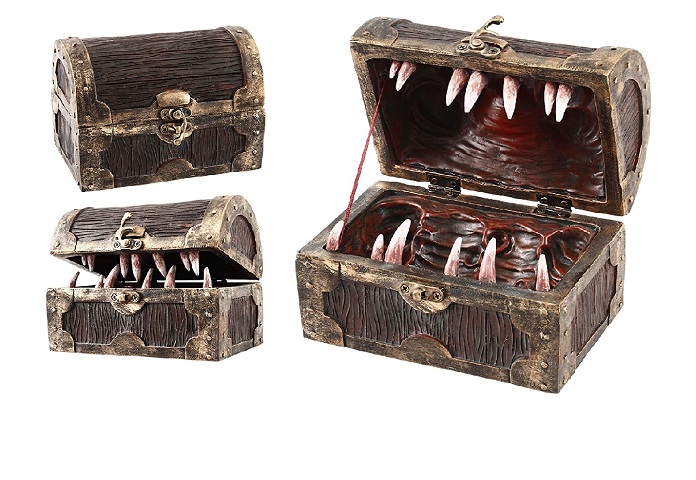 The Forged Handcrafted Dice Chest is another great gift to give a DnD fan as this chest can serve as a storage box for the player's dice collection. It is made of durable material and will ensure that any item kept in it will be safe even if you take it along with you on trips.