Buying gifts for boys should be done with a lot of caution as you would want to get them gifts that will last – that is, things they can play with for a reasonable amount of time without breaking or damaging the item easily. It is best to choose gifts tailored towards their area of interest, be it science, music, gaming, building, or any other hobby. More so, it would be appropriate to keep in mind their age bracket as boys of different ages – from toddlers to teenagers would prefer varying gifts at various stages of their lives.
In the gift guide compiled below, we have put together the right kind of gifts this holiday season for boys in the toddler bracket up to teenage boys. It is also worth noting that for toddlers, a major feature to look out for is the structure of the gift, and as they are still prone to swallowing items, it would be best to get gifts at this stage that won't cause choking. From toddlers to teenagers, you'd find something suitable for them on this list.
Best Gifts for Toddlers ( Boys 0-3 )
1. Pop2Play Indoor Slide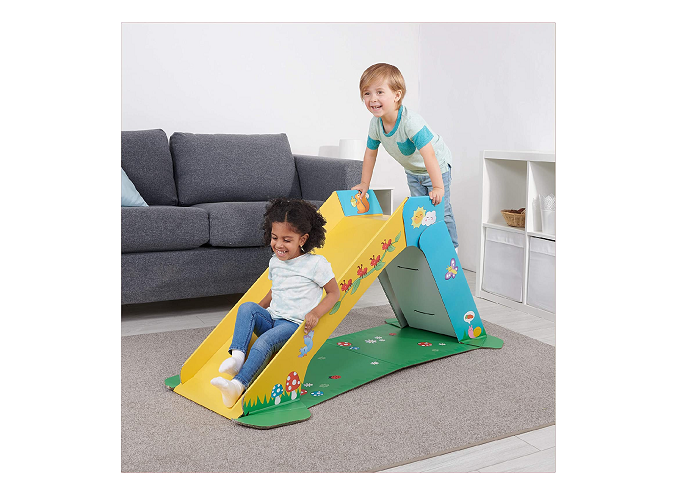 Shop Now at Amazon
This gift would definitely come in handy when your little man has to stay indoors, especially due to bad weather. You can easily set up this slide in any corner of the house, and his playground would be ready for use!
2. Fisher-Price Smart Learning Home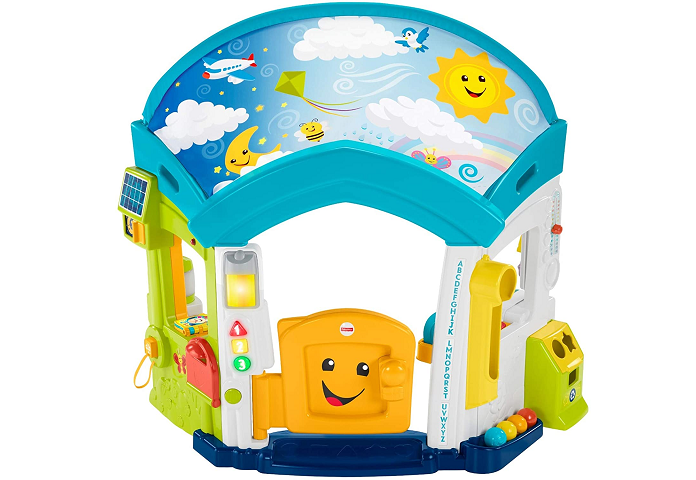 Shop Now at Amazon
This is an exceptional toy that would both entertain and educate any toddler. It comes with over 200 songs and 3 Smart Stages of learning that cover sounds, phrases, color identification, shapes, numbers, and the alphabet. More so, it can be accessed in 4 languages, including English, French, Spanish, and Mandarin.
3. Drum Set for Kids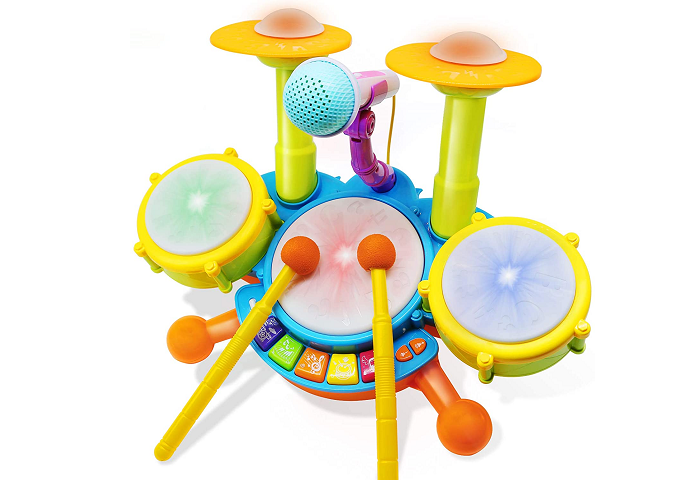 Shop Now at Amazon
This colorful drumset is a perfect gift for your little man as he can both sing and play drums simultaneously. Beyond having fun playing drums, this set will improve his sensory development and coordination skills.
4. Play & Fold Away Pirate Ship
Shop Now at Amazon
If you're looking to give your son or grandson a perfect holiday gift, then this foldable pirate ship is the ideal one. It can carry up to 50 lbs and comes with a hideaway space, slide, and telescope to make it look like a real pirate ship!
5. Smart Wheels Save the Day Fire Station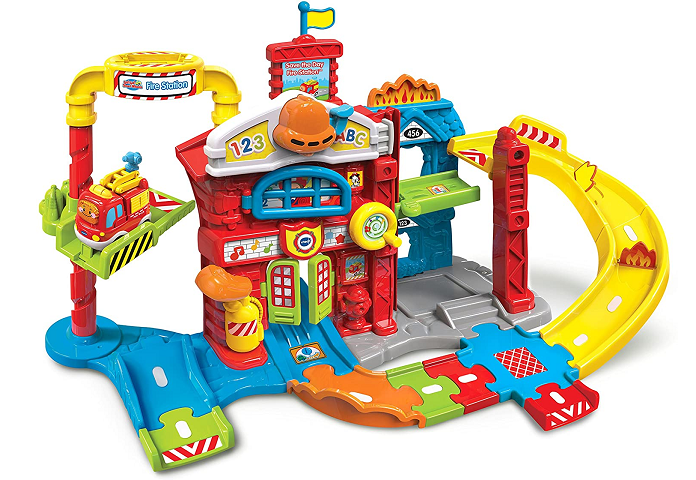 Shop Now at Amazon
This toy is one set that will keep your son engaged for hours as they try to fully understand all the features it comes with.
Gifts For 4 – 5-Year-Old Boys
6. Ghostbusters Proton Blaster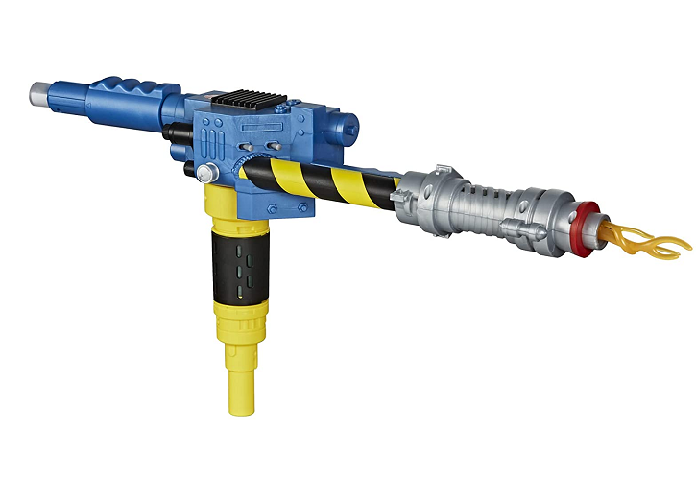 Shop Now at Amazon
With this Ghostbuster Proton Blaster, your boy(s) can have fun pretending to bust ghosts, and its added sound and light features will also intrigue them. More so, this blaster comes with the added option to customize the blast and sound.
7. Batman Bat-Tech Batcave
Shop Now at Amazon
If your kid is a fan of superheroes, he will be thrilled to own this child-sized superhero figure packed with lots of adventure! There are about 10 play areas inside the Batcave and an elevator to help the Batman figure as he makes his way through the cave.
8. GeoSafari Jr. Kidscope
Shop Now at Amazon
As your little one gets older, his curiosity increases and this Talking Kidscope will allow him to learn about outer space from the comfort of the home. Let him unleash the scientist in him this holiday season with this gift set.
9. Stunt Planes & Car Set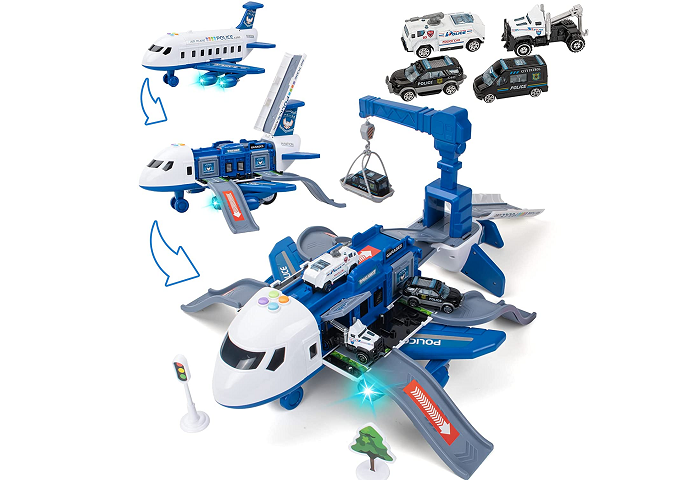 Shop Now at Amazon
This set comes with three planes, a looper, a glider, and various cars, which kids can use to learn the basics of aeronautic. Kids can also adjust every miniature planes' flight path by their calculations.
10. Pretend & Play Calculator Cash Register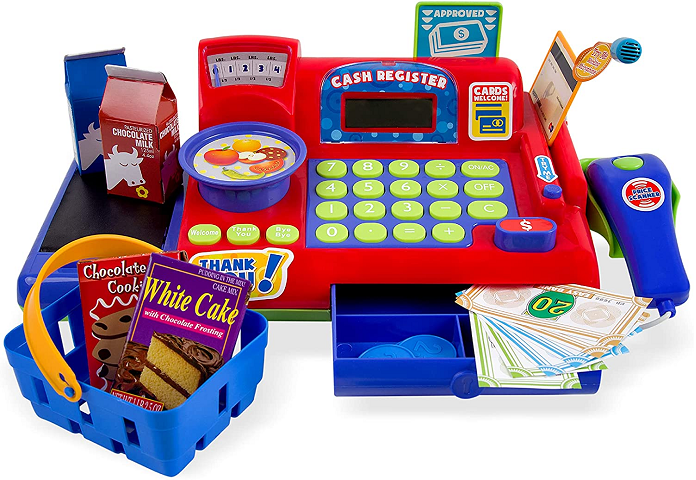 Shop Now at Amazon
At age 5, kids are already learning basic maths in school, and an excellent way to help them practice their addition and subtraction is by using this play-pretend calculator and cash register. With the consistent use of this machine, they will be able to handle real money in money in time.
11. Scooby-DOO! Adventure in The Wild West Playset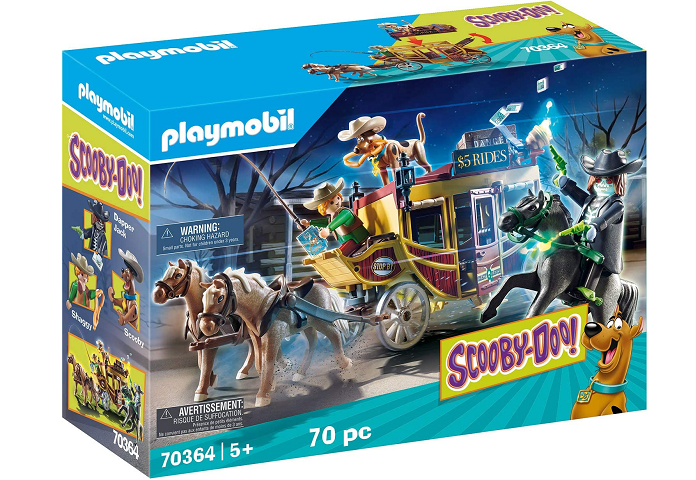 Shop Now at Amazon
You will never go wrong in gifting your son a Scooby-Doo adventure set. Even if it's the first time he is getting one, he is bound to love it in no time. This adventure set includes characters like Scooby-Doo, Shaggy, ghost rider, horses, western stagecoach, collectible ghost card, money, and several other accessories.
12. Criss Cross Crash Set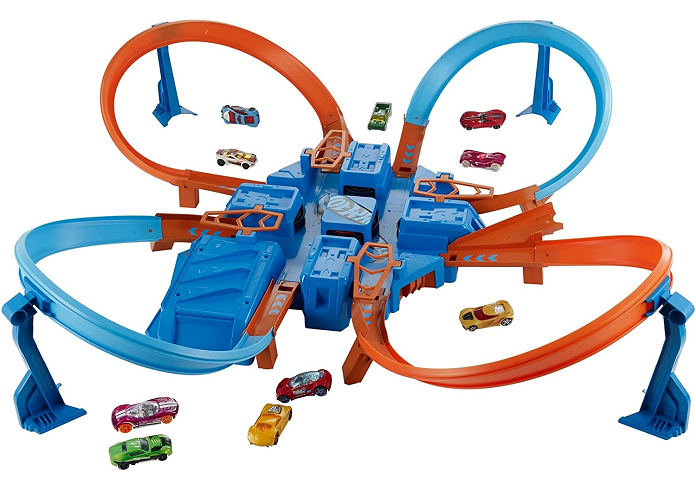 Shop Now at Amazon
This Criss-Cross set will make a perfect holiday gift for your son this season. It is an ideal gift to develop his curiosity and even his problem-solving skills. This will be a gift that will be an educative and fun set for him.
13. Botley the Coding Robot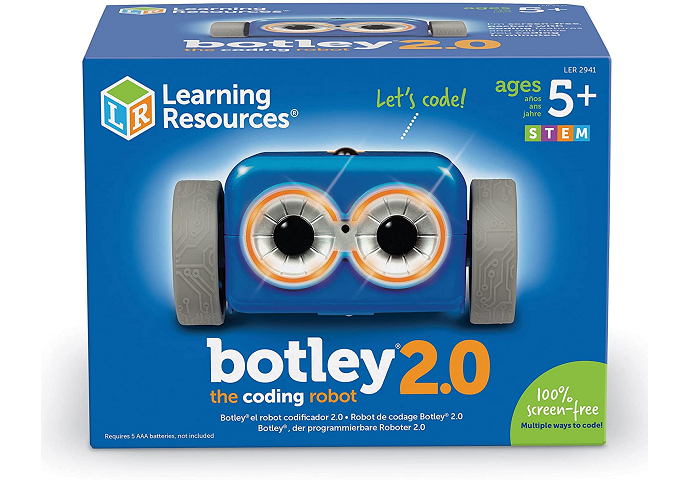 Shop Now at Amazon
Use this robot to introduce your kid to coding, and be sure that they will easily get the hang of it in no time. Some of its features include coding more than 100 steps, obstacle avoidance, and programs with if/then logic, amongst others.
14. Mibro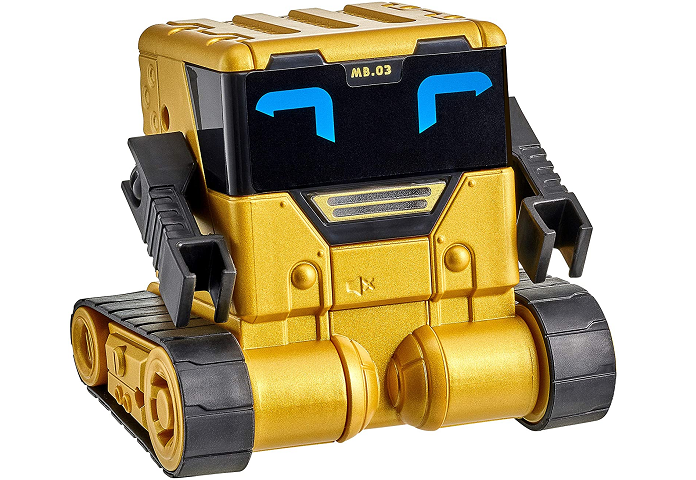 Shop Now at Amazon
Let your 5-year-old boy have a blast driving this robot around this holiday season! This fun toy also comes with a feature that enables it to say silly expressions and sounds. More so, this robot can be used to pass messages to others by speaking to it. Your boy will rank it as its best toy this holiday season.
15. Fort Kit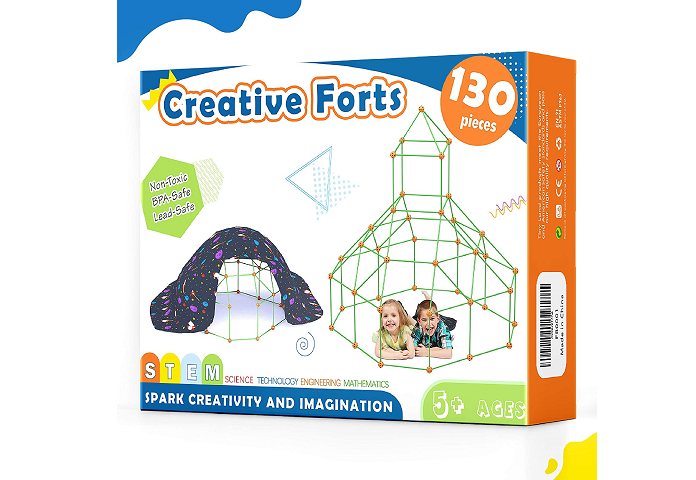 Shop Now at Amazon
Crazy Forts is an easy and fun way kids can use to build their very own fort. Kids can make any structure they want with this fort, and another fun fact is that the fort can be enhanced by simply throwing a blanket over it, and your make-believe wall will be ready!
Perfect Gifts For 8-Year-Old Boys
16. Nintendo Switch
Shop Now at Amazon
Is your kid an avid video game fan? Then spoil him this holiday season with this Nintendo Switch to take his gaming experience to a whole new level. This console also comes with the option to play on TV, Tablet, or hand mode, making it easy for family and friends to join in the games.
17. Speed Bike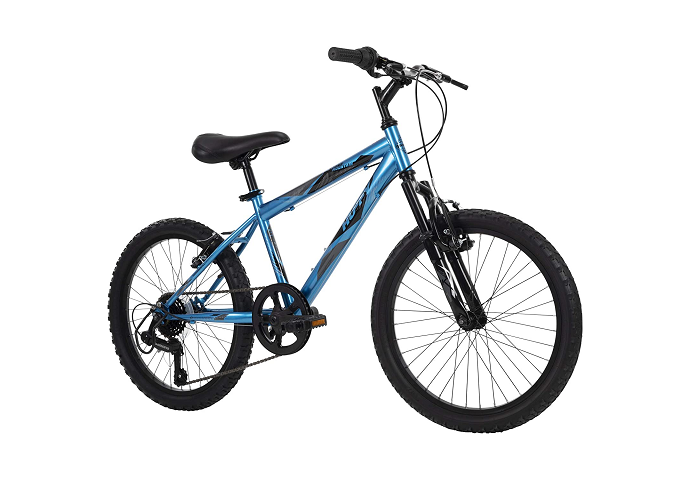 Shop Now at Amazon
If you consider getting your kid a speed bike this holiday season, consider the Huffy brand.  With their cool-looking designs, high quality, and speed, any boy would be more than happy to call one of these machines theirs. This Huffy bike will be worth your money any time.
18. LEGO Minecraft the Nether Portal Building Kit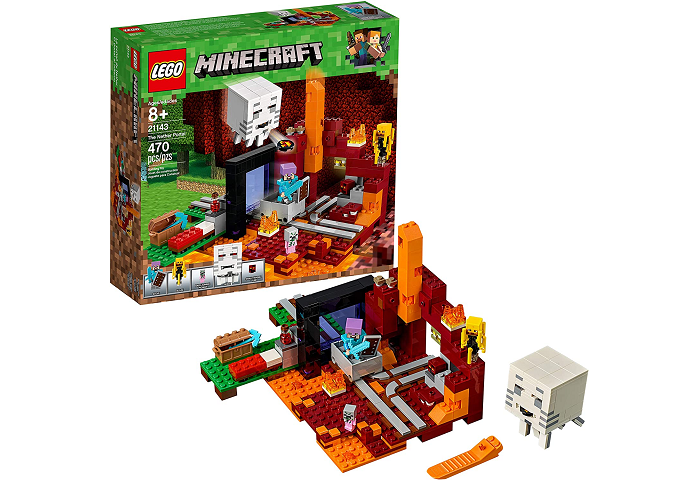 Shop Now at Amazon
Let your kid get busy this holiday season with this LEGO Minecraft set and use his skills to build his own Nether Portal. You'd be sure that he will find the whole process very exciting as he will have to work with a variety of mini-figures, including the Minecraft Ghast figurine, which can shoot fireball discs at any target in its paths.
19. i-Poster My World Interactive Map
Shop Now at Amazon
Encourage your kid to know more about the world around him and the solar system with this interactive wall chart. This gift can also be given a personal touch to make it even more special when you give it to your little one.
20. Among Us Kids Blanket
Shop Now at Amazon
This cozy blanket is a perfect gift to give your kid this season as he can use it to warm himself up on the couch, on the bed, or in a reading corner with a book in his hands. He will cherish that he has his own blanket and can use it anywhere he wants.
Mind-Blowing Gifts For 10-Year-Old Boys
21.  Ropes Obstacle Course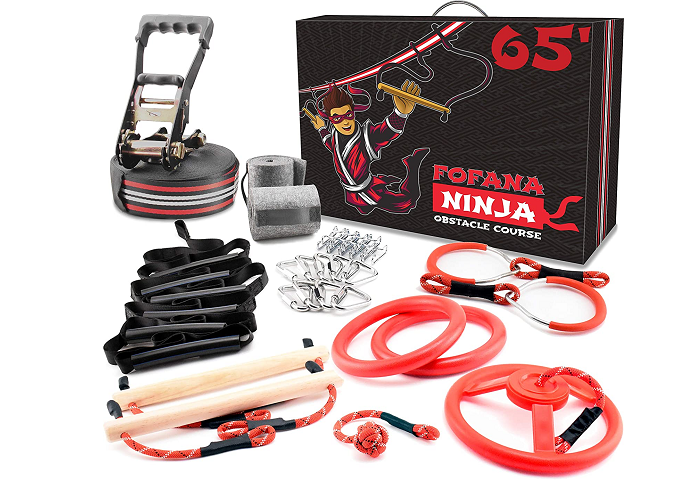 Shop Now at Amazon
If your kid is very active, this Ninja line would be a great gift for him as it is a suspended obstacle course set for kids. It comes with a slackline and various rings the kid will use for his climbing adventure. However, ensure that you fasten the obstacles firmly on two sturdy trees – about 36 feet apart.
22. Lego Star Wars The Mandalorian The Razer Crest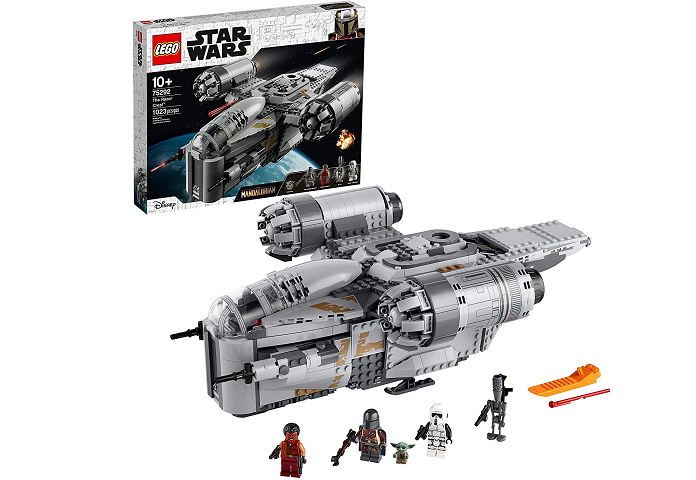 Shop Now at Amazon
This Lego set will allow your kids to play and build with various characters of the "The Mandalorian," including The Child, also known as "Baby Yoda," — and The Razer Crest starship. It can be given to kids from ages 10 years and up as its building set is an advanced type suitable for older kids who are being supervised by grown-ups.
23. A Motorized Building Toy
Shop Now at Amazon
Let your kid use the K'nex Imagine Power and Play to motorize their creations, from robots to helicopters. This set also comes with the big plus of having a reusable case that will always be handy because of the numerous little pieces that come with the building set.
24. A Snow Scooter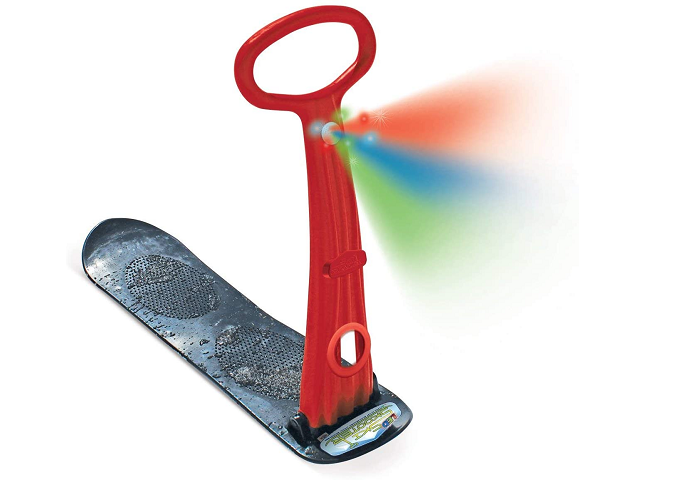 Shop Now at Amazon
A snow scooter is an ideal gift to give your kid this season, especially if you would like them to pick up interest in snowboarding in the nearest future. More so, the snow scooter is easy to use as it is designed like a snowboard with a comfortable handle attached to aid balance.
25. A Set of Adjustable Beginner-Friendly Rollerblades
Introduce your son to the exciting world of Rollerblading this season by getting him a pair of beginner-friendly rollerblades. A pair of Metroller Inline skate will be perfect since it is easy to handle and adjustable. For safety reasons, ensure that you also get knee pads and a helmet alongside.
26. Snap Circuits
Shop Now at Amazon
Snap Circuits is the perfect holiday gift to get your kid to start making their electric creations. This toy is also an ideal substitute for a video game if you want to divert their attention from video gaming.
27. Remote-Controlled Race Car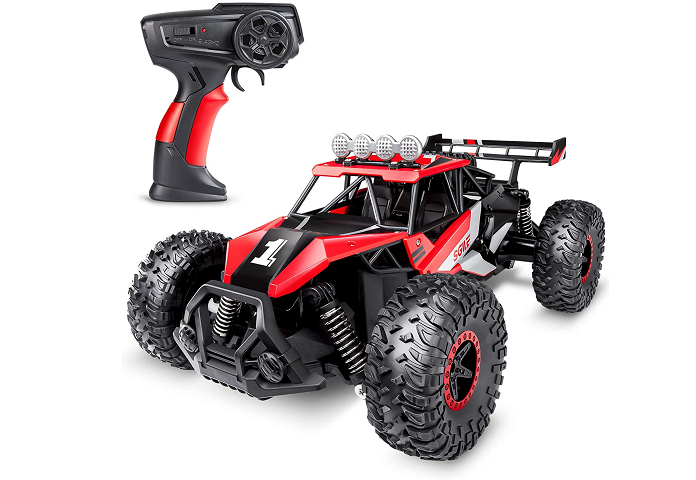 Shop Now at Amazon
When it comes to gifting a boy a remote-controlled car, you will never go wrong as he will have a blast with this toy, whether indoor or outdoor. This car can even climb on walls, making it twice as much fun to play with!
28. A5 LUX Kick Scooter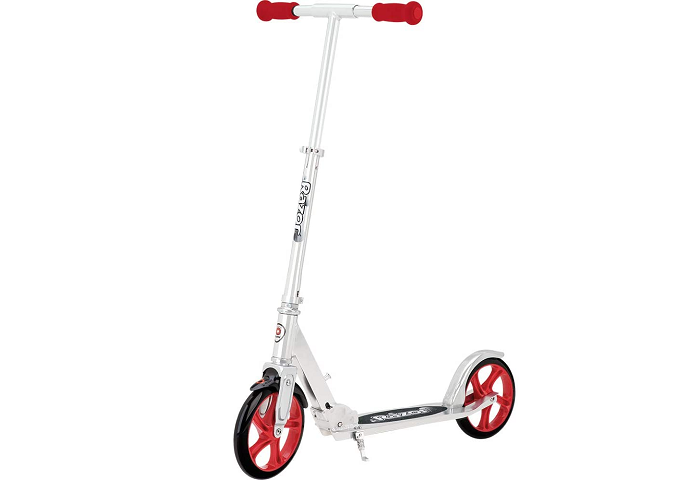 Shop Now at Amazon
Let your son scoot around the block with his friends this holiday season with this sleek ride. There is also no need to fret as it comes with an adjustable handlebar to give him a firm but comfortable grip as he rides.
29. Robotics: Smart Machines Science Kit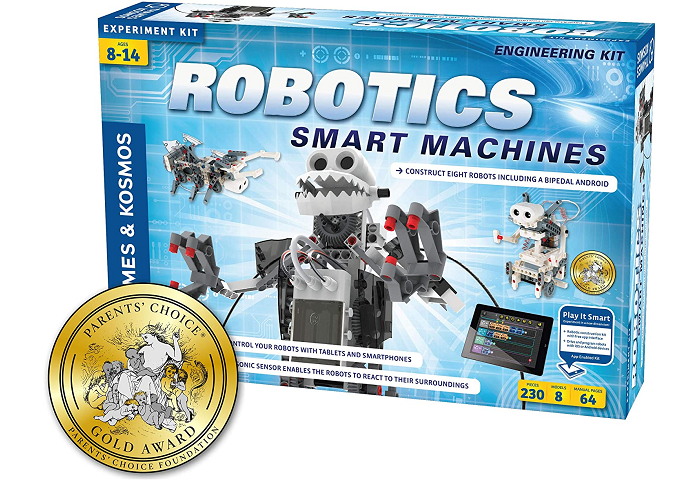 Shop Now at Amazon
This is another brilliant smart machine kit you can use to introduce your son to the wonders of robotics. With this set, he will be able to program robots all by himself in no time. However, for this set to be used effectively, he will need a tablet to use the app and get the robot connected using Bluetooth.
30. VTech KidiStar DJ Mixer
Shop Now at Amazon
If your kid fancies himself as the next big DJ, he will be thrilled to own this VTech Kid DJ Mixer. He can scratch, make beats, add special effects and do a lot with it. More so, once he is done assembling his masterpiece, he can make his show using the disco ball.
Top Gifts For 11-Year-Old Boys
31. Gaming Chair
Shop Now at Amazon
For a son who loves to spend hours in front of his gaming system, there won't be any other perfect gift than this gaming chair. This chair will ensure the safety of his back and provide the utmost comfort as he plays his favorite games.
32. Telescope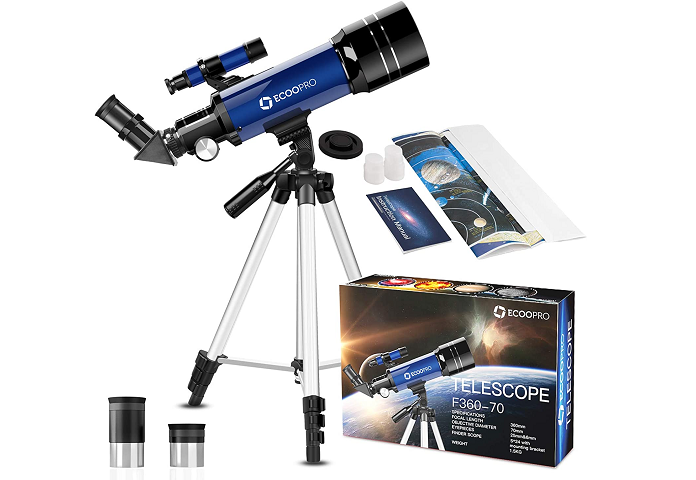 Shop Now at Amazon
This telescope is a perfect item to give your kid as an educational gift to aid his learning. It is easy to use, and with it, your kid will get to see the Moon and features of the lunar surface with ease. He should also be able to get a glimpse of Saturn's rings and the stars with this telescope.
33. Metal Detector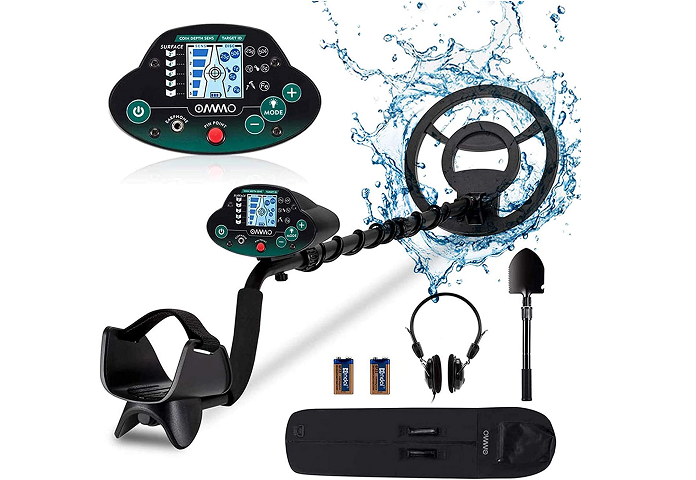 Shop Now at Amazon
This metal detector is a special gift for a young boy interested in treasure hunting. He can use it as a premium treasure seeker to find iron, steel, gold, brass, silver, etc., at home, in the park, the beach, or any place his treasure-hunting escapades take him to.
34. Portable Table Tennis Set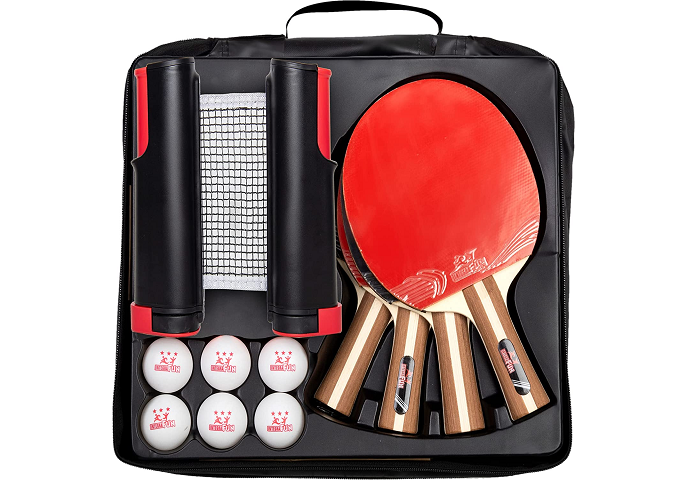 Shop Now at Amazon
This Table Tennis Set is the perfect gift to get the budding tennis player in your home as it is sporty and versatile. It also comes with a unique design and can be used in any arena.
35. Skate Board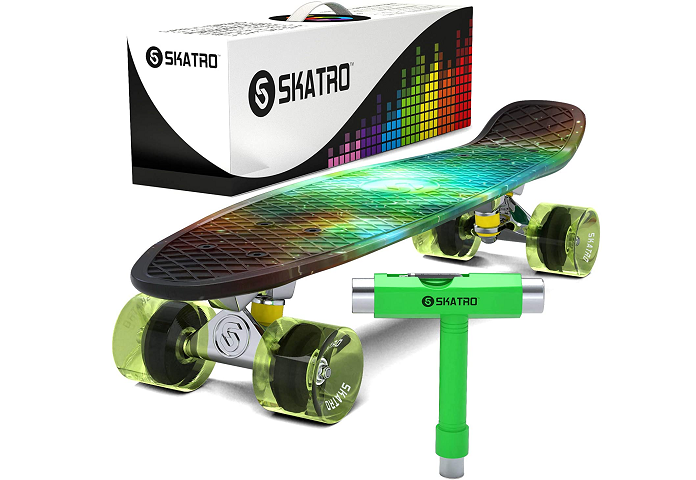 Shop Now at Amazon
Give him a reason to love the outdoors this season by getting him this unique skateboard. It is easy to use and if he is yet to cultivate his skills for skateboarding, then be sure that he will with this set.
36. Color-Changing Bedside Lamp
Shop Now at Amazon
Give his room a facelift by gifting him this remarkable lamp that changes color, and its rays are friendly to the eyes. It can also play music, and it can also be used for outdoor events sleepovers at grandma.
37. Kids' Smart Watch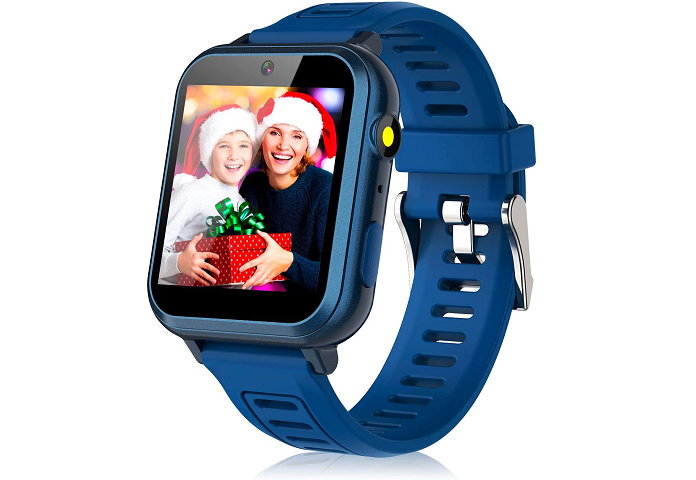 Shop Now at Amazon
This smartwatch is ideal for your kid this holiday season as it comes with many fun features. It has a step tracker to encourage his movement level and ensure that he gets adequate exercise. He can also record videos and listen to music with this smartwatch.
38. Over the Door Basketball Hoop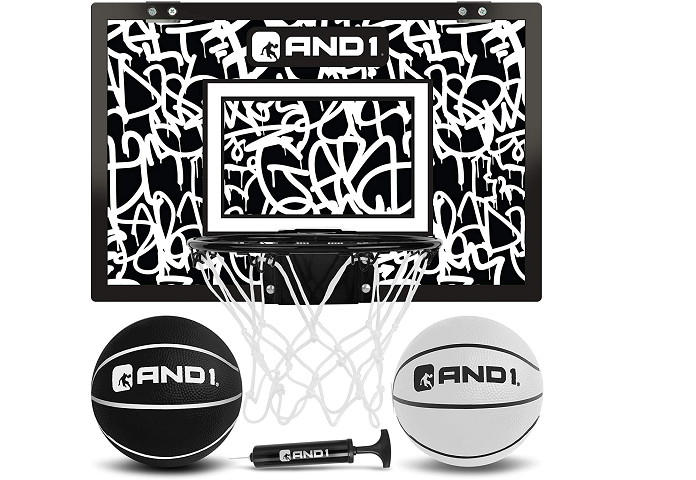 Shop Now at Amazon
Turn his interest from playing video games this season into playing real games with this basketball hoop. Another fun part is that he can play it in the comfort of his room – secure it firmly behind his bedroom door.
39. Magic Set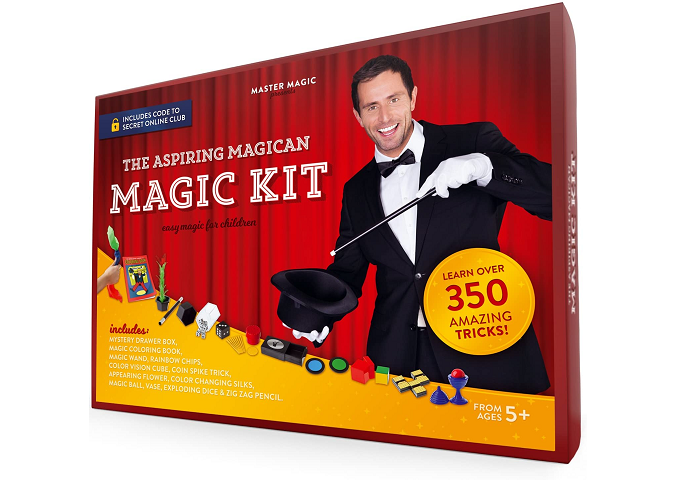 Shop Now at Amazon
If your son is interested in magic tricks, this Magic set will give him the insight he needs to be a pro at it. It comes with video tutorials, and you can learn over 350 tricks with minimal practice!
40. Beginners Guitar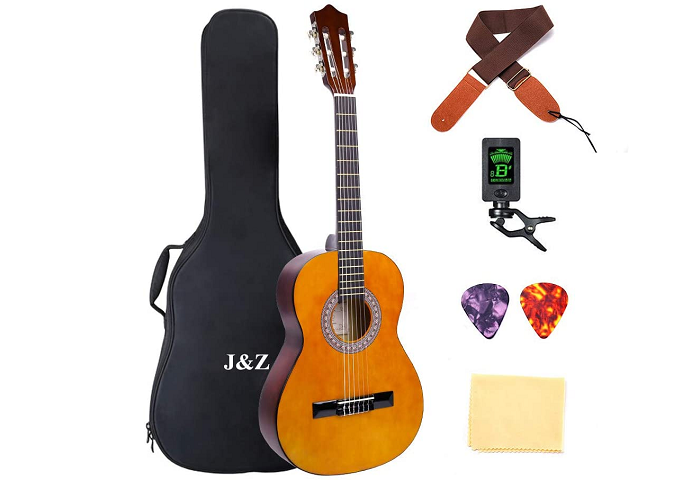 Shop Now at Amazon
This guitar is a great gift to give your son, who is aspiring to become a musician. It is easy to handle, and its nylon strings provide a more comfortable feel on the fingers of beginners or young players.
Cool Gifts For Teen Boys
41. Star Wars Rebellion Board Game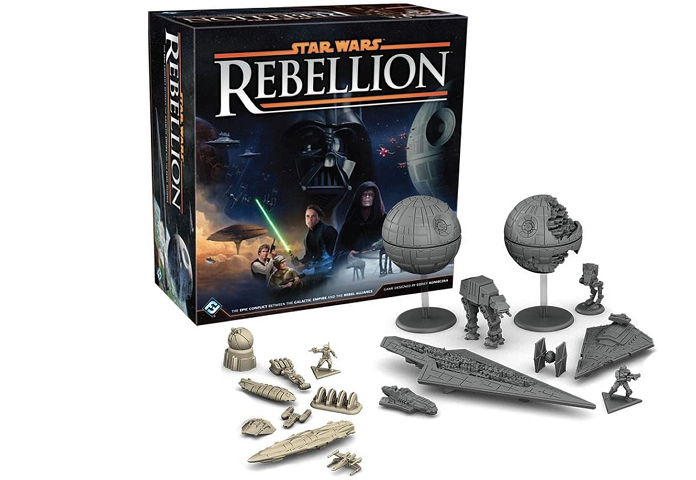 Shop Now at Amazon
Star Wars: Rebellion is an engaging board game you can use this season to get your son to spend some quality time with family members as 2 to 4 persons can play the game. It has over 150 miniatures, and you get to command the starships, arrange how the troop moves, etc.
42. Smartphone Sanitizers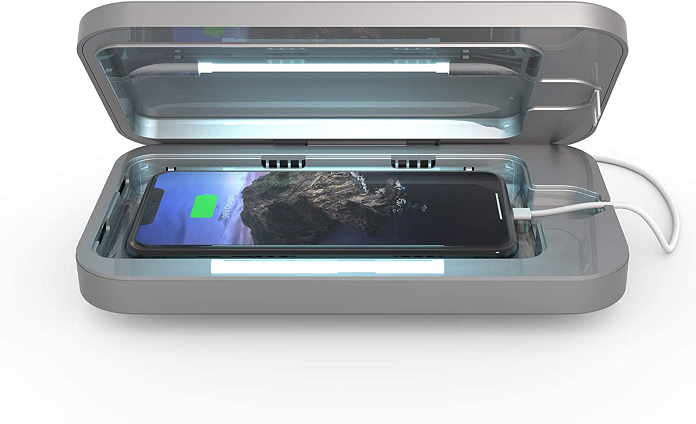 Shop Now at Amazon
Help your teenage boy stay germ-free by gifting him this Smartphone sanitizer. It is portable and can kill up to 99.9% of germs.
43. Wireless Earbuds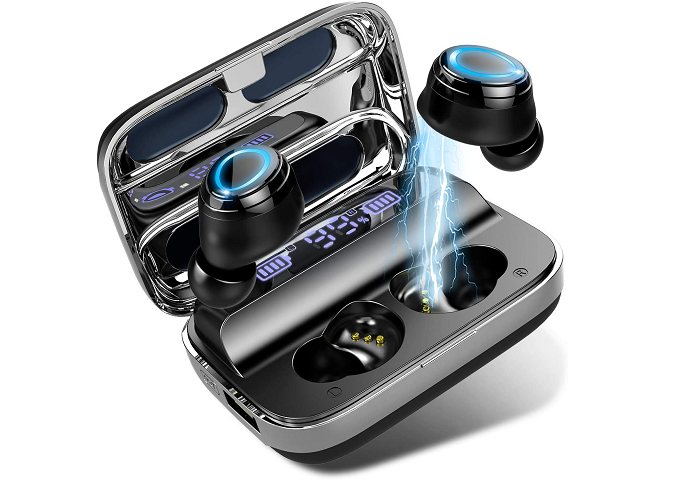 Shop Now at Amazon
This set of wireless earbuds is a fashionable set your son would be thrilled to own. He can listen to music, podcasts, and anything he wants on the go with these.
44. Franklin Baseball Pitching Machine
Shop Now at Amazon
Do you have an upcoming batsman in your house and would like to inspire his baseball dreams? Get him this Franklin baseball pitching machine this season and watch as he becomes a pro with ease. The device is beginner-friendly and can be adjustable for easy use.
45. Baseball Board Game
Shop Now at Amazon
This baseball board game is a perfect gift for getting your son in a sporty mood even in the off-season. More so, he can personalize it with the stickers of his favorite MLB team.
More Fun Christmas Gifts For Boys
46. Family Game Set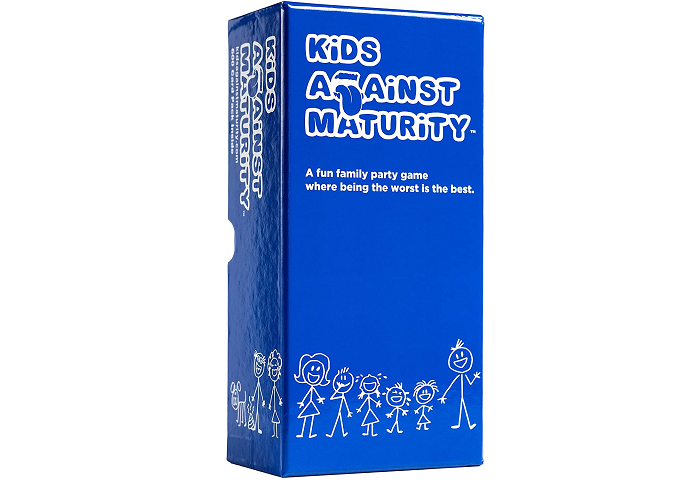 Shop Now at Amazon
This family game set consists of more than 50 game cards and can be played by more than four persons. It is sure to keep everyone off their electronic devices for more than an hour for some quality family time.
47. Addidas Running Sneakers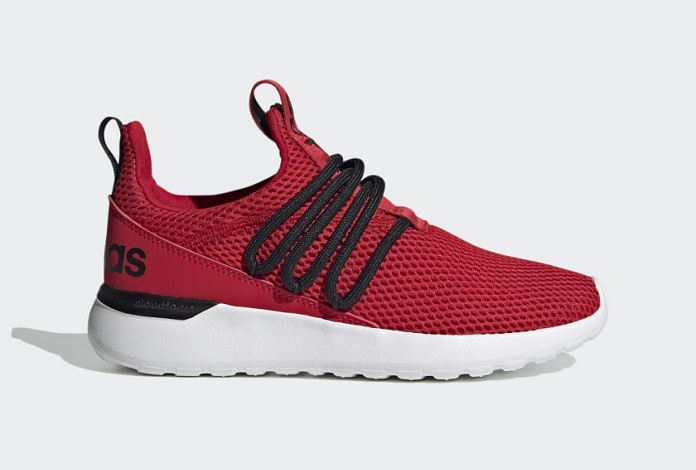 Shop Now at Amazon
These lightweight Adidas running sneakers will be his go-to shoes this season. They are comfortable and can be used with numerous attires.
48. JBL Bluetooth Speaker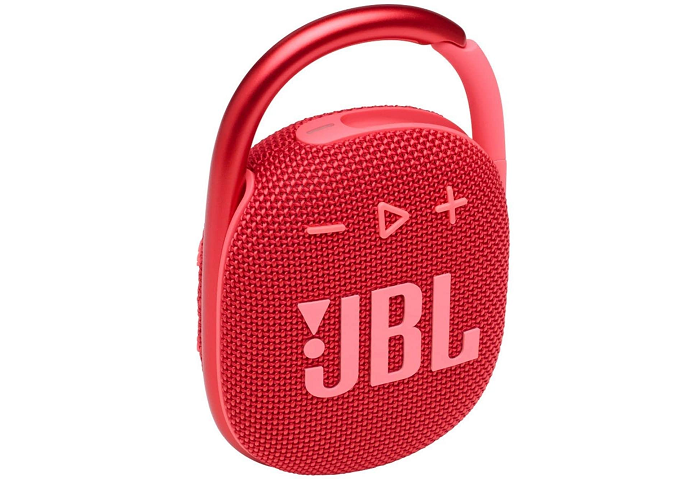 Shop Now at Amazon
Make this holiday season more fun with this powerful, lightweight speaker that can play music for 10 straight hours. This speaker also comes with the added advantage of being portable.
49. Spike Ball Set
Shop Now at Amazon
Spike ball is a fun outdoor and indoor game that is sure to get your son and other family members adequate exercise this festive season. What's more, it is one of the best gifts you can get for your boys to keep them busy and entertained.
50. Tile Slim Tracker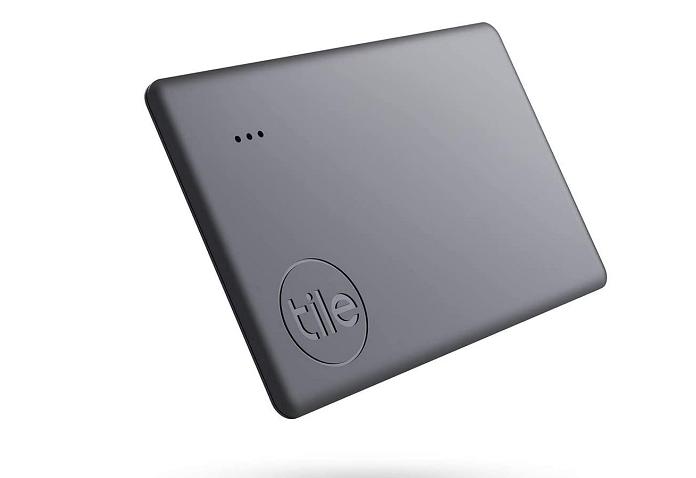 Shop Now at Amazon
If your son tends to always misplace his items, this tile tracker will help him find his missing items with ease. Simply slide it into his backpack or wallet, and the exact location of any misplaced item will pop up via the app once any of his items go missing.