On the list of the distinguished American writers to have won multiple literary awards, including the Pulitzer Prize and the Livingston Award, is a journalist and author Harry Gerard Bissinger III, better known as Buzz Bissinger. He is the writer of The New York Times number one bestseller, Friday Night Lights: A Town, a Team, and a Dream.
A native of New York City, Bissinger was born in 1954. His journey to the top of the journalism world began as a student at the University of Pennsylvania where he was a sports and opinion editor for The Daily Pennsylvanian. He later moved on to write for the Ledger-Star in Norfolk, Virginia, The St. Paul Pioneer Press, and later The Philadelphia Inquirer, where he famously wrote a six-part series on corruption in the Philadelphia court system and won the Pulitzer Prize for Investigative Reporting in 1987.
In 1988, Buzz Bissinger left the Inquirer and moved to Odessa, Texas to write about the impact of high school football on small-town life. This turned out to be the critically acclaimed, Friday Night Lights book. In the early '90s, Buzz worked for The Chicago Tribune as an investigative journalist before becoming a contributing editor at Vanity Fair magazine. His articles have since gone ahead to appear in The New York Times, Sports Illustrated, and The Daily Beast, among others.
In 1986-87, he was a recipient of a Nieman fellowship from Harvard University. He received an honorary degree in humane letters from Drexel University in 2013 and then became a fellow at the Kelly Writers House at the University of Pennsylvania in 2014.
Below is a list of some of the more notable books, articles, essays, and other works that Buzz Bissinger has written.
Notable Works By Buzz Bissinger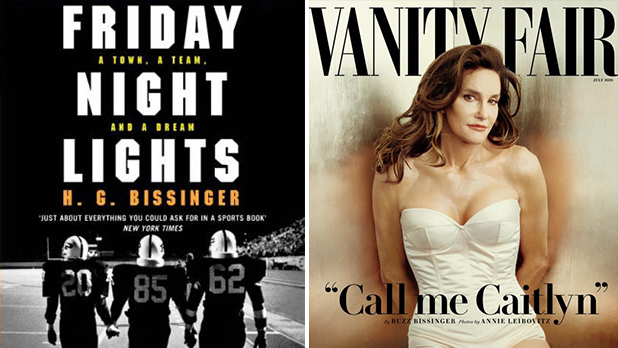 1. Friday Night Lights (1990)
Friday Night Lights is a non-fiction book that follows the 1988 season of the Panthers football team of Permian High School in Odessa, Texas. The book, which as mentioned above was a New York Times bestseller, inspired the short-lived television series Against the Grain (1993), starring a young Ben Affleck, the film Friday Night Lights (2004) starring Billy Bob Thornton, and another television series of the same name that lasted from 2006 to 2011.
The book sold about two million copies and is listed among the 100 best books ever written on sports by Sports Illustrated, placing fourth on the list. Sports broadcasting network ESPN further named it the best book on sports of the past quarter-century.
2. A Prayer for the City (1998)
After having been granted unprecedented access by then-Mayor Edward G. Rendell, who later became the Governor of Pennsylvania, Buzz Bissinger was able to give the public an insight into the urban political scene of Philadelphia. The book garnered critical acclaim nationwide as The New York Review of Books called it "an extraordinary book" while The New York Times Book Review named it a Notable Book of the Year. It was further hailed as a classic on politics and urban America.
3. Three Nights in August (2005)
Through the keen eyes of legendary St. Louis Cardinals manager Tony La Russa, Buzz captures the beauty, essence, and strategy of baseball as he chronicles the series between the St. Louis Cardinals and the Chicago Cubs in August 2003. The book, which has been called one of the finest analyses of baseball in the past decade, spent four-and-a-half months on the New York Times Bestseller List.
4. Shooting Stars (2009)
Co-authored with basketball superstar LeBron James, Shooting Stars is an autobiographical book that tells the story of James' early high school success; how he and his best friends were able to forge a strong bond through their love for basketball as they went ahead to win a national championship in their senior year of high school.
5. Father's Day (2012)
Father's Day: A Journey Into the Mind and Heart of My Extraordinary Son is a memoir by Buzz Bissinger about his twin sons Gerry and Zach who were born three minutes apart but are however in different worlds. While Gerry has been able to live a normal life, Zach is autistic having been born with brain damage. Buzz details his relationship with his autistic son who he says despite his challenges has an astonishing memory, a knack for navigation, and a reflexive honesty.
See Also: 7 Best Joan Didion Books You Need To Read Before You Die
6. Call Me Caitlyn (2015)
"Call Me Caitlyn" is an article that appears as the cover story of Vanity Fair's July 2015 issue. The 11,000-word article details the transition of Olympian and television personality Bruce Jenner to Caitlyn Jenner. To write the story, Bissinger was given exclusive access to Jenner both before and after her cosmetic surgery.
7. Gone with the Wind (2007)
In this article, Buzz Bissinger writes about American Thoroughbred racehorse Barbaro, who decisively won the 2006 Kentucky Derby Winner before shattering his leg two weeks later. The story which has been optioned by Universal Pictures was written for vanity fair, however, it has gone ahead to appear in The New York Times and Sports Illustrated.