Fans of American writer George Saunders will tell you that it is his intelligence and trademark tragicomic style of writing that made him a huge hit in the literary world. Known for darkly comic stories that skewer consumerism and mass culture, his writing is known to carry a satirical tone that also raises numerous moral and philosophical questions. It further does help that he mainly focuses on publishing a collection of stories or essays that are thematically connected instead of a whole novel, which many readers in this day and age might find to be quite cumbersome to pay attention to.
Born in 1958, in Amarillo, Texas, George Saunders did not receive the supposed formal writing training one would think a world-renowned, award-winning writer would get. After graduating from Oak Forest High School in Oak Forest, Illinois, he enrolled at the Colorado School of Mines in Golden, Colorado to study geophysical engineering, receiving a Bachelor of Science degree in 1981.
A few years later in 1986, Saunders wrote a short story titled "A Lack of Order in the Floating Object Room," which according to him he used in his application to Syracuse University to study Creative Writing. By 1988, he was awarded a Master of Arts degree and he went on to balance writing, and an engineering career before later fully focusing on writing in the mid-1990s.
In regards to critical and commercial success received, here is a list of the top 5 George Saunders books ever published that you need to read.
Top 5 George Saunders Books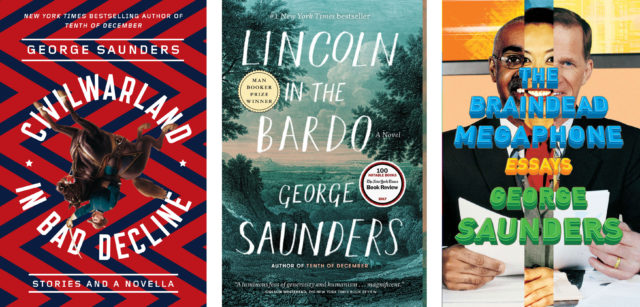 1. The Braindead Megaphone (2007)
Published in 2007, the two hundred and seventy-two pages long The Braindead Megaphone book is the first full-length nonfiction essay collection by George Saunders. Many of the essays featured in the book, which all share the theme of satire and are of literature, politics, and travel, appeared in magazines like The New Yorker and GQ.
2. CivilWarLand in Bad Decline (1996)
The very first George Saunders book that was published, CivilWarLand in Bad Decline is a compilation of short stories and a novella. The collection, which was in 1996 listed as a New York Times Notable Book and was a finalist for the 1996 PEN/Hemingway Award, had some of its short stories appear in magazines like Kenyon Review, Harper's, The New Yorker and Quarterly West. Two of the book's stories; "The 400-Pound CEO" and "Bounty," received the National Magazine Award for Fiction in 1994 and 1996 respectively.
Saunders channels one of his mentors, Kurt Vonnegut, in the stories that appear in this book as he pokes relentless fun at our society and culture in an acerbic and wickedly funny way. In each story, he writes about the world heading in a terrible direction that is somewhat irreversible, with each character in each story struggling to survive in the increasingly haywire world.
3. Pastoralia (2000)
In his second full-length short story collection, Pastoralia, Saunders continued to enhance his reputation of writing both indelibly strange and vividly real stories where he squeezes meaning out of the absurd. The book, which was a New York Times Notable Book for 2001, consists of stories that appeared either in its original or a different form in The New Yorker. Most of the stories were further recipients of the O. Henry Award Prize Stories.
4. Tenth of December (2013)
Regarded as one of his most honest and moving collections yet, Tenth of December is a brilliantly written collection of short stories that cut to the core of the contemporary experience as they are about class, sex, love, loss, work, despair, and war.
As has been the pattern in most of Saunders' work, the stories, which were published between 1995 and 2009 in various magazines, ask moral questions and explores fault lines, delving into the things that make us good and human. According to the writer, he was inspired to write the title story, "Tenth of December," after beginning to wonder how he would handle "a slow and protracted death."
Read Also: Top 5 Matthew Tobin Aderson Books You Need To Read
5. Lincoln in the Bardo (2017)
After having created a reputation for himself as a short story specialist, George Saunders published his first full-length novel in 2017 titled Lincoln in the Bardo. Taking place in the Bardo, which is a Tibetan term for the Buddhist "intermediate state" between death and reincarnation when the soul is not connected to a body, the story explores the feeling of grief felt by President Abraham Lincoln during and after the death of his son William Wallace Lincoln.
The novel received critical acclaim as it was listed by Time magazine as one of the top ten novels of the year. It also won the 2017 Man Booker Prize