Jon Krakauer is an extraordinary writer and a skilled mountaineer. He is known to have authored several best-selling books which are surprisingly non-fiction. He writes on an array of topics of interest and has contributed articles in several renowned magazines.
Biography 
Jon Krakauer was born in Brookline. Massachusetts on the 12th of April 1954. His parents Lewis Joseph and Caroline Ann Krakauer raised him alongside his four siblings in Corvallis Oregon.
Jon's father introduced him to mountain climbing when he was quite young and he took a liking to the sports. He attended High School in Corvallis graduating in 1972. He further attended Massachusett's Hampshire College where he bagged his Environmental Studies degree in 1977.
Jon continued to enjoy mountain climbing even through high school and college. Upon graduation, he decided to spend time alone and away from civilization. He spent three weeks by himself in a wilderness at Stikine Icecap, Alaska. He has ventured on several dangerous mountain climbing ventures and has been lucky to come out alive and unscathed. His mountaineering activities has seen him climb a new route on "Devils Thumb," climbing Cerro Torre, and Mount Everest, amongst others. Jon shares some of his mountain climbing experiences in his books.
His journey in writing started with him freelancing and working as a journalist with "Outside." He took to writing full time in 1983 and has written choice articles and books on varying topics as they interest him.
Jon met and fell in love with Linda Mariam Moore who was once a climber herself. The duo got married in 1980 and settled in Seattle, Washington. They later relocated to Boulder Colorado after his book Into Thin Air was released.
While most of his books are non-fiction, they still make an interesting read especially due to the insightful exploration of his topics. Krakauer is undoubtedly a good writer.
Jon Krakauer Books Everyone Should Read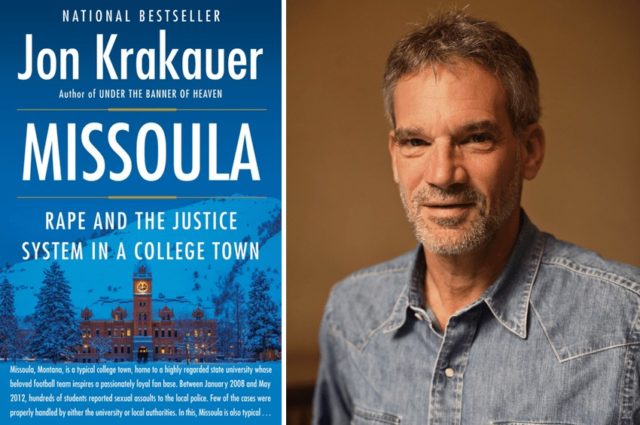 1. INTO THE WILD (1996)
The book is a documentation of the traveling of a young rich man (Christopher McCandless). Upon his graduation in 1990, Christopher donated all the money in his account ($24,000) to charity, changed his name to Alexander Supertramp. He then began his sojourn through American West. He died of starvation and his body was found in 1992 around Lake Wentitika. The book has been adapted into a movie with the same title released in 2007. It is an interesting read.
2. INTO THIN AIR (1996)
The book explores what has been considered one of the deadliest mountaineering experience of all time. Jon expanded on his Mount Everest climbing experience which he wrote about in an article for "Outside" in 1996. It highlights the ordeal people face while climbing mountains. 'Time Magazine' named it the "Book of the Year" and it was nominated for a Pulitzer non-fiction prize in 1998. The book also reached the top of the non-fiction New York bestseller list. Into Thin Air is one of Jon's most popular writings due to the event it covered and the controversies that followed his recount. The book has also been adapted into a movie.
3. MISSOULA: RAPE AND THE JUSTICE SYSTEM IN A COLLEGE TOWN (2015)
Jon explores a very interesting and sensitive topic in this book. The book chronicles the experiences of different rape victims, especially how colleges and the criminal justice system handled their cases. Jon was motivated to write this book after a friend revealed to him that she was raped.
The writer also sheds lights on the reason rape victims feel reluctant to report their assailants. He has received some praise and criticism for this work but Jon seems undeterred and continues to voice his truths. There is a lot to learn from this book.
4. UNDER THE BANNER OF HEAVEN (2003)
The book explores the extremes inherent in religious beliefs. With particular research on fundamentalist faith, Mormonism and Latter Day Saints religion. Religious leaders have come out to respond and defend the church. Jon, on the other hand, believes church leaders have been untruthful about the Mormon pasts instead saints are placated with half-truths, omissions, and denials. The book offers fresh insight into religious fanatism and is one to look out for.
See Also: 7 Best Joan Didion Books You Need To Read Before You Die
5. WHERE MEN WIN GLORY: THE ODYSSEY OF PAT TILLMAN (2009)
This book takes its cues, inferences, and content from the letters and journals of Pat Tillman a United States Army Ranger and NFL professional football player. Jon exposes in the book the cover-up behind his death. He was killed by friendly fire by another U.S. Soldier. The book can also be described as a historical narrative on the civil wars in Afghanistan.
Jon is no doubt one of the very intelligent writers and journalist of his time. He has written on different varying topics over the course of his career.