In the world of creative arts, Margaret Atwood is one person who has done almost everything from writing novels to poetry, activism, acting, and much more. However, she is famous as a writer more than anything else. In a writing career that has spanned more than five decades, she has had close to a hundred works that cover poetry, novels, non-fiction, ebooks, drawings, graphic novels, and much more. More so, Atwood has also appeared in the TV program Wandering Wenda where she portrays herself.
A Canadian writer, she has been highly regarded for her feminist views and activities.
Margaret Atwood Biography
It was in Ottawa, Ontario, that the writer was born Margaret Eleanor Atwood on November 18, 1939. She was brought up as the second child of her parents, Edmund Atwood and Margaret Dorothy. While her father worked as an entomologist, her mother was a dietitian and nutritionist.
As a result of her father's job, she was always moving between Ottawa and Toronto. The only time that she got to attend school full-time was after the age of 12. In no time, she began to consume different works of literature. Atwood got her education from Leaside High School in Leaside in Toronto and graduated in 1957.
In the same year, she moved to Victoria College in the University of Toronto where she spent the next four years before graduating with a Bachelor of Arts in English (honors). She also got her minors in philosophy and French. She would immediately proceed to Harvard University where she went for her post-graduate studies.
Books and Movies
Atwood had been interested in writing since she was a little girl. Consequent to this, she started writing her poems and plays when she was only six. She would sustain her interest in writing and by the time she was 16, she had already started writing professionally.
The first work of Margaret that was published was a poetry collection, Double Persephone in 1961. In 1964, she published another poetry work, The Circle Game which earned her the 1966 Governor General's Award. Subsequently, she published other poetry works; Expeditions (1965), Speeches for Doctor Frankenstein (1966), The Animals in That Country (1968), The Journals of Susanna Moodie (1970), Procedures for Underground (1970), Power Politics (1971). Among the many others that she published are You Are Happy (1974), Two-Headed Poems (1978), True Stories (1981), Interlunar (1984), and The Door (2007).
The first novel she published was The Edible Woman in 1969 and then Surfacing in 1972, Lady Oracle on 1976. Life Before Man in 1979, and Bodily Harm in 1981. She went on to publish other novels that have been highly acclaimed such as The Handmaid's Tale (1985) which landed her the Governor General's Award and Arthur C. Clarke Award, Cat's Eye (1988), The Robber Bride (1993), Alias Grace (1996), The Blind Assassin (2000), and The Penelopiad (2005). Her most recent novels are The Heart Goes Last (2015), Hag-Seed (2016), and The Testaments (2019).
She has also published many more books on a lot of issues and has been involved in science fiction, feminism, political works, and animal rights activities.
Apart from writing, Atwood has also been involved in movies as an actress, writer, and producer. She has appeared in the TV series Wandering Wenda and is the producer for The Handmaid's Tale (2018) and Alias Grace (2017).
Her career as a writer has been decorated with many awards and recognition including the Arthur C. Clarke Award for best Science Fiction, Queen Elizabeth II Diamond Jubilee Medal, Franz Kafka Prize, Helmerich Award, Nebula Award, and Booker Prize. More so, she has got honorary degrees from highly prestigious universities around the world including the University of Toronto, University of Oxford, Harvard University, University of Edinburgh, Queen's University, and the National University of Ireland, Galway.
Personal Life- Husband and Children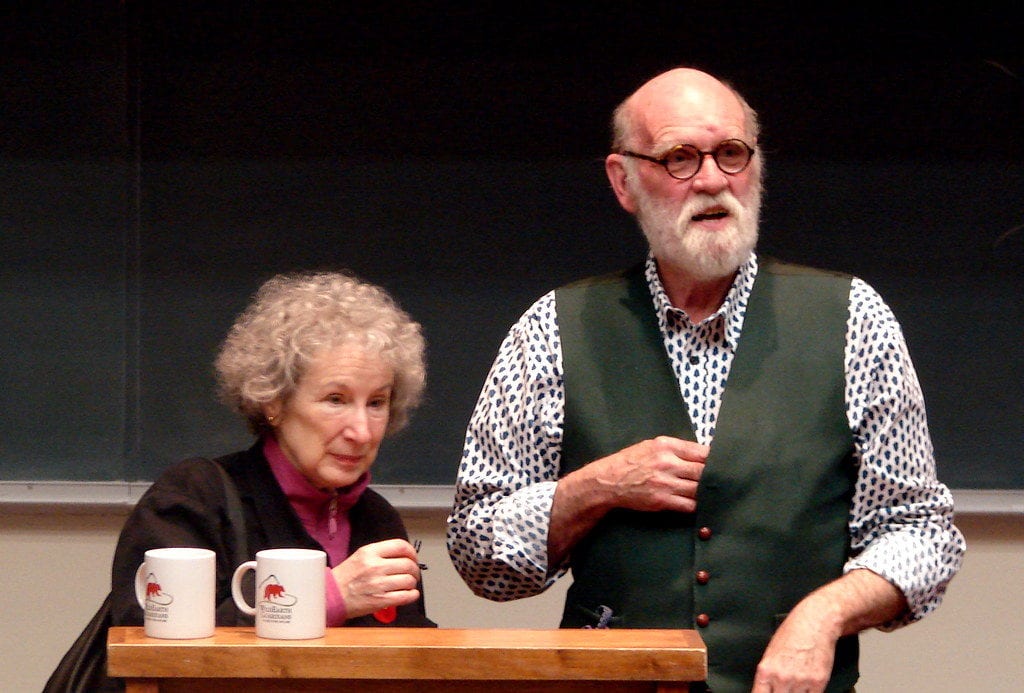 The prolific Canadian writer and feminist has been married twice thus far. The first time she got married was in 1968 when she tied the knot with an American writer, Jim Polk. The union was not meant to be forever as the two divorced after five years.
Since after the divorce in 1973, she began dating Canadian novelist and writer Graeme Gibson with whom she still lives. The two have been blessed with a daughter named Eleanor Jess Atwood Gibson, who was born in 1976.
See Also: Zadie Smith Biography, Family and Net Worth
Margaret Atwood Net Worth
In a career that has spanned many years and has covered almost everything that has to do with writing, Margaret Atwood has not only displayed her talent but also how hardworking she is. It is thanks to this that she has a net worth that has been estimated at $20 million U.S. dollars.