Since its premiere on June 22, 2015, Forged in Fire, an American reality TV competition series, has had two hosts – Wil Willis and Grady Powell, and five judges – J. Neilson, David Baker, Doug Marcaida, Jason Knight, and Ben Abbott. 
The first host of the show, Wil Willis, is a former Army Ranger and well-decorated Air Force pararescue specialist, who was the host from season 1 before departing at the end of season 7. His departure gave room for Powell, a former U.S. Army Green Beret, to take his place in season 8. Powell has retained that position since then.
Forged in Fire, which airs on the History channel, is produced by Outpost Entertainment, a Leftfield Entertainment company. Each episode pits four bladesmiths against each other in a three-round elimination contest to produce weapons forged into blades. The overall winner receives $10k, as well as the title of Forged in Fire Champion.
Who is the Forged in Fire Host?
The current Forged in Fire host is Grady Powell. For those who have been huge fans of the show, one thing that became immediately apparent post-season 7 of the hit reality TV series is that there is a new "sheriff" in town, in the person of new host Grady Powell.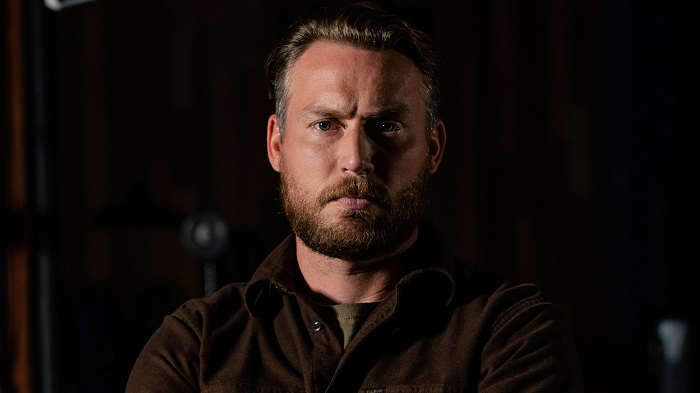 The TV personality was born on September 15, 1987, in St. Louis, Missouri, United States. He also spent most of his formative years in his hometown and famously, or infamously, depending on one's point of view, turned down a full-ride scholarship to the University of Missouri, Columbia.
The reason behind that decision was revealed only a couple of years later when he followed in the footsteps of his father to join the army in 2009. Before leaving the army three years later in January 2012, Powell was awarded the prestigious title and award of Green Beret. His career in the military included tours in the Middle East and Africa.
His TV career took off while he was backpacking through Europe following his retirement from the army. He had been asked to participate in a Portuguese Cell Service Provider's TV commercial. He followed that up with Mark Burnett and Dick Wolff's NBC production Stars Earn Stripes in mid to late 2012.
Grady Powell Became the Host of Forged In Fire At The Start of Season 8
Just about eight years after his foray into television and entertainment in general, Grady Powell was contracted by the producers of Forged in Fire to replace departing host Wil Willis. He took on those responsibilities in November 2020, which was when season 8 of the show premiered.
The sudden change of hosting personnel was not exactly met with applause from several fans and critics of the show who had become quite accustomed to the previous host. However, it would be foolhardy not to acknowledge the fact that Powell has done distinctively well since he became the host of the show.
His experience with the ranks of what many consider to be one of the world's elite departments of armed forces anywhere in the world, coupled with his passion for learning new skills, has been brought to the fore while discharging his duties as the host of The History Channel's Forged in Fire.
When was the Forged in Fire Host Changed?
If it has not become apparent, the host of Forged in Fire was changed after season 7 ended. As stated earlier, it was a decision that didn't particularly go down well with devoted fans of the show. The initial resistance to that particular change led to several questions about the motivation behind the showrunners' decision to change host personnel.
To quell the mini-revolution and less than favorable reaction to that change, a spokesperson took to Triblive.com to explain the fact that given how long it had been on air at the time, it was normal for any legacy series like Forged in Fire to experience a change in personnel from time to time.
He went on to assure fans that the change would not affect the quality of the show, and a lot of those fans would certainly agree that the value and quality of the show have not diminished with this new chapter of the show with Grady Powell as host.
Meet Wil Willis, Former Forged in Fire Host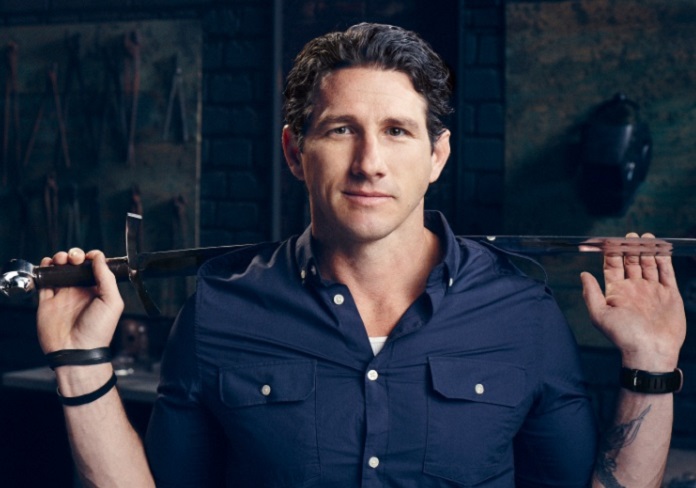 Before Grady Powell took over the reins as the host of Forged in Fire, Wil Willis was the host of the hit reality TV competition series. Born in Lisbon, Portugal, in 1975, Willis' family background, which included the fact that his father was in the military, meant that he and his four siblings moved from base to base during his formative years.
After his dad retired from the military in 1991, the family moved back home to the United States and settled in California. Wil followed in the footsteps of his father by joining the US military following his graduation from high school in 1993. Compared to the man who took his place in Forged in Fire, Wil spent a longer amount of time in the military, where he attained the rank of Air Force Pararescue Recovery Specialist before leaving in 2008.
At the end of his time in the military, Wil Willis turned his attention to other pursuits. Some of these pursuits, while in Television, still drew from his military experiences. Some of these military-based projects include Special Ops Mission and Triggers: Weapons That Changed the World, as well as some movies like In the Valley of Elah, Waste of Time, Sovereign, and The German King. 
Wil Willis' knowledge of weaponry and TV experience made him the prime candidate to host The History Channel's Forged in Fire when they lit the green light for the show. In addition to hosting the show, he was also tasked with the responsibility of guiding the competitors with directions and specifications that should be met for their weapons. His advice was also invaluable due to the fact that it came from personal experiences.
It stands to reason then that due to his contributions to the growth and relative success of the show, fans were not particularly satisfied with the statement released by the showrunners about wanting to start a new chapter of the show. It did not take long for the real reason behind his decision to quit the show to be revealed.
Why Did Wil Willis Leave Forged in Fire?
The main reason behind Wil Willis' decision to part ways with the cast and crew of Forged in Fire was a strong desire to spend more time with his family, particularly in the wake of the devastating effects of the 2020 pandemic year.
That desire was reinforced by the fact that he and his wife Krystle Amina welcomed their son Flash Orion Willin on March 6 of the same year. Anyone who cared to check the TV personality's social media profiles could see that he was enjoying being a father and spending time with his family.
After leaving the show, Willis later revealed that the often repetitive and demanding process of filming Forged in Fire episodes was often boring for him. Since his departure, Wil has been true to his word by spending a quality amount of time with his family. He has also buttressed his desire to continue his entertainment career as a producer and writer by studying screenwriting at the New York Film Academy.
List of Forged in Fire Judges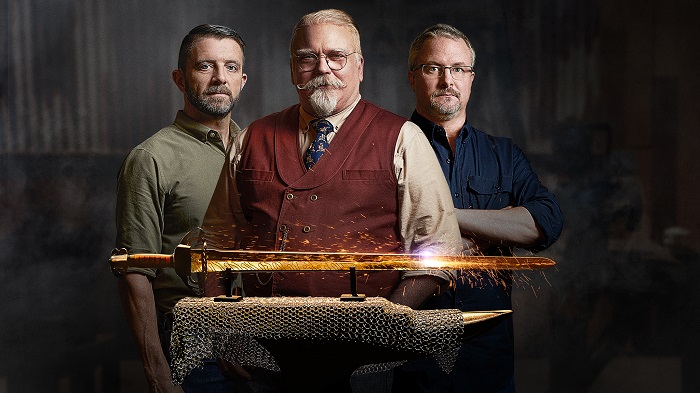 James Neilson – A knife maker and master bladesmith with over 20 years of experience. The American Bladesmith Society raised him to the rank of Mastersmith in 2008. He has been a Judge on Forged in Fire since its very first season in 2015 but took a leave of absence in season 3 to have surgery on his hand. He returned towards the end of season 4.
David Baker – A Props maker, competent in weapons history, and an expert on imitating period-accurate weapons. He has been on the show since its inception and mostly judges the historical precision and aesthetic beauty of the weapons.
Doug Marcaida – An edged weapons specialist. He sometimes enlists the help of one of his students or his brother R.J. to test weapons when he is unable to due to injury. Marcaida has been on the show since its inception.
Jason Knight – An ABS Master Smith who took James Nielson's place in season 3 when he underwent surgery. He left after episode 7 of season 4, and Nielson continued from episode 8.
Ben Abbott – A nine-time Forged in Fire champion who joined the show as a host in 2022. His roles fluctuate depending on the roles other judges take up.
Did a Forged in Fire Judge Die?
So far, no Forged in Fire judge has been reported dead from any incident on set or from injuries sustained while filming. Nonetheless, it is important to point out the fact that some of the judges have had certain encounters that incapacitated them for a while. An incident that quickly comes to mind is the one that led to Doug Marcaida appearing in some of the episodes with his hands in a sling.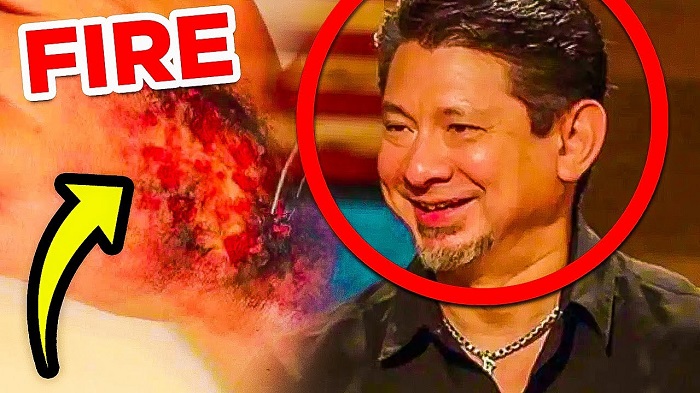 It is also the reason why he had to enlist the help of one of the students or bring in his brother to assist him in testing the weapons. The grave injury he suffered happened during the shooting of season 4. He had wielded a defective knife against a dummy, and the impact had injured his rotator cuff.
He didn't initially treat the injury as something serious but had to get surgery when the pain became unbearable. He is not the only judge to have been injured on set because series regular judge James Neilson was also injured after slipping and fracturing a small bone in his hand. 
Like Doug, James did not regard the injury as being serious and did not check it out until it became too difficult to ignore. It prompted his leave of absence from the show because he had to have surgery. He also took some time to recover and regain his strength. Hence, no host died on the show, he only sustained an injury. 
Who is David Baker from Forged in Fire?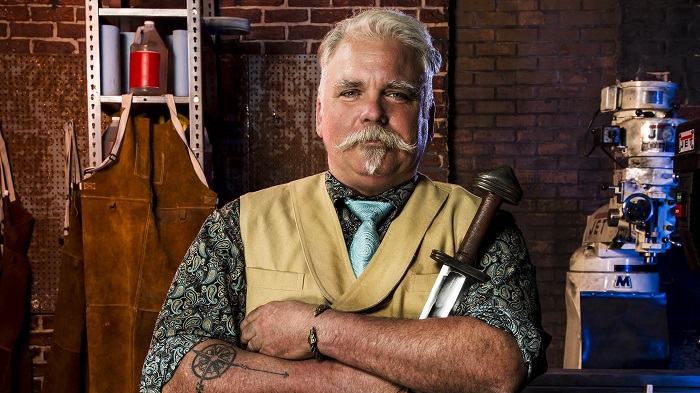 David Baker is one of the judges on The History Channel's reality TV competition series Forged in Fire. He is also a Hollywood prop maker best known for appearing on the Spike TV series Deadliest Warrior. He judges the historical accuracy and aesthetic beauty of the weapons forged during the series thanks to his experience and expertise in replicating period-accurate weapons for museums and films.
Born David Lain Baker on June 12, 1962, in Long Beach, California, USA, the 61-year-old is also an actor best known for Dragonball Evolution (2009) Beowulf (2007), and Elmo's Fire (1985). He has been a mainstay on the cast of Forged in Fire since joining in 2015.
Where is Forged In Fire Filmed?
To date, all Forged in Fire Episodes are filmed at Brooklyn Fireproof Stages in Brooklyn, New York City, New York. Despite some of the aforementioned mishaps with some of the judges, the set is essentially safe and professional, a reality backed up by the fact that none of the contestants has ever been injured on set since the show began in 2015.
Part of the set up on set includes a large judges' table from where the judges watch everything that is going on during the competition. There is also a separate worktable for each of the four contestants per time. There is also the pantry which is used for various handle materials, as well as for several metal types.
Several safety equipment can be found throughout the set, and they are often used during the construction and testing of weapons. The Winners Wall of the filming studio is where the winning blades from each episode are showcased.
Is Forged in Fire Still Streaming and Where Can You Watch It?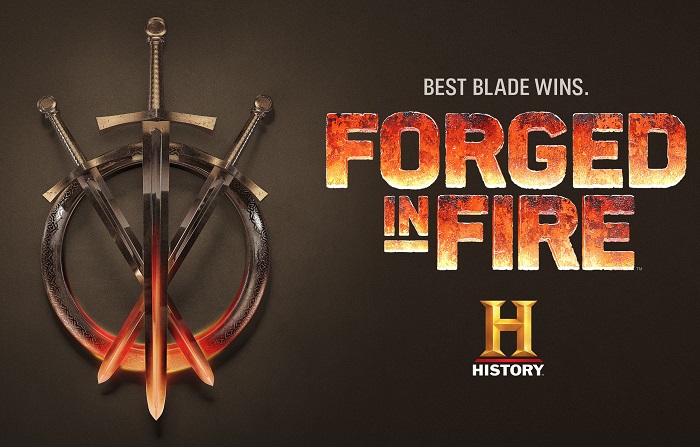 Forged in Fire has churned out around 235 episodes since it premiered in 2015, with the ninth season concluding on November 2, 2022. You can catch fresh episodes on The History Channel and its website. 
There are a few other subscription options you can choose from aside from The History Channel. Seasons 1, 2, 3, 6, and 7 were added to Discovery+ on October 1, 2021, while the fourth season was also added to the streaming platform on February 1, 2022. 
Netflix started airing episodes, one season per time, on November 21, 2021. If you prefer to watch on Hulu, be aware that you can only access three seasons (87 episodes), on the platform. You can catch all previous episodes on iTunes, Amazon Prime Video, Google Play, and Vudu, albeit on a Buy/Rent basis.
If you do decide to watch all nine seasons, you will be watching a total of 235 episodes minus the special episodes which are 19 in number. Here's a breakdown of the number of episodes per season to better put it in perspective.
Season 1 – 8 Episodes
Season 2 – 10 Episodes
Season 3 – 16 Episodes
Season 4 – 23 Episodes
Season 5 – 40 Episodes
Season 6 – 30 Episodes
Season 7 – 37 Episodes
Season 8 – 45 Episodes
Season 9 – 26 Episodes
Specials – 19 Episodes