Fans of Divergent and The Hunger Games book series will easily fall in love with the Shatter Me series. Written by Tahereh Mafi, the book series is a young adult dystopian hexalogy with a storyline that revolves around a teenage girl who has to live with a lethal touch. Mafi split the series into six novels and five novellas, making it easy for readers to follow up. Originally planned as a trilogy, Mafi ended up with more books after the series became popular following the publication of the first three. This is part of the reason why readers need to know the particular order to follow while reading the Shatter Me series.
While Divergent and Hunger Games, as well as many other similar books, were completed as a trilogy, Shatter Me has continued to get more additions since the first one was released in 2011. However, following the right order to read the book is quite easy and the trick is discussed in this piece.
What's The Shatter Me Series About?
Also known as The Juliette Chronicles, Shatter Me is a young adult dystopian suspense series packed with paranormal elements and in case you are wondering, there is a titillating touch of romance in the books. The story revolves around 17-year-old Juliette Ferrars who has a fatal touch among other abilities. A single touch from her is enough to suck the life out of anybody and she also taps energy from organisms around her.
This power of hers posed a big burden as it became more difficult to live among normal people. To protect the people around her, Juliette was locked up by the authorities (The Reestablishment) at a time when everything seems to fall apart. There were pressing issues like food shortage, diseases, disastrous climate change and to cap it all, the birds stopped flying. These unfortunate events kept everyone busy and they almost forgot about the girl with the fatal touch. But, in the end, The Reestablishment thought Juliette's extraordinary powers can work for good.
Death and unfortunate events are not all you get in the Shatter Me book series. Readers are treated to the sizzling romance from characters, including Juliette and the man who was supposed to be the enemy.
The reception of Mafi's Shatter Me books series can be termed as mixed. There are criticisms as much as recommendations pilling up against the bok series. It has been praised for the amazing love story but some critics think the ending "falls flat". Nevertheless, the book series made it on BuzzFeed's list of best YA books of all time and got the Honorable Mention: Children/Young Adult at the Arab American Book Awards. Overall, the Shatter Me series is worth reading.
Tahereh Mafi, the author of the series is well known for her many young adult fiction offerings. She is an Iranian-American writer and not just an ordinary one. She is a New York Times and USA Today bestselling author with many acclaimed books in her name. In addition to her Shatter Me series, she has other book series like the Furthermore series, as well as single fiction titles, and one common thing among her works is that they are mostly young adult fiction.
The Right Order Of Reading The Shatter Me Book Series
Shatter Me (Book One)
Publication date: January 9, 2018
Print length: 448 pages
Publisher: HarperCollins
The first piece in this gripping book series was released in 2011 with expectations running high. Shatter Me introduces the lethal touch of Juliette Ferrars to readers but no one could establish why her touch can kill. As a result, she's locked up for 264 days by The Reestablishment but when things started falling apart around them, Juliette was considered as a deadly weapon they can use to save the world. Now she is faced with the decision to choose between being a weapon or a warrior who saves everybody.
Shop Now at Amazon
Destroy Me (Novella)
Publication date: October 2, 2012
Print length: 133 pages
Publisher: HarperCollins
The next book in the right order of the Shatter Me series, Destroy Me chronicles deals with Juliette's escape from confinement from the perspective of Warner, the ruthless leader of Sector 45. She broke free from The Reestablishment by seducing and shooting Warner who survived the attack. While in recovery, Warner struggles with keeping things in check among his soldiers and not allowing his obsession with Juliette to get the best of him. Amid all these, Warner's father, The Supreme Commander of The Reestablishment, shows up with fresh plans for the lethal girl and also makes moves to right the wrongs of his son but Warner has no plans of supporting his moves.
Shop Now at Amazon
Unravel Me (Book Two)
Publication date: February 5, 2013
Print length: 480 pages
Publisher: HarperCollins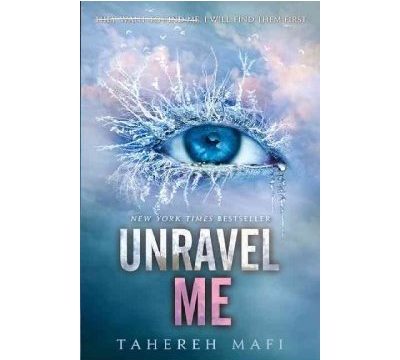 If you wondered how Warner survived Juliette's lethal touch in the first place, it remains a mystery even to her. Warner and Adam have a strange immunity to her fatal touch and unfortunately, the former is the one person she needs protection from. Together with Adam and a group of rebels with special powers, Juliette tries to fight The Reestablishment and also fix the broken pieces of her world.
Shop Now at Amazon
Fracture Me (Novella)
Publication date: December 17, 2013
Print length: 63 pages
Publisher: HarperCollins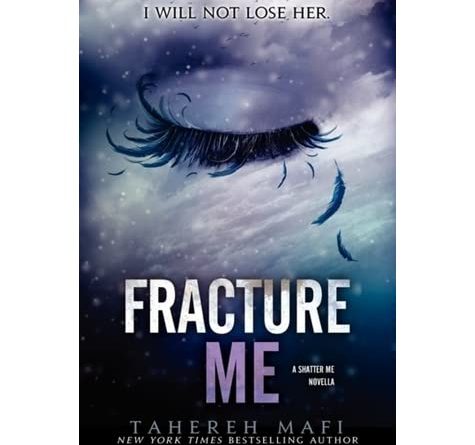 This installment is told from Adam's perspective. He has to prepare for war against The Reestablishment while worrying about the safety of Juliette, his best friend Kenji, and his brother James. The Omega Point rebels must unite on the battlefield to win the war against the Sector 45 soldiers but Adam's newly discovered half-brother, Warner, won't make it easy for them.
Shop Now at Amazon
Ignite Me (Book Three)
Publication date: February 4, 2014
Print length: 416 pages
Publisher: HarperCollins
In this installment in the book series, it appears The Reestablishment has the upper hand and Omega Point has been destroyed. However, Juliette is not giving up on her mission to destroy The Reestablishment but she doesn't know the fate of the other rebels and her friends. Ultimately, she must rely on Warner to master her powers and save their world from damnation but Warner wants more. He is hopelessly in love with her.
Shop Now at Amazon
Restore Me (Book Four)
Publication date: March 6, 2018
Print length: 448 pages
Publisher: HarperCollins
Now the new Supreme Commander of Sector, it appears Juliette Ferrars has won the battle and she also has Warner by her side. However, the biggest battle of all is controlling the power surge inside of her to keep herself from destroying the people she fought so hard to save.
Shop Now at Amazon
Shadow Me (Novella)
Publication date: March 5, 2019
Print length: 69 pages
Publisher: HarperCollins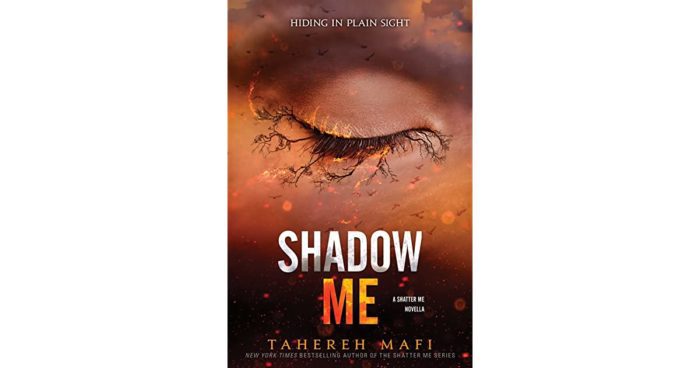 A shocking turn of events sees Juliette trying to get a grip after Warner betrayed her. Also, her friendship with Kenji is put to test as he juggles his role as the resistance leader in the battle against The Reestablishment. More interesting details unfold with the arrival of someone from the past. The New York Times, USA Today, and Publishers Weekly bestselling Shatter Me series just keeps piquing readers' interest.
Shop Now at Amazon
Defy Me (Book Five)
Publication date: April 2, 2019
Print length: 368 pages
Publisher: HarperCollins
With a broken heart and a body full of powers, the darkness builds up inside Juliette and she has to struggle to bottle up her feelings to avoid exploding. These emotions are unlocked after she discovers that Warner has been keeping secrets that would change everything about her perception of her background. The arrival of some unexpected visitors complicates her struggle to keep her emotions from spilling all over the place.
Shop Now at Amazon
Reveal Me (Novella)
Publication date: October 8, 2019
Print length: 72 pages
Publisher: HarperCollins
Fan-favorite Kenji Kishimoto narrated this one. With the way things shattered in Defy Me following the heartbreaking revelations, readers had a lot to look out for in the next book. Told from Kenji's point of view, Reveal Me sees Kenji in a battle with his feelings about everything, including Juliette and Nazeera. He is mostly stressed throughout this installment of the Shatter Me series, angry, delirious, or exhausted. Kenji simply wasn't himself anymore.
Shop Now at Amazon
Imagine Me (Book Six)
Publication date: March 31, 2020
Print length: 464 pages
Publisher: HarperCollins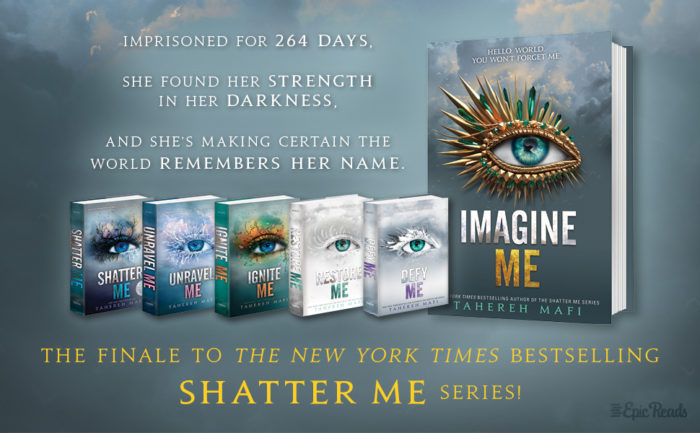 Ella Sommers now understands the purpose for which Juliette was created but with all the revelations comes more confusion. She's left with haunting memories from the past that points to a future full of uncertainties. Meanwhile, The Reestablishment is coming closer to the day of reckoning but Ella may not have a part to play in it.
Shop Now at Amazon
Believe Me (Novella)
Publication date: November 16, 2021
Print length: 224 pages
Publisher: HarperCollins
Things are gradually coming together as Juliette and Warner take down The Reestablishment together while trying to keep the world stable. Their friends at the Sanctuary also play their parts in this new start but Warner has other plans. Having proposed to Juliette a couple of weeks ago, he can't wait to formalize their union but circumstances surrounding them make having a wedding almost impossible. What does the future hold for the longtime lovers?
Shop Now at Amazon
Recap Of The Shatter Me Series In Order
Shatter Me
Destroy Me (Novella)
Unravel Me
Fracture Me (Novella)
Ignite Me
Restore Me
Shadow Me (Novella)
Defy Me
Reveal Me (Novella)
Imagine Me
Believe Me (Novella)
Are Unite Me and Find Me Part of the Shatter Me Book Series?
Published on February 4, 2014, with 224 pages, Unite Me hit the bookshelves alongside the publication of Ignite Me. The book is made up of the two novellas, Destroy Me and Fracture Me, with an exclusive inside look at Juliette's journal. You can either get the two novellas separately or just get Unite Me to cover them both.
On the other hand, Find Me, published on October 8, 2019, comprises both Shadow Me and Reveal Me, the other two novellas released after Destroy Me and Fracture Me. In other words, you can't really count Unite Me and Find Me as part of the book series but they contain a collection of the novellas.
How We Came Up With The Right Order Of Reading The Shatter Me Book Series
The Shatter Me series order is really simple, Tahereh Mafi made it easy to follow by keeping the storyline in succession. Thus, there's just one way you can read the series, by following the order of publication of the books. As aforementioned, the book series was supposed to be a trilogy but the writer changed her mind after the first three received critical acclaim. This is why after Mafi wrote the first three books, there was a very long hiatus before she wrote the subsequent ones.
Readers were introduced to the first book in the Shatter Me series on November 15, 2011. This was followed by two more in 2012 and 2013 respectively. The 2012 offering is an e-novella which means the one published in 2013 is actually the second novel. The third book in the series is Ignite Me which was released on February 4, 2014, while the next one, Restore Me, came in 2018 after four long years. Since 2018, Mafi has released books in succession, and with the last one dropping on November 16, 2021, there's no telling if the series is over yet.
Shatter Me also has several collections where you can get the book series in groups. Buying the collection ensures you have all the books to binge on at once. This is the best way to read if you really want to keep up with the story in the right order.
Shatter Me Series Characters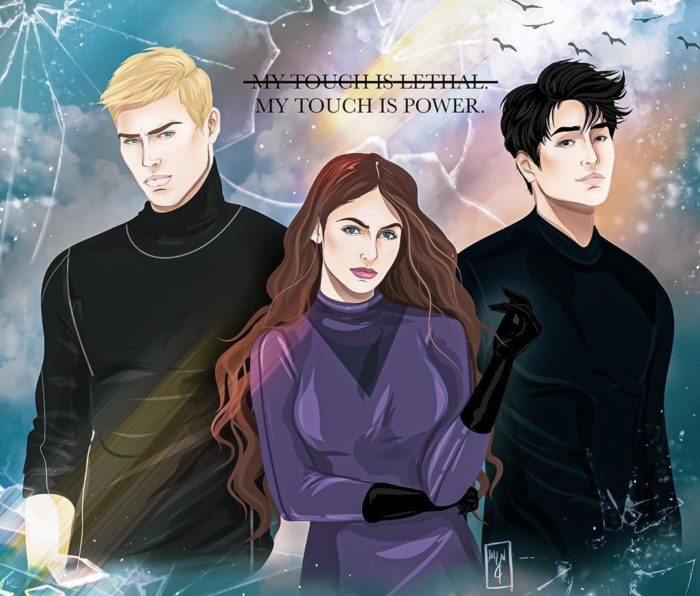 Juliette Ferrars: She is the main character, a 17-year-old girl who can kill with a single touch. Her troubled life is what the book series revolves around.
Aaron Warner: He is Juliette's love interest, a 19-year-old commander of Sector 45 in the Reesrtablishment. At first, he appeared to be a villain but his burning love for Juliette brought him over to her side. Meanwhile, he is one of the few people who are mysteriously immune to Juliette's lethal touch.
Adam Kent: He's a soldier put in charge of Juliette following her release from isolation. The 18-year-old soldier is also in love with Juliette and can use his powers to enable him to touch her without any effect but this can be very painful.
Kenji Kishimoto: He's a 20-year-old serving as a soldier in Warner's army. Kenji and Juliette have a strong bond as best friends, almost like siblings.
James Kent: He is the little brother of Adam and at 10, James is a bit too mature for his age.
Castle: he's the leader of Omega Point. A scientist with telekinetic powers, 30-year-old Castle is portrayed as intelligent.