Tommy Lee Jones is an actor who is famous for playing the villain in movies and TV shows, and sometimes in real life. He is an irresistible actor who has displayed great skills in both little and great roles, helping him to clinch coveted awards such as the Golden Globes and the Academy Awards, among many others.
Although he did not start acting professionally until his early 30s, he has appeared in close to a hundred movies and TV shows as an actor and has also directed and produced several others.
Who Exactly is Tommy Lee Jones? 
As stated, Lee is an actor, producer, and director. He was born on September 15, 1946, San Saba, Texas, U.S. to a father who was an oil field worker Clyde C. Jones, and a mother who worked as a police officer, shop owner, and school teacher. While he was growing up, his parents were married and divorced twice. He endured physical abuse from his father.
An eighth-generation Texan, he was brought up in Midland, Texas and he got his education from Robert E. Lee High School before moving to St. Mark's School of Texas in Dallas from where he graduated in 1966. Next, he proceeded to Harvard University on a scholarship which helped him to stay in the country because his father's job took the family to North Africa at the time. At Harvard, he stayed in a hall away from the man that would later become the Vice President of the United States in the future, Al Gore.
He played college football and was a part of the 1968 Harvard's football team that went undefeated. Jones graduated from the college in 1969 and in that same year, he made his debut as an actor on stage.
In 1970, he made his film debut with the portrayal of Hank Simpson in Love Story. The next film he appeared in was in 1973 when he played Gus in Life Study, followed by a portrayal of Coley Blake in Jackson County Jail. The following years saw him appearing in films such as Rolling Thunder (1977), Coal Miner's Daughter (1980), The River Rat (1984), The Fugitive (1993), and A Prairie Home Companion (2006). His recent films include Just Getting Started (2017) and Ad Astra (2019).
In 1975, he got a role in Barnaby Jones and in 1976, he had small roles in Baretta, Charlie's Angels, and Family. In 1989, he was in Lonesome Dove as Woodrow F. Call and then in 1995, he played Hewey Calloway in The Good Old Boys. His latest TV appearance was in The Sunset Limited which he directed and produced in 2011.
With a great acting career, he has received many awards and nominations through the years. Among the awards are Golden Globe Award, Primetime Emmy Award, Los Angeles Film Critics Association Award, Golden Boot Award, Screen Actors Guild Award, New York Film Critics Online Award, and Academy Award. More so, he has a Walk of Fame star located on 6925 Hollywood Blvd.
See Also: Frank Deford – Bio, Kids, Family, Cause of Death of the Sportswriter
What is He Like As a Person?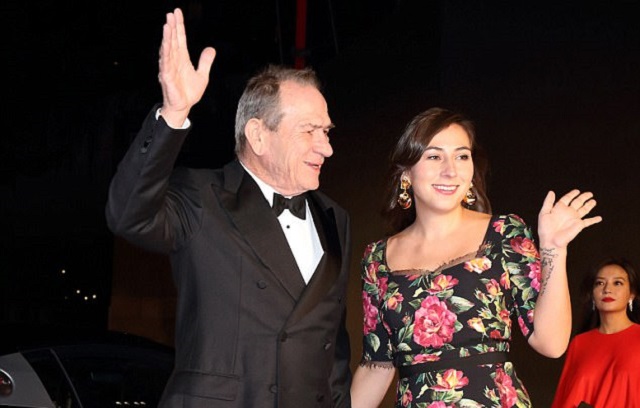 As an actor, Tommy Lee Jones is one of the best you would find on any given day. He has intense acting skills whether he is acting his usual villain roles or something completely different. As a person, he is enigmatic and doesn't get himself too much involved in Hollywood even though he is one of its biggest stars. Because of how much he wants to stay away from Hollywood, Jones doesn't have a home in Los Angeles.
Also described as being sometimes difficult, he has had some infamous episodes which are still being referred to till date. One of such is during an interview with Bernard Weinraub in which he told the influential New York Times correspondent that he found one of his questions to be stupid.
As regards his relationship life, the legendary actor has been married three times thus far. The first time he got married was in 1971 when he tied the knot with Katherine Lardner whose father is Ring Lardner Jr., the famous American Journalist, and screenwriter. The marriage came to an end in 1978.
In 1981, he got married for a second time to Kimberlea Cloughley whom he remained with until 1996. The marriage produced two children, Austin Leonard and Victoria Kafka who were born in 1982 and 1991 respectively.
His third marriage was in 2001 to Dawn Laurel. Close to two decades later, the two are still together living in Terrell Hills, Texas.
The 6 feet enigmatic actor enjoys his net worth of over $85 million. He made his fortune from his successful career as an actor, screenwriter, producer, and director.