In the 1960s and 1970s, an era when heavyweight boxing was the most competitive it had ever been in a long time thanks to the presence and ability of boxers like Jimmy Elis, Buster Mathis, and Jerry Quarry, Joe Frazier was one of the frontrunners of the division. The boxer, who was known for his strength, durability, punching power, and relentless fighting pressure, achieved an undisputed heavyweight champion status, a title he successfully defended against Muhammad Ali in 1971 in the bout dubbed the Fight of the Century.
Joe Frazier – Biography
Joe Frazier was born Joseph William Frazier, the 12th child of Dolly Alston-Frazier and Rubin Frazier, on January 12, 1944, in Beaufort, South Carolina. As a young boy, the future heavyweight champion worked with his family on their farm. By the time he was in school, he had grown a stocky build that propelled his uncle to label him another Joe Louis.
Frazier took his uncle's words to heart and soon after went to make a makeshift punching bag which he hung at an oak tree in the backyard and punched every day for the next 7 years at about an hour at a time. By the time he turned 15, he decided to leave Beaufort for New York to live with his older brother but, however, later chose to settle in Philadelphia where he began his amateur boxing career. He notably won the Golden Gloves Heavyweight Championships in 1962, 1963, and 1964, amassing an amateur boxing record of 38–2.
At the 1964 Tokyo Olympics, Joe Frazier was named as a late replacement for the injured qualifier on the American team. He went on to win gold at the competition, USA's only Olympic boxing gold medal in Tokyo, before turning professional in 1965. His pro boxing career lasted from 1965 to 1981, a time during which he fought 37 times, winning 32 and losing 4. Some of his most memorable fights were against George Foreman, who snatched his undefeated record, and his three fights with Muhammad Ali, one of which was the Thrilla in Manilla.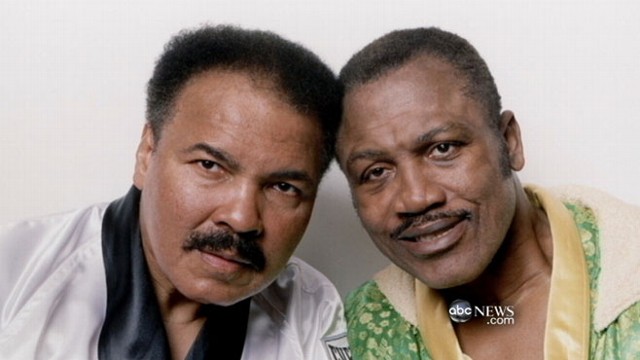 Wife and Children
At the age of 14, Joe Frazier was said to have first met his future wife, Florence Smith, who was 16-years-old at the time. The two got married in 1963 and remained together for more than two decades before they called it quits in 1985. Frazier is not known to have gotten married again after his divorce, however, he maintained a relationship with his longtime girlfriend, Denise Menz until he passed away.
While the identity of their mothers is not clear, Frazier is known to have had a total of 11 children. They are sons Marvis, Hector, Joseph Rubin, Joseph Jordan, Brandon Marcus, and Derek Dennis. His daughters are Jacqui, Weatta, Jo-Netta, Renae, and Natasha. Some of his children, notably Marvis, Joseph, and daughter Jacqui, have all followed in their father's footsteps to have professional boxing careers, however, they were not quite able enough to match up to the lofty standards set by him. Jacqui notably had her most memorable fight against Laila Ali, her father's greatest rival's daughter.
Height
As was proven with his achievements in the ring, Joe Frazier was not at a disadvantage for being quite shorter than most other boxers in the '70s. The heavyweight champion stood at a height of 5 feet 11 inches (182 cm) and had a reach of 73 inches (185 cm).
Joe Frazier Net Worth
At around the time of his death, Joe Frazier was estimated to have a net worth of around $100 thousand. The former world heavyweight champion, who made millions of dollars from his many bouts and appearances in films/television shows, found himself to be bankrupt and living in near poverty after his boxing career. According to the man himself, the reason why he ended up being broke was that he could not manage his wealth, was not a good businessman, and was far too generous with friends and family.
One of the most notable people in which Frazier was far too generous to was his nemesis Ali, who he gave money to survive when he was stripped of his title and barred from boxing for refusing to serve in the Army during the Vietnam War.
Read Also: Vladimir Putin – Bio, Height, Wife, Age, Daughters, Does He Speak English?
Cause of Death
In the late 2000s, Joe Frazier was diagnosed with diabetes and high blood pressure. A few years later, in September 2011, he was diagnosed with an, even more, deadlier disease; cancer of the liver. His cancer diagnosis looked to have come very late as Frazier was just a month later put under hospice care. He later gave up the ghost on the 7th of November, 2011.
Frazier's funeral was held a week after his death on the 14th of November, 2011 at the Enon Tabernacle Baptist Church in Philadelphia. His remains were interred at the Ivy Hill Cemetery.