Kelly McGillis is still alive and continues to feature in movies and TV series, but her career did not reach the expected heights. She rose to fame in the 80s, portraying unforgettable roles such as Charlotte "Charlie" Blackwood in 1986's Top Gun alongside Tom Cruise. She went on to appear in a variety of films over the years, including Witness in 1985, The Accused in 1988, and The Babe in 1992.
McGillis was all set to become a major star, but that never really panned out as her career began to taper off in the late 90s. She had a terrible rape experience and also wanted to start a family at some point. She has also been open about her struggles with alcoholism and her journey toward recovery.
All this meant that she never fully lived up to her potential, leading to questions about her whereabouts. Well, Kelly McGillis is still alive and is still acting. She has most recently appeared in 2018's Faith Under Fire and 2019's Alone. The actress has scored a string of roles despite her reduced presence in Hollywood.
Is Kelly McGillis Still Alive?
Kelly McGillis is still very much alive. She lives in Hendersonville, North Carolina. She has taught acting at an acting school near the town. She also continues to pursue her acting career. Some of her recent movies include Maternal Secrets (2018), Blue (2015), Grand Street (2014), etc. On TV, she can be seen in Love Finds You in Sugar Creek (2014), Z Nation (2014), and An Uncommon Grace (2017).
Kelly was sadly not asked to come back and reprise her iconic role in Top Gun 2, which came out in 2022, and this fuelled speculations about her whereabouts. Many also wanted to know the reason behind her absence. The movie producers stated that McGillis' absence was because they didn't want to resurrect that love angle, but she disagreed with them. According to her, it is because she is old and fat and looks appropriate for her age that she wasn't asked back.
Kelly McGillis Rose to Fame in the 1980s for Playing Iconic Roles in Movies such as Top Gun
Kelly McGillis fell in love with acting while in high school and decided that this was what she wanted to do with her life. She quit high school in the mid-70s and relocated to New York, where she enrolled to study acting at Julliard. She worked part-time jobs to get by and subsequently landed her first role in the 1983 comedy-drama Reuben, Reuben, where she played the love interest of the lead character, a down-on-his-luck poet.
While many thespians wait for years to get a breakthrough, this was not the case with McGillis, as the next three roles she landed were spectacular films. First was 1985's Witness, a film where she played the role of an Amish mother who works together with a detective to protect her son, the sole witness to a murder. She co-starred alongside Harrison Ford and received Golden Globe and BAFTA award nominations for best supporting actress and best actress, respectively.
Just a year after Witness, McGillis appeared alongside Tom Cruise in the 1986 fighter pilot film Top Gun. She played the role of a flight school instructor who tutors Tom Cruise's character, Maverick, as well as his love interest. Top Gun was the highest-grossing domestic film of the year, and it further cemented Kelly McGillis as a superstar.
Not done with announcing herself to America and the world at large, Kelly McGillis gave a smashing performance in 1988's The Accused. She played the role of an assistant district attorney, Kathryn Murphy, who fights hard to get justice for a gang rape victim. The film was named one of the best of 1988 and grossed $92 million with a budget of $13 million.
She Retreated from the Spotlight Because of Discomfort with Fame
During the 80s, female Hollywood stars often found it hard to land pivotal roles in movies, but the case was very different concerning McGillis. She had a hat trick of pivotal roles, and many predicted that she would go on to dominate Hollywood for several years to come, but this did not materialize thanks to several reasons.
One of them was her discomfort with fame brought on by a terrible rape experience she suffered before her acting career commenced. Kelly McGillis was taking her shower in her apartment in 1982 when two men busted in. They took turns raping her and physically assaulting her, and the ordeal lasted for hours until the police came to her rescue. One of the attackers got off, while another got a few years in jail.
The whole experience made McGillis distrust people distrust men, and sabotage relationships. She also gained 30 lbs. and began an unhealthy reliance on alcohol. She later went to therapy in 1984 and lost weight, and this helped her to pursue her career. When she initially became famous after Top Gun, she lived the life of the rich and famous for some years, but her demons caught up with her.
She was scared when she got recognized on the streets, and this made her retreat from the spotlight. Another thing that made McGillis retreat from the spotlight was the reaction to her rape ordeal. When she shared her story, many people assumed that she was only doing it for publicity. All this impacted her.
An Encounter with a Horrible Director also Made Kelly McGillis Reconsider Her Career
Another factor that affected Kelly McGillis' burgeoning career was the horrible experience she had with the director of the 1989 movie Cat Chaser. Cat Chaser was a heist film, and she played one of the lead roles; the wealthy, unhappy wife of a sadistic army general. According to McGillis, the filming was the most hateful experience of her life, thanks to the director, Abel Ferrara.
According to her, she hated every minute of it so much that after the last scene, she shaved off her hair entirely and declared that she never wanted to act again. McGillis did not take this declaration to heart, but the experience made her wary of big-budget productions. So, for much of the 90s, she stuck with doing low-budget films.
Kelly McGillis Also Took Time Off to Focus on her Family
Another reason why Kelly McGillis did not reach her true potential in Hollywood was marriage and family. The actress got married to her second husband, Fred Tillman, in 1989. They had their first child, Kelsey Laurel, in May 1990 and their second child, Sonora Ashley, in 1993.
McGillis continued working as much as she could with two kids, but at some point, she made the decision to prioritize her family, and they moved out to Key West, Florida.
Her Career has also Been Impacted by Weight Gain and Aging
Kelly McGillis has also been affected by Hollywood's unrealistic beauty expectations and standards for female stars. Actresses are expected to look picture-perfect no matter what, and so people criticized McGillis for gaining weight after having a child, which is a normal thing for women that had kids.
The filmmakers wanted her to undergo nips and tucks and conform to a specific look, but she refused to do that. She was comfortable looking like any average lady of her age out there. She never gained any dangerous weight, and her offense was that she didn't look stick thin.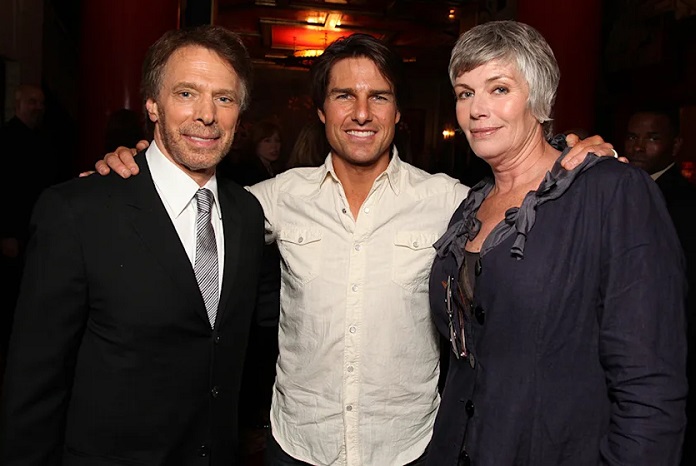 Kelly McGillis Officially Took a Hiatus from Acting from 2001 to 2007
From sporadic acting in the 90s, Kelly McGillis officially took a hiatus from acting from 2001 to 2007. During this period, she appeared in a handful of theatrical productions, such as The Duchess of Malfi, The Graduate, and The Little Foxes. She also focused on taking care of her kids and tending to her marriage. Sadly, she divorced her husband in 2002.
The divorce was not so much a result of her previous rape incident but rather because of her long-hidden gay sexuality. There was also the fact that her husband was arrested for solicitation.