Christopher Hitchens was a prolific writer who authored many books on a lot of things including philosophy and religion. He was also a media personality, an orator, and critic whose work in the area of literature, religion, and social critiquing gained fame for him in different parts of the world.
With both English and American citizenship, he had already had more than 30 books which he had written, co-authored, or edited. By the time of his death in 2011, he was aged 62.
Christopher Hitchens Biography
It was as Christopher Eric Hitchens that the author was born on 13 April 1949 in Portsmouth, Hampshire, England. He was brought up alongside his younger brother Peter Jonathan Hitchens, both of whom had never enjoyed a good relationship. Peter is also a media personality.
Both his parents Eric Hitches and Yvonne Jean Hitchens fought in the World War II and it was during the war when they were serving in the Royal Navy in Scotland that they first met and fell in love. Eric would later join the HMS Jamaica and contribute in the sinking of the Scharnhorst German battleship,  a contribution his son would always be proud of.
As a kid growing up, his family always moved from place to place as a result of the career of his father with the Navy.
Christopher got his education from Mount House School in Tavistock, Devon before he later moved to the independent Leys School in Cambridge. Next,  he proceeded to study Philosophy, Politics, and Economics from Balliol College, Oxford in 1967. By 1970, he had already graduated with a third-class degree.
He grew up in a Christian home and was even sent to Christian boarding schools but he would later come to become an atheist with his back strongly against the church and religion. With not the best relationships with his father as he grew, his mother had always been there for him but would much later leave his father for a devotee of the Maharishi Mahesh Yogi who was once an Anglican minister, Timothy Bryan. The two killed themselves in 1973 after they overdosed on sleeping pills in what was said to be a suicide pact. This happened when Christopher was 24, and it is said to be one of the subconscious fuel burning his hate for religion.
He developed an interest in politics quite early and in 1965, he joined the Labour Party only to be expelled two years later.
He started his career as a journalist with the International Socialism magazine as a correspondent. Next,  he worked with the Times Higher Education Supplement in 1971 as a social science correspondent. In the years that followed, he worked with various other media outfits including ITV,  New Statesman, and Daily Express. Although he has achieved much in his journalistic endeavor, he is more regarded for his work as a writer.
When he was promoting his memoir Hitch-22 in 2010, the prolific writer was rushed to the hospital after he suffered a severe pericardial effusion. It was later discovered that he was suffering from esophageal cancer. He lost his battle to the disease in 2011 when he died at the age of 62 and his body was donated to medical research according to his wish.
Books
Christopher Hitchens sunk in more than four decades of his life writing books on different things. He published books as a sole author and also in collaboration with others. Apart from books, Hitches has also published pamphlets and other materials.
Some of the books he published as a sole author are Cyprus (1984), Imperial Spoils: The Curious Case of the Elgin Marbles (1987), Blood, Class, and Nostalgia: Anglo-American Ironies (1990), and No One Left to Lie To: The Triangulations of William Jefferson Clinton (1999), among many others.
A strong atheist, he published his book God Is Not Great: How Religion Poisons Everything in 2007. This was followed by his Memoir in 2010, Hitch-22 Some Confessions and Contradictions: A Memoir and then his last work which was posthumously published in 2012, Mortality.
He also collaborated with others to publish books like When Borders Bleed: The Struggle of the Kurds in 1994 with  Ed Kashi, and he co-authored a number of others including The Portable Atheist: Essential Readings for the Non-Believer which he was the editor in 2007 and The Best American Essays which he co-edited with Robert Atwan in 2010.
Wife and kids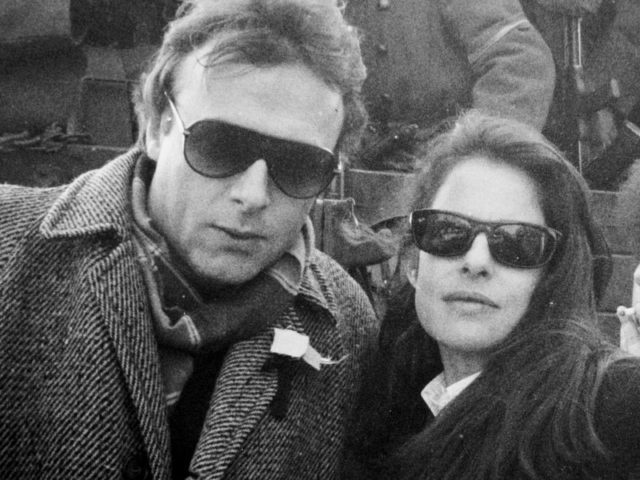 According to Hitchens,  he was bisexual in his younger days. He claimed that when he was in the University,  he got into two sexual relationships with men who were also students at the time. Although he did not reveal their names,  he said they were Tori ministers when Margaret Thatcher was Prime Minister.
However, he later only dated women, marrying twice in his lifetime. The first time he got married was to Eleni Meleagrou in 1981. Eleni was a Greek Cypriot. Although the union produced two kids, Alexander and Sophia, it did not survive up to a decade before ending in 1989.
Only two years later,  he got married to American screenwriter Carol Blue with whom he remained until his death in 2011. The pair had a daughter, Antonia.
Christopher Hitchens Net Worth
Regarded as one of the leading writers of the century, Christopher Hitches had a net worth estimated at $4 million US dollars at the time of his death. He made his fortune from his career as a writer and journalist as well as through some of his other engagements.