In the crossroads of sports and novel writing, there is no other person who has been able to have as huge an impact as Frank Deford, the longtime Sports Illustrated magazine writer. In his over five-decades-long career, the six-time National Sportswriter of the Year and two-time Magazine Writer of the Year, wrote 18 books, nine of which were novels. His outstanding achievements and contributions to the journalism world further made him the first magazine recipient of the Red Smith Award, and the first sports journalist ever to receive the W.M. Kiplinger Award for Distinguished Contributions to Journalism from the National Press Foundation.
Frank Deford – Bio
Frank Deford was born Benjamin Franklin Deford III on December 16, 1938, in Baltimore, Maryland. Details about his parents, including their identity and what they did for a living, are not public knowledge. It is, however, known that Frank was the first of the three sons they had.
In regards to his educational background, records show that Deford attended the Calvert School for his lower and middle school education, and then Gilman School for his high school education, both of which are in his hometown and home state. For his college education, he moved to Princeton, New Jersey to enroll at the prestigious Princeton University, graduating in 1962.
Following his graduation from Princeton, Frank Deford began his career as a researcher for Sports Illustrated. He later moved to become a writer with the magazine, gaining popularity as the master of the bonus story – the longest piece in each issue. While making a name for himself in the sports journalism world, Deford took up other roles in different media outlets; correspondent for HBO's Real Sports with Bryant Gumbel, and commentator for CNN and NPR's Morning Edition program on Wednesday.
In 1989, Frank Deford's first stint at Sports Illustrated came to an end. The following year, he was named the editor-in-chief of America's first and only all-sports daily newspaper, The National. He ended up spending just a year at the short-lived newspaper, leaving in 1991 to focus on other endeavors, which included writing for Newsweek and Vanity Fair. In 1998, Deford returned to Sports Illustrated and remained there until his passing.
Frank Deford Books
In addition to his long-form sports stories writing, the sportswriter also published a number of fictional novels that were set outside of the sporting world. Some of his most notable published books of both sporting and non-sporting stories, include Everybody's All-American (1981), Alex: The Life of a Child (1983), The World's Tallest Midget: The Best of Frank Deford (1987), Casey On The Loose (1988), An American Summer: A Novel (2002), The Old Ball Game (2005), The Entitled (2007).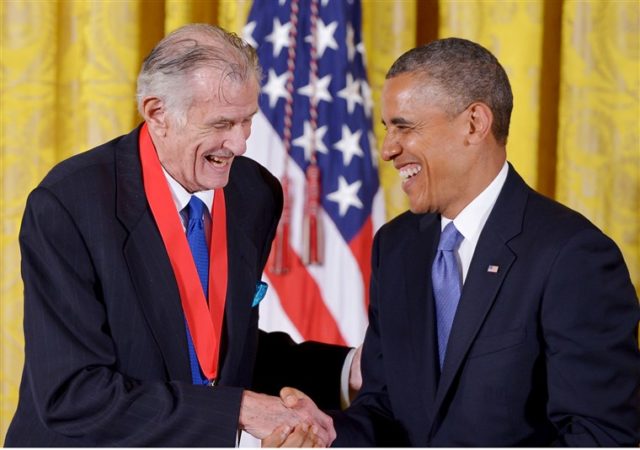 Family – Kids
Frank Deford was married to former fashion model, Carol Penner Deford. The pair were said to have met each other in Delaware before going ahead to exchange vows a few years later in 1965 in Newport, Rhode Island.
As the story goes, Carol dropped out of college to become a model, but later abandoned her career on the runway due to her marital obligations. While raising her children, she was said to have wanted to become a nurse, but never got around to doing so for other reasons. At a later time, she enrolled at Sarah Lawrence College and has since gone on to get a masters degree in Social Work.
Together, Carol and Frank Deford welcomed two children into the world, a son named Christian and a daughter named Alexandra. The couple later adopted another child from the Philippines, a girl named Scarlet. Scarlet's adoption happened a few months after the Deford's lost Alex to a long battle with cystic fibrosis in 1980. She was diagnosed with the disease when she was four months old and she lived with it until she passed away at the age of 9.
Read Also: Joe Frazier – Biography, Height, Net Worth, Wife, Children, Cause of Death
Cause of Death of the Sportswriter
Frank Deford, whose most recent awards and recognition included a William Allen White Foundation National Citation at the University of Kansas, a National Humanities Medal for "transforming how we think about sports," and a PEN/ESPN Lifetime Achievement Award for Literary Sports Writing in 2013, passed away in his home in Key West, Florida, on the 28th of May, 2017, aged 78. According to his wife, the sportswriter was recently treated for pneumonia, however, it is not clear if it is the disease or something else that was not detected that caused his death.