Ian Frazier books have become a must-read for not just his followers and readers of his columns on The New Yorker, but a wide range of people who are looking to enjoy his outstanding humor that has led to him being described by the New York Times as a prolific exponent of the reported essay and related forms, and someone who generates curiosity through his enthusiasm.
The Ohio native has written a dozen books and hundreds of magazine articles. Most of his work, which has been put under the categories of humor, travel, memoir, and essay, has appeared mostly for The New Yorker, which he has been a part of since 1974. He joined the magazine after graduating from Western Reserve Academy in 1969 and from Harvard University in 1973.
Who Is Ian Frazier?
Ian Frazier is a legendary American author who was born in 1951 in Cleveland, Ohio. Though he was born in Cleveland, he was raised in Hudson, Ohio by a father who was a chemist and a mother who was a teacher. His father, David, worked for Sohio, also known then as Standard Oil of Ohio, an American oil company which was later acquired by British Petroleum and is now referred to as BP.
Ian Frazier gained his artistic side from his mother, Peggy, who was not only a teacher but was an amateur actor and director, known for her work in local Ohio theaters as well. Clearly, his mother's creativity had a hand in the artistically brilliant man Ian has become today.
Prior to becoming a best-selling author, Ian attended the Western Reserve Academy and Harvard University, as previously mentioned. Shortly after graduating from university, he proceeded to make his mark in the literary community. His 1986 book, Dating Your Mom and 1996 Humor Collection, Coyote v. Acme are commended as two of his best works and they immediately promoted him as an author to keep an eye on. He has since gone to release several more instantly iconic books which will no doubt stand the test of time.
With his impressive body of work, some of which are listed below, it is not hard to see how Ian Frazier has become such a revered and respected author in the present literary era. Want to see what all the fuss is about? Here are some of his best literary works you should consider reading immediately.
10 Best Ian Frazier Books You Need To Read
1. Great Plains (1989)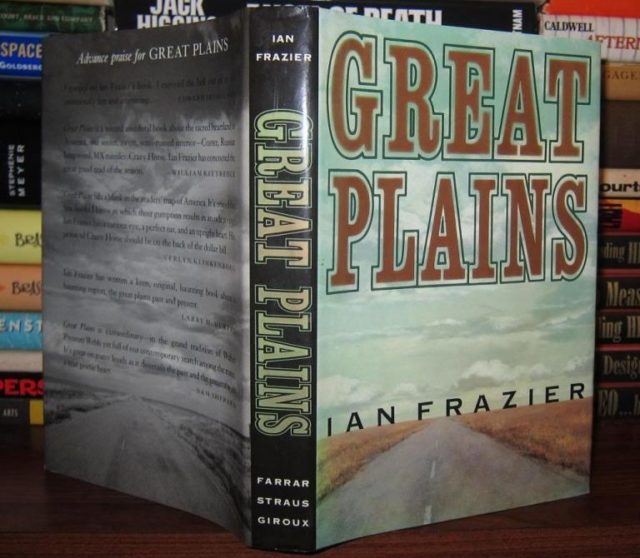 Genres: Non-fiction, Travel literature
After having moved to Montana, Ian Frazier explored the Great Plains of the American Midwest at random and put together this book where he looks at the past and the present of this area. He uses his unique blend of intrepidity, tongue-in-cheek humor, and wide-eyed wonder, to take the readers on a journey of different places; from the Clutter house, a place made infamous by Truman Capote in In Cold Blood, to a house once visited and terrorized by Bonnie and Clyde.
For this book, Frazier took home a Spur Award for Best Nonfiction.
2. Coyote v. Acme (1996)
Genre: Humor
Coyote v. Acme is Ian Frazier's second collection of humorous essays that hit the shelves in 1996. The humorist gives short, apt, and cynical takes on some of the idiocies of American life, showing his great comical range regardless of the subject.
In the title piece, for example, Wile E. Coyote, one of the two characters from the Wile E. Coyote and the Road Runner cartoon series from the Looney Tunes and Merrie Melodies series of cartoons, is suing Acme, the manufacturer of various rocket-propelled devices that failed to help him catch and subsequently eat the fast-running ground bird, Road Runner.
3. On The Rez (2000)
Genre: Non-fiction
In this one of the many Ian Frazier books, the writer gives a personal, thought-provoking, and disarmingly frank perspective on the everyday life experiences of Indians in modern-day America, particularly the life and conflict among the Oglala Sioux on South Dakota's Pine Ridge Reservation in the plains of the American West. He also takes a look at historical events, various treaties, and tribal leaders that have played major roles in shaping the fate of the people.
The book, which has a story within a story, first centers around the unusual bond between an alcohol-abusing Native American and a self-proclaimed Indian, before chronicling the impact one special teenager can have on an entire community.
4. The Fish's Eye: Essays About Angling and the Outdoors (2002)
Genre: Non-fiction
Having had a lifelong passion for fishing, fish, and the aquatic world in general, as attentive readers of the writer's work might have noticed through the pieces the writer has put together in the past, it was no surprise that Frazier eventually put together 20 years of thought on fishing.
In each of the short essays in the book, Frazier describes his surroundings and relationships with self-deprecation and light humor. In "Fishing Without Dad" he writes about his softhearted father who hated it when he managed to catch something. "Five Fish" has him talking about attempting to play with his kids at the water's edge before rushing to drop them off at home and racing back to the river in order to get to his favorite angling spot.
5. Nobody Better, Better Than Nobody (1987)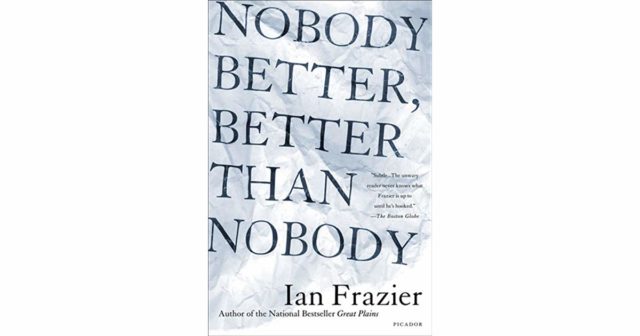 Genres: Non-fiction, Biographical dictionary
Nobody better, better than nobody is another one of Ian Frazier Books that is a collection of essays, five articles that originally appeared in The New Yorker from 1978 to 1986. In them, the writer gives personalized accounts on a wide range of subjects; from Handy Household Hints columnist Heloise to expert fly fisherman who ran a tackle shop in midtown Manhattan for many years, Jim Deren, and a town in Kansas celebrating the one-hundredth anniversary of a local Indian massacre.
6. The Cursing Mommy's Book Of Days (2012)
Genres: Satire, Humorous Fiction
The Cursing Mommy's Book Of Days is another one of the many Ian Frazier books where he draws inspiration from his widely read New Yorker columns. In it, the writer and humorist build a story around the life of a suburban, stay-at-home woman named Linda, aka the cursing mommy.
Linda, a profoundly memorable character who was sprung from an impressively fertile imagination, struggles to keep it all together while dealing with two challenging kids, an unambitious and lazy husband who lives in his own, and an aging father with dementia. She repeatedly tries valiantly to offer tips on how to do various tasks around the home but always happens to end up on the ground, cursing.
7. Travels in Siberia (1970)
Genres: Non-fiction, Travel Literature
Ian Frazier uses his outstanding storytelling skills to give a firsthand account of Siberia, a place most people have heard of but will never get to see. To put together his book where he reveals Siberia's role in history – its science, economics, and politics, the writer spent 16 years doing research, a time in which he traveled five times to the extensive geographical region that spans much of Eurasia and North Asia, and more to western Russia. He also further gives personal accounts of adventures with Russian friends and acquaintances.
8. Lamentations of the Father: Essays (2000)
Genre: Humor
Lamentations of the Father, a book that takes its title from Ian Frazier's 1997 essay that appeared in the Atlantic Monthly's 150th anniversary collection of best writing, is a collection of hilarious essays where he shares comical stories about his interactions with his wife and children, encounters with strangers, current events and pop-culture icons. One of the essays that stood out was that of "My Wife Liz," where he discusses full details about his fictional marriage to Elizabeth Taylor.
9. Gone to New York: Adventures in the City (2005)
Genres: Non-fiction, Travel Literature
As has been a pattern with most of Ian Frazier books, the writer puts together a collection of his essays from the New Yorker, the Atlantic, and elsewhere, to chronicle his relationship with the city that never sleeps, New York City, where everyone has a larger than life character and there is an event in every block. While a few have argued that the reader might need to at least have a sense of New York to enjoy what he is talking about, Frazier, through his thoughtful and entertaining writing technique, has ensured that his experiences will resonate with many readers.
Some of the more captivating stories in the book include the one in which he talks about the traffic on Canal Street never stops, the manual typewriter repairman, his 12-mile walk along Route 3 in New Jersey to the Lincoln Tunnel.
Read Also: Christopher Hitchens – Books, Bio, Net Worth, Wife and Kids
10. Hogs Wild: Selected Reporting Pieces (2016)
Genre: Fiction
Hogs Wild: Selected Reporting Pieces is a selection of varied, compelling articles dating from 2000 onward by Ian Frazier. Using his widely admired wittiness, the New Yorker writer puts together a collection of pieces that detail his interaction with a number of other questionable characters, as he further grapples with a number of societal issues, such as homelessness and the shelter system in New York City, the opioid addiction epidemic, and the environmental effect of invasive animals such as the Asian carp, hermit crabs, and the feral hogs, which he had to travel down south to view.