Named by The Times in 2008 as one of the 50 greatest British writers since 1945, Martin Amis is a novelist best known for writing Money (1984), London Fields (1989), and Yellow Dog (2003). The James Tait Black Memorial Prize recipient, who has twice been listed for the Booker Prize for Fiction, has also dabbled into screenwriting, with notable works like Saturn 3 (1980) and London Fields (2018) to his credit. Read on to find out more facts about the British author.
Martin Amis Biography
Martin Amis was born Martin Louis Amis, the second of three children to Hilary Ann Bardwell and Sir Kingsley Amis, on the 25th of August, 1949 in Oxford, England. It is not clear what his mother, who was a daughter of a Ministry of Agriculture civil servant, did for a living, however, his father, the son of a mustard manufacturer's clerk, was a notable English novelist. His siblings are brother, Philip, and sister, Sally.
For his education, Amis attended a number of schools, most notably the Bishop Gore School in Swansea, Wales, and Cambridgeshire High School for Boys in Cambridge, England. He later moved on to attend Exeter College, Oxford, where he graduated with a Congratulatory First in English. He subsequently went on to take an entry-level job at The Times Literary Supplement before later joining the New Statesman, where he rose to become a literary editor at the age of 27.
Books
Martin Amis' first novel was The Rachel Papers (1973) which won the Somerset Maugham Award. He followed that up with Dead Babies (1975) and Success (1977) before trying his hand in writing screenplays. His first of two attempts at screenplay writing was for the British science fiction film Saturn 3 in 1980. After that, he wrote Other People (1981) before making his first attempt at a non-fiction piece with Invasion of the Space Invaders (1982).
In 1984, Amis published one of his best-known works to date, the novel Money: A Suicide Note. In 1986, he put together a collection of non-fiction essays on the subject of America titled The Moronic Inferno: And Other Visits to America. He followed that up with a collection of short stories called Einstein's Monsters (1987), then the novels London Fields (1989) and Time's Arrow: Or the Nature of the Offence (1991).
In 1993, Martin Amis put together another collection of non-fiction writing called Visiting Mrs. Nabokov: And Other Excursions. He further released two collections in back to back years; Two Stories (1994) and God's Dice (1995), and then two novels; The Information (1995) and Night Train (1997), before letting out another collection of stories titled Heavy Water and Other Stories (1998).
In the 2000s, after releasing a book of memoirs titled Experience (2000), and another about Joseph Stalin and Russian history titled Koba the Dread: Laughter and the Twenty Million (2002), among other works, Amis has published five more novels; Yellow Dog (2003), House of Meetings (2006), The Pregnant Widow (2010), Lionel Asbo: State of England (2012), and The Zone of Interest (2014).
Facts About The British Novelist
1. Family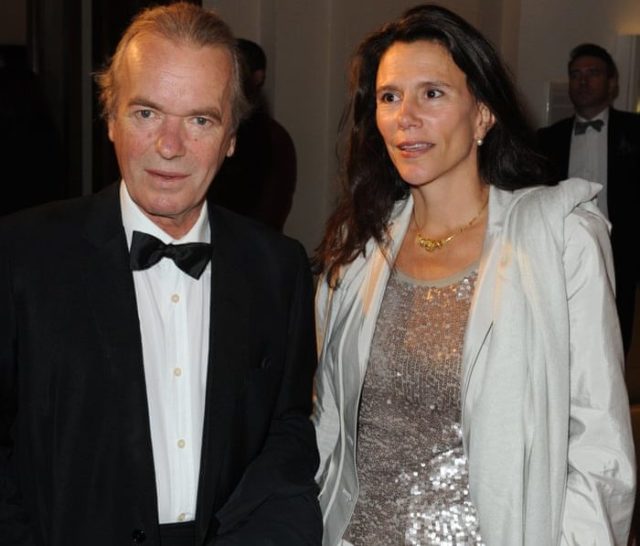 Prior to his marriage to Antonia Phillips in 1984, Martin Amis had a relationship with Lamorna Seale that produced a daughter named Delilah. The novelist famously did not have any relationship with his daughter until she was 19 years old.
Not much is known about Amis' marriage to Phillips, an American academic, other than that they welcomed two sons to the world; Louis, born in 1985 and Jacob, born in 1986. The pair were still married when Amis began a relationship with American-Uruguayan writer Isabel Fonseca. Fonseca met Amis while she was working at the Times Literary Supplement and had to conduct a phone interview of him.
After dating for a while, Martin Amis left his wife for Fonesca in 1993, a move that famously led the British press to brand him as a second-generation philanderer and his new love interest as a sultry American heiress. Despite the public scrutiny, the couple continued with their relationship and in 1996, they exchanged vows to become man and wife.
A year after their wedding in 1997, the couple welcomed their first child, a daughter named Fernanda. Two years later, in 1999, they welcomed another daughter named Clio. Together, the family split their time between homes in New York, London, and Uruguay.
2. His Stepmother Sparked His Interest in Writing Novels
Following the divorce of his parents when he was 12, his father married novelist Elizabeth Jane Howard. At around this time, the young Martin Amis had no interest in novels as he only read comic books. It was not until his stepmother introduced him to Jane Austen that he began to get interested in the writing. He often names Austen has his earliest influence, adding that his father showed no interest in his work.
Read Also: Frank Deford – Bio, Kids, Family, Cause of Death of the Sportswriter
3. Amis Served as Professor at the University of Manchester Between 2007 and 2011
In February 2007, the University of Manchester appointed Martin Amis as a Professor of Creative Writing at The Manchester Centre for New Writing. As agreed to in his contract, he was to run postgraduate seminars and participate in four public events each year, including a two-week summer school, which earned him a salary of £80,000 a year.
Following the revelation of his earnings by a newspaper, there was an outcry that he was being paid too much for doing very little. This led to him stepping down from his position at the end of the academic year in 2011.