After first harboring the hopes of attending law school and making something out of her law degree, Susan Orlean abandoned that career path to do something she said she always wanted to do. The Ohio native had longed to become a writer of long stories about interesting things rather than news stories about short-lived events, and as things would pan out, she has been able to go ahead and live her dream. Read on to find out about her accomplishments in her career as a writer as well as other facts.
Susan Orlean – Biography
On October 31, 1955, in Cleveland, Ohio, Susan Orlean was welcomed into the world by her Jewish parents; Edith (née Gross) and Arthur Orlean. She has two siblings; a brother named David and a sister named Debra. While it is not clear what her mother, who is from Hungary, did for a living, her Polish father was an attorney and businessman.
Details about Orlean's childhood are few and far between, a time she describes as relatively uneventful. What is known is that she was raised in Shaker Heights, Ohio, however, where she received her high school education and what year she graduated is not public knowledge. For her college, the young girl attended the University of Michigan in Ann Arbor, where she studied literature and history, graduating with an honors degree in 1976.
After leaving college, Susan Orlean moved to Portland, Oregon. While there, she began putting together plans to attend law school as she also landed a job as a writer for a tiny, now-defunct, monthly magazine. She later shelved her law school plans as she joined the alternative weekly newspaper called the Willamette Week, where she wrote music reviews and feature pieces. She soon later began publishing stories in magazines like Rolling Stone, Esquire, and Vogue, among others.
By 1982, Susan Orlean left Portland for Boston, Massachusetts where she became a staff writer for the Boston Phoenix. She later became a regular contributor to the Boston Globe Sunday Magazine. After a few years in Boston, Orlean found herself on the move again, this time to New York, where she began writing for The New Yorker magazine and also became a New Yorker staff writer.
Susan Orlean Books
In addition to her journalism exploits, Susan Orlean has released over five non-fiction books including Saturday Night in 1990. Some of her other publications include The Orchid Thief (1998), The Bullfighter Checks Her Makeup: My Encounter with Extraordinary People (2001), My Kind of Place: Travel Stories from a Woman Who's Been Everywhere (2004), Animalish and Rin Tin Tin: The Life and the Legend, both in 2011.
Her latest works include The Floral Ghost (2016) and The Library Book (2018).
Facts About The American Journalist
1. She Has Been Married Twice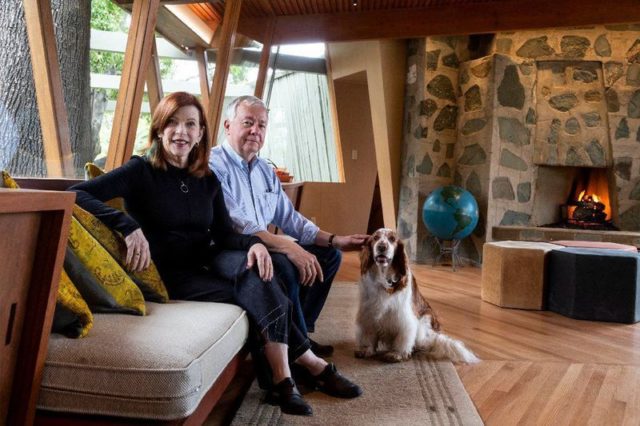 In 1983, a year after moving to Boston, Susan Orlean exchanged marital vows with lawyer Peter Sistrom. The pair remained together for sixteen years without bringing a child into their world before calling time on their union.
In the following years, just after the turn of the millennium, the journalist began a relationship with the author and businessman John Gillespie, who served as the chief financial officer of the human services organization, Mentor Network. The pair, who were introduced to each other by a mutual friend, was said to have had dates in cities all across the world, including Rio de Janeiro, Bangkok, London, and Istanbul. They went on to tie the knot on the 10th of November, 2001, at the Explorers Club in New York.
In 2004, after about three years together, Orlean and Gillespie started a family by welcoming a son named Austin. She is also a stepmother to Jay Gillespie, her husband's son from his previous marriage.
2. Her Books and Reports Have Been Adapted Into Movies
Over the years, Susan Orlean has written a good number of books and numerous other articles that has earned her rave reviews and gained her admirers from all over the world.
In 1998, eight years after she published her first book, Saturday Night (1990), the author wrote the book, The Orchid Thief, a profile on the famous American horticulturist John Laroche. The non-fiction book went on to form the basis of the script by Charlie Kaufman for the comedy and drama film, Adaptation (2002), which starred Nicholas Cage and Meryl Streep. For her performance in the film, Streep won a Golden Globe award.
Another of her works that have caught the attention of people in Hollywood is the article she wrote for Women's Outside magazine in 1998 titled "Life's Swell." Orlean featured a group of young surfer girls in Maui, Hawaii in the article, and it went on to form the basis for the sports film, Blue Crush (2002), which starred Kate Bosworth, Michelle Rodriguez, and Mika Boorem.
Read Also: David Leonhardt – Bio, Facts About The American Journalist
3. Awards and Recognition
Susan Orlean became a Nieman Fellow at Harvard University in 2003. In 2012, her alma mater, the University of Michigan, awarded her an honorary doctorate degree at the spring commencement ceremony. In 2014, the John Simon Guggenheim Memorial Foundation awarded her a Guggenheim Fellowship.