With the release of her first novel White Teeth in 2000, Zadie Smith immediately made the world fall in love with the novelist, essayist, and short story writer that she is. Close to two decades, five more novels, and many short stories later, the English writer still maintains her place as the beloved writer of many. Smith has become a bestselling author with many awards to her name, but more than that, she is also a book editor and reviewer.
Zadie Smith Biography
On 25 October 1975 in Brent, London, England, Yvonne Bailey and Harvey Smith had a daughter whom they named Sadie Smith. 14 years after she was born, Sadie decided her new name would be Zadie Smith.
She was raised with two brothers by parents who loved books more than anything else, becoming her first influence in deciding to become a writer. Nonetheless, the marriage of her parents ended in a divorce when she was a teenager.
The writer was educated at Malorees Junior School and then she moved to Hampstead Comprehensive School. She later studied English literature at King's College, Cambridge, from where she graduated with second-class honors.
As a little girl growing up, Zadie was first interested in becoming a dancer and had considered having a musical theatre career. She would later make money as a jazz musician when she was in university. Not yet done, Smith also thought of becoming a journalist but then what got the better side of her was her passion for writing.
Books
She started with short story writing when she was at Cambridge. Zadie got some of her works published in the short story collection, The Mays Anthology which immediately got her a deal for her first Novel.
The English writer published her debut novel in 2000 titled White Teeth. It became a wild success, attracting international acclaim and many awards. Zadie revealed that following the kind of hype the book enjoyed, she suffered writer's block for some time.
Two years later, she released The Autograph Man which although enjoyed success commercially, did not make it so well with critics as her first. 2005 saw the publishing of On Beauty. The third novel was very successful as it won the Orange Prize for Fiction as well as the Anisfield-Wolf Book Award. It also landed the Man Booker Prize nomination.
She published other novels- NW (2012), Swing Time (2016), and The Fraud (2019); short story collections- Martha and Hanwell (2005) and Grand Union (2009); and some works of nonfiction including Changing My Mind: Occasional Essays (2009), Fences: A Brexit Diary (2016), and Feel Free (2018).
In a writing career that has spanned close to two decades, she has won many awards and recognition. In 2002, she was elected a Royal Society of Literature fellow and was named one of the most influential people in British culture according to a BBC poll in 2004.
Parents and Family
Zadie's mother, Yvonne Bailey, was originally from Jamaica. She moved to England as a girl of 15 years in 1969 in search of better opportunities. First, she worked as a model and then she worked as a secretary. She would later attend Brunel where she did youth and community studies before working as a psychotherapist with NHS as well as a consultant.
Her father, on the other hand, was English. Abandoned by his father, he joined the army during the Second World War, helping in the liberation of Belsen in northern Germany. Harvey would give away everything from the war including his uniform and medals in an attempt to forget the war and he took a job as a photographer.
Before her parents met, her father was once married in the 1950s and he had two children but the marriage did not survive. When he met Yvonne and had children with her after they were married, he was proud of the children of a mixed race he had with her even though it wasn't fashionable. He had a very good relationship with his children most especially Zadie who had always loved him.
The two brothers of Zadie Smith are also in the world of creativity. While Ben Bailey Smith is a comedian, actor, and rapper known as Doc Brown, Luc Skyz who is the youngest of the three is a rapper.
Husband and Children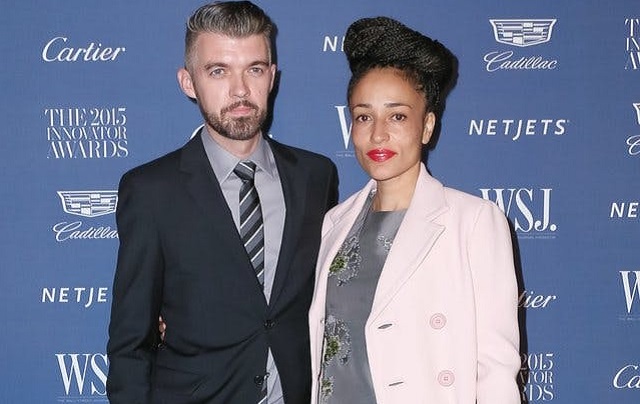 Zadie Smith is a family woman who is married to Irish writer and poet, Nick Laird. Also born in 1975, Nick met his wife at Cambridge University and after dating for a while, they decided to become husband and wife in 2004 in the Chapel of King's College, Cambridge.
Zadie and Nick have been blessed with two children, Katherine and Harvey. The family has lived in different parts of the world including London, New York, and Rome.
Read Also: Ann Patchett – Books, Biography, Husband – Karl VanDevender, Parents, Family
Zadie Smith Net Worth
As regards her fortune, there are some unconfirmed sources that have put the net worth of Zadie Smith at $24 million. Officially, however, it is still under review.