Goosebumps is one of the most popular series of children's novels in the horror fiction genre. The first book in the series, titled Welcome to Dead House, was published in July 1992. Since then, a total of two hundred and thirty-five (235) books have been published. The book series has been translated to thirty-two languages and over 400 million books have been sold worldwide. As a result, it was the best-selling series of all time for several years before it was knocked off by J. K. Rowling's Harry Potter.
American novelist Robert Lawrence Stine, also known by his other pen names Jovial Bob Stine and Eric Affabee, or just R. L. Stine, authored the books he characterizes as "scary books that are also funny". The writer has also written hundreds of other popular horror fiction novels that have led him to be referred to as the "Stephen King of children's literature".
General Profile of Goosebumps
Author: R. L. Stine
Genre: Children's Literature, Horror, Supernatural Fiction, Thriller
Illustrator(s): Tim Jacobus – Original Goosebumps Series; Mark Nagata – Spin-Off Series
Publisher: Scholastic Corporation
Language: English
Publishing Date: July 1992 to December 1997 – Original Series; October 1994 to February 2000 and April 2008 to present -Spin-Off Series
Number of Books: 235
What Is Goosebumps All About?
Published by Scholastic Publishing, stories in the Goosebumps book series are written to the reading level of 3rd to 7th grades and are generally about ordinary children in extraordinary situations. The themes present in the book are about children triumphing over evil; children facing frightening situations and using their wit and imagination to escape them. Stine gets the ideas for his books from real-life experiences. The author revealed that The Haunted Mask was inspired by his son's experience; when he had trouble removing a Halloween mask. There are no moral lessons incorporated into the novels, as Stine says his books are strictly for reading motivation.
The plot of Goosebumps follows child characters (either male or female) who find themselves in scary situations. The books all have similar plot structures as these scary situations usually involve monsters and other supernatural elements. There are, however, no deaths in any of the stories, and the children in the books are never found to be in situations that would be considered too serious.
The Scary Nature of the Books Almost Got It Banned in the United States
Between the years 1990 and 1999, and even beyond, the Goosebumps books were some of the most controversial. During this time, a number of people and groups attempted to remove or restrict them from both school and public libraries across the United States on the grounds that it depicted occult or demonic themes and was too frightening for young people.
According to the American Library Association, the book series was ranked 15th on its list of the Top 100 Most Frequently Challenged Books in the 90s. It was challenged more than Madonna's Sex and The Anarchist Cookbook among other controversial books. Challenges to the books reduced by the 2000s but it still featured on the list as it was ranked 94th.
How Many Goosebumps Book Series Are There Altogether?
After the original Goosebumps series that had sixty-two books published under the title from 1992 to 1997, R. L. Stine began to write various spin-off series. A few publications have stated that he published a total of seven series, excluding those that were not popular. Others have included all the book series that he ever published, including those that have just one book in the series.
The listed seven main Goosebumps series include:
Goosebumps (1992-1997) – sixty-two books
Tales to Give You Goosebumps (1994-1997) – six books
Give Yourself Goosebumps (1995-2000) – fifty books
Goosebumps Presents (1996-1998) – nineteen books
Goosebumps Series 2000 (1998-2000) – twenty-six books
Goosebumps Horrorland (2008-2012) – twenty-five books
Goosebumps Most Wanted (2012-2016) – fourteen books
Other Series that are not quite popular or have just one book in the series include:
Goosebumps Monster Editions (1995–1997) – N/A
Goosebumps Haunted Library (1996) – N/A
Goosebumps Autobiographies (1997–1998) – two books
Goosebumps Triple Header (1997–1998) – N/A
Goosebumps Graphix (2006–2015) – four books
Goosebumps SlappyWorld (2017–present) – sixteen books
Miscellaneous Goosebumps Books – N/A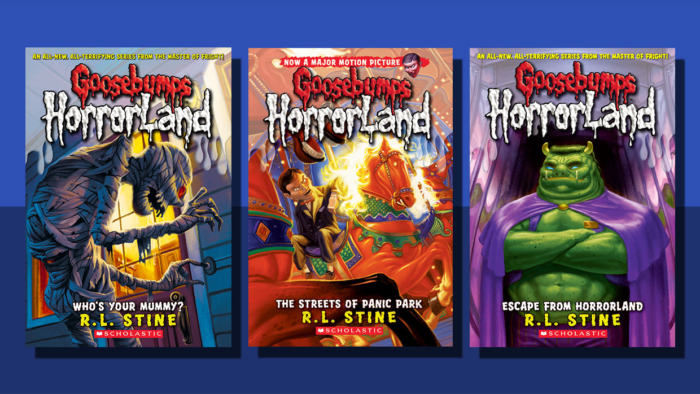 Adaptations To Screen
TV
In 1995, a few years after the first Goosebumps book was released, a television anthology series based on the series was produced in Canada. Protocol Entertainment collaborated with Scholastic Publishing's sister company, Scholastic Entertainment, to produce the show that lasted for four seasons and aired on the Fox Network in over 100 countries.
The first season of Goosebumps featured 19 episodes and ran from October 27, 1995, to May 17, 1996. The second season ran from August 10, 1996, to July 20, 1997, and featured 25 episodes. There were 22 episodes in the penultimate season that aired from September 6, 1997, to May 16, 1998, before only 8 episodes were produced for the fourth and final season of TV series that aired from September 14, 1998, to November 16, 1998.
In 2020, a reboot live-action TV series was announced to be in the works by Scholastic Entertainment, Sony Pictures Television, and Original Film. No specific release date was, however, given on when the show would be released.
Film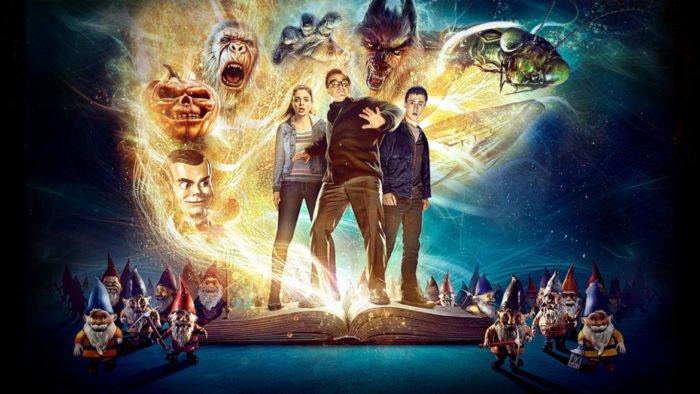 Prior to the release of the first Goosebumps film in 2015, there was an attempt to produce one in 1998. Fox Family Films explored the option but because they could not settle on a script they liked or which book to adapt, they decided to shelf their plans. About ten years later, Columbia Pictures acquired rights to the project.
Facing the same challenges Fox experienced with the script, producers opted to do a fake biographical film that saw R. L. Stine write a book and all the monsters within it become real. Actor Jack Black was cast to play a fictionalized version of Stine while director Rob Letterman was recruited to bring the script to life. The story saw all monsters from the Goosebumps franchise escape from Stine's books, forcing him to team up with his teenage neighbor to save their town after the monsters begin to wreak havoc in the real world. The first Goosebumps film was subsequently released on October 16, 2015, to rave reviews. It enjoyed commercial success, grossing $158 million against a budget of $84 million.
As expected, a stand-alone sequel to the first one was immediately commissioned. Development of the film began in September 2015 and it was announced that none of the cast from the first film will return, except Jack Black. The plot follows two young boys who unknowingly open an unpublished Goosebumps manuscript titled Haunted Halloween to accidentally release the monsters from the Goosebumps franchise into their town. The monsters go on to cause a wave of destruction on Halloween night. Goosebumps 2: Haunted Halloween was subsequently released on October 12, 2018, to mixed reviews from critics. It went on to gross $93.3 million (worldwide) against a production budget of $35 million.
Video Games
Seven action-adventure video games based on the Goosebumps book series have been released. Some of the games have been based on books of the same name while others have either served as a sequel or a prequel to a book.
Goosebumps: Escape from HorrorLand (1996): Released in 1996 on PC, this is the first-ever video game from the Goosebumps franchise. The game acts as a sequel to the Goosebumps book, One Day at HorrorLand. The game was DreamWorks Interactive's highest-selling game at that time and was a finalist for the Computer Game Developers Conference's 1996 "Best Adaptation of Linear Media" Spotlight Award.
Goosebumps: Attack of the Mutant (1997): Based on the Attack of the Mutant Goosebumps book, a children's PC game was developed and produced by DreamWorks Interactive and released on September 25, 1997. The video game was one of the first games to use cel-shaded animation.
Goosebumps: HorrorLand (2008): Released on October 28, 2008, in North America, and October 16, 2009, in Europe, Goosebumps HorrorLand video game was based on the book series of the same name. It was made available on the Nintendo DS, Wii, and PlayStation 2 platforms.
Goosebumps: The Game (2015): Developed by Wayforward Technologies and released in 2015 as a prequel to the Goosebumps film, Goosebumps: The Game is a point and click adventure game that allows players to control either a boy or a girl they can name and go with on a spooky adventure that sees them battle the Goosebumps monsters that escape from their books.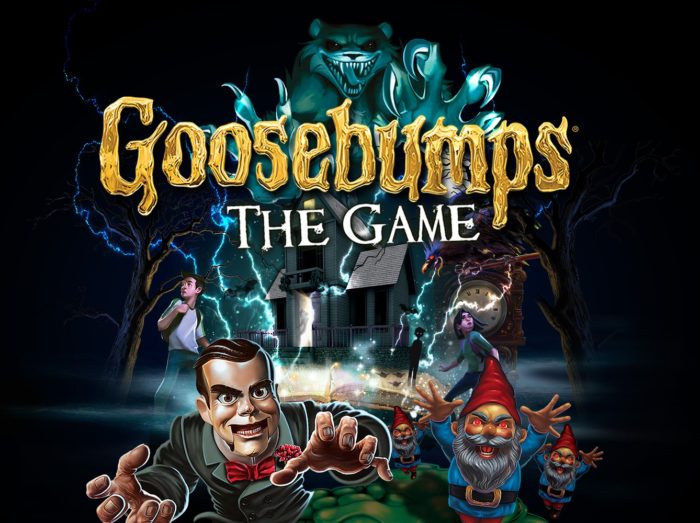 Goosebumps: Night of Scares (2015): The first mobile game in the series, Goosebumps: Night of Scares, was released in 2015. The events in the game take place after the film where R.L. Stine is trapped inside a typewriter thanks to Slappy. Players of the game control a young boy named Twist.
Goosebumps: Horror Town (2018): The second mobile game in the franchise, Goosebumps: Horror Town was released in 2018. Players of the game build their own Goosebumps-inspired town with Slappy and various other monsters.
Goosebumps: Dead of Night (2020): In summer 2020, a first-person spooky survival adventure game titled Goosebumps Dead of Night was released for PlayStation 4, Nintendo Switch, Xbox One, and PC. Players get to experience three chapters of stealth gameplay with 3D graphics and chilling AI monsters. It included additional content not seen in Night of Scares.
Frequently Asked Questions About the Goosebumps Book Series
1. What Is The Very First Goosebumps Book?
The first book ever released in the Goosebumps book series is Welcome to Dead House which was published in July 1992. The book was published alongside the second and third books in the original Goosebumps series; Stay Out of the Basement and Monster Blood.
2. Which Goosebump Book is the Longest?
Goosebumps Wanted: The Haunted Mask has the most pages with two hundred and forty (240). However, it has a lower word count than Weirdo Halloween, the sixteenth book in the Goosebumps HorrorLand book series. Weirdo Halloween has over 34,000 words with two hundred and fourteen (214) pages, making it the longest Goosebumps book ever.
3. Which Ones Are The Classic Goosebumps Books and How Many Are There?
The original Goosebumps books are also refered to as the classic Goosebumps books because they were the first ones to be published before other spin-offs were released. These books are sixty-two in number and it starts with Welcome to Dead House that was published in July 1992 and ends with Monster Blood IV that was published in December 1997.
4. Which Are The Scariest Goosebumps Books?
There are more than fifty books that we could list that qualifies to rank among the most scariest in the series. Below are 10 that we think will send shivers down the spine of a reader.
Welcome to Dead House
The Haunter
The Girl Who Cried Monster
The Curse at Camp Cold Lake
A Night In Terror Tower
The Haunted Mask
Say Cheese And Die!
Night of the Living Dummy
One Day At Horrorland
It Came From Beneath The Sink
5. What Is The Appropriate Age For A Child To Read A Goosebumps Book?
According to the author, Goosebumps was written at the reading level of 3rd to 7th graders (8 year olds to 12 years olds). However, it must be noted that the stories are still very scary and can have a child creeped out.