Tyron Woodley appears in Cobra Kai, the sequel TV series to the iconic Karate Kid film series. In Cobra Kai, Woodley, a mixed martial artist and professional boxer who previously held the UFC welterweight championship on four occasions, takes on the role of Sensei Odell, a highly skilled martial arts instructor. This role serves as a tribute to Tony O'Dell, the actor who portrayed Jimmy in The Karate Kid.
Which Season of Cobra Kai Does Tyron Woodley Appear?
Tyron Woodley's notable appearance in Cobra Kai occurs in Season 5, also referred to as Cobra Kai V. This season, comprising 10 episodes, debuted on Netflix on September 9, 2022, marking the latest installment in the franchise.
In the fifth season of Cobra Kai, the central theme revolves around the enduring conflict between Terry Silver, who originally played the primary antagonist in Karate Kid III and now takes on the mantle of the new Cobra Kai owner, and Daniel LaRusso.
Following Miyagi-Do's defeat at the conclusion of Season 4, Cobra Kai undergoes expansion under Terry Silver's leadership, necessitating the recruitment of new instructors. Given the series' emphasis on martial arts, real-life fighters were sought after to contribute, leading Tyron Woodley to become part of the cast as one of the instructors, alongside his former rival Stephen Thompson.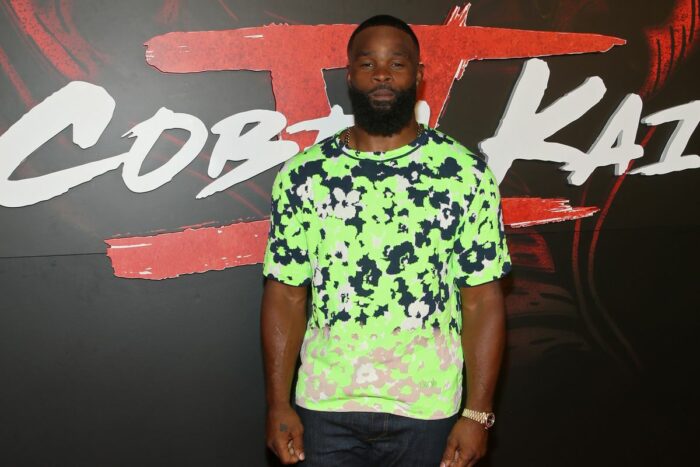 For Tyron Woodley, being a part of Cobra Kai Season 5 was a dream come true. As a former UFC welterweight champion who had pursued acting alongside his fighting career, his involvement in martial arts was inspired by watching The Karate Kid while growing up. Thus, landing a role in the immensely popular Netflix series felt like a full-circle moment in Woodley's life.
Tyron Woodley's appearance in Season 5 of Cobra Kai was quickly noticed by fans, generating considerable buzz on social media platforms. One surprised fan on Twitter exclaimed, "I can't believe Tyron Woodley is in Cobra Kai Season 5," while another appeared puzzled, asking, "What is Tyron Woodley doing in Cobra Kai?"
Tyron Woodley's Cobra Kai Character
In Cobra Kai, Tyron Woodley plays the role of Sensei Odell, a supporting character who plays a significant part in the unfolding drama. Odell is recruited by Terry Silver to assist in the ambitious expansion plans of the Cobra Kai Dojo, both nationally and internationally, following their victory at the 51st Annual Karate Championships. Odell made his first appearance at an airport, where he joined other senseis in welcoming Terry Silver. He was present when Silver seized control of Topanga Karate, holding a box filled with gi uniforms for students opting to join Cobra Kai.
A crucial moment unfolds when Chozen and Johnny engage in a confrontation with Hyan-Woo at the Topanga location. Odell, along with Kim Da-Eun and other senseis, threatens to intervene as Kim reveals Cobra Kai's takeover. Subsequently, under Terry Silver's orders, Odell engages in sparring sessions with Kyler Park and Kenny Payne. Notably, he manages to overpower both opponents due to Kyler's lack of leadership. However, Kenny ingeniously defeats Odell by using Kyler as a launching pad, granting him an advantage to deliver a decisive kick to Odell's face, which earns the admiration of Silver.
Odell's involvement continues as Silver plans to expand Cobra Kai on a global scale, a move that includes qualifying for the Sekai Taikai overseen by a group of organizers led by Gunther Braun. During this event, Odell holds a wooden board that Kenny Payne effortlessly shatters with a single punch, serving as a demonstration of Cobra Kai's formidable abilities.
In a particularly intense moment, Odell witnesses Kim punishing Tory Nichols for failing to appear for her match against Samantha LaRusso in the Sekai Taikai Tournament. Kim subjects Tory to the grueling task of breaking a solid stone plate, a feat that proves excruciatingly difficult and nearly injurious, following multiple attempts.
At Silver's mansion, Odell joins forces with other senseis in a brawl against Johnny Lawrence, initially gaining the upper hand. However, Johnny eventually rallies, utilizing a well-placed kick to Odell's groin and deftly evading Min-Jun's attacks, inadvertently leading to Odell's pinkie finger being severed. Ultimately, Johnny prevails by incapacitating Odell, knocking him unconscious after hurling Min-Jun to the ground.
List of Tyron Woodley's Cobra Kai Episodes
Tyron Woodley made his debut in Cobra Kai in episode 6 of season 5. Following his introduction in episode 6, he continued to appear as Sensei Odell in all the remaining episodes of the season, meaning that he appeared in a total of 5 episodes.
Here is a breakdown of the Cobra Kai episodes in which Tyron Woodley's character, Sensei Odell, is featured:
1. Episode 6 – "Ouroboros"
Terry assembles a team of skilled senseis, including Tyron Woodley's character Odell Sensei from South Korea, led by Kim Da-Eun, the granddaughter of Kim Sun-yung. Kim partners with Terry to teach her grandfather's martial arts to American teens. Meanwhile, Daniel is recovering but hesitant to get involved further. Terry takes over Topanga Karate, where Devon trains, leading to a clash between Tory and Devon. Kreese's attempt to leave prison is thwarted by his therapist, and Johnny and Chozen face the new international senseis at Topanga Karate. Amanda convinces Daniel to rejoin the fight.
2. Episode 7 – "Bad Eggs"
In this episode, Cobra Kai continues to expand, taking over more dojos across the Valley.  Daniel and Johnny continue to grow desperate, seeking Kreese's help to uncover Silver's motives. They manage to reveal Terry's ambition to win the Sekai Taikai tournament. Chozen, on the other hand,  introduces a challenge in which the students must protect the eggs assigned to them. Initially, this results in failure, but later, the students succeed through teamwork. Daniel and Johnny manipulate Kreese to reveal Silver's plan to enter Cobra Kai in the Sekai Taikai.
3. Episode 8 – "Taikai"
This episode sees the Sekai Taikai representatives evaluating Cobra Kai's eligibility. The judges opt for a tournament-style showdown to decide participation. Kreese advises Tory to focus on herself, leading to Sam's discovery of Miguel's necklace. Kenny defeats Eli using a technique he learned from Silver. A rigged match occurs, but Sam wins, allowing both dojos to join Sekai Taikai.
4. Episode 9 – "Survivors"
Sam confronts Tory about her alliance with Kreese at the house party. Carmen and Johnny celebrate their pregnancy with a night out. Daniel hires them a limo, and they all get drunk at the nightclub, even Chozen. The Miygai-Do teens contemplate what to do with Tory's news. Terry paid a referee to cheat, and then they framed Kreese for assault.
Bert gets them into Stingray's house, and he practically admits to the conspiracy. Terry beat Stingray almost to death and then framed Kreese. Kim suspects Tory's betrayal and trains her hard until her knuckles bleed. Sam makes amends with Tory. Daniel, Johnny, and Chozen head off to the next bar in the limo but find themselves taken hostage in the vehicle.
5. Episode 10 – "Head of the Snake"
Kreese's act of mercy in jail turns into a deadly brawl with an uncertain outcome. Meanwhile, Barnes, driven by revenge, commandeers a limo for an assault on Silver and his senseis at their mansion. Johnny and Chozen join Barnes on this mission, while Daniel opts to stay behind.