Since the first Little Mermaid movie was released in 1989, four more Little Mermaid movies have been released. They are The Little Mermaid II: Return to the Sea (2000), The Little Mermaid: Ariel's Beginning (2008), The Little Mermaid Live! (2019), and The Little Mermaid (2023).
The Little Mermaid is a Disney media franchise that first made waves in 1989 with the release of the animated feature film "The Little Mermaid." This film, which not only achieved critical acclaim but also enjoyed significant commercial success, drew inspiration from Hans Christian Andersen's 1837 fairytale, "The Little Mermaid."
Disney crafted its own distinct narrative, infusing it with the enchanting, whimsical charm that has become synonymous with the Disney brand. Notably, Disney reimagined the story, tailoring it to a younger audience by excising certain elements and introducing its unique creative touch. They also opted for a joyful conclusion, deviating from Andersen's more somber ending, ensuring Ariel (Jodi Benson) and Eric (Christopher Daniel Barnes) lived happily ever after.
When Did the Little Mermaid Come Out?
The Little Mermaid made its initial debut in 1989, with subsequent re-releases. It originally graced the big screen on November 17, 1989, courtesy of Walt Disney Pictures, and later made a return to theaters on November 14, 1997.
The story follows Ariel, a 16-year-old mermaid who becomes infatuated with the human world. Against the advice of her father, King Triton, Ariel falls for Prince Eric during a shipwreck. After saving him and forming a connection through music, she departs to avoid being discovered.
Ariel's desire to be with Eric leads her to make a pact with Ursula, the sea witch. Ursula transforms Ariel into a human for three days, taking her voice as payment, with the condition that Ariel must receive a "true love's kiss" from Eric to remain human. Ariel accepts the deal and receives assistance from her friends. Her bond with Eric grows, but Ursula interferes, leading to a climactic battle where Ariel's voice is restored, and Ursula is defeated.
How Many The Little Mermaid Movies Are There?
Disney has produced a total of five films within The Little Mermaid franchise, all stemming from the phenomenal success of the original 1989 classic. These films have maintained a connection to the original storyline.
The initial animated masterpiece, The Little Mermaid, made its debut in 1989, followed by a sequel titled The Little Mermaid II: Return to the Sea in the year 2000 without theatrical screening. In 2008, Disney unveiled a prequel named The Little Mermaid: Ariel's Beginning, which also followed the direct-to-video format.
Alongside this animated trilogy, Disney brought forth The Wonderful World of Disney: The Little Mermaid Live! in 2019. This unique creation paid homage to the original late 1980s film and featured a combination of animation and a Broadway-style live-action performance. It was released in celebration of the 30th anniversary of the original film.
The latest addition to this beloved mermaid princess franchise arrived in 2023 when Disney released the live-action adaptation of the 1989 classic "The Little Mermaid," starring Halle Bailey as Ariel, Jonah Hauer-King as Prince Eric, and Melissa McCarthy as Ursula.
All The Little Mermaid Movies in Order of Release
1. The Little Mermaid (1989)
The Little Mermaid (1989) is a beloved animated film that tells the captivating tale of Ariel, a 16-year-old mermaid princess who yearns for life on land. Set in the underwater kingdom of Atlantica, the story unfolds as Ariel becomes increasingly intrigued by the human world despite her father, King Triton's warnings against interacting with humans.
Ariel's curiosity leads her to a chance encounter with Prince Eric during a shipwreck. After rescuing him from drowning with the help of her loyal friend Flounder, a well-meaning seagull who provides her with somewhat inaccurate insights into human life, and Sebastian, a crab who serves as Triton's advisor and court composer, Ariel falls in love with him. However, she must make a deal with Ursula, the sea witch, to become human and gain a chance to win Eric's heart. Ursula takes Ariel's voice in exchange for legs and a limited time on land.
As Ariel and Eric grow closer, Ursula, disguised as a human named Vanessa, tries to thwart their romance. With the help of her friends and the revelation of Vanessa's true identity, Ariel disrupts Vanessa and Eric's wedding, breaking Ursula's spell. Ursula then kidnaps Ariel, leading to a confrontation between her and Triton. In a desperate move, Triton sacrifices himself to save Ariel, surrendering his trident to Ursula. Ariel is freed, but Triton is transformed into a helpless polyp, losing his rule over Atlantica. Ursula proclaims herself the Queen of the Seven Seas and attempts to wield the trident's immense power.
In a climactic battle, Eric defeats Ursula by impaling her with a ship's bowsprit, restoring Triton and other enchanted beings. Triton, recognizing Ariel's love for Eric, grants her the permanent ability to be human. The story concludes with Ariel and Eric's joyous wedding, celebrating their love amidst a backdrop of supportive friends and family.
2. The Little Mermaid II: Return to the Sea (2000)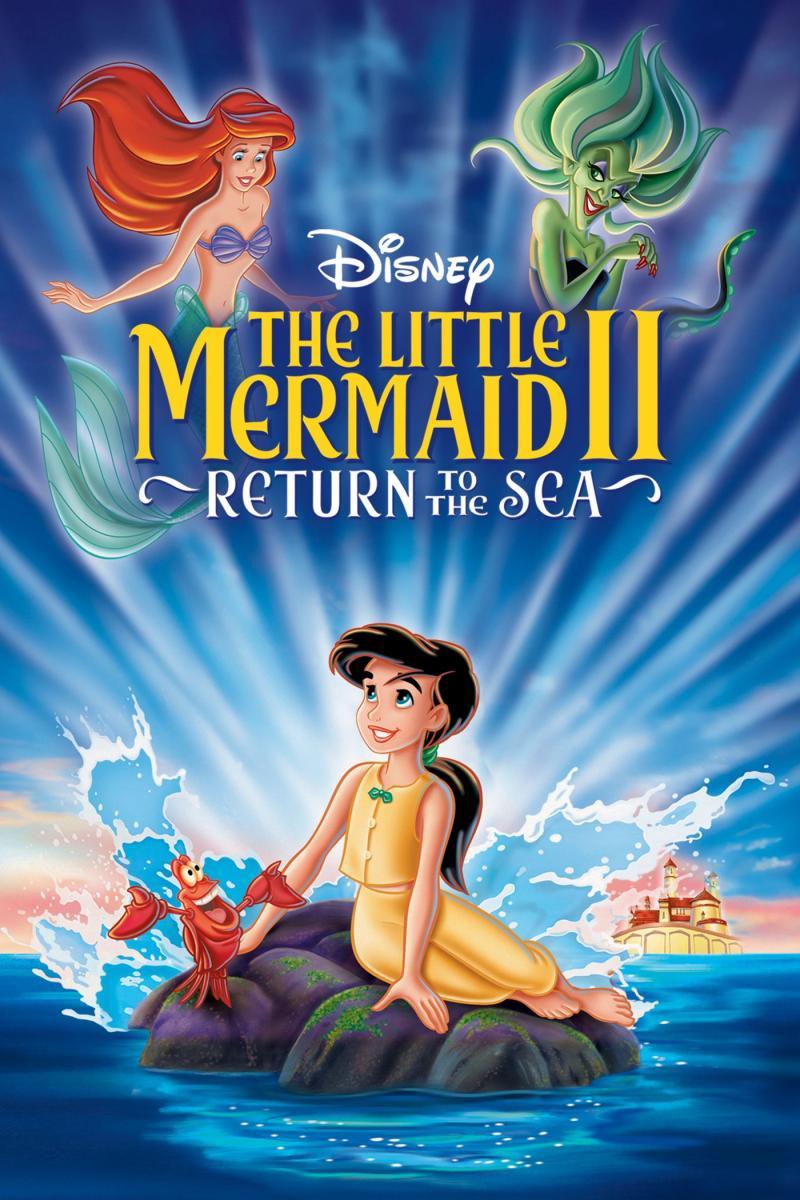 "The Little Mermaid II: Return to the Sea" picks up twelve years after the original story, centering on Melody, a human princess and the offspring of Ariel and Eric. During a celebratory event marking Melody's birth at sea, King Triton gifts her a mystical locket. Their merriment takes an abrupt turn when Morgana, Ursula's sister, threatens Melody's life unless Triton surrenders his trident. Morgana discloses her intent to avenge Ursula and conquer the ocean, prompting Ariel and Eric to join forces in thwarting her plan. Morgana manages to evade capture, vowing vengeance on Ariel, Triton and retribution for Ursula's demise.
To safeguard Melody from Morgana's peril, Ariel and Triton decide to shield her from her mermaid heritage and the ocean's allure. They cast her locket into the sea and construct a massive barrier between their castle and the ocean, with Sebastian entrusted to watch over Melody.
Twelve years later, Melody, still oblivious to her true lineage, remains forbidden from venturing into the sea. Nonetheless, her curiosity leads her to discover the locket, prompting a confrontation with her mother, Ariel. Ariel, unable to disclose the truth, forbids Melody from accessing the ocean, triggering Melody's rebellious act of setting sail on a small boat. Guided by Undertow, she encounters Morgana, who employs Ursula's magic to briefly transform Melody into a mermaid. Ariel and Eric's realization of Melody's disappearance prompts Triton, Ariel, and Eric to initiate a search. Ariel, once again a mermaid thanks to Triton's intervention, embarks on an oceanic quest in search of her daughter, grappling with remorse for not sharing her heritage.
Melody, now in mermaid form, forges bonds with Tip and Dash, a penguin and walrus duo, and visits Morgana. Morgana entices Melody with the promise of a permanent transformation if she retrieves Triton's trident. Melody succeeds in stealing the trident but faces a moral dilemma when Ariel confronts her, imploring her not to surrender it to Morgana. Torn between anger at Ariel's secrecy and her desire to remain a mermaid, Melody gives the trident to Morgana. Morgana's evil motives are exposed as she entraps Melody in an icy cavern, unveiling the temporal nature of her mermaid form. Melody's transformation wanes, causing her to nearly succumb to the depths, only to be rescued by Tip and Dash.
Morgana harnesses the trident's might to exert dominion over the ocean, ascending to the surface. A fierce battle ensues, pitting Morgana and her henchmen against Triton, Scuttle, Sebastian, and Eric. Melody manages to recover the trident and returns it to Triton, who seals Morgana in ice, relegating her to the ocean's depths. Melody reunites with her family, and Triton extends to her the choice of becoming a mermaid permanently. However, Melody chooses to employ the trident to dismantle the barrier separating her home from the sea, facilitating the reunification of humans and merfolk.
3. The Little Mermaid: Ariel's Beginning (2008)
The Little Mermaid: Ariel's Beginning is a prequel to the original "The Little Mermaid" story, providing insights into Ariel's early life and the events that led to King Triton's ban on music. In this story, the underwater realm of Atlantica is filled with music and happiness under the rule of King Triton and Queen Athena, who had seven daughters, with Ariel being the youngest of all.
One fateful day, while the merpeople enjoyed a lagoon above the surface, King Triton bestows upon Queen Athena a music box. Unfortunately, their idyllic scene is shattered by the arrival of a pirate ship, ultimately resulting in the death of Queen Athena. This loss caused King Triton to harbor bitterness towards music and implement a ban on it in Atlantica.
A decade later, Ariel and her sisters live under strict rules enforced by their governess, Marina Del Rey, who resents her role and aspires to become King Triton's attaché. Ariel struggled with this strict routine, sparking frequent disagreements with her father. One day, Ariel's curiosity leads her to follow Flounder, a young tropical fish, to an underground music club, where she rediscovers her love for music. She gains acceptance by singing a song about her love for music and memories of her mother.
Ariel's sisters join her at the club, but Marina reports them to King Triton. He destroys the club and confines the girls to the palace. Ariel, with the help of her friends, finds Queen Athena's music box and decides to confront King Triton to restore music to Atlantica. Marina releases electric eels to eliminate Ariel, but Ariel is injured protecting Sebastian. King Triton blames himself and sings to revive Ariel. This act reconciles them, music is reinstated in Atlantica, and Marina and Benjamin face consequences for their actions.
4. The Little Mermaid Live! (2019)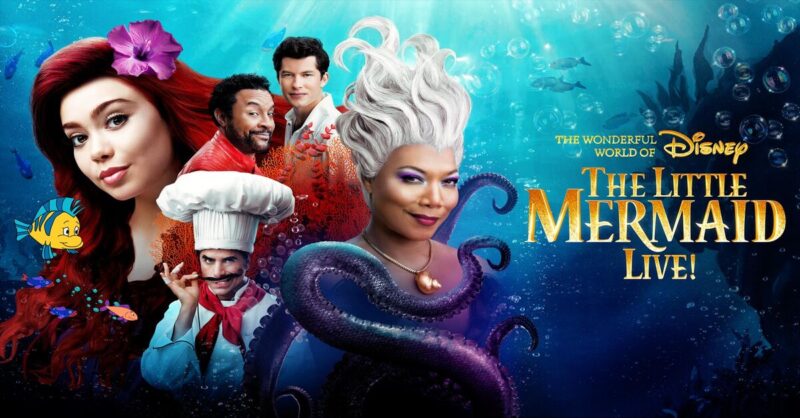 The Little Mermaid Live! (2019) is a television special that originally aired on ABC in 2019. It's a unique production that combines elements of both a live musical theater performance and the animated film "The Little Mermaid" (1989). The film stars Auli'i Cravalho as Ariel, Queen Latifah as Ursula, Shaggy as Sebastian, and Graham Phillips as Prince Eric.
The Little Mermaid Live! is notable for being one of the first live-action adaptations of a Disney animated classic to feature a diverse cast. Cravalho is the first Native Hawaiian actress to play Ariel, and Latifah is the first black actress to play Ursula. The special also features a number of other actors and actresses of color in supporting roles.
The Little Mermaid Live! was directed by Hamish Hamilton and produced by Done + Dusted Productions and Disney Television Studios. It was written by Brian Strickland, and the music was supervised by Alan Menken and Stephen Schwartz, who wrote the songs for the original animated film.
5. The Little Mermaid (2023)
The new Little Mermaid movie, released in 2023, is a live-action remake of the 1989 Disney animated classic of the same name. This new adaptation revisits the beloved story of a young mermaid's adventurous journey to explore the world beyond the ocean, where she falls in love with a handsome prince, albeit at a significant cost. However, the live-action remake features a number of new elements, such as new songs, new characters, and a more diverse cast.
One of the most notable changes in the live-action remake is the casting of Halle Bailey as Ariel. Bailey is a black singer and actress, and her casting has been praised for its diversity and representation. The film further features a blend of established actors and rising talents, with Javier Bardem portraying King Triton, Melissa McCarthy as Ursula, Daveed Diggs as Sebastian, Jacob Tremblay as Flounder, Awkwafina as Scuttle, and Jonah Hauer-King as Prince Eric. The movie is directed by Rob Marshall, known for his work on Disney films such as "Into the Woods," "Mary Poppins Returns," and "Pirates of the Caribbean: On Stranger Tides."
Disney's strategy of appealing to nostalgia clearly paid off, as the remake garnered significant box office success, earning an impressive $117.5 million during its opening weekend ahead of Memorial Day.
Where Can I Watch the New Little Mermaid?
If you're looking to watch the new adaptation of The Little Mermaid, it originally premiered in theaters on May 26, 2023, following the tradition set by the original 1989 film. However, it's no longer available in theaters.
Fortunately, you won't have to wait much longer to enjoy the movie from the comfort of your home. The Little Mermaid was made available for purchase on DVD and Blu-ray on September 19, 2023. It became available for digital purchase on July 25, 2023. You can purchase on-demand through various VOD platforms, including:
Amazon Prime Video
Apple TV+
Google Play
Vudu
YouTube Movies
Additionally, you can now stream it on Disney+ as of September 6, 2023.