Tinkerbell movies are based on the titular fairy character, also called Miss Bell or Tink. The adorable Disney character first appeared as a fairy tritagonist in J.M. Barrie's Peter Pan and has since been portrayed on stage, screen, and television. These productions about her are loved by both children and adults as they provide a lovely escape into a world of magic and adventure.
Tinkerbell has become one of Disney's most iconic characters since her creation. Tink, who is famous for soaring toward the screen and dousing it in pixie dust, has also featured as a spokesman for The Walt Disney Company. Eventually, she became the fulcrum of the Disney Fairies franchise, which gave rise to a string of feature-length films beginning with Tinkerbell in 2008.
How Many Tinkerbell Movies Are There?
There are six full-length Tinkerbell movies and two shorts to date. In 2008, Tinkerbell, the fairy companion of Peter Pan, made her film debut in a direct-to-video animated tale focused on the fairy Tink, in an eponymous movie which is a prequel to the two full-length Disney features Return to Never Land (2002) and Peter Pan (1953).
This first Tinkerbell movie became popular with young audiences and served as the catalyst for a series of Tinker Bell movies. Disney kept producing the movies for a while, but there haven't been any new ones in recent years. If you are looking to catch up on the entire series, below is the list of all the Tinkerbell movies, including the two shorts.
Tinkerbell (2008)

Tinkerbell and the Lost Treasure (2009)

Tinkerbell and the Great Fairy Rescue (2010)

Pixie Hollow Games (2011)–Short

Secret of the Wings (2012)

Pixie Hollow Bake Off (2013)–Short

The Pirate Fairy- 2014

Tinker Bell and the Legend of the NeverBeast (2015)
The Correct Order of Tinkerbell Movies
1. Tinkerbell
Release Date

: October 28, 2008
Genre: Fantasy, Family, Animation

Director:

Bradley Raymond

Cast:

Lucy Liu, Mae Whitman, Raven Symoné, Kristin Chenoweth, America Ferrera, Jane Horrocks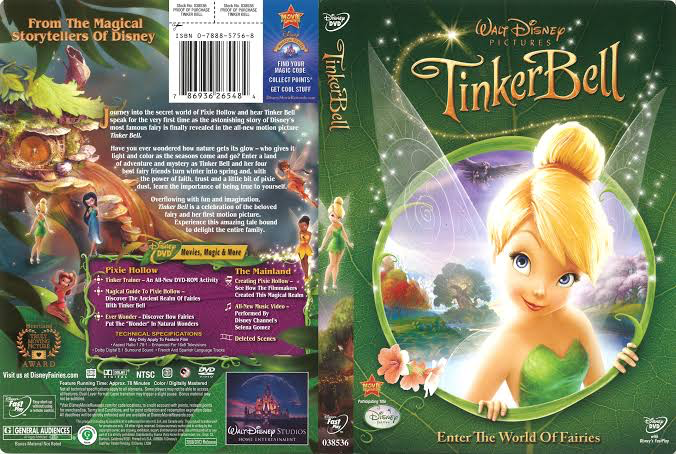 A fairy is created from a baby's first laugh in the first Tinkerbell movie and is carried to Pixie Hollow by the winds. She discovers she has the talent to be a tinker, a fairy that makes and fixes things. Tinkerbell decides to travel to the mainland but learns from Queen Clarion that only fairies with nature talent visit there.
She strives to develop nature talents but is unsuccessful and despite the fact that her friends encourage her to keep doing what she does well (tinkering), Tink remains adamant about her desire to visit the mainland. As a final option, she asks Vidia (a fairy who dislikes Tinkerbell due to her tinkering talent) for assistance in becoming a fast-flying fairy, but she sets Tink up for failure by instructing her to capture sprinting thistles. Bell's attempt unintentionally disrupts the springtime preparations.
Due to her actions, a disappointed Tink makes an attempt to leave, but Terence, a fellow dust-talent fairy, encourages her to stay and make things right. She figures things out by creating machinery that speeds up the process of decorating flowers and ladybugs just in time for the arrival of spring. In a heated argument, Vidia reveals herself as the fairy that deceived Tink to catch the thistles and is penalized for misleading Tink to stir up trouble. Tink is then authorized by Queen Clarion to join the other nature-talent fairies when they bring spring to the mainland.
2. Tinkerbell and The Lost Treasure 
Release Date

: October 27, 2009
Genre: Adventure, Animation, Family

Director: 

Klay Hall

Cast:

Lucy Liu, Mae Whitman, Raven Symoné, Kristin Chenoweth, America Ferrera, Jane Horrocks, 

Grey Griffin, Rob Paulsen
Autumn, the season of leaves, hibernation, cool breezes, and pumpkins, is brought to the mainland by the nature-talent fairies. In the meantime, Terence and Tinker Bell are residing in Pixie Hollow as dust-talent fairies as Tink tries to make a "Pixie Express." However, it fails shortly before she is asked to meet Queen Clarion, Fairy Mary, and The Minister of Autumn.
Every eight years, the Pixie Dust Tree is rejuvenated and strengthened by the light from a blue harvest moon when it shines through a moonstone. In order to raise the moonstone, Tinker Bell is tasked with creating a new scepter. While working with Tinker Bell, Terrence unintentionally breaks the scepter, causing Tink to accidentally break the moonstone.
To fix the moonstone, Tink attends a play about the Mirror of Incanta, which grants the wishes of those who wish upon it. She sets out to locate the mirror with the aim of repairing the moonstone using her wishes. On her journey, Tink meets Blaze, a helpful firefly, and somehow they both get lost.
Luckily, Tink and Blaze are able to find their way and locate the mirror, but Tink mistakenly wastes the wishes by wishing blaze to be quiet for a minute. Whilst on the verge of giving up, Terence finds Tink and brings her the pieces of the moonstone. On their way home, Tink fixes the scepter using a white gem from the mirror.
She hands Queen Clarion the scepter, alarming all the fairies that their precious moonstone has broken into pieces. Unexpectedly, the moonstone fragments intensify and maximize the blue moon's light, producing the bluest pixie dust ever seen in Pixie Hollow.
3. Tinkerbell and The Great Fairy Rescue
Release Date

: September 21, 2010, August 13, 2010 (United Kingdom)
Genre: Family, Adventure, Animation

Director:

Bradley Raymond

Cast:

Lucy Liu, Mae Whitman, Raven Symoné, Kristin Chenoweth, Pamela Adlon, Lauren Mote, Michael Sheen, Angela Bartys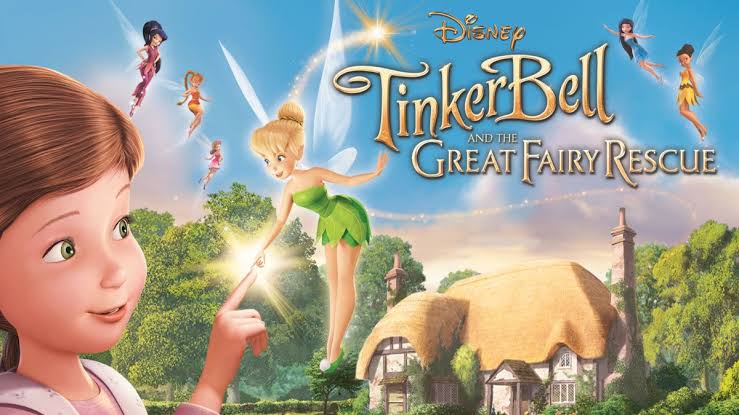 Tink spends the summer in Fairy Camp on the mainland, along with many other Pixie Hollow fairies. When she tries to leave camp to look for some lost items, Vidia asks her if she's heading to the nearby human house.
Tink becomes curious about Vidia's question and eventually sneaks away when she hears the sound of a human vehicle. But Vidia follows her behind to keep an eye on her.
The human family's "horseless carriage" astounds Tink when she finally arrives at their home. While Vidia tries to get her to leave, she flitters around under the car. They eventually leave, but on their way back to camp, Tink and Vidia come across a fairy-sized house built by Elizabeth Griffiths, a human girl who longs to encounter a real fairy.
Despite Vidia's repeated warnings for Tink to stay away from the house, she enters immediately to investigate. To scare Tink, Vidia uses her wind to slam the door in. However, this accidentally locks Tink inside the House. Vidia becomes alarmed and tries to free Tink to no avail as Elizabeth gets closer to the house. Elizabeth then finds Tink inside and then takes her back to her house.
Tink becomes friends with Elizabeth and teaches her about fairies. Elizabeth writes what she learns in a book handed to her by her father, Dr. Griffiths. As Tink tries to leave, she notices Elizabeth trying to show her father her findings, but Dr. Griffiths is too busy attending to the leaks in the house to pay Elizabeth any attention. Tinkerbell then decides to fix the leaks in the house instead of leaving and releases the butterflies Dr. Griffiths captured for his research.
When Dr. Griffiths finds out that his butterflies have been released, he grounds Elizabeth assuming that she was responsible for letting the butterflies out. He becomes even angrier and throws all of Elizabeth's artwork and research book about fairies into the trash when she tells him about Tinkerbell.
When Tink sees what's happening, she comes out and yells at Dr. Griffiths, who then catches her, but Vidia shows up just in time with other fairies and knocks Tink aside, and gets captured instead. However, Tink and the other fairies are able to change Dr. Griffiths' mind from taking Vidia to London for research. After being set free, Vidia becomes friends with Bell. While Elizabeth and her father become closer than ever.
4. Pixie Hollow Games (Short)
Release Date

: November 19, 2011
Genre: Family, Animation

Director:

Bradley Raymond

Cast:

Mae Whitman, Zendaya, Megan Hilty, Lucy Liu, Raven-Symoné, Angela Bartys, Jason Dolley, Brenda Song, Pamela Adlon, 

Anjelica Huston
When the traditional Pixie Hollow Games begin, Tink and Fairy Mary represent the tinker talent fairies and compete against all the other talents in the fairy world. However, they were both eliminated. After their elimination,Tink started to support Rosetta and Chloe's combined efforts because garden fairies have a history of losing yearly with no victories.
The garden fairies were finally declared by Queen Clarion as winners. But Rumble objects to the declaration until the Queen reveals that Glimmer left him right before the finish line because he was cheating, making the garden fairies the winners.
5. Secret of The Wings
Release Date

: August 31, 2012
Genre: Fantasy, Family, Animation

Director:

Peggy Holmes

Cast:

Lucy Liu, Mae Whitman, Lucy Hale, Jeff Bennet, Timothy Dalton, Megan Hilty, Pamela Adlon, Rob Paulson, Grey Griffin, Raven Symoné, Kristin Chenoweth, America Ferrera, Jane Horrocks, Jodi Benson, Matt Lanter, Ben Diskin, Thomas Lennon, Kari Wahlgreen
When Tinkerbell enters the forbidding Winter Woods, her wings glow, prompting her to embark on a mission to find out why. She soon discovers that she is close to Periwinkle, a frost fairy, who happens to be her sister, and that is why her wings lit up. Tink and Periwinkle also learn that they were born when a baby's first laughter split into two, and Tink ended up at the Pixie Dust Tree and Periwinkle at the Winter Woods.
Tink decides to bring her sister to pixie hollow and builds a device that keeps Periwinkle cold so that she can survive the visit.  However, the device malfunctions, and Pixie Hollow slowly freezes as a result. Tink then asks Periwinkle and her people in Winter Woods for assistance in order to save Pixie Hollow. Together, the winter fairies frost the trees in Pixie Hollow to keep them from freezing.
The fairies also learned that winter fairies could freeze the wings of their counterparts at pixie hollow, enabling them to survive the cold and visit the Winter Woods. The secret of the wings used to be titled; Tinker Bell and the Mysterious Winter Woods/Tinker Bell and the Secret of the Wings.
6. Pixie Hollow Bake Off (Short)
Release Date

: October 20, 2013
Genre: Fantasy, Comedy, Animation
Director: Elliot M. Bour

Cast:

Lucy Liu, Mae Whitman, Raven Symoné, Rob Paulsen, Jane Horrocks, Anjelica Huston, Jeff Bennett, Megan Hilty, Giada Da Laurentiis
Tinkerbell leads her friends in a competition to bake the tastiest cake in time for Queen Clarion's arrival. Because she and her pals are planning to bake a new kind of cake, she proposed that the Baking Fairy, Gelata, spice things up a bit because for the past 399 years, the baking fairies always made the exact same cake for the arrival party of Queen Clarion.
Even though Tink and her team were eliminated from the competition based on taste, they were able to make a mark.
7. The Pirate Fairy
Release Date

: April 1, 2014
Genre: Fantasy, Family, Animation

Director:

Peggy Holmes

Cast: 

Lucy Liu, Mae Whitman, Raven Symoné, Christina Hendricks, Tom Hiddleston, Jeff Bennett, Megan Hilty, Pamela Adlon, Rob Paulson, Grey Griffin, Kevin Michael Richard, Mick Wangert, Carlos Ponce, Jane Horrocks, Matt Lanter, Kari Wahlgreen
When Zarina, a misguided and renegade dust-keeper fairy, steals the essential blue fairy dust from Pixie Hollow, Tinker Bell and her five friends go after her to get it back. Following her confrontation with Zarina, Tinkerbell gets her natural ability to tinker switched, and she transforms into a water fairy. She is unsure of her newly discovered ability to control water, and with a simple snap of her fingers, she accidentally produces enormous waves, puddles, downpours, and whirlpools.
Zarina refuses Tinker Bell's entreaties to go back home with them and is instead transported to a location on the ship hidden behind a metal box. When Tink subsequently learns that James Hook has betrayed Zarina, she voluntarily returns the blue fairy dust in exchange for Zarina's well-being and safety. And to prevent Zarina from sinking, she utilizes her extra strong hydrokinetic abilities to push the water back.
Later, she used a sword to fight and divert the pirates as Zarina tried to remove the blue fairy dust from James. Tink and the others were trapped in a sack from one of the ship's sails after they were successful in causing it to veer off course. When Tink was freed, she controlled the water to envelop the pirates in a tidal wave.
Using the pirate ship to get home, she persuades Queen Clarion and Fairy Gary that Zarina has mastered her special and potent fairy dust-controlling talents and expresses her gratitude to Zarina for her repentance and for restoring her tinkering talent powers using light green fairy dust.
8. Tinkerbell and The Legend of The NeverBeast
Release Date

: January 30, 2015, December 12, 2014 (United Kingdom)
Genre: Fantasy, Adventure, Animation

Director: 

Steve Loter

Cast: 

Lucy Liu, Mae Whitman, Raven Symoné, Rosario Dawson, Ginnifer Godwin, Grey Delisle, Anjelica Huston, Danai Gurira, Mel B, Olivia Holt, Chloe Bennet, Kari Wahlgreen
Tinkerbell makes an appearance in Legend of the NeverBeast as a supporting character. She helps Fawn in defending the legendary, mythical NeverBeast from harm.
Tinkerbell Movies in Order to Watch
You might be wondering if the Tinkerbell movies are connected in any way and if the order in which you watch them matters or affects your understanding of the story; because some movie series are interconnected, with characters and storylines carried over from one film to the next. However, the movies don't require you to watch them in any particular order, as the plot of each movie is independent of the other.
However, to keep everything simple and smooth, it is best to watch them in the order that they were released, even though you can watch them in any order you wish. Also, you don't have to worry about the Tinkerbell shorts because they don't have any impact on the series. You can watch the shorts whenever and however you wish.
Recap of Tinkerbell Movies in the Order They were Released
Tinkerbell (2008)
Tinkerbell and the Lost Treasure (2009)
Tinkerbell and the Great Fairy Rescue (2010)
Secret of the Wings (2012)
The Pirate Fairy (2014)
Tinkerbell and the Legend of the NeverBeast (2015)
Shorts
1. Pixie Hollow Games (2011)
2. Pixie Hollow Bake Off (2013)
How Old is Tinkerbell and When was it Created?
The character Tinkerbell is about 12-13 years old. She is believed to have been created in 1904 when she first appeared in the 1904 J.M Barrie play Peter Pan. She would later appear in the novel Peter and Wendy in 1911.
Tinkerbell's backstory is similar to that of the Disney Fairies franchise from the 2000s, where Tinker Bell was introduced as a fairy who fixed pots and kettles. She was basically a tinker, hence her name, and was born from a baby's laughter.