Dave Bautista's latest wife was Sarah Jade, his third wife although he has been married three times thus far, and the names of his former spouses are Glenda Bautista – his first wife, and Angie Bautista – his second wife. Unfortunately, all of Dave Bautista's three marriages have ended in divorce, but unlike other celebrity splits, there has been little to no drama or ugly battles in the course of their divorce.
Bautista loves keeping his personal life private, and his ex-wives have toed a similar line. The famed WWE wrestler-turned-Hollywood actor has, however, revealed that his wrestling career played a part in crashing his second marriage and not the rumored infidelity.
Who is Dave Bautista's Wife Now?
Dave Bautista is presently unmarried. Following the end of his third marriage in 2019, the Guardians of the Galaxy star has not tried the institution of marriage again. He may be a bit gun-shy, but one thing that is for sure is that Bautista is a man who believes in the beauty of love and would never close off his heart to the possibilities that abound. Therefore a fourth marriage may be on the cards someday.
In the interim, Dave Bautista has been dating. Back in 2019, he and a WWE star named Dana Brooke dated for a few months. The relationship kickstarted on Twitter, where the pair exchanged some messages that quickly became flirty. They later got together and dated for a few months before calling off things. Brooke confirmed all this and made it clear that they ended on a good note. She later began dating another person, and Bautista also found love again.
In 2021, Dave Bautista confirmed to Mens Health that he had been in a relationship for the past two years. He revealed that he met the lady on a movie set. He also stated that the fact that she was in the movie industry meant that she perfectly understood the business and the limitations that come with it.
It has been some years down the line, and one cannot confirm if Dave Bautista and his movie industry lady still remain together. They may have broken up, and he may have moved on entirely. They also may still be together. Only time will unveil the truth.
Dave Bautista's First Marriage was to Glenda Bautista-Baker
Date of Birth: 5 February 1970
Age: 53 years
Occupation: Senior Product Manager
Married: 1990 – 1998
No. of Children with Dave Bautista: two daughters named Keilani and Athena.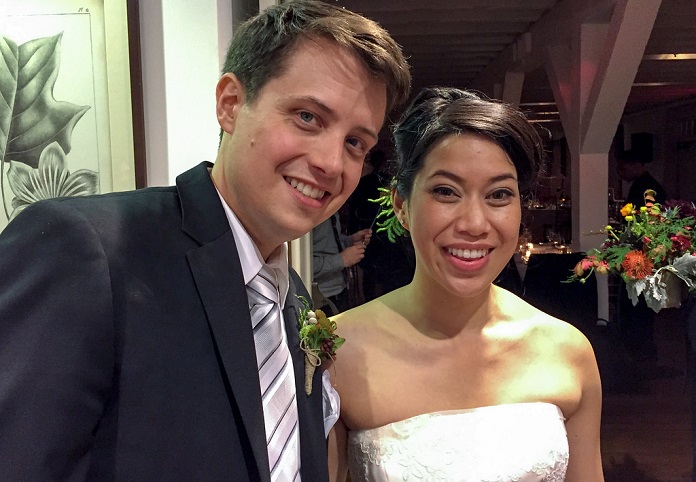 Dave Bautista's first marriage is to Glenda Bautista-Baker, a Filipina American product manager. Glenda was born on the 5th of February 1970 in New York to parents with Filipino heritage. She is presently 53 years old.
Glenda grew up in New York and completed a high school diploma. She thereafter headed out to the University of Albany SUNY, where she studied for a bachelor's degree in English and writing. She used that degree to establish the early stages of her career working as an editorial assistant at The Source, a renowned magazine focusing on rap and hip-hop music
Glenda later went back to school, this time with information technology on her mind. She basically upskilled by obtaining a degree in information systems at Fordham Gabellis School of Business.
Dave Bautista's First Wife is a Product Manager with over Two Decades of Experience
Glenda Bautista started her career as an editorial assistant at The Source from 1996 to 1997. She later set her sights on the I.T. world and started a career as a product manager.
Glenda now has over two decades of experience as a product manager and has worked for several companies such as AOL, iHeartMedia, Hotbar.com, and Hearst. She is currently the senior director of products at Penske Media Corporation, the parent company of media brands such as Variety, Deadline, Hollywood Life, and Women's Wear. Glenda's expertise covers advertising, digital strategy, content management, analytics, product launches, audience segmentation, and behavioral targeting, etc.
Dave Bautista and Glenda Were Married for Eight Years and Had Two Children
Dave Bautista and Glenda met each other in 1989 in New York and fell hard and fast. They went on to get married the next year. The couple were married for eight years, during which they had two daughters. The first named, Keilani, was born in 1990, the same year of their wedding, while the second, Athena, was born two years later.
The couple made their home in New York and endured some tough times. At that time, Bautista was not yet in the WWE. He variously worked as a lifeguard and bouncer, and the family found it hard to make ends meet. They, however, forged on as best as they could.
They Divorced in 1998
Dave Bautista and his first wife, Glenda, ended their marriage in 1998, a year before he delved into wrestling. The couple agreed on various terms, such as custody of their kids as well as child support. They never disclosed the reason for their split. It might have been that they fell out of love with each other.
Glenda may have also balked at Bautista's foray into wrestling, but this is unconfirmed speculation. The couple amicably co-parented their daughters, who are now grown up. Glenda remarried a man named Chris Baker in 2014. He is also in the same industry as her, specifically advertising. They remain together to date and have no kids.
Meet Dave Bautista's Second Wife – Angie Bautista
Date of Birth: 1970s
Occupation: fitness buff
Married: 1998 – 2006
No. of Children with Dave Bautista: one son named Oliver
Dave Bautista's second marriage is to fitness buff and former bodybuilding enthusiast Angie Bautista. Angie was born in the 70s and is an American woman. She additionally has Caucasian ethnicity. She has held several jobs over the years to make a living, including waiting tables in clubs and similar places.
Angie is also a fitness expert and is interested in achieving a good physique in a healthy way. Back in the day, she was also into bodybuilding.
They Were Married From 1998 to 2006
Angie and Dave Bautista bumped into each other in 1998 at a nightclub where Angie was working. They began dating that same year. The couple was likely brought together by similar interests, such as bodybuilding, as Bautista was also into bodybuilding around that time.
The timeline of their relationship coincided with the period that Bautista was officially untangling the nuptial knots that tied him to his first wife. It also coincided with the time that he was making his first forays into wrestling. The couple thus had a lot on their plate to deal with, but they never wavered. They stuck together, and their love grew in leaps and bounds. They then got married in 1998.
Angie's marriage to Dave Bautista lasted for eight years, during which their love blossomed. He got a tattoo of the word "Angel" in her honor. He also became a collector of metal lunch boxes because she liked them.
Angie also accompanied her husband to the arena to witness some of his fights and victories. She also attended some WWE industry events and became well-known as Dave Bautista's wife. The couple had only one child, a son named Oliver, in 2006. Angie dubbed him a miracle as he was conceived after her battle with cancer and through IVF.
Dave Bautista Supported Angie in her Battle Against Cancer
Dave Bautista and Angie experienced a lot of highs in their marriage, but there were also some lows. One of them was when Angie was diagnosed with ovarian cancer in 2002. Prior to that time, she had suffered symptoms such as persistent tiredness and bruises on some parts of her body.
She also found it hard to keep food down and sought out medical help. It took some months before the problem was pinpointed. A cancer diagnosis is devastating no matter the circumstances, and so it was for Angie and Dave. They, however, banded together to fight it, and Angie was able to go into remission at some point.
A 2010 report shows that the fight is not over for her. She continues to battle to date and has been in and out of remission for several periods.
They Split in 1998 Amidst Allegations of Infidelity
Dave Bautista and his second wife, Angie, split in 2006 after eight years of marriage. Their split caused a lot of speculation, given that they were a high-profile couple in the WWE world. Some sources stated that Dave had cheated on Angie with Melina Perez, a WWE star that he started dating shortly after the divorce. They concluded that the romance must have been going on for a while, and this was what annoyed Angie.
This rumor flew for some time, and even Angie believed it, a fact that Bautista pointed out in his Batista Unleashed autobiography in 2007. The WWE star, however, made it clear that he never cheated on Angie with Melina or anybody else. Though he did admit to dating Melina, he stated that the physical aspect of their relationship only started after his divorce from Angie was official.
@DaveBautista pic.twitter.com/5xwkgb46i6 Oh My …… Is Oliver Bautista, Angie's son ??? He has grown too much!!!Love to see you both ????????????????????????????????

— Merɔc℮ 🙂 (@MDaveBatistaFan) October 31, 2014
Dave Bautista's Cheating Rumors Were Untrue and The Couple Remain Good Friends
In later years, Dave Bautista has broken up with his normal taciturn character to address his divorce from Angie. He stated that the reason they broke up was his wrestling career. According to him, he was always on the road, and when the time came for him to make a choice between family and WWE, he choose his career.
He expressed his regrets as the decision wrecked his marriage to a 'close friend'. He also revealed that he and Angie remain on good terms. This is true. Back in 2008, Bautista worked on a documentary for two years focusing on Angie's battle with cancer. He later released it in 2010 with Angie's blessing and participation. The documentary raised money in support of the Ovarian Cancer Research Alliance.
In the documentary, Bautista held a card that read 'My Wife' referring to Angie, but she corrected him with another card that read 'Ex-wife'. The two exes are definitely on good terms, and the biggest beneficiary will be their son, who is presently 17 years old.
Dave Bautista's Third Marriage was to Sarah Jade
Date of Birth: December 1987
Age: 35 years
Occupation: professional pole dancer
Married: 2015-2019
No. of Children with Dave Bautista: none
Dave Bautista got married for the third time in October 2015, this time around to Sarah Jade. Sarah Jade was born on 12 December 1987 and is a native of Tampa, Florida. She is a professional pole dancer and pole aerialist.
She has participated in several competitions, including the 2011 and 2012 editions of the US Pole Dance Federation Competition. She took second place in the 2012 edition. She has also taken part in multiple editions of the Florida Pole Fitness Championship
Sarah Jade was also named Miss Pole Dance America in 2016. She is dedicated to showing women the amazing physical and mental effects of pole dancing and now has her own pole dancing school known as Buttercup.
Sarah Jade has landed sponsorship gigs with the likes of Bad Kitty, a brand that produces clothing for those in athletics, especially pole dancing. She is active on social media platforms and uses it to promote her passion cum business. Sarah Jade is also a fitness instructor certified by the AFAA (Athletics and Fitness Association of America).
these family portraits of Dave Bautista & Sarah Jade & their dogs are the only good thing about 2018 pic.twitter.com/8W9A6QpXbE

— priscilla page (@BBW_BFF) June 12, 2018
Dave Bautista and Sarah Jade's Marriage Lasted From 2015 to 2019
Dave Bautista and Sarah Jade dated for a good number of years before tying the knot in October 2015 in Florida. The former WWE star went for the classic black tuxedo, while Sarah wore a delicate lace gown of a sleeveless nature. Her bouquet dripped of white roses and orchids.
Their loved ones graced the wedding. They were also some famous persons in attendance, including WWE stars such as Chris Jericho and William Regal. Following the ceremony, the visibly excited Bautista shared the news and pictures with the world on social media. This led to an avalanche of congratulatory messages from fellow Hollywood and wrestling stars as well as ordinary people alike.
Dave Bautista and Sarah Jade were married for four years, during which they lavished a lot of love on each other and also supported each other. For instance, when Sarah Jade won Miss Pole Dance America in 2016, Bautista not only attended the ceremony but went on to brag about his wife's achievements on social media.
Sarah Jade and Dave Bautista had a great dynamic by every measure, but at last, they developed issues and quietly divorced in 2019. The reason for their divorce is anyone's guess. Their respective busy schedules may have interfered with their plans to live together forever. It could also be that they fell out of love and decided not to over-flog their romance.
One good thing is that they achieved their split in an amicable manner without quarrels. It is not known if Sarah Jade got any substantial financial settlement as Bautista is now a famous actor with a net worth of $16 million. Then again, she may have signed a prenup before the wedding.