Eva Marcille does not have a twin sister, as she is the only daughter among her four siblings. Her siblings are Evan Jr., Malcolm, and Andre Pigford, and their parents are Evan and Michelle Pigford.
Inside Eva Marcille's Family 
Eva Marcille's family is made up of her parents, three brothers, and herself. Her parents are Evan Pigford and Michelle Pigford, while her three brothers are Evan Jr., Malcolm, and Andre.
Eva was born Eva Marcille Pigford on October 30, 1984, in Los Angeles, California. She attended local schools like Raymond Avenue Elementary, Marina Del Rey Middle School, and Washington Preparatory High School, where she graduated in 2002. Later, she went to Clark Atlanta University, majoring in speech communications and theater, with a minor in criminal justice. However, she left college after participating in "America's Next Top Model" at 19.
In 2017, Eva Marcille made strides towards starting a family of her own by getting engaged to Michael Sterling, a lawyer from Atlanta. They married on October 7, 2018, and welcomed two sons: Michael Jr. (born April 13, 2018) and Maverick (born September 27, 2019).
Unfortunately, Eva's marriage to Michael ended in divorce in March 2023. Before Michael, Eva was engaged to actor Lance Gross and later dated rapper Flo Rida. She also has a daughter, Marley Rae McCall, from her relationship with Kevin McCall, which ended in 2014.
Meet Eva Marcille's Siblings 
Eva Marcille has three siblings who are all brothers: Evan Pigford Jr., Andre Pigford, and Malcolm Pigford. Although there isn't much information available about them, we do know that she is the only daughter of four children born to her parents.
Why Fans Think Eva Marcille Has a Twin Sister 
Fans have been wondering if Eva Marcille has a twin sister, but there is no truth to these rumors. Some people online have joked that she looks like Terrence Howard, an American actor, but they are not related.
Eva has three brothers and no twin sister or brother. Public information confirms she is her parents' only daughter, and she has never mentioned having another sister publicly.
Who Is Eva Marcille's Father? 
Eva Marcille's father is Evan Pigford, a Puerto Rican who served in the United States Air Force for 22 years before retiring in 1995. Eva hasn't talked much about her family, so there isn't a lot known. However, she has mentioned in interviews that her parents, including her father, have been supportive of her career and life choices, even if they didn't always fully understand them. However, she's careful about revealing too much about her family.
Eva's father proved supportive as his daughter had a successful modeling career with Ford Models and CoverGirl. She later moved into acting, appearing in movies and TV shows like The Young and the Restless and The Real Housewives of Atlanta, among many others.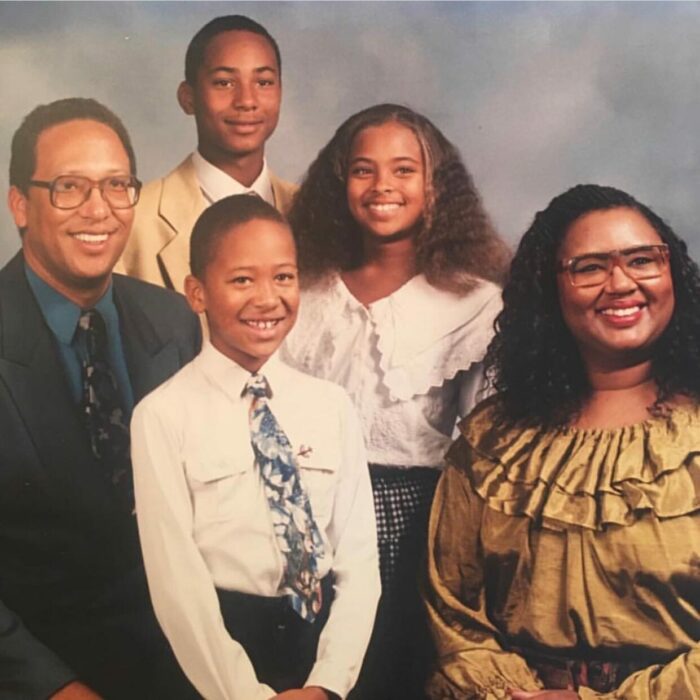 Eva Marcille's Mother
Michelle Pigford is Eva Marcille's mother. She used to work as a nurse before retiring. She is African American. Michelle and her husband played a significant role in their daughter Eva's successful career. 
Eva acknowledged their contribution in an interview in 2008, where she shared that her family lived in Jersey City, but they moved back to Los Angeles when she started modeling. On Mother's Day, Eva posted on social media, expressing her gratitude for her mother's guidance and sacrifices. She called her mom her mentor and thanked her for everything, including encouragement and love.
Eva's mom is active on Instagram (@glam_ma_pigford), where she shares adorable pictures with her husband and updates about their life. She posted a selfie of them getting their COVID-19 vaccine, wearing matching masks. She also shared a photo of her husband enjoying life on a boat after recovering from a stroke nine years ago. Currently, her Instagram page is set to private.