Cheryl Scott is neither married nor engaged. 
The gorgeous American meteorologist was previously engaged to a man named Dante Deiana, but they appear to have since called off their engagement, with Cheryl moving on to date other people. Going by the photos she shares on Instagram, she seems to be currently dating a man named Tyler Cole. 
Is Cheryl Scott Engaged?
Cheryl Scott is no longer engaged. She was previously engaged to Dante Deiana, but they called things off and moved on with life.
According to reports, Cheryl Scott met Dante Deiana at a charity event in Chicago, Illinois. They began talking at the event and soon became friends. Their friendship would later evolve into a relationship that started in 2016. 
Cheryl and Dante dated for about two years before deciding to take things to the next level by getting engaged. Their engagement reportedly occurred at the summit of the Haleakala volcano in Maui, Hawaii, while they were on vacation.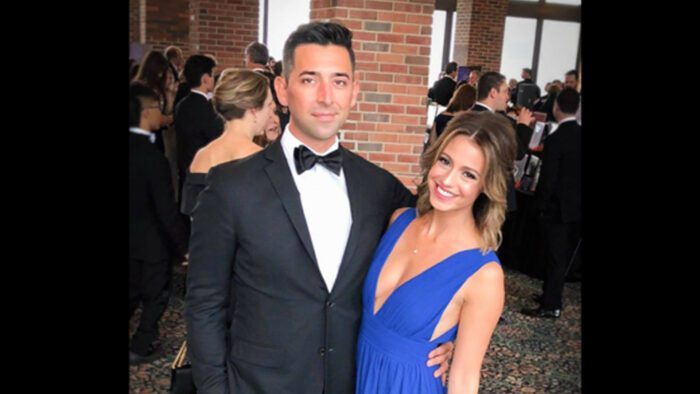 Fans of Cheryl's work on screen and social media were quick to congratulate her on the engagement. Whenever she shared a photo of her and her Dante on Instagram, people quickly commented about how cute they were as a couple. 
All appeared to have been going fine in the relationship until it was noticed that Cheryl stopped posting Dante's photos on her timeline. It happened that they broke up in 2022 and moved on. No explanation was provided on why they called off the engagement.
Does Cheryl Scott wear an Engagement Ring?
Cheryl Scott no longer wears an engagement ring. While she was still engaged to Dante Deiano, she routinely flaunted her engagement ring – a beautiful vintage-inspired ring that featured a round center stone surrounded by diamonds hand-set in a scalloped halo top. 
The ring was visible in almost all the photos she shared on Instagram. However, she has since stopped wearing it, which confirmed that she had broken up with her fiance.
Is Cheryl Scott Married?
Cheryl Scott is not married. The 38 year-old meteorologist was previously set to be married to Dante Deiana. Their engagement was a notable point of discussion among her followers and fans. Unfortunately, it did not lead to marriage, and the relationship ended in 2022.
Cheryl no longer wears her engagement ring, indicating that she and Dante Deiana have gone their separate ways. While the details of their breakup were not publicly disclosed, Cheryl's engagement ring is no longer a part of her visible accessories.
Ms. Scott has since moved on and appears to be dating someone new, as suggested by her social media posts and photographs that feature a different individual named Tyler Cole.
Who is Cheryl Scott Married to?
Cheryl Scott is not married to anyone. The NBC 5 Chicago employee has no husband or wife, and there were no reports or public announcements about her being married. Cheryl was previously engaged to Dante Deiana. 
However, their engagement was called off, and there is no information available suggesting that she has entered into a new marriage.
What to Know about Cheryl Scott's Husband
Cheryl Scott does not have a husband. While she came close to getting married in 2022, her engagement ended, and she is now seeing another person. The man who would have become Cheryl's husband if things went differently is Dante Deiana. He is an American from Massachusetts who makes a living as a disc jockey, music programmer, and marketing director.
FAQs
When was Cheryl Scott's Wedding Date?
Cheryl Scott has never been married, and so there has never been a wedding date for the meteorologist.
Is Cheryl Scott Still Engaged?
Cheryl Scott is no longer engaged. Her engagement to Dante Deiana was called off in 2022 after a relationship that lasted for about six years.