Tommie Lee's kids are two daughters named Havalli Lee and Samaria Lee. Havalli Lee was born in 2007, while her older sister Samaria was born four years earlier in 2003. The identities of Havalli and Samaria's fathers are unknown to the public.
Tommie Lee's relationship with her children makes up part of her storyline on the Love & Hip Hop reality TV show. Her journey as a mother has also been a subject of discussion on the VH1 show, where she started off as a guest star in the pilot season before being promoted to a supporting role and then a leading role in season five.
How Old Are Tommie Lee's Daughters?
Tommie Lee is the proud mother of two lovely daughters. Despite the many challenges life has thrown her way, her two daughters, Havalli and Samaria, have always been a source of joy and pride for her, and she has been a devoted mother to them, giving her daughters all the love and attention they need.
However, an incident in 2018 painted a different picture, particularly concerning Tommie's relationship with Havalli. Her treatment of Havalli was so concerning that authorities intervened, leading to her arrest and subsequent imprisonment on child molestation charges.
Despite these challenges, Tommie Lee has made concerted efforts to mend her relationship with her daughters. The three of them have even appeared together on Love & Hip Hop: Atlanta.
Tommie Lee's eldest daughter Samaria was born on the 20th of July 2003, making her 20 years old. Her younger daughter Havalli is about four years younger than Samaria. While her date of birth has not been discussed publicly, she is estimated to have been born in 2007, making her 16 years old.
Who Is Tommie Lee's Daughter Samaria?
Date of Birth: 20th of July 2003
Samaria Lee's Age: 20 years
Father: Unknown
Occupation: Hairstylist, Reality TV Star, Social Media Personality
Samaria Lee is Tommie Lee's eldest daughter. She was born in 2003 in Atlanta, Georgia, when her then-17-year-old mother was incarcerated. We are not exactly sure what Tommie did to land behind bars at the time, but she was in the custody of the state of Georgia when she gave birth to her daughter.
Samaria is a spitting image of her mother, and both could be mistaken for twins.
Now 20 years old, Samaria is forging a career for herself as a hairstylist and social media personality. She can be found on Instagram @samariaa_ where she has accumulated over 84.4k followers. The young lady is also an emerging TV personality; she has notably appeared alongside her mum on Love & Hip Hop Atlanta.
Tommie Lee Became a GrandMother Through Samaria in 2020
Samaria became a mother in 2020, thus making Tommie Lee a grandmother at the age of 33. Samaria revealed on Instagram in May 2020 that she was going to become a mother, sharing a now-deleted photo of her baby bump. In her post, she referred to her baby as a gift from the almighty.
It was subsequently alleged that her mum was not happy with her decision to keep her baby but could do nothing about it. On the 29th of September 2020, the then-17-year-old Samaria welcomed her daughter Nacari.
Meet Tommie Lee's Second Daughter, Havalli Lee
Date of Birth: 2007
Havalli Lee's Age: 16 years old
Father: Unknown
Occupation: Reality TV star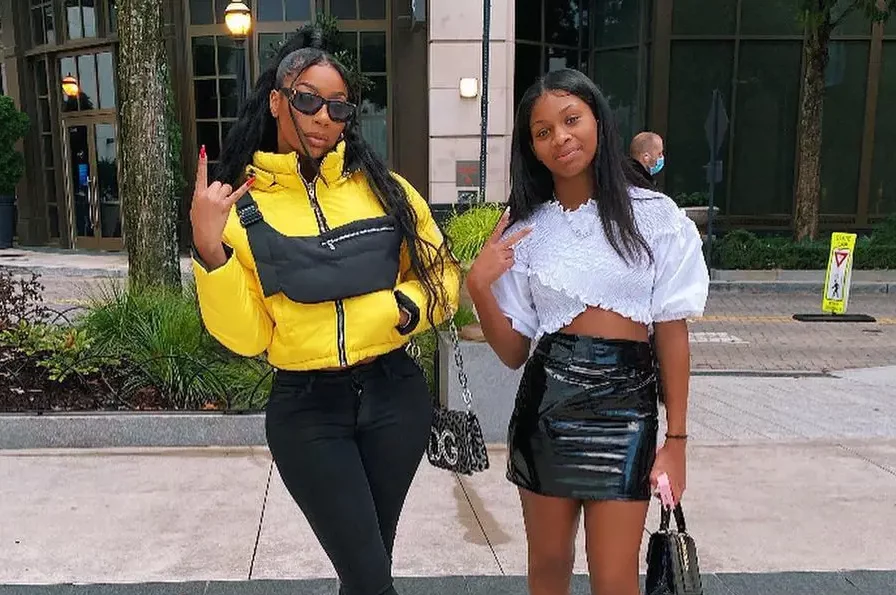 Havalli Lee is the second of Tommie Lee's two children. She was born in Atlanta, Georgia. While the exact date she was born is not known, her age is estimated to be 16 since she is reported to be about four years younger than Samaria.
Havalli became a person of interest to the public in 2018 when she was involved in an altercation with her mum. As the story goes, Tommie Lee barged into Havalli's classroom and hit her a couple of times. She then proceeded to drag Havalli across the school corridor and locked her up inside a locker. School teachers and other students watched in disbelief as the incident allegedly unfolded. The police were eventually called, and Tommie was charged for her actions.
Despite that incident, she and her daughter appear to have mended fences. Havalli is now following in her mother's footsteps to become a reality star, recording appearances on Love & Hip Hop.