Roger Angell Books are generally among the must-read works for anyone interested in books or materials on sports in general and baseball in particular. He is one of the few individuals who have established themselves as literary icons of high repute. An alumnus of Harvard and one-time Air Force veteran during the World War ll, he settled into the writing franchise and immediately made his way into the New Yorker. The literary giant and writer gave of his life to the magazine and still not ready to stop.
With a writing career spanning over 80 years, Angell has carved out a niche for himself as a force to reckon with in the nonfiction genre and he became famous because of his love for baseball and the way he covered the sports through writing. It will be a herculean task to read all of the work of the writer, but a few of his pieces have been recommended as a must-read for readers which beam lights at the extent of his writing skill and talent.
Roger Angell Books, Essays & Literary Works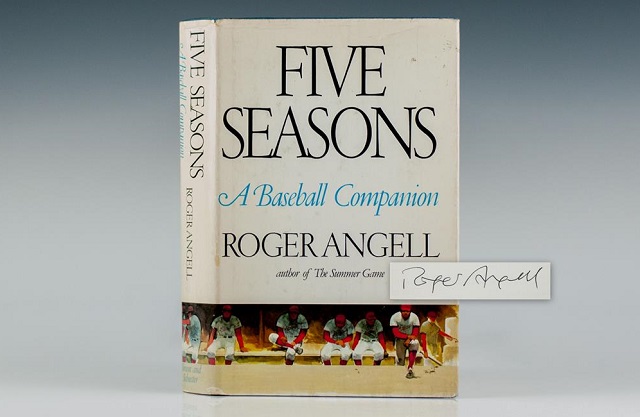 1. A Day in the Life of Roger Angell
The writer has written a lot of pieces for the magazine which is amazing and a delight to readers. All the different pieces he wrote which are short essays are put together in this collection and paddled with humor. Everything is here; parody/comedy, fiction/nonfiction, poetry/prose.
2. The Summer Game
This is just one out of the so many collections of the writer's prose on baseball that is tagged as legendary. This piece covers major areas of his work before 1972, highlighting a 10-year load of his magnanimous writing style and skill in baseball, dishing out stories on Sandy Koufax and Willie May, the New York Mets, and new teams arrivals.
3. Five Seasons
This book covers the period between 1972 and 1976 which spans across 5 seasons in a period that was tagged "a glorious time" in baseball, with captivating stories of how some teams became great; like how the Cincinnati Reds outclassed the Boston Red Sox in the 1975 World Series. And legendary players like Nolan Ryan and how he became the best pitcher and how Hank Aaron made a career record.
4. Late Innings: A Baseball Companion
The writer developed and built his career via baseball writing and this is yet another fine piece that covered some years of his work from the late seventies to the early eighties and of cause the not-so-good players' strike of 1981.
5. Season Ticket
This is another masterpiece in the collection of baseball writing. It covers the period between 1982 to 1987; beaming light on how the seasons within the period went down, with stories on the best teams of the era, players' strong drug addiction, how the Boston Red Sox were beaten, plus the 1986 World Series.
6. Let Me Finish
This piece is one of Roger Angell books and it looks more like a recollection for the writer and his amazing writing career, bringing out some of his best moments and experiences with family, including a dream he always had. His fascinating CV and the respect it has bestowed on him.
7. This Old Man: All in Piece
This is a sober examination of the writer's old age, no wonder its titular "This Old Man," won the American Society of Magazine Editors' Best Essay award 2015. The piece highlights his reflections on the positive and negative effects of aging and it's so amazing and incredible because it was written by the iconic writer himself.
8. A Pitcher's Story: Innings with David Cone
This is another beautiful piece that beams on one of the most important techniques of the game of baseball pitching. And this time around it focuses on one man David Cone who was considered as one of the most highly skillful, respected and rated pitchers in the game of baseball. It covers his career history, the number of championships he won, the different clubs he played for, career-threatening injury and how he lost 8 games in 3 months. This piece is epic, providing insights into the life of the legendary pitcher.
See Also: 5 Robert Rosenthal Books and Stories on Psychology and Human Behaviour
9. Once More Around the Park: A Baseball Reader
This book is a collection of the iconic writer's most loved masterpieces that covers about 4 decades of his writing career. It includes pieces that have never been put together as well as selections from 4 of his works: five seasons, the summer game, late innings, and season ticket.