Jim Caviezel's wife is Kerri Browitt, a high school English teacher whom he has been married to since 1996. Together, Jim Caviezel and his wife are parents to three children; sons Bo and David and a daughter named Lyn Elisabeth.
Before becoming a celebrity spouse, 55 year-old Kerri, who was born in 1968, was an athlete who played basketball at Western Washington University. However, she opted not to pursue a professional career in sports but instead began a teaching career. Here's more on her.
How Old is Jim Caviezel's Wife, Kerri Browitt Caviezel, and Where Was She Born?
Kerri Browitt Caviezel is 55 years old; she was born on the 26th of September 1968 into the family of David James Browitt and Jean Vandetta in Mount Vernon, Washington State, United States of America. She is of mixed ethnicity, comprising Swiss and Slovak roots from her father's side and Irish from her mother.
In Kerri's birth family, she was raised alongside three other siblings whose names are David Browitt and Jim Browitt; her brothers and Kristen Linehan, who is her only sister. However, unlike Kerri, her siblings are not as popular as she is, so a lot is not known about what they are up to.
Kerri Played Basketball from High School to College
Growing up, Kerri Browitt Caviezel was enrolled at Cle Elum-Roslyn High School, which is a public high school situated in Cle Elum in Washington, USA, for her high school education. As a student of the school, Kerri was noted for her exceptional ability in playing flute and basketball; she had an advantageous height of 5 feet 9 inches.
Following the completion of her studies at Cle Elum-Roslyn, she got admitted into Western Washington University, and as you would expect, she earned a place in the school's basketball team, the Western Washington University Vikings.
With her talent and beneficial contributions to the team, she co-captained the WWU Vikings for the 1988/89 season, which she also ended with an all-time personal best record of 30-5. Before her graduation, Kerri got named amongst the top 10 best basketballers in her college, earned nine mentions on WWU "President List," and also National Association of Intercollegiate Athletics National Scholar-Athlete. In the year 2015, Kerri Browitt Caviezel was inducted into the WWU Hall of Fame.
However, after her studies, Jim Caviezel's would-be-wife Kerri Browitt Caviezel called it quits with basketball. She instead opted to pursue a career in teaching English, and to this day, she still works as an English teacher in Seattle, Washington.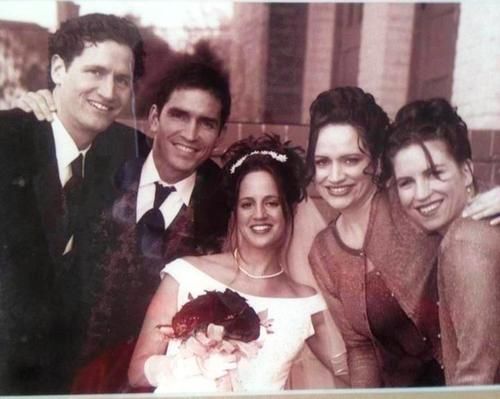 Kerri Browitt Caviezel Has Been Jim Caviezel's Wife Since 1996
Before Kerri Browitt Caviezel met Jim Caviezel in the year 1993, she lived a simple life. Their first meeting was on a blind date set up by Jim's sister Amy. To Amy's delight, the duo took a liking to each other, became friends, fell in love, and dated for three years before they decided to become husband and wife forever.
On the 20th day of July 1996, as devout Roman Catholic faithful, Kerri Browitt Caviezel and Jim Caviezel wed at the Immaculate Conception Church, a Roman Catholic church located in Roslynn, Washington, USA. Since their nuptials, the couple has been together for 27 years now without any known marital issues between them.
Jim Caviezel's Children
Jim Caviezel's marriage with Kerri Browitt Caviezel has been blessed with three adorable children. However, they are not their biological children. The couple adopted three Chinese orphan children now named Bo Caviezel, Lynn Elisabeth Caviezel, and David Caviezel.
While their first son and oldest child, Bo, was born in the year 1999 and so is 24 years old, their second son and youngest child, David, who is 13, was born in the year 2010. Their only daughter and second child Lynn Elisabeth was born in 2001; she is currently 22 years old. However, one thing all of Jim and Kerri's children have in common is that they had cancer.
Bo and Lynn had brain tumors, while David had sarcoma, a type of cancer that emanates from soft tissues in the body like blood vessels, muscle, cartilage, fibrous tissue, etc. However, with good medical care catered for by Jim and Kerri, all three of their children are now cancer free.