Lana Rhoades' child's name is Milo. He was born in January 2022, which means he is now only 1 years old. Although Lana, whose real name is Amara Maple, did not provide much information about who the baby daddy is, there are speculations that it could as well be Blake Griffin, the NBA player. 
Before the birth of Milo, Lana, who is a retired adult star, had never had any kids. However, she has been in several relationships, which was one of the reasons why many names were speculated to be the father of her baby before it is now believed that Griffin is the man responsible for her baby.
Lana Rhoades Baby's Name
The name of Lana Rhoades's baby is Milo. The baby was born in January 2022 and is now 1 years old. The kid was born in Los Angeles, California, United States. For the better part, nothing more has been revealed about the kid as Lana has put in much effort to keep her kid away from the public.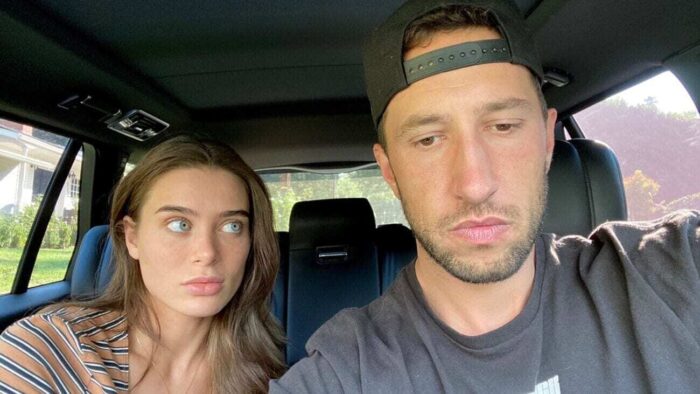 More than six months before the birth of her child, Rhoades took to her Instagram to announce that she was pregnant. The actress made the revelation with an ultrasound image and a due date of January 13, 2022.
How Many Kids Does Lana Rhoades Have?
Rhoades is a mother of a single child. The actress had never had kids before 2022, when she gave birth to her son, Milo. The first-time mother has shared the joys she is experiencing as a mother on social media.
Even though she has shared so much about the pregnancy process with her millions of followers on social media, she now keeps all about her child away from the public. More so, Lana has not made any revelation on whether she is interested in having more kids.
Who Is Lana Rhoades's Baby Daddy?
There is a wide belief at the moment that Blake Griffin is the father of Lana Rhoades's baby. However, when she first made the announcement that she was pregnant, many believed that Mike Majlak was most likely the father of the baby because she had been in an on-and-off relationship with him until February 2021, when it came to an end.
While the speculations continued even after the birth of the baby, Rhoades maintained tight lips. The only thing she did was to give the hint that her baby daddy was in the NBA and that he was playing for the Brooklyn Nets. This drifted attention to Blake Griffin because of the striking resemblance he shares with Milo.
Although neither Blake nor Lana has come out to give any more information, the actress seemed to have confirmed the suspicion in 2022 when a photo alleged to be from Lana's social media went around, calling on Blake Griffin to come and visit his child before he gets shipped to China next year. However, it turned out that the post emanated from Buttcrack Sports, a popular sports satire page on Twitter. This got fans back to guessing who Milo's father might actually be.
Lana claimed that when she got pregnant by an NBA player, and she informed the man responsible, he told her to go "F**k herself."
Lana Rhoades Boyfriend
At the moment, Lana Rhoades does not seem to have a known boyfriend. Although it is possible that she may be dating someone, she has kept all information about her love life away from the public domain.
Her last known relationship dates back to February 2021, when her relationship with Mike Majlak came to an end. While it is very possible that the mother of one has dated someone after that time, she has kept it all private.
Lana Rhoades and Logan Paul's Relationship
Lana Rhoades has been romantically linked to several men in the past, one of whom is Logan Paul. The former adult actress and the YouTuber were first linked after they began appearing in vlogs together. Soon, people began speculating that they were an item.
However, it became clear that Logan Paul and Lana had never had anything between them. They were only close because of her relationship with Mike Majlak, Logan's co-host of the Impulsive podcast.
After Majlak and Rhoades went their separate ways, Majlak claimed that she wanted him to get a place so that they could live together, and he did not oblige, which was why the relationship ended. On her part, the retired adult actress made suggestions that Paul didn't want her to move into their home with Mike, and so he succeeded in breaking the relationship.
Lana Rhoades and Mike Adriano's Relationship
There have been speculations that Lana once dated Mike Adriano, but there is nothing to indicate if this was so or not. Lana once revealed that the second man she ever had as a boyfriend was in the adult industry and her co-star. It is no secret that one of the first people she was close to in the Adult industry was Adriano, whom many believe was the man she was referring to.
Whatever the case, the alleged relationship did not last long before they went their separate ways. In spite of all the talks about them, neither has come out to give credence to the claim or deny it.
Kevin Durant and Lana Rhoades' Relationship
Kevin Durant is another person who has also been speculated to be the baby daddy of Lana Rhoades. The reason why his name was mentioned was because of the history many believe he had with the actress and because he also played for the Brooklyn Nets at the time when she was pregnant.
According to Lana, she once had a terrible date with a man many were certain was KD. Although she did not reveal his name, she indicated that it was a Brooklyn Nets player who was Libra. At the time, Durant was the only Libra playing for the Brooklyn Nets.
The adult star made it known that she went on a date with him, but he was not interested in having any conversation with her. Instead, he brought a backup date so that if it didn't work with her, he could just switch. Amidst all the speculations that he was the one, Durant has never taken the time out to address the issue.
FAQs
What Is Lana Rhoades's Baby Daddy's Name?
Lana has not revealed the name of her baby daddy, although there are speculations that his name is Blake Griffin.
Is Lana Rhoades's Baby Father an NBA Player?
Lana Rhoades has in the past said that her baby daddy is in the NBA, and he plays for the Brooklyn Nets.
Is Lana Rhoades' Baby a Son or Daughter?
Lana Rhoades' baby is a son whose name is Milo.