Tom Cruise was 24 years old in Top Gun 1 and 60 years old in Top Gun 2. This makes for a 36-year age difference, but despite this significant gap, he was the lead star of Top Gun 2, and he proved that he still had the goods.
Top Gun 2, better known as Top Gun: Maverick, was both a critical and commercial success. The National Board of Review named it the best film of the year. It also grossed $1.489 billion on a budget of $170 million, making it the 2nd highest-grossing movie of 2022.
How Old was Tom Cruise in 1986 in the First Top Gun?
Tom Cruise was 24 years old in the first Top Gun, which came out in 1986. This was one of his early movie roles, actually the eighth movie that he featured in, and it proved to be his breakthrough. In the movie, he played the role of Maverick, a hotshot aviator pilot who is later sent to an elite fighter weapons school known as Top Gun for more training.
While there, he begins a fierce rivalry with a colleague nicknamed Iceman, but they later work together to complete a mission. When Top Gun was released, the critics weren't so impressed, but the moviegoers were. The film grossed $357 million on a budget of $15 million, meaning that it made its budget 23 times over. It also won praise and awards for its soundtrack as well.
All this helped establish Tom Cruise as a star, and he landed more leading roles as time went by. Top Gun also helped him to lay the foundation for his future as an action movie star.
How Old was Tom Cruise in Top Gun 2 (Top Gun: Maverick)?
Tom Cruise was 60 years old in Top Gun 2, which was released in 2022. Even though he was 36 years older, he still played the lead role. This time around, he is no longer a headstrong trainee but a test pilot who is involved in developing programs for the Navy. He is also asked to train a set of young pilots for a dangerous mission and butts head with one of them named Bradley, who is the son of his deceased colleague nicknamed Rooster.
He and Bradley, alongside others, later head out for the mission and are forced to work together and save each other. This leads them to mend fences and become pals. Tom Cruise may have been 36 years older in Top Gun 2, but he gave one of the best performances of his career and led the film to success.
The American Film Institute named Top Gun 2 one of the top ten films of the year. It was also a box office hit, crossing the billion dollars mark. While most sequels are often flops or don't live up to the original, critics agreed that Top Gun 2 was even better than one.
Why Did It Take So Long to Make Top Gun 2?
With the initial success of Top Gun 1 in 1986, the film's lead star, Tom Cruise, and the film's producers immediately went into talks about producing a sequel. However, their vision did not materialize as planned, and as such, it took 36 years for Top Gun 2 to be produced.
Part of the reason for this was the naval sexual assault and harassment scandal known as the tailhook scandal, in which 100 Navy and marine aviators were accused of assaulting and groping women. This dented the image of the Navy, and nobody wanted to make a movie whitewashing that image.
Another factor that caused the long delay in making Top Gun 2 was that the director, Tony Scott, committed suicide in 2012. This led to several years of searching for another director before Joseph Kosinski was chosen. Tom Cruise has also revealed that it took 36 years to make Top Gun 2 because they were determined to make the best film possible both in terms of story and visuals i.e. cinematography.
What is Tom Cruise's Age Now?
Tom Cruise is currently 61 years old. The award-winning Hollywood actor was born on the 3rd of July 1962 in Syracuse, New York. His real name at birth is Thomas Cruise Mapother IV. His father was an electrical engineer named Thomas Cruise Mapother III, and his mother was Mary Lee.
Cruise spent his formative years in the United States and Canada and got involved in drama in grade school. He kept at it even in high school, and when he graduated from high school at age 18, he moved to New York City to pursue acting.
How Does Tom Cruise Look So Young?
Given that he was 36 years older in Top Gun 2, one would expect Tom Cruise to have aged considerably and looked weathered in Top Gun 2, but this is not the case. The actor still looks quite young, and this has led to queries about the secret of his looks. Well, Tom Cruise looks so young because of regular workouts, a skincare regimen as well as a good diet.
When it comes to workouts, Tom Cruise embarks on extreme workouts to perform his stunts. Beyond movie making, he is an active guy and indulges in activities such as fencing, treadmill, weights, rock climbing, sea kayaking, hiking, and jogging.
A good diet is also crucial to Tom Cruise's youthful looks. His 1200 calories diet is quite low on carbohydrates and features grilled food which has been said to be an antidote to chronic tissue inflammation, which speeds up aging.
Good skin care treatment is also the reason why Tom Cruise looks so young. He is diligent in applying sunscreen. It is also believed that he may get Botox and some fillers periodically. A fantastic sense of style also helps Tom Cruise to look young.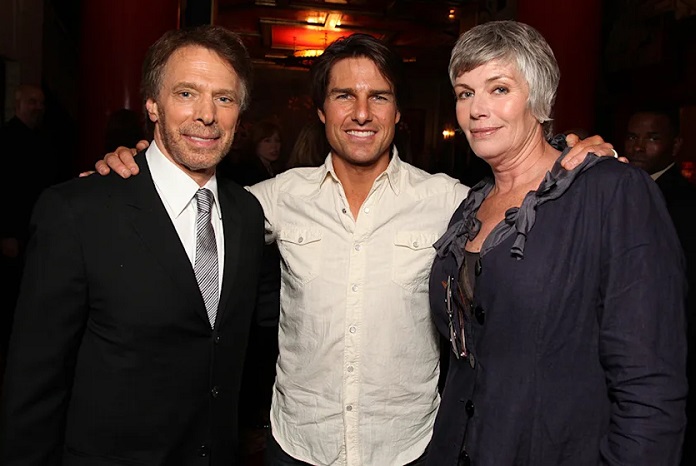 What is Kelly McGillis and Tom Cruise's Age Difference?
There is a five-year age difference between Kelly McGillis and Tom Cruise. McGillis was born on the 9th of July 1957, while Cruise was born on the 3rd of July 1962. This means that Kelly McGillis is five years older than Tom Cruise. This wasn't, however, much of a barrier when the first Top Gun movie was released in 1986, as McGillis was all hot and tall and sexy.
She, therefore, portrayed Tom Cruise's love interest named Charlie. Charlie is a lieutenant who is assigned as one of maverick's trainers. They later go from adversaries to lovers.
When Top Gun 2 came out in 2022, many expected McGillis to have some role in the movie, but this was not to be. Her relationship with Maverick was left out, and instead, he got a new love interest named Penny.
The producers of Top Gun have stated that they didn't want to go too deep into the past. This may be true, but as McGillis sees it, she wasn't called back because she looks old and fat, which is precisely the appropriate thing for a woman of her age. Many would agree with her summation. She didn't look hot enough to come back, which can be blamed on the unrealistic beauty standards set by society, especially for women.