If you have family and friends who are voracious readers, they would most certainly prefer books as a gift – which is fantastic. Audible Gift Card makes such a wonderful gift for book lovers because the receiver can listen to them while doing various chores like cleaning the house, washing dishes, or walking the dog – effectively multitasking. It is also perfect for people who do not have a lot of space to store physical books. However, you can't buy Audible Gift cards as presents, not even on Amazon. Any suggestions you might see on like will simply send you back to the Audible website.
How To Gift An Audible Membership or Books
With Audible, you can give the gift of books, but you can't do this with an Audible gift card – because they don't exist. Instead, you'll have to give an Audible book or a complete membership as a gift. Fortunately, you can do so quickly and easily using the Audible website on your Mac or PC.
How Do I Purchase A Gift Membership From Audible?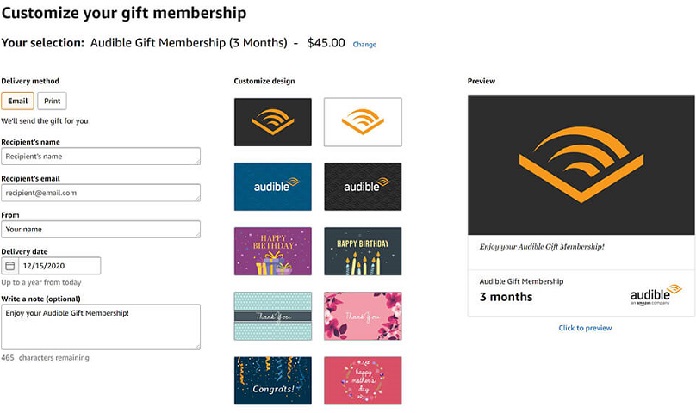 To give an Audible membership as a present, go to the membership gifting page and choose a plan – 1, 3, 6, and 12-month Audible gift subscriptions are available. These range in price from $15.00 to $150.00. Each membership also comes with a set number of credits that may be used to get a free audiobook. Simply follow the steps below:
Go to the Audible Gift Center.
Choose the membership you'd want to give as a present and then click 'Gift Membership.'
On the next page, fill out the gift information.
Click Continue when you're finished.
Choose a card to match your gift from the following page, then click Continue.
To finish your transaction, click Buy Now for $X.XX.
How Do I Buy An Audible Audiobook As A Present?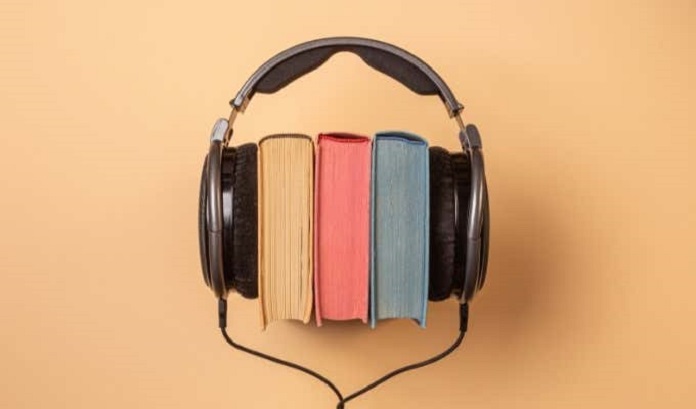 If you opt to gift someone an audiobook instead of an audible membership, you can use your Audible credit or a credit card to buy the gift audiobook. Log into your Audible account  and follow the steps below to offer someone special the gift of a wonderful listen:
Find the audiobook you want to give as a gift and click on it.
Then select Give as a present.
Next, decide whether you want to send your gift via email or as a printable card.
Examine the data you entered and decide how you want to pay for your gift. However, note that coupons cannot be used to purchase a gift title.
To complete your purchase, click Confirm Purchase.
After you've purchased your gift, you'll be directed to a Thank You page that confirms your order, as well as an email confirming your purchase. If you choose to print your gift, instructions on how to print and fold your card will be provided.
Your recipient will have access to all membership privileges and can keep any titles purchased.
It's important to note that you can also share one book from your Audible library (and you can share books with one person at a time), so if you have a title that a friend will enjoy, you can save money by using the share shortcut.
Paying for a Gift
The following payment methods are accepted for all Audible Gift memberships:
Visa
MasterCard
American Express
Discover
If you receive a credit card error, double-check that your account's default payment is current and retry your purchase.
What Happens When Audible Gift Membership Expires?
Gift membership credits are only valid for a maximum of 12 months after they are issued. That is, a 12-month credit issued on May 1, 2020, for example, will expire on May 1, 2021, whereas a credit issued on June 1, 2020, will expire 12 months later. However, the recipient will not be charged for an Audible subscription plan once the gift membership expires.  From their Account Details page, they can choose to enroll in a plan at any time.
How Can I Cancel My Audible Membership?
Even if you're not ready to cancel but don't want to use the services at a particular time, you can pause your membership. More so, you do not have to delete the Audible app from your device as your membership will not be canceled even if you delete the app from your device – you may still be charged.
The steps below will guide you to cancel your membership:
Log in with your Audible/Amazon account information by clicking or tapping Account Details.
Under the text box with your current membership information, click or touch Cancel membership.
Choose a reason for cancellation and follow the instructions. You will receive an email confirmation soon after. You can always come back anytime you wish to reactivate your account.
However, before you cancel your membership, it is advised that you use any remaining credits. After you cancel, you'll definitely lose access to your member benefits and all credits at the end of your final billing period.
Other Frequently Asked Questions
Below are several other frequently asked questions and answers with regards to audible books:
1. How do I contact an audible customer service expert?
Do you require technical assistance or simply have a query?  The audible customer service experts are always here for you. All you have to do is to
2. Can I retain the credits I have accrued?
Yes, it is possible to retain credits you have accrued on your Audible account. Switch to the Audible Plus plan, and your credits will keep the same expiration date.
3. What happens to your purchased titles if you cancel your Audible membership?
Not a single thing! Even if you decide to terminate your subscription, any titles you purchase with a credit or credit card are yours to retain forever. With the purchase of an Audible title, you gain lifetime listening rights. The titles will remain in your collection as long as you do not return or remove them.
Your Audible account will remain active, and you will be able to download and listen to your purchased titles as frequently as you desire. To see your library, log in to Audible.com or your Audible app at any time.
4. I don't have a membership –  can I still buy titles?
Yes, of course. You can buy Audible content with or without a membership. However, you'll have to pay full price and miss out on Audible Plus features like credits, sales, and more!
Also, individual titles without a membership cost up to 70% more, so it is definitely cost-effective to have a membership.
5. Can I switch my Audible membership?
Instead of canceling your membership, you can choose to upgrade to a more suitable plan. Check the audible app or site for more information on switching memberships.
6. How do I un-cancel My Membership?
Did you cancel by mistake or change your mind after canceling your audible membership? Don't fret, as you can reverse your actions and reactivate your account with ease.
Learn how to un-cancel your membership by using the following simple steps:
After you cancel your Audible plan, go to the top of the "Membership details" page to see how many days you have left to un-cancel your membership.
Follow the steps to reactivate your Audible subscription.
On the Audible desktop site, go to the Account Details page.
Click Please keep my membership information at the bottom of the Membership Details section.
Follow the directions and actions on the screen.
An automatic email will be provided to you as verification of your plan changes after you un-cancel your membership.
7. How do I contact an Audible expert?
Did something go wrong with your account, or do you need technical assistance? The audible team is always available to help you out. Simply go to the audible site and scroll down to the bottom of the page that has "Contact Us," and click on it. Follow the prompts to get things sorted out.
8. How do I redeem an Audible gift membership?
If using an email to redeem, open the email with the subject line "You've received a gift on Audible from…" and click on it. Redeem your gift by clicking the Redeem your gift icon, then Redeem on Audible. Enter the information for your Amazon account or create a new one. You'll see a welcome screen once you've signed in, signaling that your gift membership has started. Your gift membership's first credit will be applied.
If you redeemed a gift membership on top of an existing plan, you'd get the whole number of credits for the gift membership all at once. However, if the Redeem Your Gift option isn't working, you can still use the claim code from your email to redeem your gift using the following steps:
Go to https://www.audible.com/ep/redeemgift and paste the claim code you received.
Click Redeem after entering the claim code in the field given.
Enter the information for your Amazon account or create a new one.
You'll then see a welcome screen once you've logged in, showing that your gift membership has commenced. At this stage, your gift membership's first credit will be used.
9. What happens if I use a gift membership to upgrade an account that already has one?
You will receive all of the credits you would have gotten during your gift membership at once, rather than being enrolled in the gift membership plan. More so, your current gift membership will not be replaced or extended by the gift membership you redeem, nor will you be charged on your next bill date if you are on a paid monthly or annual membership plan.
10. What is a wish list on the Audible for iOS app, and how do I add to it?
A Wish List is a place where you may save audiobooks that you want but aren't ready to buy yet. With this list, you'll know where to go if you're waiting for your next credit and/or want to find your next listen quickly.
Follow the procedure below to add a title to your Wishlist on an iOS device:
Open the Audible app on your phone.
Select Discover.
Browse for the title on the discover screen or use the search icon at the top of the screen to find it.
Add to Wish List by tapping Add to Wish List – "Add to Wish List" will then say "Remove from WishList," verifying your choice.
You can then go to Home and scroll down to the Wish List carousel in the iOS app to see your Wish List.
If you have an Android app, follow the steps below to add a title to your Wishlist on the Android app:
Open the Audible app on your phone.
Select Discover.
Use the categories to find an audiobook, or use the search magnifying glass to find a title by name.
When you've found a title you like, press it to go to the product detail page for that title.
You can go ahead to add to Wish List by tapping Add to Wish List.
After you've added your title, go to the Profile icon and then Wish List in the app to find and view your Wishlist.
11. How can I buy an Audiobook from My Wish List?
You can purchase a title directly in the iOS app if you have a credit. Take the following steps:
Open the Audible app on your phone.
Select Library.
Click Wish List at the top of the screen.
Select the title you want to buy by tapping on it.
Select Buy with 1 Credit from the drop-down menu.
However, if you don't have a credit, you can use the Audible mobile site to purchase a title from your Wish List. Take the following steps:
Using the web browser on your mobile device, go to the Audible website.
Select Menu, then Wish List.
Select the title you'd want to buy by tapping on it.
Tap Confirm Purchase after selecting Buy Now for $X.XX.
12. How can I buy an audiobook from the Android app's Wish List?
Follow these steps to purchase a title from your Wish List on the Audible for Android app:
Open the Audible app on your Android device.
Select Library.
Click Wish List at the top of the screen.
Select the title you'd want to buy by tapping on it.
After selecting a payment method, press Confirm Purchase.