John Travolta has always insisted that he is neither gay nor bisexual. He was previously married to Kelly Preston for 19 years before she passed away in 2020. Since then, he has been focusing on his kids and career and has not been in any other relationship to the knowledge of the public.
Despite maintaining a low profile, Travolta can't seem to shake the speculations about his love life, including his sexuality. The award-winning actor has faced several gay rumors dating back to the 70s and they once more came to life in 2022 following allegations made by a former member of Church of Scientology, an organization he once belonged to.
Is John Travolta Really Gay?
John Travolta has always maintained that he is not gay but he has been dogged by gay rumors ever since he first came to fame in Hollywood. Several men, including a porn star, have claimed that they had passionate affairs lasting years with the actor. There have also been several lurid allegations made by various tabloids.
While all these remain unproven, they have persisted for so long that Travolta has been directly questioned about his sexuality on multiple occasions. For instance, as far back as the 1980s, he was asked about the gay rumors surrounding him in an interview with Rolling Stone. He dismissed it and described it as a notorious rumor that is spread about every male star, especially in the first year that they became famous.
Actress Kirstie Alley, who famously co-starred alongside Travolta in the 1989 movie, Look Who's Coming Back and remains good friends with him, has also been asked about the sexuality of her good pal. In a 2012 interview with Barbara welter, Alley stated that she knew Travolta with all her heart and soul and that he wasn't gay. According to her, once a Hollywood personality gets famous enough and they are not doing drugs or womanizing, the next thing is to label them gay.
Alley also revealed in a 2018 interview that she does not believe all the gay rumors about John Travolta and that she knew him pretty well. Given all the allegations that have surrounded Travolta's sexuality, many believe that he is either gay or bisexual. Still, the man in the eye of the storm has never come out to confirm this, and as such, it remains a rumor.
The Origin of John Travolta's Gay Rumors
John Travolta has been plagued with gay rumors ever since he first came to the limelight in the 70s, appearing in hit movies such as Saturday Night Fever and Grease and the popular TV series Welcome Back, Kotter. Obviously good-looking, he exuded raw sexuality and physical force. These qualities, combined with his fame, made many assume that he would be romantically linked with several women. When that turned out not to be the case, the rumors started.
Travolta Was Allegedly Involved With a Male Porn Star in The 80s
The gay rumors about John Travolta gathered more steam after a male porn star named Pal Barresi alleged that they had a passionate affair for three years running from 1983 to 1985. According to Barresi, he and Travolta first crossed paths at a gym, where they got into a conversation.
In the course of the conversation, the actor allegedly asked him how much he made from starring in porn movies and told him that he would pay him that. According to Barresi, this marked the beginning of their affair, and it lasted for three years. Barresi made his allegation in the tabloid National Enquirer in the 90s, and Travolta refused to respond to them.
The Actor was Photographed Kissing His Male Nanny in 2006
Travolta has also stoked gay rumors with some of his actions. Back in 2006, he was famously photographed kissing a male nanny, Jeff Kathrein, who worked for his family on the stairs of his jet. This caused a lot of hullabaloo, but the actor waved off the uproar, pointing out that he normally kisses male friends. The nanny in question would go on to work for the family for a few more years before quitting after Travolta's son, Jett, died in 2009.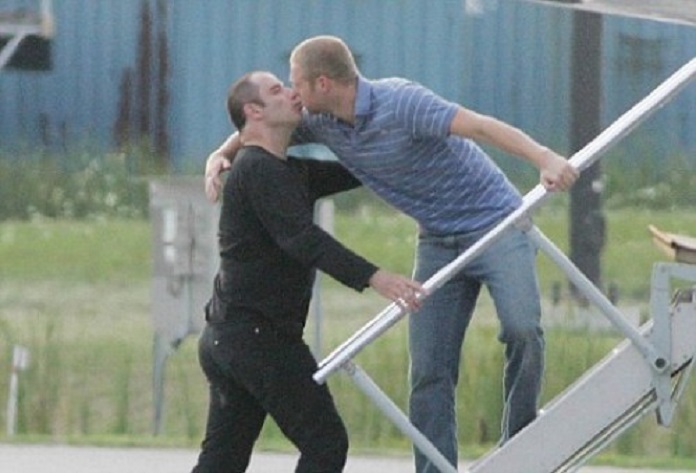 In 2007, John Travolta kissed Kirk Douglas
By 2007, Travolta caused another uproar after kissing iconic actor Kirk Douglas on the lips at an awards ceremony. The then 53-year-old Travolta had been selected to hand over a lifetime achievement award to Douglas, who was 90 years old at the time. On climbing to the stage, Douglas brought out his hands to shake Travolta's, but the younger man bypassed that and went for a kiss. The elderly actor was a bit shocked but immediately recovered.
A 2010 Memoir Claims That John Travolta Frequented LA Gay Bathhouses
Three years after the whole kiss debacle, John Travolta's sexuality became a trending topic once more following the release of an expose about gay bathhouses in Los Angeles. An interior designer named Robert Randolph revealed that Travolta had patronized the bathhouses for the past 15 years and that he had seen the actor involved in sexual acts with a variety of men.
According to Robert, Travolta's taste changed over time. In the beginning, he preferred black men and then Middle Eastern men, Latina men, Asian men, etc. Travolta's lawyers responded, denying the allegations. They claimed that Randolph was unreliable as he suffered brain damage and had spent time in mental institutions. Randolph was outraged by this and sued Travolta and his lawyer for defamation. The suit did not succeed, though, and was thrown out in 2012.
Two Male Masseurs Accused the Actor of Sexual Assault in 2012
2012 was a busy year for John Travolta in the courts. He not only had to contend with defamation lawsuits but also two different lawsuits by two different male masseurs alleging that he had sexually assaulted them. The suits were filed in May 2012, but the alleged incidents occurred in January 2012.
According to the first masseur, on the 16th of January 2012, he was hired to give a massage to Travolta in Beverly Hills. While doing this, the actor allegedly stripped in front of him and proceeded to grope his scrotum and penis. He later apologized for his behavior but continued to pursue him for sex, even proposing a threesome with an actress.
The second masseur alleged that his own incident took place on 28th January 2012 in a hotel room in Atlanta. According to him, Travolta rubbed his legs and touched his genitals, and attempted to initiate sex. Both accusers were represented by the same lawyer, and Travolta vigorously denied the allegations against him.
He dismissed them as fiction and ridiculous and pointed out that he wasn't even in Los Angeles at the time when the first incident was said to have occurred. Both suits were later dismissed by the court, but the plaintiffs hired another lawyer with a view to suing again. It is not, however, clear if they eventually did that.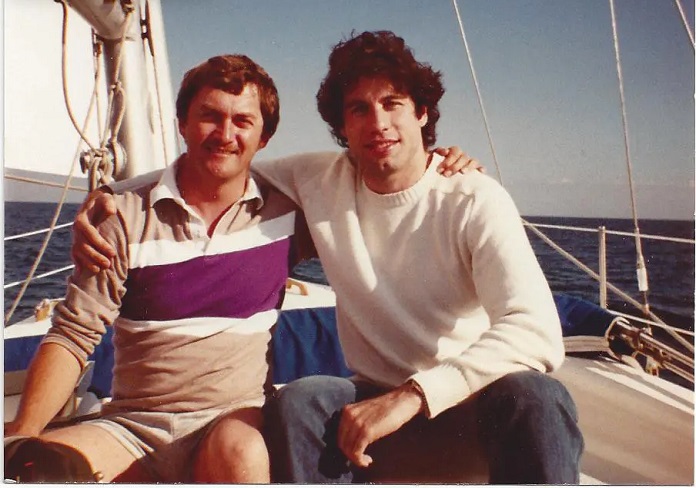 John Travolta's Alleged Affair With His Male Pilot Came to Light in 2012
Also, in 2012, John Travolta once more found himself in the spotlight on grounds of his sexuality. This time around, a pilot named Doug Gotterba, who had formerly worked for him, claimed that they had a passionate affair that lasted for six years, starting from September 1981 to 1987. According to Doug, he and Travolta had flown to a resort in Monterey, California, in 1981 and shared a fantastic dinner.
Afterward, Travolta allegedly asked him if he would like a massage. He replied in the affirmative, and that massage session led to sex. According to Doug, from then onwards, they became quite close. They embarked on vacations to places such as Hawaii, Kenya, and Amsterdam, and even though Travolta always had ladies flocking around, they always wound up in the same room at night.
Doug alleges that he asked Travolta to start dating actress Brooke Shields so that people would not suspect his sexuality. According to the pilot, they dated for six years before he called off things as Travolta was becoming intense. The actor reportedly showed up unannounced to his doorstep and expected him to drop everything to be with him. He also got paranoid that Doug was cheating. They thus ended things but stayed on good terms.
According to Doug, the last time he saw Travolta was in 1992, after he had married actress Kelly Preston. He claims that he asked the actor what his sexual preferences were, and he maintained that it was still men. Doug's extensive revelations were also dismissed by Travolta's camp, which described the publisher, National Enquirer, as a desperate supermarket tabloid.
A Former Scientology Official Claimed That John Travolta Was Gay in 2022
The gay rumors surrounding John Travolta have subsided over the years, but it is not entirely gone. In 2022, Mike Rinder, a former official of the controversial Scientology Church to which Travolta once belonged to, published a memoir in which he made several claims, including that he had seen a male masseur kiss Travolta on the lips in a hotel. He stated that they were tasked with curtailing the PR damage that such a story would cause.
How Many Times Has John Travolta Been Married?
John Travolta has only been married once, and that was to Kelly Preston. The late Kelly Preston was also an actress during her lifetime and appeared in several movies and TV series. In fact, it was on the set of the 1987 film, The Experts that she met John. They started dating and got married in 1991 in two different ceremonies, one held in France and the other in Florida.
Kelly Preston and John Travolta were married for 21 years. During this period, they welcomed three children two sons, Jett and Benjamin, and a daughter named Ella. The couple's marriage witnessed some rough turns, including the death of a 16-year-old Jett in 2009. They, however, remained together and got therapy to help them.
Kelly, for once, never paid heed to the gay rumors about her husband. She and Travolta remained married until her death from Brest cancer on July 12, 2020, aged 57.
Does John Travolta Have a New Wife?
John Travolta does not have a new wife. The actor is still grieving his late wife and took substantial time off after her death to focus on raising his kids. Travolta has since rejigged his acting career but not his love life. In fact, sources close to him have it that he has sworn off dating again and has essentially taken a vow of celibacy.
According to these sources, Kelly was the only woman for the actor, and he can't wrap his head around falling in love with another woman. He sees it as some betrayal of his late wife's memory.
Who is John Travolta Dating?
John Travolta is not dating anybody at the moment. Ever since his wife died, he has not been in any confirmed relationship and hasn't been romantically linked with anybody. In 2021, there were rumors that he was dating famed Australian personality Terri Irwin, but she immediately shut the rumors down.
Despite all he has reportedly said, John Travolta may still find love tomorrow and date and even marry again. However, until that happens, let's take a look at those that he dated in the past.
A Look at John Travolta's Past Dating History
Diana Hyland
One of the first high-profile relationships that John Travolta was involved in was with the late actress Diana Hyland. He met her when they starred in the 1976 movie, The Boy in the Plastic Bubble, where he played the role of her son. She was 18 years older than him in real life, but they nevertheless fell in love and started dating.
They became deeply involved, but their happiness was shattered when Diana was diagnosed with cancer. They stuck together, and she reportedly died in Travolta's arms on March 27, 1977. Her death devastated him, and his friends doubted that he would recover. He had no choice but to do so. In April 2023, Travolta paid tribute to Diana, counting her amongst the five most important women in his life.
John Travolta and Catherine Deneuve
Following Diana's death, the next time that John Travolta found love again was in 1980 in the arms of Catherine Deneuve. The romance did not last beyond that year. Catherine Deneuve is a French actress, model and singer. She has appeared in several French and English language films, including The Hunger, The April Fools, The Musketeer, and Hustle. She was named the best actress at the 1998 edition of the Venice Film Festival.
John Travolta and Marilu Henner
Another actress that John Travolta dated is Marilu Henner. Henner is an American actress, and some of her works include the Movies The Man Who Loved Women, Noises Off, and Between The Lines. Her TV credits include Taxi and Evening Shade.
Marilu crossed paths with Travolta when they both featured in the original Broadway production of the musical, Grease. They remained good friends and later embarked on an on-and-off relationship that spanned 13 years before finally ending.