Manga is a Japanese word for comics and cartoons in print, which combines both artwork and literature. These comics have gained a lot of popularity over the years. It is very common for one to get hooked on manga for long hours because the length of each series could span up to several volumes or chapters. This makes it quite a feat to finish within short periods, it also makes it difficult for One to amass print copies of the series that you love easily.
However, with the launch of several online platforms and apps to read manga, the possibility of reading your favorite manga on the go is now very easy and a luxury that cannot be undervalued. So, whether in the car or a noisy park or seated in the comfort of your home, you can enjoy the blissful experience of access legal sites or apps to read manga at any time you desire.
Here are 12 Legal Sites To Read Manga Online
With more value being placed into manga as each new series takes you into a world of great adventure, it is essential to note that each new chapter is also loaded with the efforts and pure ingenuity of the writers. It is therefore of essence to ensure that the hobby of manga reading is practiced legally.
Below is a compilation of some sites and apps where you can fan your interest, and legally find thrilling manga series. Whatever genre speaks to you more, be it comedy, action, love, romance, and a host of others, this list covers a bunch of them.
1. ComiXology
This Amazon-owned platform can be accessed on any good browser using any Android device, IOS device, or Kindle. It holds the largest collection of digital comics, with a library of over 100,000 manga that is sure to captivate you for long hours. You can either choose to buy individual volumes or pay their subscription fee and gain unlimited access for just $5.99 per month. They also allow users a one-month free trial period before subscribing.
More so, it's gathered that a wide range of North American manga publishers patronizes ComiXology. Some of them even make do with digital-only series for a start to checkmate the interest of the public so as to know if a print edition would be worth it. So if you are a fan of western comics, or ebooks, or would prefer manga series that are available on Kindle, ComiXology has you covered and you can enjoy unlimited access to various collections at their website: https://www.comixology.com/
2. Mangamo
Launched in 2020, this ad-free Manga reading app charges a subscription fee of $4.99 monthly to gain access to unlimited comics content from about 11 different publishers including. It can be accessed on both android and IOS devices and the official website address for the site is www.mangamo.com. More so, a subscription to this platform grants you access to unlimited titles from about 11 different publishers including Comics art, Toppan, North Star Pictures, and so on.
Although this service is available worldwide, it is not yet found in Japan, China, and Korea. Another limitation to this platform is that some of the interesting titles featured on it cannot be found anywhere else and the series is often placed serially, on a chapter by chapter basis.
3. Shonen Jump 
The Shonen Jump weekly is one of the biggest manga anthropology magazines in Japan, if you are a fan of the Shonen Jump series, you absolutely need to settle for this. It allows you to read up to 100 chapters for free per day and you will get unlimited access if you pay the subscription fee of $1.99 per month. Added to this, it also provides updated chapters of the series as soon as they are released in Japan.
This site can be accessed on android devices, IOS, using any good browsers via the web address, www.shonenjump.com. However, the downside is that the site has a large library, over 10,000 comic content, which is limited to only the Shonen Jump series, some of which include Naruto, Dr. Stone, and One Piece, to mention the most popular ones.
4. Crunchy Roll Manga
This is said to be the most popular manga platform on which one can find the latest manga titles which are uploaded as soon as they are broadcasted in Japan. Its large catalog can keep you up to date with trending titles like Fairy Tail, Attack on Titan, King's Game Origin, and many more, from publishers like Seven Seas Entertainment, Kodansha, and Vertical, to mention a few.
It would also interest you to know that the premium package of Crunchy Roll gives you unlimited online reading access and allows you to stream anime one hour after it is broadcasted in Japan. More so, the app has a user-friendly interface and has a customization tool, where you can arrange your favorite titles as you desire. It provides series in chapters and volumes but you would have to read the individual chapters as they come, but note that once the chapters are compiled into volume, they would be removed from Crunchy Roll.
So, if reading manga and watching anime are some of those things that interest you, then simply visit the official Crunchyroll site on any browser using an IOS or Android device. You will be sure to satisfy your interest at a very affordable rate.
5. Book☆Walker
This is the official digital bookstore for KADOKAWA. It is the perfect app and site for reading light novels and digital manga series. The storefront is arranged into categories that include: New Releases, Simulpubs of recent serially placed chapters, as well as Award-winning titles and series that are being made into anime.
This platform can be accessed on browsers, Windows, MAC, Android, and IOS devices and it is important to note that purchases must be done using the appropriate web address: global.bookwalker.jp. A transaction fee will be charged but for every purchase made, you are liable to get a percentage back in the form of coins, which could be used for future purchases. More so, membership rankings are done based on how much you spend and this, in turn, determines how many coins you can get back per purchase.
6. VIZ Manga
The VIZ Manga site is another notable platform one can get some of the finest Manga series using any Android or IOS device. Its digital catalog consists of over 4000 Manga volumes and some of the Mangas on Shonen Jump are published by Viz. This platform also offers free previews for new releases as well as offering some selected chapters for free.
However, for a monthly fee of $2.99, you will get unlimited access to constant new releases and popular old ones like Dragon Ball Super, My Hero Academia, Naruto Next generations, and several more. More so, the VIZ Manga site has its fully personalized library which allows you to follow and read at your pace – books can also be read offline.
7. Manga Reader
The Manger Reder website ranks among the popular sites for downloading or reading comics online for free and its user interface is very friendly – it does not include irrelevant features that could possibly distract you. On the platform, you will have access to varieties of genres ranging from action to romance, adventure, fiction, crime, horror, and fantasy amongst several others. These genres get updated regularly and the recently updated mangas would appear at the top and center.
The site also provides you with the opportunity to read several wonderful mangas without signing up or registering – that is, by just visiting the Manger reader site, you can click on any manga on your screen and begin to read. More so, this free manga reading platform has an integrated search feature that makes locating your choice manga easy this is referred to as a 'Smart Filer' and it works just like the search icon – with it, you get to locate specific books easily, it also keeps tabs on your search history and provides recommendation using it.
Both subscribers and visitors on the Manger reader site can download up to 5 mangas simultaneously and save them for reading offline. The platform can also be accessed on any browser and by using IOS or Android devices.
8. INKR Comics
The creators of INKR comics site and app once owned the popular scanlation aggregator app 'Manga Rock', but due to some operational challenges, they closed it in late 2019 to open INKR in 2020, with the intention of supporting comic creators and publishers to perform better in their sphere. For a fee of $4.99 paid per month, you'll get access to a variety of comics, manga, webtoons, and even manhua that cuts across several genres like action, comedy, horror, etc. However, there are some series that may require some additional cost which can be done using coins.
More so, it is gathered that the revenue gotten from this platform is split between the creators and the publishers because both parties are integral to the success of this newly formed comic site. Another intriguing fact about INKR comics is its awesome personal recommendation feature as well as the fact that you can auto-sync your reading progress and data if you happen to be using multiple devices. It can be accessed on both Android or IOS devices via the link: https://inkr.com/
9. Manga Panda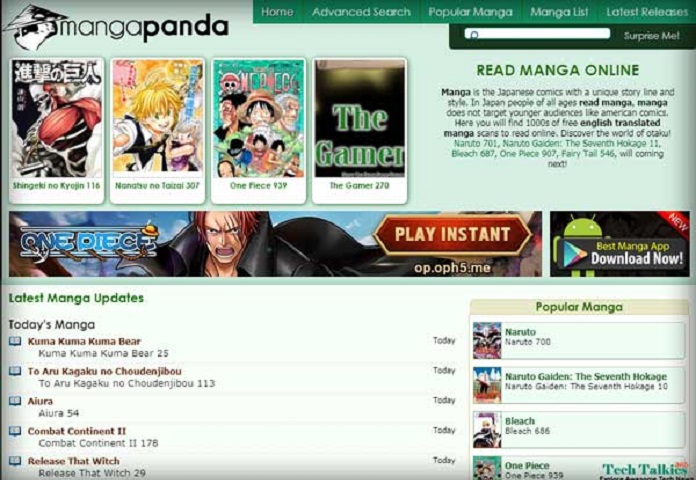 Like Manga Reader, the Manga Panda site is equally as popular when it comes to viewing the latest manga comics, and the search feature on the site also makes finding and reading your favorite comic very easy. More so, this free online manga reading site has an alphabetically arranged order for its latest manga and you do not need to register or sign up before you can access all the services it offers.
As of now, this site has a huge community with 40% of its user base in the U.S This is because most of the comics on this site have been translated to English. Manga fans can also access the platform on their browsers as well as any Android device.
10. Comic Walker
Comic Walker is also a digital bookstore from Kadokawa, on this platform, users are allowed to go through titles in both Japanese and English without spending a penny. The site has an easily understandable interface and it can be accessed on its official site at https://comic-walker.com/ on any browser using an IOS or Android device.
More so, due to the continuous update of their large collection every week, the site has an excellent feature called which is tagged 'Calender' that forecasts the release dates of upcoming mangas. The Calendar feature is one of the sub-heads that the site has among several others which include a search bar, and a Help/FAQ icon.
11. Manga Plus 
Contents on the Manga Plus platform are managed by the Japanese publisher SHUEISHA. The contents on this site are quite extensive and because they showcase the works of Shonen Jump and North American manga which are loved by comic fans.
The platform can be accessed on any good browser using Android or IOS devices. More so, there is no stipulated fee for reading manga on this site, all that is required is the passion which will make you always visit the site for more comics.
12. Manga Club
Manga Club is also one of the notable manga reading sites and it can be accessed on any browser. There is a wide range of manga comics to choose from and some chapters can be accessed for free even if you do not have an account with Manga Club. However, to rent or buy manga on the site, you would have to register, and once registered, you begin to get daily tickets that allow you to rent chapters for 72 hours.
For easy navigation, the Manga Club site is arranged into sub-heads like pick-up manga review, today's hot manga, most popular manga this week, and so on. It showcases comic stories from several genres like but most of the series concentrated on romance.
Recap of The Top 12 Legal Manga Apps & Sites
Comixology
Mangamo
Shonen Jump
Crunchy Roll Manga
Book☆Walker
Viz Manga
Manga Reader
INKR Comics
Manga Panda
Comic Walker
Manga Plus
Manga Club