Elsa, in 1883, is played by American actress Isabel May. After she was shot by a poisoned arrow, Elsa succumbed and died from her wounds.
Taylor Sheridan's 1883 is an American Western drama television miniseries that premiered on Paramount+ on December 19, 2021. The series is the first of several prequel series to Sheridan's Yellowstone, and it tells the story of how the Duttons fled poverty in Texas, traveled across the Great Plains in search of a better future in Montana, and eventually came to own the land that would become the Yellowstone Ranch.
Who Plays Elsa in 1883?
Elsa in 1883 is played by 23 year-old Isabel May. Elsa is the narrator and protagonist of the Yellowstone sequel. She is the sister of James and Spencer Dutton and the only daughter of James and Margaret Dutton.
Born on November 21, 2000, Isabel May is a newcomer to the acting world, but she has already landed some notable roles. She clinched her first role as Alexa in Netflix's Alexa & Katie after three years of auditioning. She has since risen to prominence as a result of her outstanding performance as Elsa in 1883.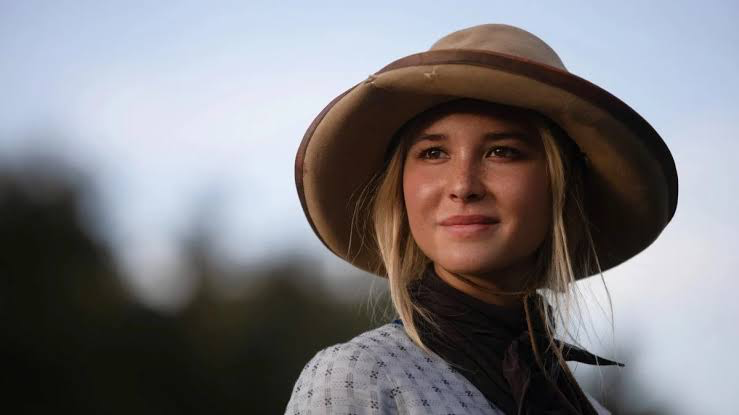 Her unusual trip to 1883 began with an audition for a completely different role in the TV show Mayor of Kingstown in March 2021. Isabel first auditioned for a role in Taylor Sheridan's Mayor of Kingstown, but the audition didn't go well because she was not a fit for the role she auditioned for. However, while she didn't quite fit the role for which she auditioned, Sheridan thought she would be ideal in 1883 as Elsa Dutton.
Sheridan reached out to Isabel two weeks after the failed Mayor of Kingstown audition and offered her the role of Elsa Dutton in 1883. Isabel May is now currently regarded as one of the most promising young stars in Hollywood.
Does Elsa Die in 1883 Episode 9?
Although Elsa's sad fate was foreshadowed at the beginning of the show, she didn't die in episode 9. In the penultimate episode 9, which is titled "Racing Clouds," Elsa gets shot with a poisoned arrow by a group of Lakota Warriors who thought the caravan was responsible for killing their women and children and destroying their settlement. However, the Lakota women and children were actually brutally murdered by a band of horse thieves.
This tragic misunderstanding killed several caravan members, including Elsa. However, Elsa does not die immediately from her injury. Her mother and another pioneer succeed in removing the arrow and cauterizing the wound.
Does Elsa Die in 1883 Episode 10?
Yes, in a heartbreaking scene in Episode 10, Elsa dies in 1883. In the episode, which is titled "This is not your heaven," the infection from the poisoned arrow, which shot through her liver, became fatal. Her father knew that Elsa wouldn't survive the infection when he saw that the arrow that shot through her stomach was covered in filth. The Lakota warriors ensure their arrows kill whoever gets struck by poisoning their arrows.
Knowing that her fate with the poisoned arrow had already been sealed, Elsa and her father rode out and found a large tree where she succumbed to the infection and tragically dies in her father's arms beneath the tree.
Because Elsa is arguably the main character and narrator of the show, her death meant that the series might have to come to an end, or Elsa may miraculously appear in season 2 of 1883. However, 1883 doesn't technically have a Season 2.
Elsa's death is a catalyst for a much bigger story about the Duttons and how they found paradise valley. Despite how hard it was for fans, she had to die because her final resting place became the iconic Yellowstone Dutton ranch.
Does Elsa Die From an Arrow in 1883?
Yes, as previously mentioned, Elsa Dutton died from the wounds she sustained from the poisoned arrow. The opening scene of 1883 showed Elsa getting shot, however, fans hoped throughout the show that she would somehow survive the poisoned arrow.
Sadly, that hope was dashed in episode 10 because the infection from the poisoned arrow proved too deadly to be cured, and she died from the infection caused by the Lakota arrow. The Lakota warriors cover their arrows in animal manure so that victims' wounds will get infected once they are hit and eventually die.
Does Elsa Get Pregnant in 1883?
No, Elsa doesn't get pregnant in 1883. Although fans of the show speculated that Elsa got pregnant after she had intercourse in episode 5 with her lover Ennis, who unfortunately died following a conflict with bandits.
A subtle comment from Elsa in episode 6 of 1883, however, debunks the pregnancy theory. At the start of episode 6, a bereaved Elsa walks away from her family for privacy, and when she is asked why she needs privacy, she reveals that she has gotten her period.
Getting her period means she is not pregnant because a pregnant person doesn't get periods.
What Did Elsa Say When She Died in 1883?
In Elsa's death scene in 1883, Elsa and James Dutton appear to have sat beneath the tree for hours, and it was certain to both of them that Elsa would die beneath that tree. She assures her father that she is not afraid; "I understand it now. I know what it is, and I'm not scared. I'm not scared, Daddy," then passes on.
She then reunites with Sam in Heaven after she dies. Her words when she died were in the form of a voiceover that describes her version of Heaven thus; "filled with good horses and open plains and wild cattle and a man who loves me." She then walks up to Sam, who invites her to race against him as they ride off into the sunset. She also spoke of death that; "it smiled at me, and it was beautiful."
"There is a moment where your dreams and your memories merge together and form a perfect world… that is Heaven. And each Heaven is unique. It is the world of you." She continued.
Elsa's narration implies that she has found peace.
Will Elsa Be In Season 2 of 1883?
There is currently no confirmed "season 2" of 1883, and because the key characters of Elsa and Shea Brennan died, the director of 1883, Taylor Sheridan, introduced a spin-off instead.
The spin-off is titled 1923, and it is a sequel to 1883 but not a "Season 2." 1923 follows the story of a new generation of Duttons during the Great Depression, Prohibition, and western expansion. Elsa's death in the season finale of 1883 is essential to the plot of the Yellowstone universe.
The second Yellowstone prequel, 1923, follows in the footsteps of 1883. It continues the story of the Dutton family 40 years after the events of 1883, with Jacob, James' brother, and his wife Cara running the ranch. The series begins with a narration many people recognize the narration of 1923 as coming from a familiar voice, the voice of Elsa Dutton.
However, Elsa does not appear in 1923 because she died at the end of 1883, and although she is no longer alive in 1923, she provides crucial insight into what happened to her family between 1883 and 1923 through her narration. She also warns the Duttons about what is to come. Apart from her narration in the first episode, Isabel May has not appeared as Elsa in 1923. If she were to star in 1923, she would only appear in flashback scenes. Elsa's parents are also deceased in 1923, but her brothers, John and Spencer, are still alive at the beginning of 1923.
Taylor Sheridan revealed that he was unsure of how to write a season 2 of 1883; "It's the one great thing about the Dutton family; you can skip generations and put them in all these unique situations, and it has nothing to do with Yellowstone, nothing to do with 1883 and yet it's tethered completely to them, but they're all standalones," he said.
The timeline of Yellowstone is a vast and sometimes perplexing world, as another spin-off, 1883: The Bass Reaves Story, is on the way, but its release date is unknown.
How Old is Elsa in 1883
Elsa was born one year after the American Civil War ended on April 9, 1866. Her age, however, is disputed. She is believed to be either 17 or 18 years old. Elsa stated that her birthday was April 9, one year after the surrender at Appomattox (which would be 1866). So, she would have been no older than 17 years old in 1883 if she had been born on April 9, 1866. Elsa Dutton later claimed to be 18 years old, implying that she either misspoke about her age or died a year later than previously assumed. The difference between Isabel May's age in real life and her age as Elsa in 1883 is about five years.