The world of writing, specifically the genres of fantasy, science fiction, horror, and mystery fiction, will forever be grateful to Ray Bradbury, one of the most celebrated 20th- and 21st-century American writers, who according to The New York Times was the writer most responsible for bringing modern science fiction into the literary mainstream. The author and screenwriter, who in 2007 received a Pulitzer Citation, is best known for writing works such as The Martian Chronicles (1950), The Illustrated Man (1951), Fahrenheit 451 (1953), and Dandelion Wine (1957), among others.
Ray Bradbury Biography
Ray Bradbury was born Ray Douglas Bradbury on August 22, 1920, in Waukegan, Illinois. He was born to a Swedish immigrant mother named Esther (née Moberg) and a father of English descent named Leonard Spaulding Bradbury, who worked as a power and telephone lineman.
While growing up, the Bradbury family spent some time in Tucson, Arizona due to their father's job. By the time their son was 14, the family relocated and settled in Los Angeles. Here, the young boy attended Los Angeles High School where he was active with the drama club. He had cultivated a huge reading habit right from a young age and was always looking to tell his own story. By the time he turned 18, Bradbury's dream came through as he was able to get his first published story – a science fiction short story titled Hollerbochen's Dilemma which appeared in the editor and writer Forrest J. Ackerman's fanzine, Imagination!.
Ray Bradbury soon later began publishing his own sci-fi fanzine titled Futuria Fantasia as he contributed to Rob Wagner's film magazine, Script. In the coming years, Ray Bradbury established himself as a writer and contributed immensely to bringing science fiction to the mainstream.
Books and Awards
In the course of his career which spanned over 7 decades, Ray Bradbury authored several fictional books, short story collections, and screenplays. Some of his most popular novels include The Martian Chronicles (1950), Fahrenheit 451 (1953), Something Wicked This Way Comes (1962), The Halloween Tree (1972), Death is a Lonely Business (1985), A Graveyard for Lunatics (1990), Green Shadows, White Whale (1992), From the Dust Returned (2001), Let's All Kill Constance (2002), and Farewell Summer (2006).
Throughout his career, Ray Bradbury received numerous awards and recognition, some of which include being named Gandalf Grand Master of Fantasy by the World Science Fiction Society and the 10th Science Fiction Writers of America Grand Master by the Science Fiction Writers of America. He is also a Science Fiction and Fantasy Hall of Fame inductee and a recipient of the World Fantasy Award for Life Achievement.
In 1984, the Libertarian Futurist Society awarded him with the Prometheus Award for Fahrenheit 451. In 1994, the Tulsa Library Trust named him the recipient of the Peggy V. Helmerich Distinguished Author Award for the major contribution he has had to the field of literature and letters. That same year, he received an Emmy Award for the screenplay The Halloween Tree.
In the year 2000, the National Book Foundation awarded him the Medal for Distinguished Contribution to American Letters. He was then given a star on the Hollywood Walk of Fame on April 1, 2002, before he was awarded an honorary doctorate degree from Woodbury University in 2003.
President George W. Bush and his wife Laura presented Ray Bradbury with the National Medal of Arts in 2004 while the French government named him Commandeur of the Ordre des Arts et des Lettres (Commander of the Order of the Arts and Letters) in 2007.
Wife
As the story goes, Ray Bradbury only ever dated one woman in his life, his eventual wife of 56 years, the late Marguerite McClure. Details about how the couple first met each other are not clear, however, they got married in 1947, when Maggie, as his wife was affectionately called, was 25 and Ray was 27 and still living in his parents' home. Animator Ray Harryhausen was the best man at Bradbury's wedding.
Together, Ray and Maggie welcomed four girls to the world; Susan, Ramona, Bettina, and Alexandra. Not much is known about his kids other than Bettina, who followed in her father's footsteps to become a television soap opera screenwriter. The Daytime Emmy and Writers Guild of America awards recipient is best known for her work on All My Children, As the World Turns, Days of Our Lives, and Santa Barbara.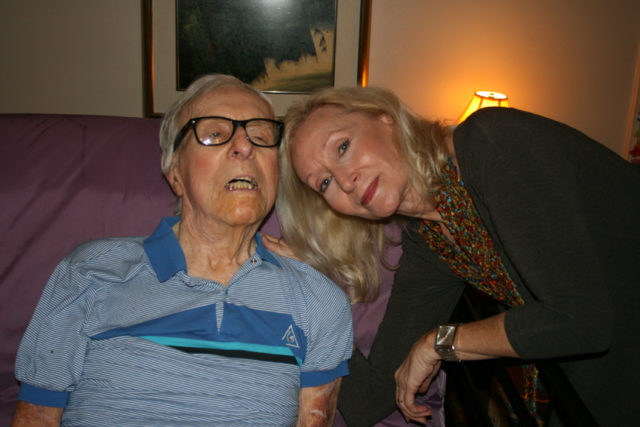 Ray Bradbury's Net Worth
According to various celebrity wealth calculating websites, Ray Bradbury had a net worth of $30 million. The celebrated writer, who is best remembered for his classic dystopian novel "Fahrenheit 451" in 1953, made his wealth from his career as an author and screenwriter. He certainly came a long way from collecting a check of $750 for his first novel to pocketing millions for his efforts in the later years.
Read Also: Frank Deford – Bio, Kids, Family, Cause of Death of the Sportswriter
Other Facts about Ray Bradbury
1. As a young boy, Ray Bradbury's first great interest was magic. The writer publicly said that if he did not later fall in love with what he was doing now, he would have gone ahead to become a magician.
2. At the age of 14, Ray Bradbury earned his first pay as a writer. It was a payment for a joke he wrote and sold to radio star George Burns, which was used on the show, Burns and Allen.