Every twelve seconds, a person dies, and that means every twelve seconds, a family is thrown into mourning. The loss of a loved one or someone we know hits really hard and some people never actually recover or get over the death of a loved one or someone close to them. Death is inevitable yet death is the most dreaded visitor, nobody actually wants a loved one to die, not even when they are very ill and in pain. But what do you say when someone passes away? What do you tell a friend that lost his/her father or mother or sister or spouse?
Almost everyone living right now has had an experience with the death of a loved one or someone they know, either at school or at work. A person who is mourning, needs love and support, but they are also in a very fragile state psychologically and sometimes; some words may only trigger or aggravate their feelings of loss.
So what exactly do you tell a person that is grieving in order to comfort them; or how exactly do you offer your condolences when someone passes away in the best way possible?
There are a lot of words that are usually re-echoed when a someone dies. Over the years, there are certain statements, words or phrases that we hear people repeat as a form of condolence, for example; "Be strong, take it easy, stop crying, don't think about it too much, at least he/she died happy" and so on. But are those words the right things to say? are those words really comforting? Let's begin by finding out some of the words/statements/phrases; that you shouldn't say, when someone passes away.
All names used in this article are for illustrative purposes.
What To Avoid Saying When Someone Passes Away
The urge to offer comfort or condolence to a grieving person is very normal, but we need to be very careful not to say the wrong things.
Avoid: Making it about yourself 
Be very careful of words like; "I know how you feel right now" or "I know how you feel about his/her death" because, the truth is, you don't know how the person feels, because no two people have the same mode of grief. Grief is a different process for different people. Even if you are also close to the dead person, don't tell another bereaved person that you know how they feel. Don't even say things like "I can tell exactly how you feel"; because, No, you actually don't.
Avoid: Suggesting how they should handle their grief or how they should act
Quite a number of times, people tend to suggest or tell a bereaved person how to handle their grieving. When someone passes away, you have no business telling the person mourning them how to mourn.
Words like; "Don't cry too much, don't think too much, or try not to cry again" statements like this should be avoided. Allow people grieve the way they can especially when they are not trying to harm themselves.
Also, don't pressure them to cry either. Don't say things like "make sure you cry it out"…absolutely don't say that. Don't ask them why they have been crying or if they have been crying.
Avoid: Suggesting what the departed will want the bereaved to do
Don't tell them what you think the one who has passed away would want them to do. Words like "John will prefer you took a shower and had a nice meal", "Mary wouldn't want you to be crying", "Sam wouldn't want to see you sad or depressed"… Don't say that. Because you are not the departed neither do you know what the departed would have wanted. Just imagine you died and no one grieved? Does it look good? then don't tell a mourner how you think the departed would have wanted them to grieve.
Avoid: Finding a reason why the departed died.
Don't try to find a reason for a person finding a way, don't try to fix their death. We have no control over it. Don't say words like "God gives and God takes", "there is a reason Samantha died" "don't worry he/she died so they can watch over you from heaven" "at least Mary is no longer in pain" "Another baby will come". Never use the word "at least" and never tell a grieving person that they will get a replacement
Avoid: Putting the pressure on the bereaved to communicate.
Instead of saying "call me if you need anything", rather say; "ill check on you often to make sure you are doing okay"
Avoid: Referring to the Afterlife unless you are sure of the Bereaved's religious beliefs.
Be careful when you say things like, "Jane is now an angel watching over you, or Don is now in heaven" The bereaved might be an atheist.
Avoid: Comparison
Don't compare your grief to theirs or say things like "I would cry so much if I were you". Never say that.
Avoid: Mentioning the age of the deceased
Whether the departed died at age 100, or died at age 10, there is no need saying things like; "he was too young too die, he was only 10", or things like; "She died at a ripe old age of 100, be comforted". No, don't say that.
Avoid: Reminding them of any painful experience the departed suffered before death.
If the departed suffered an illness, or a fatal car crash or plane crash; do not talk about the event. Do not say things like "Lola must have gone through a lot of pain" "Ella must have fought for her life before giving up" "The cancer must have eaten him/her so deep"…it will be very mean of you to utter such statements. You may end up triggering a painful trauma for the bereaved.
Avoid: Trivializing Death
Yes, we are all going to die someday, we do not know when or how, but we will, because all living things die. But the death of a person is not the right time to talk about how everyone will die.
Don't say words like; "It is appointed unto a man to die" "we are all going to die someday" Don't remind a grieving person that they will also die.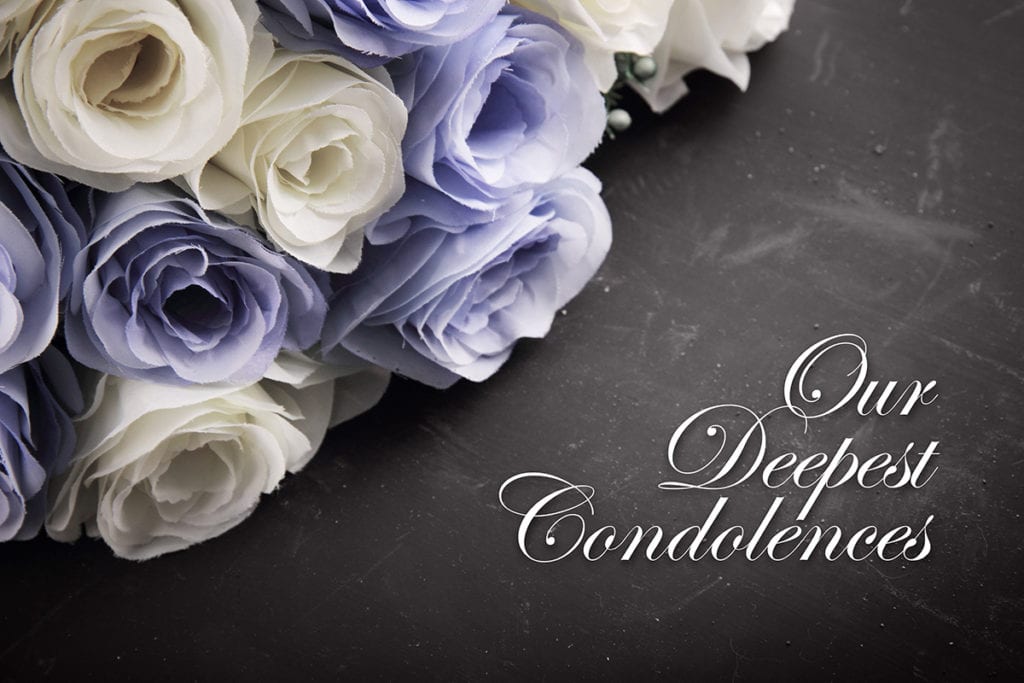 A Quick Guide To Writing Condolence Messages
The word condolence is derived from the word "condolence" which means to "suffer together"; and as such, a condolence message must show that you are not trivializing their grief.
We have learned above, some of the things we should avoid telling a bereaved person when someone passes away. We will now look at how to compose the right condolence message.
Do not feel pressured: Although your intentions are pure, do not feel pressured to compose or send the "perfect condolence message" right away. Take your time to figure out the right words.
Your words can only comfort, it won't take the pain away: Realize that you are only extending comfort; you cannot take away their grief entirely or resurrect the dead, so focus more on words that are comforting than words that try to explain or fix the situation.
There is no perfect condolence message: There is no such thing as the perfect condolence message. Write from your heart and take your time.
Offer to help: A grieving person may be too overwhelmed to ask for help or seek assistance, so in your condolence message offer to help. "Can I bring you lunch sometime?"
Offer to Check up on them: A grieving person may need some company or want to feel cared for; so in your message, offer to check up on them if it is convenient for you to.
Highlight the lovable attributes of the deceased: Be sure to include a positive Noteworthy attribute of the deceased. For example "Mary was such a great singer", "Tom was such a bubbly baby/toddler", "Maria was such a brilliant teen", "Alfred was such a loving father/husband"
Acknowledge their grief and loss: Take note of the fact that the person is bereaved and it is normal for them to. "This must be a difficult time for you and your family" "this is a trying time for you"
Handwritten notes are more heartfelt: Instead of a text message or a typed letter; if you can, send them a handwritten note.
Avoid Sending it on social media: If the bereaved is a close acquaintance or a family member, do not send your condolence message over social media or on social media.
Avoid regular words: Try not to use regular or popular words like; "yours sincerely, Yours faithfully, with love"; rather use words like "You and your family are in my thoughts", "I am praying for you".
Favorite Memory: A good way to highlight a good part of the deceased is to include your favorite memory of them if you knew them before they died. "I remember our last Thanksgiving dinner with Martha, it was filled with laughter"
Express your Sympathy: Be sure to express your sympathy and let the bereaved know that you are saddened by their loss.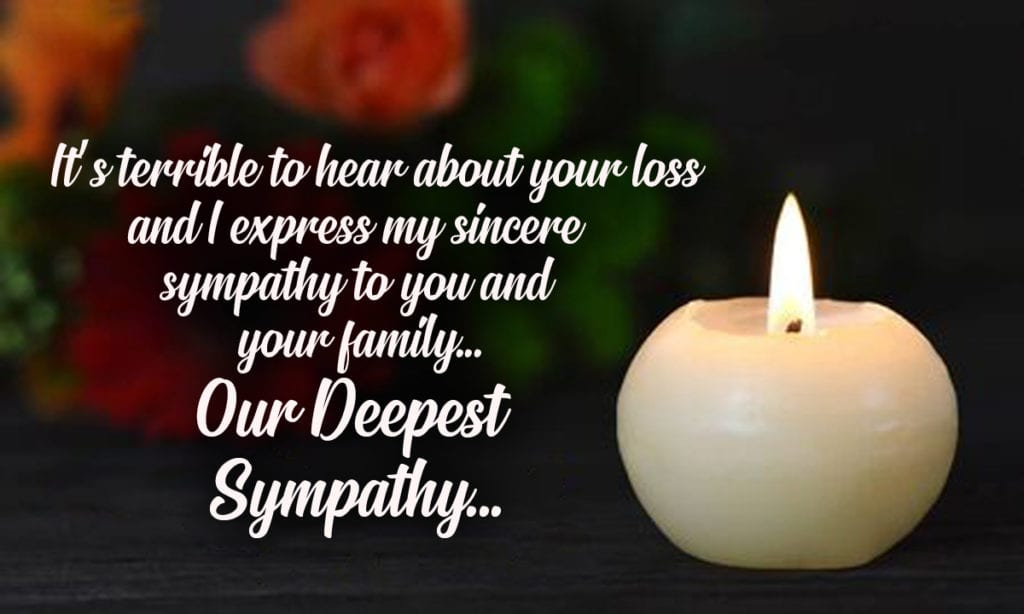 How To Express Sympathy When Someone Passes Away
Here some ways you can express your sympathy to a bereaved person.
I share in your grief: Telling a bereaved person or a bereaved family that you share in their grief is a good way to express sympathy when someone passes away.
I am also going to miss her/him: Another way to express sympathy is to let the bereaved know that you will also miss the departed
My heart is heavy: It is also thoughtful to express how heavy your heart is.
His/ her death dealt me/us/the company a huge blow: Acknowledging the impact of the death of the departed is also a way to show sympathy.
Words alone cannot convey my grief: Letting the bereaved know that words alone are not enough is a way to express sympathy
This is not an easy time for all of us: letting the bereaved know how devastating the loss is for everyone is also a way to express sympathy.
My heart is Broken: This is also a good way to express sympathy.
Pay them a visit: Sometimes paying them a visit and just listening to them talk about their grief also shows sympathy
I wish I can be able to ease your pain: This also shows sympathy and also acknowledges the fact that the bereaved are grieving.
Send them a flower: Sending flowers with handwritten notes are also a great way to express sympathy
How can I help you feel better: This extends sympathy and also offers to help
The holidays will not be the same for all of us without…: This is a good way to show sympathy and also acknowledge the impact of the demise of the departed
What To Say When a Family Member Dies
The death of a family member always hits very hard. The memories would always be there and their absence would always be felt. Here are some things to say when someone in the family passes away.
He/She will always be with us: Acknowledge that the deceased will always be a part of the family
She/he will never be forgotten: Acknowledge the fact that memories of the deceased family member will always linger
He/she made the family proud: Acknowledge the efforts the deceased made in the family before they passed.
We will miss him/her forever: A family member that passed away will always be missed
Our family will never be the same without…: Highlight the fact that the absence of the deceased will always be felt
He/She has found peace: In cases where the family member died by suicide, it is important to acknowledge that the deceased wanted to find peace.
He/she is irreplaceable, there can never be another…: This also is a way to acknowledge the deceased. Can also be used when a family pet dies.
Today is a hard day for all of us, we miss our very loving…: This is a good phrase to include in a memorial service or an anniversary of the death
We will go through this together as a family, we can pull through: This is a reassuring message for family members
He/She was one of our favorite relatives, we will miss the times we spent together: This also highlights the good qualities of the deceased
What To Say When a Friend Dies
The death of a friend can be very heartbreaking, here are some things to say to his/her family, or your mutual friends.
This is a very devastating loss for all of us, we will miss him/her: This is a good message to send to mutual friends of the deceased.

He/she was such a great companion to all of us, his/her death is a great vacuum: Acknowledging the deceased and who he was when he was alive.
Martins brought love and warmth to all our lives, I am glad he was my friend too: This is a great way to commiserate with mutual friends
Emily never stopped talking about you, I hope you are comforted by the fact that she never stopped loving you: This can be sent to the spouse of the deceased.

Cole was such a kind and thoughtful friend. We are all going to miss him so much:  Highlighting how much of a good friend the deceased was is a great message

Your son/daughter/sister/brother was a great person, he/she meant a lot to all of us, we will all miss him: This is a comforting message for his/her parents or siblings

Ben's death is a huge sorrow for all who loved him. I mourn the loss of his friendship: Feel free to express your loss of your friend 

We look forward to reuniting with Maria someday: A promise of reunion is a good one especially for religious folks

Death cannot weaken our friendship, our hearts will grow fonder as we remember the times we shared: A good way to show that death does not erase the friendship

Walking the rest of the path of friendship without Dorothy  is heartbreaking, she is not replaceable: Highlight that the deceased cannot be replaced
What Do You Say When a Co-worker Dies
When someone passes away at your workplace, it could create an atmosphere of unease and trauma. Here are some things to say when a co-worker dies.
Working with Allison was such an honor, he was a great colleague.
Manny came to work every day with optimism, we know it was because he had such a great family, accept my/our condolences: This can be sent to the family they left behind
We are all thinking of Mabel, she will be very well missed by all of us.
Our workplace will never forget Abel, he was such a dedicated colleague.

The loss of Gregory will be felt by many. May the memories of his wonderful and diligent personality and all his many contributions be celebrated and commemorated by all

Miss Sandra will always be in our thoughts and memories, may her soul rest in perfect peace.
My/our thoughts and prayers are with you and your family. It was indeed a joy to work with Benny. I/we will always remember the warmth his/her smile brought to the office each and every day.

I remember my first work experience with Josh, he was so smart and helpful. He will be sorely missed.

There was never a more encouraging, helpful, diligent, and supportive co-worker than Anna.

Your husband/wife was such a valuable part of our work team. We all thought highly of him/her, we are all devastated too.
What To Say When Someone Passes Away Unexpectedly
Sometimes death comes when it is most unexpected. Maybe a friend or a relative or a co-worker suddenly dies from an accident or drowns, or goes to bed and never wakes up, such a death is heavily devastating. Death is never expected, but when someone suddenly dies and they were neither ill nor suffering from a terminal illness, it is called an unexpected death. Here are some things you can say when someone does unexpectedly.
This is unquestionably shocking. Our heart bleeds at this time.

Words Fail us at this time, we hope time helps us in healing.
It will take a long time to get over this shock, just know I'll always be here for you.
Donald was the most energetic person I know, his loss is a big tragedy.
A Kind and Special person left us too soon.
This is a great loss to all of us, we are all in shock.
I can't believe Samantha has passed away, our last Christmas dinner was really fun with her, we will all miss her terribly.
I can't imagine what you must be going through right now, Peter's death came as a huge shock.
A loss as great as this can never be prepared for, you are in my thoughts and prayers.
The death of a loved one is an unfathomable tragedy, this is so shocking.
When a Miscarriage Happens
My only wish is for your healing, the baby will always be a part of your family.
We all missed out on the lovely opportunity to welcome the new baby to this world, you are in my thoughts.
The miscarriage is not your fault at all, I hope you heal well without blaming yourself.
Be gentle with yourself, you will heal just fine.
My thoughts and prayers are with your man in this trying period. 
You need all the rest you can get in these trying times, I can bring you dinner.
Other Things To Say Instead of Sorry For Your Loss
I am sorry for your loss is one of the most popular and overused phrases for expressing sympathy or extending condolences. Here are some new phrases you can use or say instead of; "I am sorry for your loss"
I hope and wish you healing 
My heart is broken for you 
My sincerest thoughts are with you 
I wish you solace 
I'll be thinking of you 
I share in your pain
This is a great loss for me too 
I hope your good memories with Bridget brings you some sunshine 
We all loved your grandma 
I am terribly sorry that you are going through this much pain 
Grief is a personal experience, no two people grieve the same way, not even if they have suffered the same type of loss. We should be kind and understanding towards a grieving person. It's not a time to Judge either the bereaved or the deceased.
Remember, your words can only offer comfort but will not fix the pain or heal them at once.