American actress Krysten Ritter plays the character of Jane Margolis in Breaking Bad, a popular American television series created by Vince Gilligan. The show, which originally aired from 2008 to 2013, follows the transformation of high school chemistry teacher Walter White into a ruthless and dangerous methamphetamine manufacturer and drug lord with his student, Jesse Pinkman, as his accomplice.
Ritter appeared in nine episodes of the show between 2009 and 2010. Her character was that of a recovering addict who was also Jesse Pinkman's apartment manager and girlfriend.
Who Is Jane The Breaking Bad Actress?
Jane in Breaking Bad is played by Krysten Ritter, an American actress, model, author, and producer. Ritter is known for her versatile acting career, with roles in both television and film. She began her career as a model, appearing in various print and runway campaigns, before transitioning to acting.
Krysten Ritter's breakout role came in the television series Veronica Mars, where she played the character Gia Goodman. This role helped establish her as a television actress. She would later gain widespread recognition for her role as Jane Margolis in the critically acclaimed Breaking Bad TV series.
Other TV roles Ritter has appeared in include "Don't Trust the B—- in Apartment 23," where she played the lead role of Chloe; Marvel's "Jessica Jones" where she portrayed the titular character; and the Netflix miniseries The Defenders. In addition to starring in Jessica Jones, Ritter was also involved in the production of the project. Some of the films she has acted in include "Confessions of a Shopaholic," "27 Dresses," "Big Eyes," and "She's Out of My League."
As an author, Krysten Ritter has written a psychological thriller novel titled "Bonfire," which was published in 2017.
Who Plays Jane in Breaking Bad?
Krysten Ritter, the actress behind the character of Jane, was born on December 16, 1981, making her 41 years old. She was born in Bloomsburg, Pennsylvania, USA, to Garry Ritter and Kathi Taylor. According to reports, Kathi worked as a caregiver for children with special needs, while Gary worked at a local power plant.
Following the end of her parents' marriage, Ritter's mother remarried, and she was raised on a farm in Shickshinny, Pennsylvania. She attended Northwest Area High School, graduating in 2000.
Ritter is American by nationality but is of mixed ethnicity. Her father is of Danish descent, while her mother is Jewish. She is of German, Scottish, and English descent.
Jane Was Jesse's Girlfriend in Breaking Bad
Jane Margolis is one of the characters in Breaking Bad. She is a tattoo artist and a recovering drug addict introduced in the second season. Jane, who is depicted as a free-spirited and artistic individual, plays a significant role in the series, especially in the life of the main characters, Walter White and Jesse Pinkman. She rents an apartment in the same building as Pinkman, and the duo develop a romantic relationship.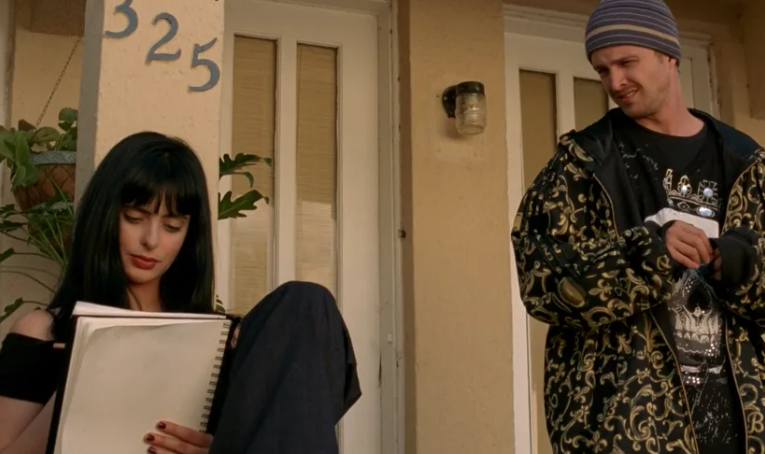 Jane initially helps Jesse in dealing with his drug addiction, providing emotional support and introducing him to meditation as a means of coping with withdrawal symptoms. Their relationship is portrayed as genuine and loving, providing a brief respite from the chaos and danger of the drug trade. Things later change when Jane relapses and introduces Jesse to heroin.
Does Jane Die in Breaking Bad?
Yes, the character Jane Margolis dies in Breaking Bad of a heroin overdose while sleeping next to Jesse Pinkman. Her death occurs in the episode titled "Phoenix" (Season 2, Episode 12), and it's a pivotal and tragic moment in the series.
Jane's death was both a heartbreaking and pivotal moment in the series, as it is largely responsible for Jesse's downward spiral in the first half of the third season. It is also responsible for Jane's father, Donald, slipping into a deep depression. Donald is so devastated by the loss of his daughter that he fails in his duties as an air traffic controller, causing a midair collision between two aircraft.
How Did Jane Die in Breaking Bad?
After Jane phones Walter White and threatens to expose him if he refuses to give Jesse his share of money from a major drug deal, Walt drops off Jesse's cut of nearly half a million dollars at his home. The duo then discuss running away together to New Zealand to start new lives and promise to clean up their act. They, however, end up using heroin once again after entering Jesse's bedroom.
Jane and Jesse get high and fall asleep. They are shown lying in bed together, with Jane on her back and Jesse lying asleep next to her, both in a somewhat unconscious state. Jane later starts to choke on her own vomit while unconscious due to the drugs she had taken. Jesse is unaware of what's happening even though he is next to her and so can't be of any help.
However, his partner Walter has the opportunity to save Jane as he arrives at Jesse's apartment at this particular moment and notices Jane's condition but decides against intervening. He lets her choke to death as part of his plan to separate the duo and maintain control over Jesse. Jane subsequently dies of a heroin overdose.
What Was Krysten Ritter's Age in Breaking Bad?
Krysten Ritter was born on December 16, 1981, and so is currently 41 years old. When she appeared in Breaking Bad between 2009 and 2010, she was between the ages of 27 and 28.
The actress first appeared in Breaking Bad in Season 2, Episode 1, titled "Seven Thirty-Seven," which originally aired on March 8, 2009. At that time, she would have been 27 years old. Her last appearance in the award-winning television show came in a flashback sequence in Season 3, Episode 11, titled "Abiquiu," which originally aired on May 22, 2010. The actress was 28 years old at this time.
How Many Episodes of Breaking Bad is Krysten Ritter in?
Krysten Ritter appears in a total of 9 episodes of Breaking Bad. She made her debut in Season 2, Episode 1, and her character's storyline concludes in Season 2, Episode 12.
Below is a list of all the Breaking Bad episodes Jane (Krysten Ritter) appeared in
Season 2, Episode 1: "Seven Thirty-Seven"
Season 2, Episode 2: "Grilled"
Season 2, Episode 3: "Bit by a Dead Bee"
Season 2, Episode 4: "Down"
Season 2, Episode 5: "Breakage"
Season 2, Episode 6: "Peekaboo"
Season 2, Episode 7: "Negro y Azul"
Season 2, Episode 11: "Mandala"
Season 2, Episode 12: "Phoenix"