Kate Winslet was 21 years old in Titanic, where she played the role of Rose in a movie that has since become one of the most famous roles of her four-decade-long career. Kate was born on October 5, 1975, and is currently 48 years old.
At her age, Winslet is a well-achieved actress and one of the best of her generation in Hollywood. Even though she is not as active in the industry as in the past, she has received some exciting awards for her work.
How Old Is Kate Winslet Now?
Kate Elizabeth Winslet is 48 years old; she was born on October 5, 1975. Throughout her illustrious career, Winslet has earned widespread acclaim and numerous awards, solidifying her status as one of the most distinguished and respected figures in the film industry.
Kate Winslet's acting journey commenced at 7 when she debuted in a cereal commercial. Her commitment to the craft led her to maintain a presence on British television and stages during her teenage years. Her breakthrough in the film industry came when she was 17, with a significant role in "Heavenly Creatures" in 1994.
It wasn't until she reached 22 that Winslet catapulted to international stardom, thanks to her portrayal of Rose DeWitt Bukater in James Cameron's iconic film Titanic in 1997. Subsequently, she has graced the screen in a plethora of critically acclaimed productions, such as  Little Children (2006), The Reader (2008), and Steve Jobs (2015). Her exceptional talent has garnered many awards, including an Academy Award, a Golden Globe Award, and two BAFTA Awards.
Throughout her four-decade-long career, Kate Winslet has consistently demonstrated her exceptional acting prowess in various roles, captivating audiences with her captivating performances in films spanning multiple genres. From her iconic portrayal of Rose DeWitt Bukater in the epic romance Titanic to her compelling roles in critically acclaimed films like Eternal Sunshine of the Spotless Mind and The Reader, Winslet's dedication to her craft has been a constant source of admiration and inspiration for both her peers and aspiring actors alike.
How Old was Kate Winslet when she Filmed Titanic?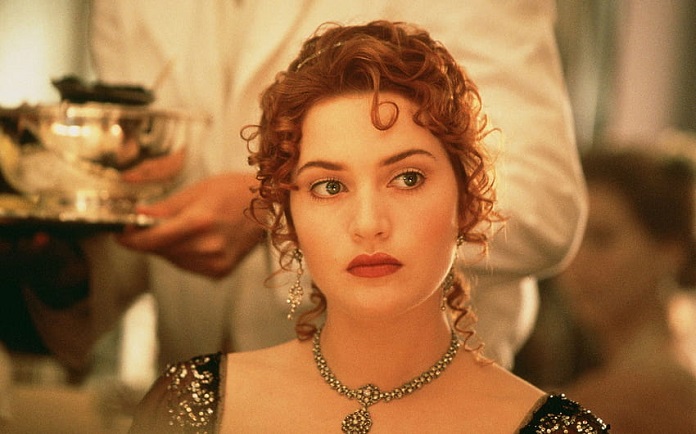 Kate Winslet was just 21 years old when she took on the role of Rose DeWitt Bukater in Titanic in 1996. Her character, Rose, was scripted as a 17-year-old. Such age disparities between actors and their on-screen personas were common in Hollywood during that era. It was not unusual for talented actors and actresses to convincingly embody characters who were either older or younger than their real ages, a testament to their remarkable acting skills.
Despite the age gap, Kate Winslet's extraordinary performance in Titanic received widespread acclaim. Her portrayal of Rose earned her a well-deserved nomination for an Academy Award for Best Actress, marking a significant milestone in her burgeoning career. Even though she was just 21 at the time, Titanic was a monumental achievement, both critically and commercially, propelling Kate Winslet to international stardom and establishing her as a household name.
In the following years, she continued to captivate audiences with her exceptional talent, starring in a diverse range of successful films. Her versatility and ability to breathe life into complex and nuanced characters have earned her the enduring respect and admiration of critics and fans, making her a celebrated figure in cinema.
What is the Age Difference Between Leonardo DiCaprio and Kate Winslet?
Leonardo DiCaprio, who was born on November 11, 1974, has a unique connection with Kate Winslet, his close friend and fellow actor born on October 5, 1975. This slight one-year age difference between them has never been a significant factor in their friendship or collaboration. Despite this minor age gap, it's worth noting that when they portrayed their iconic characters, Jack and Rose, in Titanic, the age difference between their on-screen personas was more pronounced.
DiCaprio's character, Jack, was written as a 20-year-old, while Winslet's character, Rose, was depicted as a 17-year-old, resulting in a three-year age gap within the context of the film. Remarkably, the age disparity in real life and on-screen has never hindered their deep and enduring friendship. Their bond was forged during their time on the set of Titanic in 1997 and has remained unbreakable ever since.
DiCaprio and Winslet have openly expressed profound respect and admiration for each other. Winslet once described DiCaprio as one of her closest friends, praising his exceptional qualities as a person and an actor. DiCaprio, in turn, has frequently referred to Winslet as a sister to him, emphasizing her significant role in his life.
Beyond the age difference, their unwavering support, shared experiences, and genuine affection for each other truly define the exceptional nature of their friendship. As they have navigated the ups and downs of their respective careers and personal lives over the years, DiCaprio and Winslet's bond has remained a source of strength and inspiration for them, reinforcing their connection's profound and enduring nature.
What Does Kate Winslet Look Like Now?
At the age of 48, Kate Winslet continues to exude timeless beauty that captivates audiences worldwide. Her natural allure has only deepened with time, making her a beacon of grace and confidence. With her signature shoulder-length blonde hair, often styled in loose curls or waves, she effortlessly embodies a classic and enduring elegance.
Her deep blue eyes and fair and flawless skin further accentuate her innate charm, while her slender figure and poised demeanor convey a sense of self-assuredness that is truly inspiring. One of Kate Winslet's most endearing qualities is her unapologetic embrace of her natural beauty. She shuns heavy makeup, frequently opting for a makeup-free look that accentuates her radiant complexion.
In a world often obsessed with youth and perfection, Winslet's willingness to proudly display her gray hair in recent years is a powerful testament to her authenticity and self-confidence. Her commitment to staying true to herself resonates with many and reinforces the idea that beauty can evolve and be celebrated at every stage of life.
Winslet's fashion choices are a reflection of her timeless style. She gravitates towards elegant and understated ensembles, often favoring classic silhouettes and neutral colors, highlighting her inherent sophistication. Her penchant for vintage-inspired clothing adds a touch of nostalgia to her wardrobe, showcasing her individuality and flair for fashion. In sum, Kate Winslet is a living example of how beauty and style can transcend age, making her a role model for women of all generations who aspire to look and feel their best, no matter their stage in life.