When e-readers were initially introduced, users had to battle with low quality, cumbersome touchscreens, and poor performance. However, with the development of new technologies, e-readers have been revamped to provide a better user experience because upgraded software and high specifications have improved their performances. More so, e-readers have garnered a lot of popularity with tech companies like Amazon that launched the Kindle which is among the new improved versions but the Kobo e-readers have also made a name in the tech industry, competing with Kindle e-readers.
What You Should Know About Kindle
Kindle was Amazon's early product for e-readers and they are designed with various features such as Bluetooth connectivity for listening to audiobooks with ease and strong battery life. Amazon has also been able to perfect the Kindle product via user feedbacks which has given it a distinguishing feature among other e-readers. Another unique feature of Kindle is that it has a bookstore that has the largest selection of audiobooks and ebooks for its readers.
Pros of Using the Kindle Device
Besides being owned by one of the tech giants, Kindle does not just thrive on the success of Amazon but it also has some unique traits that make it user-friendly. Some of the distinguishing features that have made the Kindle device stand out include:
Long-lasting Battery Life: One of the unique features of Kindle is that it has a very strong battery and when fully charged, the battery can last up to 6 weeks. This is a very essential feature for those that normally use their smartphones to read because having a Kindle would help you conserve your phone's battery by transferring your documents to it. This will also give you the opportunity of reading on a bigger screen with a high-quality display that gives you the same experience when reading a physical book.
Read-Aloud Option: As technology keeps advancing, more people are beginning to switch to audiobooks. This may be because books can easily be read and understood conveniently anywhere via audios rather than physically reading a book. This read-aloud option can also be enjoyed by Kindle users as the device usually comes with support for audiobooks. However, you may be required to use a Bluetooth headset which sometimes serves as a little discomfort because you won't only be keeping track of your Bluetooth headset but also charge it.
Kindle Devices are Portable: Kindle devices come in relatively small sizes which makes it easy to carry them about with other things. Most times you won't even notice any added weight nor would your Kindle device occupy too much space in your handbag. For people who love eating or drinking coffee in the morning while reading, Kindle is very easy to hold in one hand without causing any form of pain or exhaustion.
Unlimited E-book Access: There are a lot of ebooks one can acquire on Amazon and once you have them, you can store them in your Kindle library. These books can be retrieved at anytime the user desires.
Kindle Devices Are Durable: As one of the high-rated e-readers, Kindle e-readers are uniquely designed and made of very fine material. This enhances their durability and with some improvements that have been made, you can even get yourself a Kindle device that is waterproof.
What Are The Cons Of The Kindle E-readers?
With a lot of benefits attached to the use of Kindle, one might hardly remember that there are some downsides to the device. Below is a detailed look at some of the hitches you might face using the Kindle device:
It's Difficult to Lend or Share Books Using Kindle: With real books, one can easily lend them to relatives, friends, or colleagues without any stress but that's not the case with Kindle. This hereby means for people to get access to your book, you have to give them your Kindle device.
Limited Functions: Kindle is designed mainly as an e-book reader and this makes it have limited features which usually come with a tablet. Users are hereby restricted to using the device for only reading and cannot surf the net, play videos, view pictures nor install other apps on the device.
Constant Use Can Damage Vision: Like all other e-readers out there, constant use of Kindle devices can adversely affect the eyes. This is because prolonged starring on the screen of digital devices causes a strain in the eyes which will affect vision with time coupled with other diseases like headaches and even skin cancer because they expose people to 'blur light' which has the tendency to trigger cancer.
What are the Best Kindle Devices?
If you have already decided to go for a Kindle e-reader because of its many benefits, below is a detailed list of some of the best Kindle devices you can choose from:
Kindle Oasis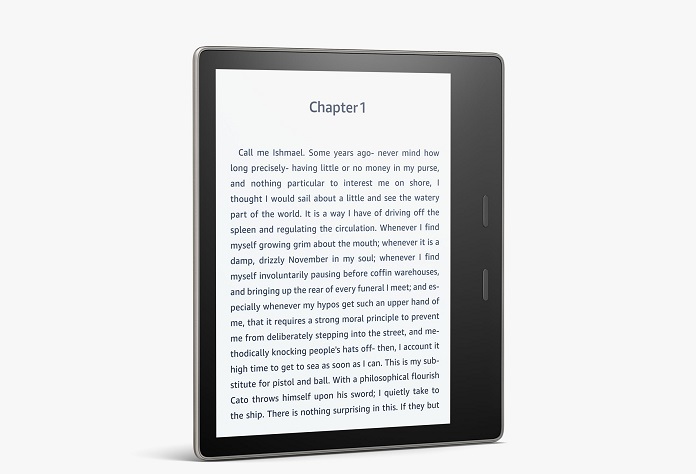 If you're searching for the best Kindle device that is capable of giving you a luxurious reading experience irrespective of the price tag, then Amazon's Kindle Oasis is what you should opt for. This device has a screen size of 7-inches, a storage capacity of 8GB/32GB, and a strong battery life that can last up to 6 weeks.
The latest version of this device has IPX8 waterproofing meaning it's capable of handling an accidental dunk in the pool or bathroom. More so, this latest model is far lighter than the previous ones and for those that find it difficult to see at night, no need to worry anymore because this device comes with a backlight that can be adjusted from white to warmer yellow hues to reduce eye strain, and at bedtime, it can be scheduled to become warmer.
Kindle Paperwhite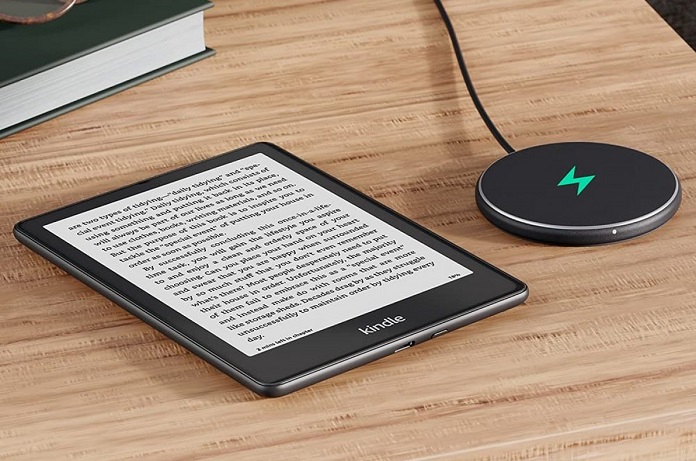 This is one of the best and affordable Kindle devices to date. This device comes with a storage capacity of 4GB and a strong battery life that can last up to 6 weeks. It has a screen size of 6-inches that has a beautiful HD display with 300-pixel density which allows the words on the page to appear very sharp and clear. Furthermore, it has a built-in light that can be adjusted from white to warmer hues to prevent users from straining their eyes.
Amazon Kindle Kids Edition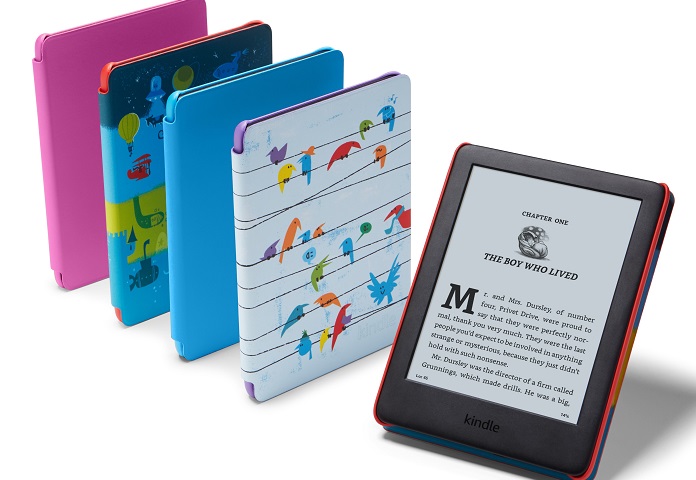 This is very perfect for parents that are comfortable with allowing their kids have access to tech devices. With the Kindle Kids edition that was launched in October 2019, parents are able to monitor and filter content for their kids such as removing every added distraction in form of games and other pop-up videos. More so, this is an affordable device that comes with a 2-year warranty plus a year subscription to Amazon Kids+.
What You Should Know About Kobo
This is an e-reader that is owned by Rakuten which competes with Amazon for battery life and a comfortable reading experience. More so, this product is notable for providing a cloud system that synchronizes your e-books with any of your Kobo devices. You can also use the overdrive app to borrow e-books from your local library and directly download them into your Kobo device.
Another special feature that the Kobo device has that distinguishes it from other e-readers is its ability to read magazines, books, comics, newspapers, and other media in various file formats including PDF, EPUB, TXT, CBZ/CBR, and HTML amongst others. With this, users can easily load their own books without being tethered to an online bookstore. Kobo devices are also known for having storage capacities that range from 8GB to 32GB and a price range that is between $89 to $249.9.
Pros of Using Kobo Devices
Using a Kobo device comes with several benefits that enhance users' experience. Some of the pros of Kobo devices include the following:
Unrestricted Access to E-books: Just like the Kindle, users of Kobo e-readers can attest to the fact that e-books can easily be downloaded from Kobo's huge library.
Ease of Transfer From Other Devices: A unique feature of Kobo e-readers is the fact that audiobooks that were purchased on other devices can easily be transferred to your Kobo device. This makes it a very efficient and effective e-reader as upon acquisition, users will just have to start transferring their docs hitch-free to the new device.
Other E-readers Can Send Books to Kobo e-Readers: Due to the wide range of supported file types, Kobo users can easily transfer e-books from other e-readers they may own.
What Are The Cons of Using Kobo Devices?
There is no doubt that Kobo e-readers rank among the best e-readers currently and they are usually compared to the likes of Amazon's Kindle. However, the devices still have some downsides which include the following:
No Bluetooth Compatibility: Kobo devices do not have Bluetooth compatibility or headphone jacks, therefore they cannot be used to listen to audiobooks.
Kobo Devices Do Not Support Text to Speech: Kobo e-readers are yet to incorporate the text to speech feature in their e-readers as of now. To make use of this feature, users would have to use other available means that can be accessed on their Kobo e-reader.
Black and White Screen: Kobo devices like other e-readers come with no color. This has posed a major challenge as many might find reading a bit dull especially when using an e-reader for prolonged hours.
What Are The Best Kobo Devices?
Over the years, several Kobo e-readers have been developed and each has its own unique feature that users love. Below are some of the best Kobo e-readers anyone would love to have:
Kobo Libra H2O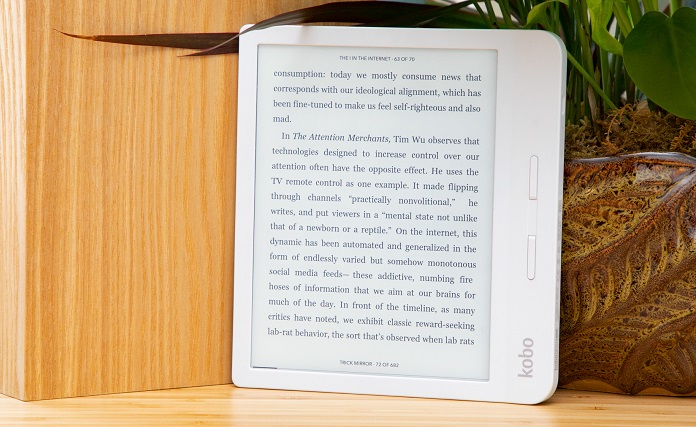 This device has a screen size of 7-inches, it's more faster and responsive when performing actions such as selecting words for a dictionary look-up, turning a page, or typing a Wi-Fi password to set up the e-reader. Furthermore, the LIbra H2O has an improved user interface which ensures that the ebook navigator can easily be assessed by either tapping in the center of the screen or swiping upward from the bottom. It also has a relatively large storage capacity of 8GB, as well as a battery life that can last up to 6 weeks.
Kobo Clara HD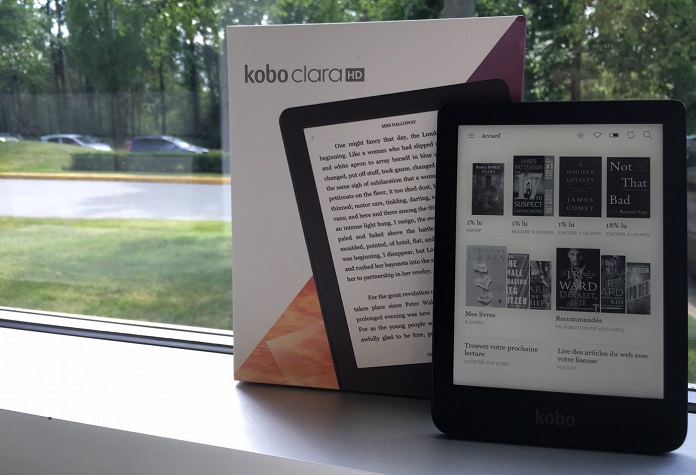 The Clara HD e-reader front-light display has an integrated blue-light filter that automatically uses your timezone to change the screen brightness at night in other to reduce your exposure to the sleep-disrupting blue light. More so, this device comes with a 'rapid page turn' feature that allows you to easily navigate an ebook just by holding the bottom left corner of the screen. Kobo Clara HD also comes with a screen resolution of 300ppi, a storage capacity of 8GB, and a battery life that can last up to 8 weeks. In addition, it has a wireless OverDrive feature that allows you to browse and borrow from your local library's ebook collection.
Kobo Nia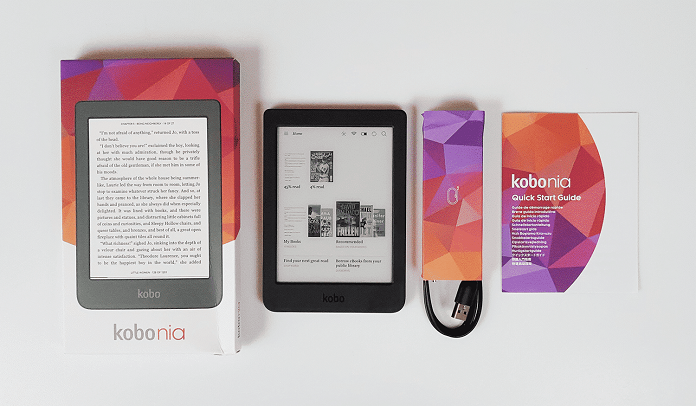 This is the latest e-reader to join the Kobo devices and its arrival was announced in July 2020. It is the company's cheapest device that offers direct competition to the basic Amazon Kindle. One of the advantages of using this device is that it offers a wide file format support and a third party integration with overdrive for borrowing library ebooks, Dropbox for cloud storage, and Pocket for reading on the web. More so, the Kobo Nia has a storage capacity of 8GB, a resolution of 1024×758, or 212ppi, and a strong battery life that can last up to 4 weeks.
Kindle or Kobo – Which Should I Go For?
Through overdrive, Kobo provides the opportunity to borrow books from a public library but this app is limited to only your local library's capacity. More so, irrespective of the fact that  Kobo devices can read files in several formats, Kindle e-readers have lots of programs that allow you to convert different file formats to MOBI to enable you to read them on your Kindle with more ease. More so, Kindle devices have Bluetooth support, therefore you can connect your wireless headphones to enjoy audiobooks.
However, based on the fact that Kobo users can borrow ebooks from basically anywhere, this gives an added advantage over Kindle users. So the choice of which e-reader you should opt for solely depends on your preference and budget.