Jessica Alves, previously recognized as Rodrigo Alves, the Human Ken Doll and now known as Human Barbie, has stunned her one million Instagram followers with her transformation. Over the last two years, Jessica has undergone significant changes, altering her facial features and body in ways that have astonished her fans. From numerous nose surgeries to a 'cat-eye lift' procedure, she has embarked on a journey of self-transformation, investing a staggering £725,000 in cosmetic enhancements since the age of 17.
Jessica, a Brazilian TV star, gained prominence through her appearance on the UK's Celebrity Big Brother reality TV show. However, her time on the show was cut short due to her expulsion on the tenth day for using racial slurs.
Embracing her transgender identity, Jessica commenced hormone therapy in 2019 and began her transition shortly after. Through more than 100 cosmetic procedures, she has emerged as a completely different person from her days as the "Human Ken Doll" when she was known as Justin. Recent pictures of her reveal the outcomes of her latest procedures, which include a comprehensive facelift, head reduction surgery, and a voice pitch alteration. Her transformation not only caught the attention of her social media followers but also led to new opportunities.
Human Ken Doll Before 
Jessica Alves, formerly known as Human Ken, embarked on an extraordinary full-body transformation, spending nearly half a million dollars on cosmetic procedures to resemble Ken, the iconic toy figure associated with Barbie. Ken, introduced to the toy world as Barbie's boyfriend in the early 1960s, was characterized by his distinctive blonde hair and plastic physique.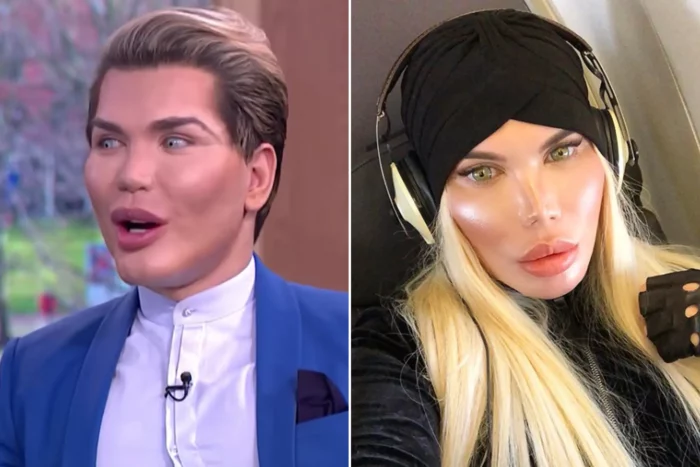 Jessica underwent a series of surgeries, commencing with a breast reduction due to her body's higher estrogen levels. Subsequent procedures included a nose job, over 70 facial surgeries, and a hair transplant. In her pursuit of perfection, her surgeries extended to obtaining a fake six-pack and removing some of her ribs to maintain a slimmer figure. When asked about her rib removal choice, she said, "I had four ribs removed so I can wear my blazers comfortably without needing to inhale deeply or alter them." She openly recognized the risks involved in such procedures.
In 2018, Jessica disclosed the extensive financial investment she made in her transformation, which included £8,000 on Botox and fillers, £30,000 on nose jobs, £3,000 on jaw liposuction, £10,000 on pec implants, £22,000 on a fake six-pack, £7,000 on laser liposuction, and £7,000 on arm fillers. Additionally, she spent £5,000 on a hair transplant, £6,000 on leg liposuction, and £3,000 on calf shaping. Moreover, Jessica underwent a fat transfer to enhance her buttocks, a SMAS facelift, and a £28,000 procedure to remove four ribs, completing her remarkable transformation into the Human Ken Doll persona.
Who Is Jessica Alves? 
Jessica Alves, born Rodrigo Alves on July 30, 1983, is a well-known Brazilian-British television personality who gained fame as a contestant in Season 22 of Celebrity Big Brother in 2018. She is also recognized for her numerous plastic surgeries, which have dramatically transformed her appearance. Before transitioning into what many called a human Barbie, she was famously known as a human Ken doll.
Hailing from São Paulo, Brazil, Jessica was born to a Brazilian mother and a British father named Roserval Alves. Her father, Roserval Alves, hailed from a Portuguese family that settled in Brazil in the 1940s. Tragically, he passed away, marking a significant loss for the Alves family. At the age of 18, Jessica made the move to London, where she pursued her studies in public relations at the London College of Communication.
Financially supported by the inheritance from her maternal grandparents, she delved into multiple plastic surgeries, including nose jobs that, unfortunately, resulted in losing her sense of smell. Subsequently, an attempt to enhance her arm muscles through gel injections resulted in a temporary loss of arm function. This prompted her to seek psychotherapy, eventually leading to her first television appearance on the American reality series Botched in 2017 (Season 4, Episode 4). During the show, renowned cosmetic surgeon Paul Nassif declined to perform additional rhinoplasty on Jessica, citing blocked nasal passages, scarring, and the risk of substantial necrosis due to previous surgeries.
By 2018, Jessica had established homes in both London and Marbella, Spain, and was a regular television presenter. She enjoyed a comfortable lifestyle, supported by a substantial monthly pension from her grandparents' inheritance. In August 2018, she joined the cast of Celebrity Big Brother in the UK. However, her time on the show was marred by controversy when she used offensive language, leading to her expulsion.
March 2019 marked a new venture for Jessica, as she released a song titled "Plastic World" in collaboration with Italian plastic surgeon Giacomo Urtis. Beyond her public persona, Jessica's story reflects the complexities of identity, transformation, and the pursuit of self-expression.
When did Rodrigo Alves Become Human Ken Doll?
Rodrigo Alves gained fame as the Human Ken in 2018, having invested approximately half a million dollars in her transformation journey. Her path to becoming the Human Ken Doll began during her teenage years when she battled relentless physical abuse and bullying because of her appearance. Further heightening her insecurity was a hormonal imbalance that led to the development of breasts, preventing her from achieving the muscular physique she desired. Medical advice suggested plastic surgery as the only solution.
At 17, Rodrigo underwent her initial plastic surgery to address gynecomastia, the removal of breast tissue. Her journey continued with various procedures, including multiple nose jobs, one of which resulted in the loss of her sense of smell. Despite the challenges that come with the surgeries, she further opted for arm injections, aiming for a muscular look, but faced complications, losing temporary use of both arms and necessitating psychotherapy.
In 2013, Rodrigo was diagnosed with body dysmorphic disorder, a mental health condition revolving around obsessive concerns about appearance flaws. By January 2018, Rodrigo had achieved the Barbie Ken appearance after spending just over £500,000 on 103 cosmetic procedures, including 51 plastic surgeries. Her transformations included liposuction, gel filler injections in shoulders, biceps, and triceps, topical minoxidil applications, hair implants, multiple facelifts, tinted contact lenses, and twelve rhinoplasties.
Where Is the Human Ken Doll Now? 
Once known as the "Human Ken Doll," Rodrigo Alves has embraced a new identity as "Human Barbie," now recognized as Jessica Alves. She lives in London and has even landed a dating show on Netflix.
Having undergone over 100 cosmetic procedures, amounting to more than $1.4 million, Jessica's appearance has completely transformed from her days as "Human Ken Doll" Justin. Her decision to embrace the identity of the "Human Barbie" stems from a profound sense of unhappiness in her previous persona. According to Jessica, this transformation has brought her newfound contentment and happiness.
In addition to her evolution, Jessica has entered the entertainment arena, securing a coveted spot on a dating show on Netflix. This exciting opportunity will see her embarking on a global journey, spanning various destinations, as she searches for love and the potential father of her child.
When did the Human Ken Doll Change to Human Barbie?
Human Ken Doll took a transformative step and emerged as the Human Barbie in 2020. She publicly embraced her identity as a transgender woman in January 2020 after three months of residing in seclusion, declaring her decision to undergo gender reassignment surgery. Having spent years attempting to conform to societal expectations, Jessica Alves candidly shared her inner struggle, stating, "I'm known as Ken, but inside I've always felt like Barbie." She shared her profound struggle with depression and the conviction that transitioning was essential for her survival despite the inherent risks associated with surgical procedures.
Jessica, as she now identifies herself, commenced hormone therapy in September 2019, eventually leading to her physical transition in 2020. This transformative process was intensified by her naturally high estrogen levels, empowering her to embrace her true feminine essence. By 2020, she had pursued various transformative surgeries, which included removing her abdominal muscles, enhancing her curves, augmenting her lips, refining her nose, and tailoring her eyes to emulate supermodel Bella Hadid's style. Jessica also underwent two breast augmentation surgeries, attaining a GG cup size and distinctive penile-peritoneal vaginoplasty.
She also underwent penile-peritoneal vaginoplasty, a surgical procedure costing $24,000. This intricate surgery utilized her abdominal and peritoneal lining to create a vagina, resulting in a remarkably authentic appearance and functionality. Jessica's transformation also involved procedures such as Adam's apple reduction, subtle alterations to her voice, jawline reshaping, and chin modification.
Jessica's connection with Barbie dolls, dating back to her early childhood, was pivotal in shaping her identity. These cherished childhood toys, gifted by her grandfather, symbolized her affinity for femininity and self-expression. Post-transition, she enthusiastically embraced her newfound identity, relishing experiences like intimacy, which she described with excitement and candor.
Having spent a substantial amount, approximately $99,500, on feminization surgeries, Jessica expressed her desire for motherhood. She envisioned a future where she could experience the joys of having a child, embracing the prospect of motherhood with optimism and hope.
In summary, Jessica Alves (Rodrigo Alves) who was previously known as the Human Ken Doll transformed to Human Barbie, undergoing significant changes by altering both her facial features and body features. She has embarked on a journey of self-transformation, from numerous nose and lip surgeries to a 'cat-eye lift' and facial procedure, investing a staggering £725,000 since the age of 17 to become what she is today.